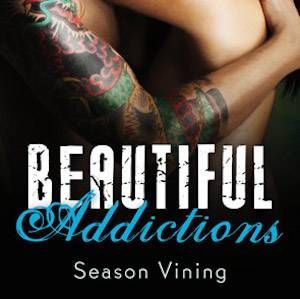 Giveaways
Weekend Giveaway: Beautiful Addictions by Season Vining
This weekend's giveaway is sponsored by Beautiful Addictions by Season Vining.
Josie Banks is a girl without a past. After being found unconscious with no memory, she was shuffled in and out of foster homes where she suffered years of abuse. An experience that left her broken, damaged, and clinging to drugs and meaningless hook-ups to numb her pain.

When Josie disappeared years ago, she took a piece of Tristan with her. She's the girl he thought he lost forever—the one he's never been able to forget. Now a twist of fate has brought them back together, and he never wants to let her out of his inked arms again. But Tristan is haunted by a dark past of his own. On the run from ruthless criminals that shattered Josie's world years ago, reentering her life puts them both in danger.

As Josie and Tristan's lives become tangled once again, they find themselves unwilling and unable to escape the relentless pull that draws them together. But in Season Vining's Beautiful Addictions, will the past leave their love in ruins—or bind them together for a lifetime?
____________________
We have 10 copies of Beautiful Addictions for 10 lucky Riot Readers! Just complete the form below to enter. Entries are limited to the United States and will be accepted until 11:59pm, Friday, July 11th. Winners will be randomly selected.
Oops! We could not locate your form.