Giveaways
Weekend Giveaway: 3 Titles from the University of Iowa Press
This weekend giveaway is sponsored by the University of Iowa Press.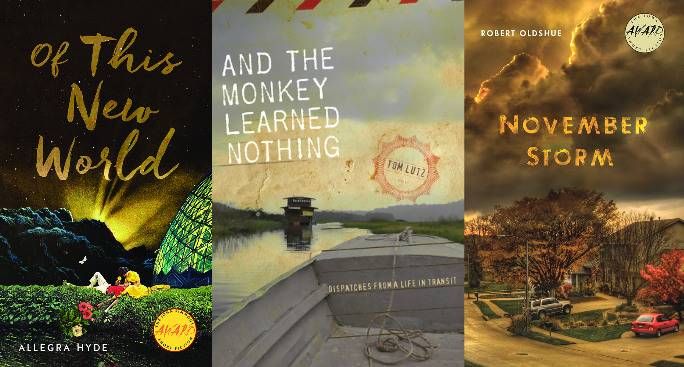 And the Monkey Learned Nothing contains author Tom Lutz's reports from fifty countries, most describing personal encounters in rarely visited spots, anecdotes from way off the beaten path. Traveling without an itinerary or goal, Lutz falls regularly, into the instant intimacy of the road with random strangers.

Of This New World offers a menagerie of utopias: real, imagined, and lost. Starting with the Garden of Eden and ending in a Mars colony, the stories wrestle with conflicts of idealism and practicality, communal ambition and individual kink.
An unmissable debut, the collection charts the worlds born in our dreams and bred in hope.

Publishers Weekly's starred review says: "November Storm, winner of the Iowa Short Fiction Award, finds consistent success in its depictions of intimate relationships. Robert Oldshue's sturdy prose and potent, understated endings will satisfy fans of the classic short story."
____________________
We've got 15 bundles of these three University of Iowa books to giveaway to 15 lucky US winners. To enter, fill out the form below completely before the giveaway ends on October 28, 2016, 11:59 pm Eastern time. Winners will be randomly selected.