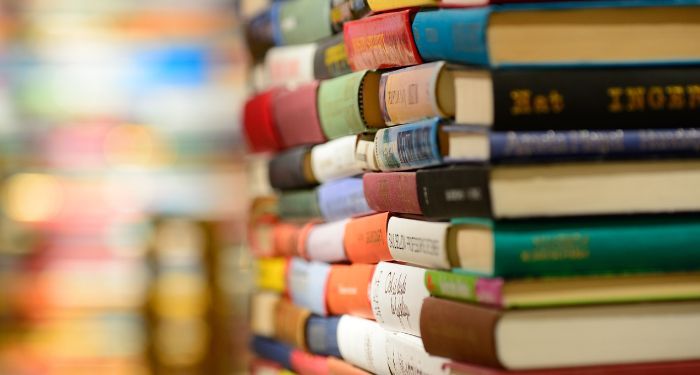 Essays
New Year, New Good Habits: 5 Ways to Make Your Reading Life Greener
Anyone who has worked in a bookstore or library knows that, unfortunately, books aren't easily recycled. During my first bookstore job, I gaped in horror as my boss carried our barely damaged stock to the trash.
It was shocking to realize that books cannot automatically be recycled (but, but, they're paper) because of mitigating factors, such as their format and even where you live. You might have assumed that paperback and hardcover are treated the same way, but this isn't the case. Recently, Mara Franzen offered a useful primer on recycling books, but the short version is this: it's a complicated and detailed process, so don't just put your books in the recycling bin and call it a day.
Then there's donating books. A wonderful sentiment, but it also should be done thoughtfully. Libraries are super picky about what we take — books need to be new, relevant, and basically shiny, or else we have to trash them. Why, you might ask your local library staff in a fit of bewilderment, why don't you want my books? Wellllll…first of all, libraries don't want five-ten-fifteen-year-old books because, factoring in labour and material costs, it's expensive to add an already-crumbling book to a collection. And libraries don't have an endless supply of staff to go through the number of donations we get, and we sell donated books for real cheap, so often the books are a burden rather than a benefit.
Instead of just tossing away broken books or donating to a place that will likely have to throw them out as well, I've given you a few options to make your reading life greener.
Use the Library
Often, friends visiting my abode for the first time are surprised that I don't own a ton of books; after all, I'm a writer, librarian, and a self-professed book nerd. But I'm also careful about which books I purchase; a book I worshipped at the age of 19 can sometimes be less enjoyable to reread now, at the end of my emotionally-wizened late thirties.
So not only is supporting your local library good because visiting equals stats equals funding equals better services, but using it also cuts down on future waste.
Trade with Your Friends and Neighbours
So donating is doable but takes research. Some places to look into: schools, prisons, and thrift stores. My personal fave for donating is bringing my unneeded books to a nearby Little Free Library shelf. Does your neighbourhood not have one anywhere? You can sign up to start your own.
About selling books. I used to, but the effort doesn't always appeal to me because shops don't pay much per book. For $7 or so am I gonna carry a backpack full of 15 books across town? But here is an idea: maybe host a book exchange with friends and acquaintances. You can have tasty snacks while trading books, a win-win for your belly and the environment.
Reuse Damaged Books
We've all been there — reaching for a fave book on the shelf, only to discover that the binding has begun to wear away and the pages are getting loose. Or it's even old old, like it was an old edition when you bought it at some cat-guarded second-hand bookstore, and now the yellowing pages are ripping in your hands as you turn each page? Never despair, though: just because a book is getting on in years, it doesn't mean you can't reuse parts of it. You can turn illustrations or text into all manner of magnets, collage art, planters, or even bunting.
Shop Conscientiously
Does your favourite bookshop do the best it can to reduce its carbon footprint? If you live in the UK, Ethical Consumer provides a database of ethical bookshops, with ratings on categories such as environment, people, animals, and politics. Additionally, they provide information on the company's ethos and the sustainability of their products. For other countries, you can access Ethical Book Search. The site is still in beta testing and mostly focused on online shops right now.
Otherwise, shopping locally is often the way to go. Do some research into the sustainability practices of your local indie. Where I live in Vancouver, we have Massy Books. Massy has a sustainability statement right on their website: "We use paper bags, and package and ship our books in recycled paper and cardboard. And, we've partnered with a local architecture firm that donates their old drawings so we can repurpose them for packaging online orders."
Read Ebooks
Using ereaders is not my vibe, but I get why people find them convenient. Just make sure to recycle these bad boys by researching locations where you can bring electronics. And as Franzen found out, not all tech is recycled the same way because there are "different laws surrounding batteries used in the devices". So, again, research. Also, some ereaders can be returned to their manufacturers as part of a buy-back program.
So there they are — five options to make your reading life more green. Also, an explanation: I'm not trying to guilt you out of buying books. I love wandering a bookshop and I want to support local shops as often as possible. Rather, I'm offering ways of being an environmentally mindful bookworm. Take these to heart and form a greener book habit for 2023.