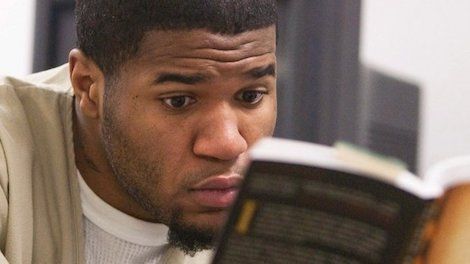 Censorship
Washington Department of Corrections Meets With Book Donors; Updating Policy
Update to last week's news about the quiet change in policy that disallowed nonprofits from donating books to prisoners in Washington: last Friday, Department of Corrections (DOC) Secretary Stephen Sinclair announced he and the department would work with nonprofits like Books to Prisoners to ensure that used book donations from nonprofits would continue to be made available to incarcerated people. Sinclair also said — and it was confirmed by Books to Prisoners — that he'll be meeting with the organization this week.
This announcement comes on the heels of over 12,000 signatures delivered on Books to Prisoner's Change.org petition. Books to Prisoners said that they're hoping to see at least 15,000 signatures prior to the meeting with Sinclair and the DOC.
"We urge everybody who is outraged by this decision to sign the petition to stop the ban," the group said in a tweet.
One of the many problems with the policy changes was that it required donated materials for inmates to go through the Washington State Library, which has minimal resources in terms of staff, time, and space, to inspect books. Sinclair said he and the DOC would ensure that they update their own processes for used book donations, citing specifically that the Washington State Library doesn't have the resources to handle this.
Likewise, it appears that the initial policy rollout was so quiet that even the governor was unaware of the change. At a meeting with reporters last week, he expressed having just learned of the change, and more, he noted that he called the DOC and asked them to work with nonprofits like Books to Prisoners to help get used books to prisoners.
"Most of these folks (now in prison) are going to become our neighbors and we want to reduce recidivism rates, and education and the like is very, very important," as Islee was quoted in the Union Bulletin.
The news looks promising for reinstating access to used books from nonprofits for inmates. But as Books to Prisoners continues to note on their social media accounts, work continues not only in Washington, but it's work that expands country-wise.
A fantastic quote from @StephenKing & extraordinarily applicable inside prisons, which keep trying to ban books for prisoners based on content & provider.

We need your help NOW to stop a ban in Washington on free books for prisoners. #PrisonersNeedBookshttps://t.co/lu3d8xANvn pic.twitter.com/iI8gacX5Yy

— #GoodCopsQuit (Books to Prisoners Seattle) (@B2PSeattle) April 9, 2019
Help in the reversal of this decision and further help those behind bars have access to literacy country-wise with the guide from Books to Prisoners above, and ensure you've signed the petition.
You can also use the hashtag #PrisonersNeedBooks to continue the conversation on social.