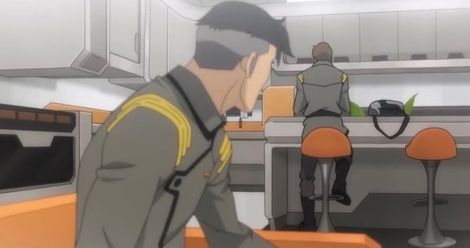 This content contains affiliate links. When you buy through these links, we may earn an affiliate commission.
Those of you who watch Dreamworks's Voltron: Legendary Defender on Netflix may recognize the man in the foreground of the above photo as Takahashi Shirogane (Shiro). Shiro has been many things to many people over the last six seasons: leader, pilot, paladin, brother, space dad, lynchpin, prisoner of war, gladiator, savior, tool, clone, and sacrifice.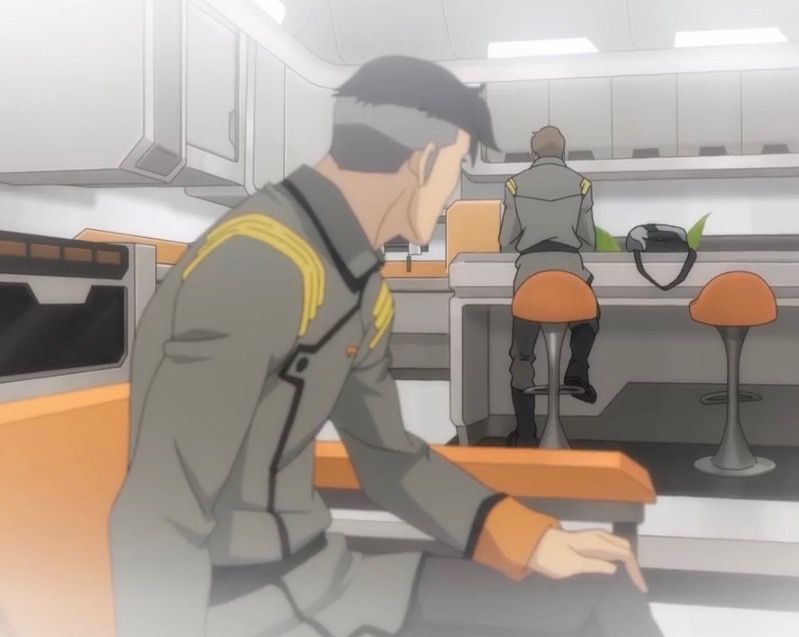 What we didn't know much about before last Friday was his life before leaving for the Cerberus mission.
During the SDCC Voltron panel, attendees were shown both the season seven trailer and the first of the new episodes dropping on August 10th. I wasn't able to attend due to a scheduling conflict but happened to check my phone in a spot were there was actual reception while in transit from one interview to the next and saw a text from a friend who was in the room where it happened.
Shiro is gay.
I happened to be cosplaying Shiro that day. And I happened to be doing it carrying a pride bayard that same friend made for me (note: by the time this photo was taken, I had swapped out my military coat for a Nightwing shirt because my next event was for DC. Also, it was a million degrees) before we had any idea such an announcement was to be made.
Not only did we find out the significant other Shiro left behind on Earth was a man named Adam, we found out Adam ended their relationship because Shiro insisted on flying the Cerberus mission despite the very real possibility he wouldn't be coming home; Shiro suffered from an as yet undisclosed chronic illness that would likely kill him before his return. The Galra appear to have corrected whatever was causing that particular illness, but amputated Shiro's arm in order to experiment on him, and his prosthesis has been destroyed.
To recap: for what we're pretty sure is the first time in Western animation, a central character is a queer, disabled man of color. A queer, disabled man of color who is also a soldier, a pilot, a warrior, and the surrogate father of a diverse family.
A queer, disabled man of color who is a soldier, a pilot, a warrior, the surrogate father of a diverse family, and a man about to be faced with and admit to his mistakes and deal openly with his emotions.
Said producer Lauren Montgomery:
"This is a character who already meant so much to so many people…I think it's amazing to have the stories where your characters are finding themselves but I also think it's also important to have a story where this character is already fully formed and he is a gay man and he's doing amazing things and he's flawed…"
Co-producer Joaquim Dos Santos added:
"And a story where it's not a big "ah-hah!" moment. It is for the audience…but he's (Shiro) in the middle of a relationship, he's in the middle of working it out, he chose his job over his relationship. Very real world problems and we come in in the middle of it. The reaction was amazing. We all got emotional…it was really important to everybody on the crew."
Cast member Bex Taylor Klaus (Pidge/Katie), who identifies as trans enby says:
We're here, we're queer, we love it… this show is some of the greatest writing I've ever had the honor of performing.
Pretty cool, right?
But what does any of this have to do with our reading lives?
We don't yet know how much of Shiro and Adam's relationship we're going to see on screen. We don't even know whether they'll meet in the present or, if they do, whether they'll reconcile or remain apart. Regardless of the series' outcome, though, Lion Forge's Voltron tie-in comic has already proven there are infinite Voltron tales to tell. No matter how much we're given of Shiro and Adam's story, there will moments and side quests left to explore. With Gail Simone taking over their superhero line and the extremely talented Christina "Steenz" Stewart stepping into position as assistant editor, plus the launch of Caracal, a middle grade imprint, Lion Forge is poised to become a powerful force in the comics world.
A force for charge. A force for good. A force for representation.
Shiro and Adam are theirs. If they and Lion Forge lead, the other publishers will follow. They'll have to.
Because we all deserve to see ourselves in what we love.
This is opportunity.
This is representation.
This is future of comics.