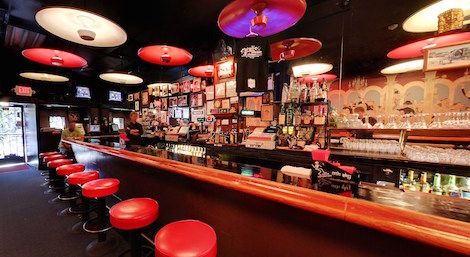 A Visual Tour of Literary Bars and Cafes Around The World: February 18, 2018
Critical Linking is sponsored by Force of Nature by Jane Harper from Flatiron Books .
____________________
In our habitual fantasies, writers do nothing but sit at small café tables, sometimes meeting with their friends, other times gazing wistfully into a pint or swirling an espresso before they scribble down their latest brilliant thought. It may have worked for Hemingway, but I'm here to tell you: that's not usually what writing looks like. But hey, it's Friday. So what better time to indulge our daydreams and salivate over a few of the bars and cafés that famous writers frequented in days of yore? I mean, writerly fantasies aside, I wouldn't mind reading for a while in any one of these. Of course, this is nowhere near a complete list of every place a famous writer ever drank—not least because in the interest of avoiding the New York/Paris/Dublin trap, I've limited the choices to one per city—so feel free to add on to the list. Now, without any further ado: 35 literary watering holes in 35 cities. Which one would you visit?
~Sigh~. Who wants to take a trip around the world to all of the literary cafes?
____________________
Brace yourselves, Potterheads, for something wonderful this way comes. An American tour company recently announced that all our most magical dreams are about to come true. Yes, a Harry Potter-themed cruise is coming to London's River Thames.
____________________
If you wish you could read more books, try quitting the one you're on. If it's not calling to you every minute that you're away, maybe you should drop it and find a book that does. In fact, whenever a book bores you for two (or five, or ten) pages in a row, quit it. Move on. If you end up wondering what happened next, you can always come back.
The catch is, the moment you quit a book, you have to start reading another book. Ideally that very minute. You have to keep reading, but you can read whatever you want.
I'm a perpetual quitter, and this piece explains why quitting can help you read more.
____________________
While activism isn't new, the methods and means available to today's citizens certainly are, as well as the platforms afforded to historically underrepresented people. Here we round up a list of recent and forthcoming titles that bring to the forefront progressive issues, individuals who are fighting for equal rights, and strategy guides for politically motivated young readers.
This is a really great round-up of activist anthologies for young and young-at-heart readers (and really, not just because I edited one of them–I added a number to my own to-read list!).