Nonfiction
Vegetarian Cookbooks Even Carnivores Will Love
This content contains affiliate links. When you buy through these links, we may earn an affiliate commission.
I've been a vegetarian since I was a teenager, and have always aspired to be mostly vegan. Exploring new recipes has always been the key to making this diet work.
Moving to California and away from all my favorite restaurants back home has made it so much easier, especially with the abundance of produce available at farmer's markets year round. The variety of seasonal fruits and veggies has pushed me out of my culinary comfort zone. These three cookbooks have inspired me to expand my foodie horizons, and I'm eating healthier—and tastier—meals than I ever before.
As much as I love reading cooking blogs (and these are all cookbooks from food bloggers), there's something about flipping through the pages of a cookbook (and not splattering sauce on your laptop) that appeals to me. My personal cookbook library is small; the only ones that survived the move are The Joy of Cooking and America's Test Kitchen Vegetarian Cookbook (I've memorized or copied onto index cards all my favorites from Moosewood Cookbooks). But after checking these out from the library, I'm really tempted to buy them all because I didn't get the chance to make everything I wanted in the three weeks I had them. Even carnivores would approve of the recipes in these vegetarian cookbooks.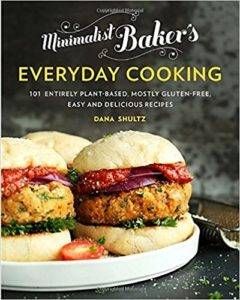 Minimalist Baker's Everyday Cooking by Dana Schulz
Don't let the "baker" in the title fool you—this isn't all cupcakes and cornbread. In fact, it's mostly simple, quick main courses that can be made on weeknights. Favorites have been the greek kale salad with a new twist on tahini dressing, and masala chickpea curry, which is perfect for those days when your fridge is nearly empty. But the real show stoppers are the veggie burgers—my favorites were the cocoa black bean burgers and the Thai peanut burgers, which have replaced my favorite go-to veggie burgers from restaurants back home.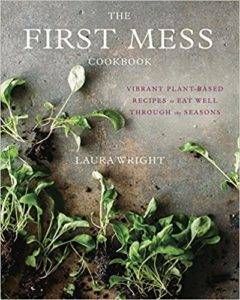 The First Mess Cookbook by Laura Wright
I actually wasn't familiar with this blog until I discovered the cookbook, but I'm definitely glad I did. It started when my partner went looking for a new empanada recipe, and discovered these tempeh empanadas. We both immediately put the cookbook on hold before they'd even cooled from the oven. Since, we've tried the chipotle lentil dip, which is a nice twist on hummus, and so many of the salad dressings.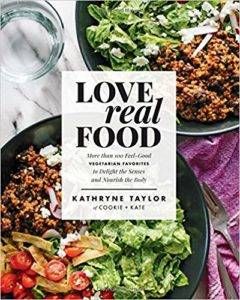 Love Real Food by Kathryne Taylor
Three-fourths of the meals I've prepared for the last five years have probably come from Cookie + Kate. It's always my go-to for new recipes, so when Kathryne's first cookbook finally came out, I knew it wouldn't disappoint. It's a gorgeous book and it's full of even more salads for me to try. The seasonal, fresh approach and the myriad of suggestions for customization and adaptions for various diets make this cookbook practical, accessible, and delicious.
Even if you're a dedicated omnivore and don't plan to fully eliminate animal products from your diet, these vegan and vegetarian cookbooks are full of recipes for healthy, satisfying meals.