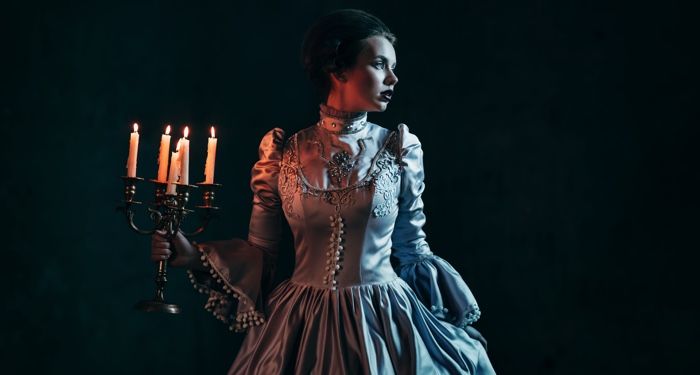 Mystery/Thriller
Is it Regular Murder or Vampire Murder?!: 3 Mysteries You Should Read
This content contains affiliate links. When you buy through these links, we may earn an affiliate commission.
Is it Regular Murder or Vampire Murder?!: 3 Mysteries You Should Read was originally published in our mystery/thriller newsletter, Unusual Suspects. Sign up for it here to get mystery/thriller news, reviews, deals, and more!
Hi mystery fans! Here's three great reads: a historical mystery, start to a fictional serial killer trilogy, and unsolved murder with an interesting hook.
Kang has quickly become my go-to for great historical mysteries. And bonus points for this feeling she inserts that maybe this will be fantasy without being fantasy. In this case: is it regular murder or vampire murder?! Tillie Pembroke is a young woman in 1899 New York, trying to figure out how to get around the societal pressures and mandates that will keep her from being herself — a delightfully curious woman always seeking to learn more and be independent. Injured from a riding accident, she finds out that her sister has been murdered in the most peculiar way — her neck was punctured and drained of blood.
Now she's not only devastated by the loss, taking painkillers for her injury — which she is unaware she is addicted to — but her mother and grandmother want to move on from the ugly situation and marry Tillie off. To her murdered sister's fiancé — and this is why I don't romanticize these times! Anyhoo, Tillie isn't having any of it and she wants to know who murdered her sister and why — and seeing as she's just read Dracula, she isn't ruling out a vampire just yet. Soon, she's devised ways of sneaking out to meet a newsie for investigating adventures, which quickly lands her labeled has a hysterical woman with doctor's orders for more drugs — we don't want those hysterical women folk anything but placid, basically.
It'll take all of Tillie's strength to overcome addiction, her family and doctor's restrictions, and her grief in order to figure out who is behind her sister's murder…I love that Kang writes intelligent and spunky women while plunging me into 1800s/1900s NY and giving me great mysteries with medical history. If you've yet to read her historical mysteries, I also highly recommend A Beautiful Poison (review) and The Impossible Girl (review). (Content warnings: brief mention of past child abuse, detail/brief mention of past partner abuse, familial abuse on page, addiction, brief mention of past suicide, attempted suicide, attempted rape on page, and allusion to past rape.)
The Silence of the White City (Trilogía de la Ciudad Blanca #1) by Eva García Sáenz, Translated by Nick Caistor
If you are looking for an engrossing start to a fictional serial killer trilogy translated from Spain, have I got a great read for you! This, for me, was one of those mystery reads that didn't break any molds, but gave me what I look for in these kinds of mysteries and added the element of a new setting.
Twenty years ago, Vitoria, the capital city of Basque in Northern Spain, was terrified of a serial killer and his ritualistic killings. Now it seems the murders have started again — which is equally terrifying and baffling, seeing as the serial killer is in prison. He was an archaeologist brought forward by his twin brother, who had been a police officer at the time of the killings. Dun dun dun! Now Inspector Unai López de Ayala "Kraken" has to figure out if the imprisoned serial killer has a new partner on the outside, or if they got it wrong all those years before…
Come for the twisty serial killer mystery, stay for the tour of Vitoria, Spain. Bonus: García Sáenz has managed to write a sweet spot that I think will appeal to both fans of dark mysteries and not-too-dark mysteries by writing the content on the dark side, but leaving out the overtly, unnecessary graphic details. Think Dan Brown's Angels & Demons and The Da Vinci Code. If you're wondering how much I enjoyed this, I immediately checked to see if my library had the following two installments in Spanish rather than waiting for the English U.S. releases. (Content warnings: child murders (not graphic), attempted suicide and suicide, partner abuse, child abuse, nonviable pregnancy, date rape, and past statutory rape that is not on the page.)
My go to rec for an overall Tana French comp is Denise Mina. While French is an American-Irish writer and Mina is a Scottish writer, they both have extensive back catalogs of police procedurals and standalones and write mysteries with a darkish pen that are really explorations of human behavior, with layered characters that are different levels of flawed.
Both of Mina's last standalones have opening hooks I couldn't resist. In this case, a woman who reaches out to an agency to set up a meeting between her and her birth mother's sister for the first time and discovers said aunt is only meeting with her because she found out she's a doctor and wants access to the database to prove a cop killed her sister all those years ago. Not the family reunion Margot was hoping for.
Margot was already having a rough go. She's pregnant, but she hasn't told her boyfriend, as they're in a separation period because he called the police on his brother for a domestic abuse incident. His brother happens to be partnered with Margot's best friend, and she felt betrayed that he broke her confidence. Her adoptive mother has also just passed, and she's clearing out the house and struggling with grief and questions of why her birth mother placed her up for adoption months before she was murdered.
Readers are plunged into Margot's chaotic life. Margot is a character who never did what I wanted her to do, but part of why Mina writes crime novels I enjoy so much is that while the characters don't behave how I want, they do make sense and force me to understand other people's struggles and lives. Her aunt Nikki is a recent-ish sober woman who takes Margot into her past of teen prostitution and drug use and what it's like to be the women society doesn't care about. Meanwhile, Margot's birth mother's murder remains unsolved all these years later, with Nikki still receiving threatening letters from the killer…
Mina delivers an absorbing mystery/crime novel and exploration of a grieving woman at an impasse in her life while showing us Glasglow's drug history. (Content warnings: stalking, suicide mentioned as threat (no detail), past disordered eating, domestic abuse, rape cases, teen prostitution, and addiction.)
---
Until next time, keep investigating!