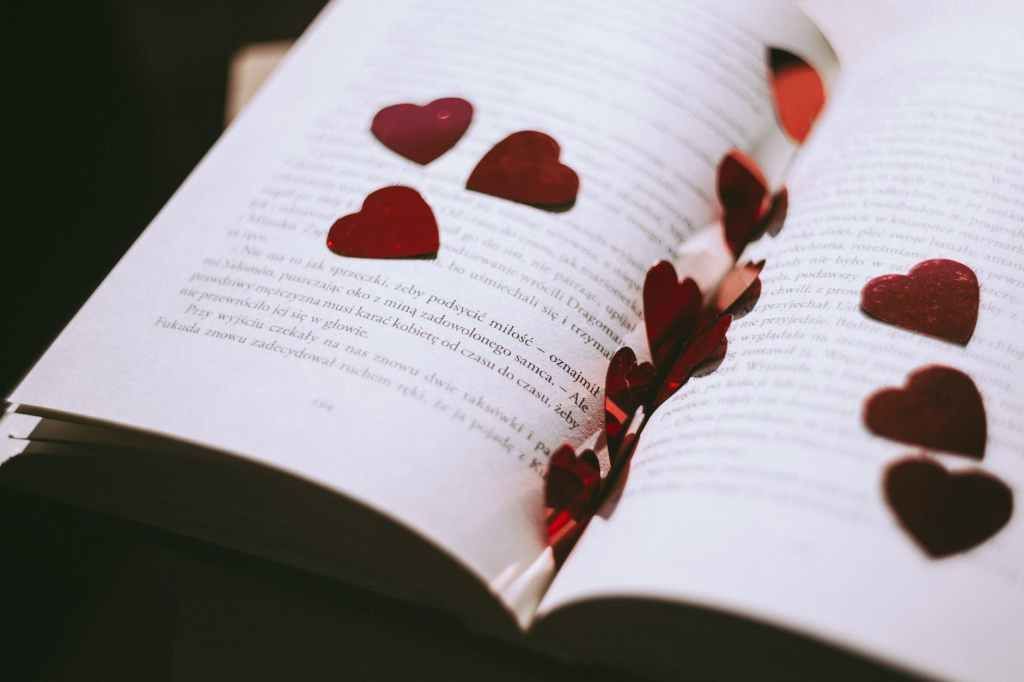 Lists
Our Valentine's Cards to Literary Characters
This content contains affiliate links. When you buy through these links, we may earn an affiliate commission.
Books were my first love, and they shall likely be my last. I'd send a Valentine to each and every one of mine if I could. But which literary characters make us swoon, and what would we say to them? I asked my fellow Rioters to share the Valentine's cards they would send if there were a magical postbox that doubled as a portal into the universe of fiction.
Starr, I know pain can't be taken away. You went through a traumatizing encounter that no child should endure, and yet you have to survive it anyway.
You deserve all the love in the world for being you, and for being brave. I send you yellow flowers of friendship, and my desire to keep you safe.
Anne Shirley from Anne of the Island
by L.M. Montgomery
I'm bi-furiously devoted to the headcanon that Anne of Green Gables' leading lady is queer, and by the third book in the series, she's an adult woman attending college and looking for love. That means it's the perfect time for me to express my undying love and affection for her. Do I sound sappy? So much the better: Anne herself is such a sincere, emotionally expressive character that I could quote romantic poetry unironically in my Valentine to her without worrying she'd roll her eyes. And Anne loves to be loved: as long as I was respectful (I would be VERY respectful), she'd be moved by my adoration even if she didn't reciprocate it. She'd probably treasure my painstakingly-crafted Valentine alongside her most cherished possessions forever.
Finnick Odair from The Hunger Games
series by Suzanne Collins
Beautiful, charming, troubled, and devoted to both his lady and the cause. Forget Bread Boy and Baby Hemsworth, Finnick was the dreamboat of the Hunger Games series. BABY, YOU DESERVED BETTER.
Mrs. Thornton from North and South
by Elizabeth Gaskell
Granted, I read this book with Sinead Cusack's tart and deep-voiced Northern accent in my head everytime I read a Mrs. Thornton line. But, Mrs. Thornton, you are a tough, loving woman who does what she can and what she must to support her children. I'm sure you'll come to love Margaret because of how happy she makes John. I admire you for your toughness and your unwavering love, even to fanciful Fanny. Go moms of all kids.
Abraham Van Helsing from Dracula
by Bram Stoker
I'm not talking about that wreck of a film when he's depicted as hot and reckless—oh no, no, no: Dr. Abraham Van Helsing is a silver fox. He is the smartest and most educated of all the characters (with Dracula himself perhaps exempted); he's a pioneer in his field of the occult, a believer in things that he cannot with science or religion explain, an adventurer despite his age, no fan of stuffy Victorian propriety, a loyal friend, an advisor, and a cool hand in the face of immortal torture. If I could send him a Valentine, it would be ME popping out of a CAKE. Wreathed with garlic flowers.
To the most badass lady on the Dublin Murder Squad,
You've been there for me through hard times, letting me into your world of sneaky school girls, pesky reporters, and unrepentant killers so that I could escape my own worries. You've sought justice for the underdogs in Dublin and endured harassment by your colleagues to do it. I'd buy you all a beer at the pub if I could, but in its stead this card will have to suffice. With love,
Amy Dunne from GONE GIRL
by Gillian Flynn
Amy Dunne, oh how I love you. You perfect villain, you manipulative genius. I read this at a time when I really needed a good female character in my life and you delivered. I can only aspire to your level of chaotic evil. I'd never cheat on you, darling. <3
Happy Valentine's Day, Captain. You thought you were all blood and swash, haunting unsuspecting guests in your former home and blustering around pretending Mrs. Muir was a nuisance. Really though, you were just a love-sick spirit who wanted to write a book. Also, it's quite ruinous for your romantic heroes to be mischievous, foul-mouthed ghosts. xoxo.
Precious from Push
by Sapphire
Happy Valentine, Beloved. I am sending you a love from the pools of hope of our ancestors. I am sending you a love deeper than romantic or erotic love. I am sending you love from your sistahs, to help you endure what you are going through, to help you feel seen when it seems you are wearing an invisibility cloak. It is my hope that this love helps you to keep reaching. It is my hope that beauty, wisdom and strength bubble up from your thighs and pulsate through your bloodstream until you are an electric shock of good vibes and good fortune. This is my love letter to you and to all the girls who resonate with your story and your journey. Bless.
Count Alexander Ilyich Rostov from A Gentleman in Moscow
by Amor Towles
Dear Count,
You're the poster child for making the best out of a bad situation. I know that the Soviet government has kept you as a political prisoner in this posh hotel for years, and they call you "Former Person," not Count. That's awful, but somehow you're still charming, not bitter. You've always made friends with the hotel staff and acknowledged them as equals, regardless of titles or status. You never talk down to children but understand how inquisitive they are. You're witty and really know how to have fun, appreciate art, and do anything to help your friends. Your open-mindedness leads the right people to you. It's always fun debating literature or watching Casablanca with you. Some people might accuse you of plagiarizing your friend's poem, but he and I understand why you did it. You let it be published under your name because someone of his social class would get in more trouble than you for writing it.
I believe in you. Someday, you can get out of this hotel. The tide will turn, and lots of people are on your side. Don't give up.
Bowen Knight from slave to sensation and the psy-changelings se
ries by Nalini Singh
My darling Bo,
We've had an uncertain relationship, you and I. Ever since you made your appearance as a hot-headed, reckless, angry man in Hostage to Pleasure, I've wanted to know more about you. After every new installment I hoped and wished you would get your own book. It did look bleak at times, I'll admit. You had to go and volunteer as guinea pig for untested technology. And then you managed to get yourself shot and scare the crap out of me. You didn't even have the decency to do it halfway through instead of keeping it a cliffhanger. Don't even think you're out of the woods there, mister. I can hold a grudge like Lorelai Gilmore can hold her coffee.
But! The woman responsible for your creation has announced you're next in line! You get your own book and your own HEA! So your annoyingly admirable qualities won't be the death of you after all, and I won't have to cry over a glass of Pinot over your untimely death. Happy Valentine's day, my love. It's been a rocky few years, but we've pulled through.