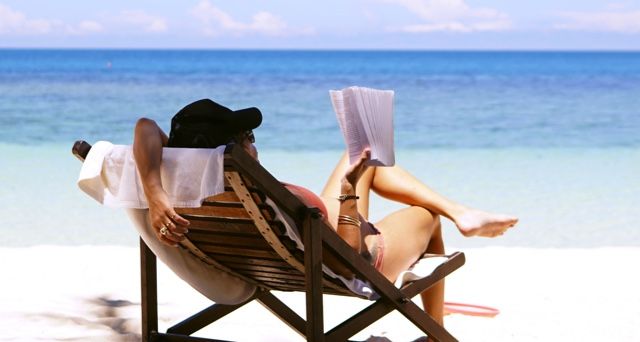 How To
8 Vacation Tips for Book Lovers
It's peak getaway season and we've got vacation tips for readers of every kind. Wherever you're going and whatever you're doing, we already know you won't forget to pack a book (or two, or ten), but here are a few tips to make the most out of your love for reading before, during, and after your vacation.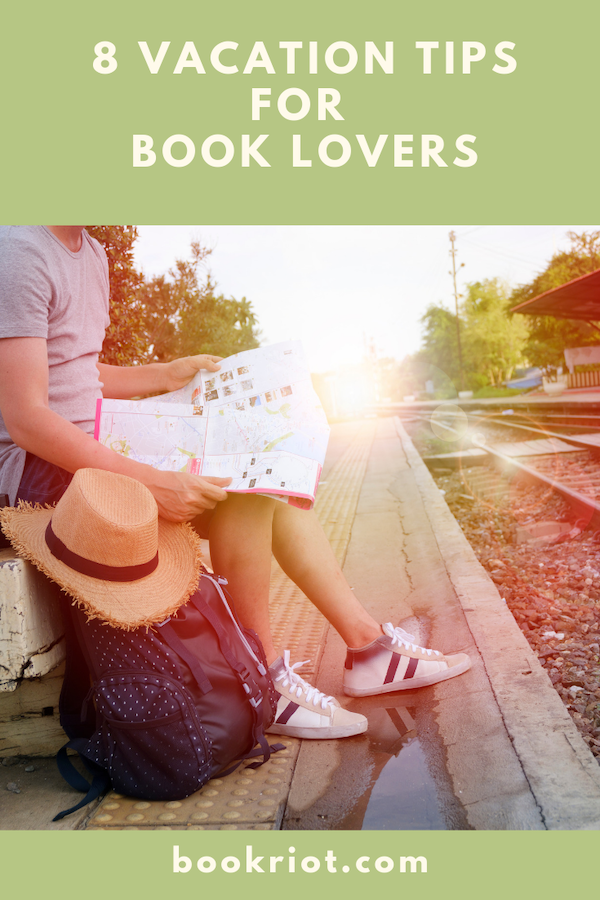 Pre-Vacation Tips for Book Lovers
Add Bookish Stops to Your Itinerary
If you already know where you're going, do some research on local literary spots like indie bookstores and unique public libraries. It's a great way to soak up local flavor and to find a home away from bookish home. Get a head start on your search with Book Riot's literary tourism series.
Another great way to get to know the community you're visiting is to spend some time reading in a local coffee shop. Find a few of them in different parts of town so you can stop in when you happen to be nearby, when you want to stay inside on a rainy day, or when you just want some downtime to tackle your TBR list.
Plan an Entirely Book-Focused Vacation
Don't know where you're going yet? This might be the perfect opportunity to dedicate an entire vacation to your passion for books. The Internet is full of suggestions, whether you love English Lit, fantasy fiction, want to stay in a book-themed accommodation, or just want a consolidated list of must-see literary destinations around the globe.
If you want to get really creative, pick your favorite novel and trace the characters' steps throughout their city. It's especially thrilling to see and experience the streets, shops, and eateries of the story when it takes place in a country that's unfamiliar to you.
Pack the Right Books
It's a vacation tip for book lovers that never gets old: how to decide what you'll bring. Which titles? Which format? How many? Here's a quick rundown of things to consider.
Which titles? Be honest about what mood you think you'll be in when you're on vacation. Pack the books that you'll want to read, not what you think you ought to read.
Print, ebooks or audiobooks? Mentally go through your vacation activities in your head and decide what's best for you in each situation. Remember to consider accessibility to a charger and mobile data or WiFi requirements.
How many books? Consider the space you have and the time you'll have to read and then pack with intention. Another good tip: If you love print books, but you want more room to bring back gifts and souvenirs, consider taking a book that you don't mind leaving behind at your destination. Make a contribution to the book collection at your hotel or a local coffee shop, donate it to a used bookstore, or pass it on to the friend you're visiting.
Vacation Tips for Book Lovers Once You're There
Be Ready to Add to Your TBR List
While you're out and about at your bookish stops, make sure you're ready with your Goodreads app—or whatever tool you use to keep track of your TBR list. With so many things to remember and think about while you're traveling, you'll be glad to have a way to quickly capture the book and move on.
Scout Out Local Authors
Here's another good way to soak up local flavor. Don't forget to ask the indie bookstore owners about their favorite authors in the community. You'll be learning about the city you're visiting and also making a difference in that community.
Share Your Own Vacation Tips for Book Lovers
When you discover a bookish gem on vacation, don't forget to share it with your followers and all the other bookworms who might be looking for similar ideas. Some popular hashtags are #bookvacation, #booktravel, and #booktraveler.
Take Time to Step Away from the Books
Remember that vacation is all about enjoying the moment. Now and then, drop the books and simply take in what's going on around you. Allow plenty of time to come out of the world you've been reading so you can fully enjoy the scenery, the food, the activity, and of course the company and conversation.
Post-Vacation Tips for Book Lovers
Become a Book Travel Expert
Even if you've kept track of everything you found and did via social media while you were traveling, once you're home, try to find some time to write all of it down in one place and file it away somewhere. That way, the next time one of your bookish friends needs ideas for vacation, you'll be ready to share.