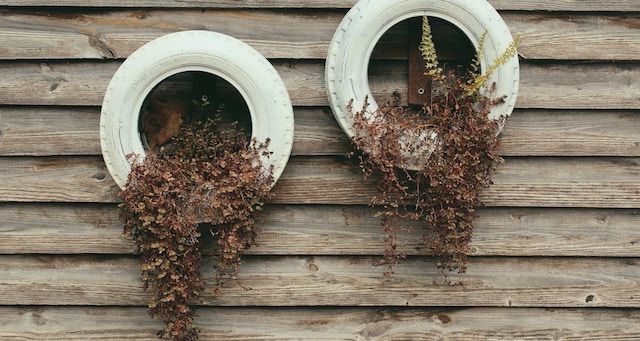 Crafting
8 Upcycling Books That Will Chic Your Life And Cut Your Waste
This content contains affiliate links. When you buy through these links, we may earn an affiliate commission.
Don't buy things. Buying things isn't cool! Instead, head over to your local public library and borrow one of these upcycling books. If you're here to learn about how to upcycle old books, then we've got some lovely posts for you right here and here. Go to town. Then come back and find some literature that will turn your lame-o trash into chic treasure!
Maybe you're a fashionista with designs (heh) on your local couture scene. If so, then you need to start sniffing around thrift shops for a sewing machine. (There are always like five. Seriously. Go look, there's one right now.) Sewing is the next step for the real fashion-forward self-designer, not to mention a proud and chic upcycler.
Pallets are the great overlooked upcycling opportunity of our time, but you need to know what you're looking for – some have been treated with pesticides or used to transport chemicals that you definitely don't want to track into your home. This book tells you exactly how to upcycle construction materials, and if you're handy, it's an invaluable guide.
I love cardboard. It's generally free, it's everywhere, and you would not believe what you can accomplish with it. Furniture, toys, and more are within your grasp once you pin down the basics of cardboard construction. This book will get you there and a little further.
Even if you live in perfect harmony with the Earth Mother, vibrating in synchrony with the natural universe as a beacon of endless light, you will generate some packaging waste. You are human and need to keep reading Book Riot, so someday you will need a new Internet-capable device. Don't despair! All that ugly packaging will look adorable in your scrapbook when you follow these innovative greencrafting techniques.
Your upcycled stuff isn't new. Nothing will make it new. That's OK! Vintage is trendy. A lot of upcycling books brag about their ability to turn your living space into a catalog-worthy vintage fest, but this particular book really delivers on its promise.
Once yuo're done with this title, you're not going to want to throw anything out. From broken belts to take-out chopsticks, everything takes on new life in this completely charming upcycling go-to.
Remember that computer you needed to read Book Riot? Don't despair when it goes kaput. You can turn that piece of dead tech into something vital and new! From the magnets in your hard drive to that ancient iPod, there's always something new that you can do with old silicon.
Decorating is a great way to use up your extraneous stuff, and this book is nothing if not full of decorating acumen. Thrill at ideas for coasters, mirror frames, and throw pillows! I mean that sincerely – this is a great way to keep beloved but worn out items part of your home life by incorporating them into your space forever. This is one of those upcycling books that's great to read with older kids!