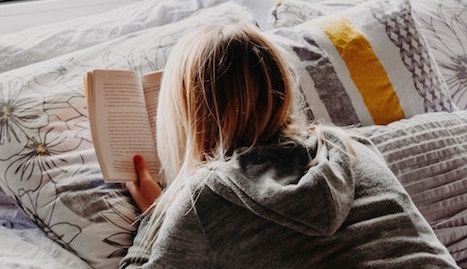 This content contains affiliate links. When you buy through these links, we may earn an affiliate commission.
There's nothing better than the fall: it's cool enough to spend hours reading outside beneath the beautiful changing leaves (or for those who prefer the indoors, cool enough to read beside the window and admire the changing leaves from your favorite reading chair). To get your fall TBR off to a great start and to keep it going, here's a look at over 125 upcoming YA books that are hitting shelves between October and the end of December.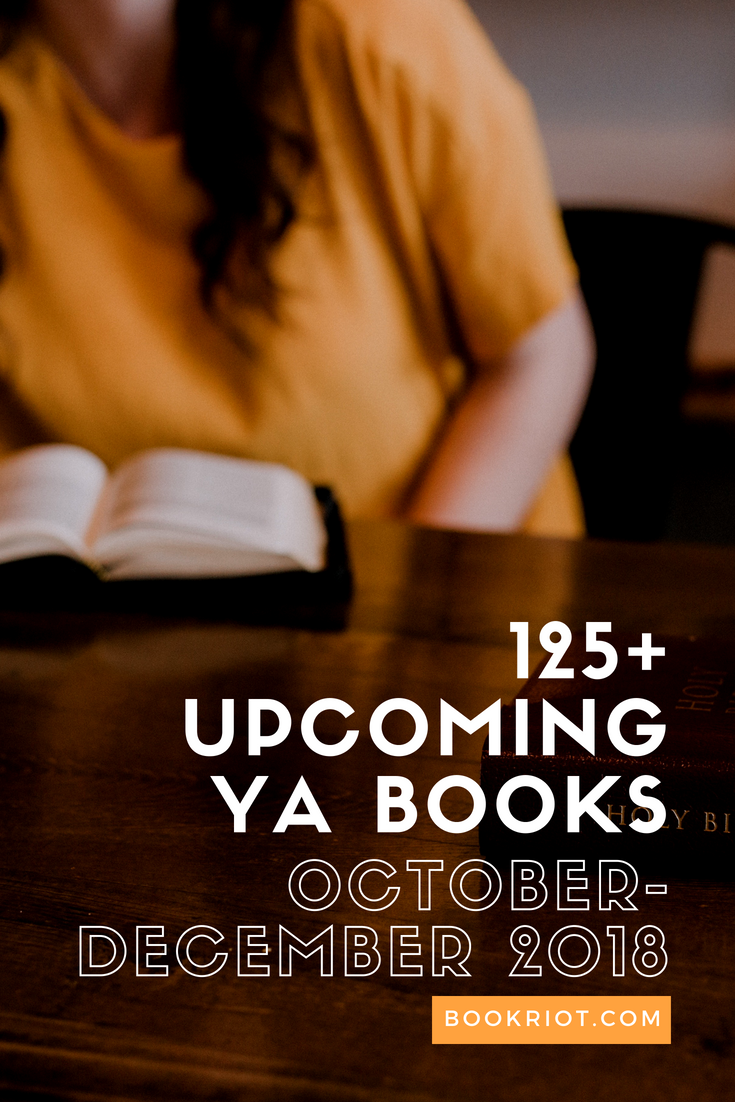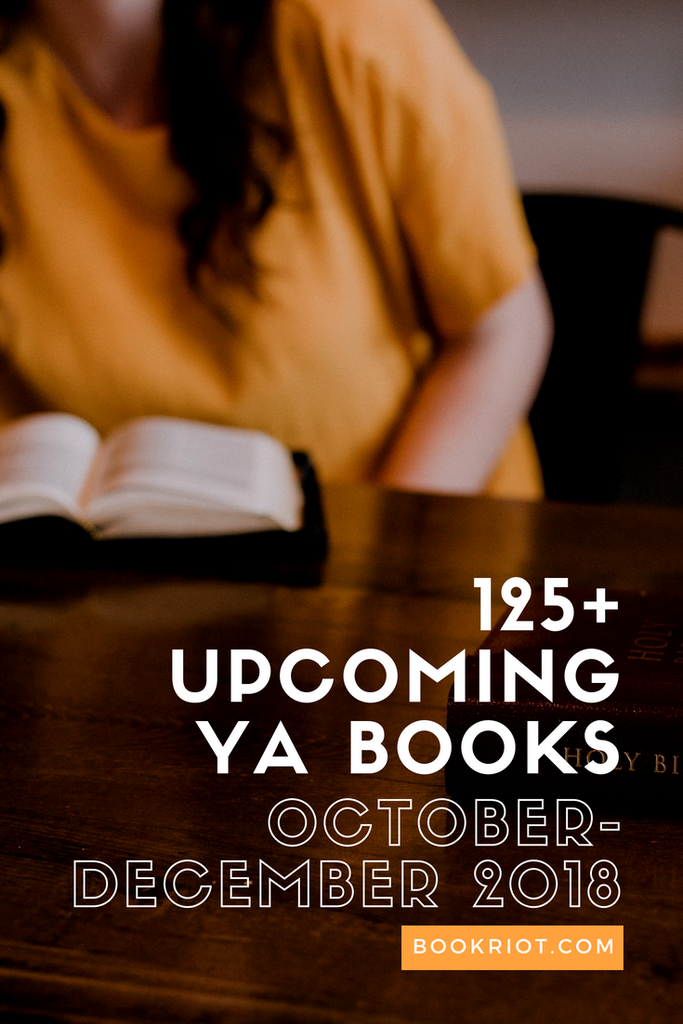 Here you'll find both fiction and nonfiction. Books that are part of a series are denoted with a *. Descriptions are from Amazon and books are listed beneath the date of publication in alphabetical order. Note that sometimes upcoming YA books have their publication dates changed, so the dates below correspond to the best known information at the time of this writing.
October
1
Disaffected teen historian Claudia McCarthy never expected to be in charge of Imperial Day Academy, but by accident, design, or scheme, she is pulled into the tumultuous and high-profile world of the Senate and Honor Council. Suddenly, Claudia is wielding power over her fellow students that she never expected to have and isn't sure she wants.
Claudia vows to use her power to help the school. But there are forces aligned against her: shocking scandals, tyrants waiting in the wings, and political dilemmas with no easy answers. As Claudia struggles to be a force for good in the universe, she wrestles with the question: does power inevitably corrupt?
2
Before, she lived inside the fence. Before, she was never allowed to leave the property, never allowed to talk to Outsiders, never allowed to speak her mind. Because Father John controlled everything—and Father John liked rules. Disobeying Father John came with terrible consequences.
But there are lies behind Father John's words. Outside, there are different truths.
Then came the fire.
Artist Piper Perish has moved from her hometown of Houston, Texas, to New York City. Her days are spent exploring; her nights are filled with painting. It's her lifelong dream come true…Except life in the city isn't as glamorous as it looks from afar. Piper's high-pressure work as an assistant to a famous modern artist takes away time from her own art. And Piper's new friend Grace, a budding activist, has Piper beginning to wonder if making great art is really enough.
In a story that stands alone but can be read as a companion novel to Piper Perish, acclaimed author Kayla Cagan returns with Piper's powerful and utterly authentic journey of growing up into a strong, independent young woman—as she learns how to make life about art, and how to make that art matter. Art Boss will have readers asking big questions along with Piper. What is art for? What can art do? And how can a young artist change the world?
There is a right way and a wrong way to summon her?
Jess had done the research.
Success requires precision: a dark room, a mirror, a candle, salt, and four teenage girls. Each of them—Jess, Shauna, Kitty, and Anna—must link hands, follow the rules…and never let go.
A thrilling fear spins around the room the first time Jess calls her name: "Bloody Mary. Bloody Mary. BLOODY MARY." A ripple of terror follows when a shadowy silhouette emerges through the fog, a specter trapped behind the mirror.
Once is not enough, though-at least not for Jess.
Mary is called again. And again.
But when their summoning circle is broken, Bloody Mary slips through the glass with a taste for revenge on her lips. As the girls struggle to escape Mary's wrath, loyalties are questioned, friendships are torn apart, and lives are forever altered. A haunting trail of clues leads Shauna on a desperate search to uncover the legacy of Mary Worth. What she finds will change everything, but will it be enough to stop Mary—and Jess—before it's too late?
Frey, Ovie, Juniper, and Runa are the Boneless Mercies―girls hired to kill quickly, quietly, and mercifully. But Frey is weary of the death trade and, having been raised on the heroic sagas of her people, dreams of a bigger life.
When she hears of an unstoppable monster ravaging a nearby town, Frey decides this is the Mercies' one chance out. The fame and fortune of bringing down such a beast would ensure a new future for all the Mercies. In fact, her actions may change the story arc of women everywhere.
Full of fierce girls, bloodlust, tenuous alliances, and unapologetic quests for glory, this elegantly spun tale challenges the power of storytelling―and who gets to be the storyteller. Perfect for fans of Maggie Stiefvater, V.E. Schwab, and Heidi Heilig.
It's been five years since Summer Marks was brutally murdered in the woods.
Everyone thinks Mia and Brynn killed their best friend. That driven by their obsession with a novel called The Way into Lovelorn the three girls had imagined themselves into the magical world where their fantasies became twisted, even deadly.
The only thing is: they didn't do it.
On the anniversary of Summer's death, a seemingly insignificant discovery resurrects the mystery and pulls Mia and Brynn back together once again. But as the lines begin to blur between past and present and fiction and reality, the girls must confront what really happened in the woods all those years ago—no matter how monstrous.
Eli is coasting through high school, spending most of his time writing code. Each day is as boring as the next—until he receives a cryptic message in binary code, leading him to Seth and Mouse. They're seeking a third member for a prestigious hacking competition, after their teammate and friend Jordan committed suicide last year. Intrigued by the challenge, Eli agrees.
But soon it becomes clear that Seth and Mouse are after more than winning a competition—they're seeking revenge for the abuse that caused Jordan's suicide. Eli is in way over his head, but he's also hiding a dangerous secret that could lead to even more trouble if he isn't careful. In a story about the shift of power from those who rule at school to those who rule online, the difference between bully and victim is blurred and Eli—whose coding skilled have taught him to make order out of chaos—will find the real world is much harder to control.
Damsel by Elana K. Arnold
The rite has existed for as long as anyone can remember: When the king dies, his son the prince must venture out into the gray lands, slay a fierce dragon, and rescue a damsel to be his bride. This is the way things have always been.
When Ama wakes in the arms of Prince Emory, she knows none of this. She has no memory of what came before she was captured by the dragon or what horrors she faced in its lair. She knows only this handsome young man, the story he tells of her rescue, and her destiny of sitting on a throne beside him. It's all like a dream, like something from a fairy tale.
As Ama follows Emory to the kingdom of Harding, however, she discovers that not all is as it seems. There is more to the legends of the dragons and the damsels than anyone knows, and the greatest threats may not be behind her, but around her, now, and closing in.
Who's Crazy?
What does it mean to be crazy? Is using the word crazy offensive? What happens when such a label gets attached to your everyday experiences?
In order to understand mental health, we need to talk openly about it. Because there's no single definition of crazy, there's no single experience that embodies it, and the word itself means different things—wild? extreme? disturbed? passionate?—to different people.
(Don't) Call Me Crazy is a conversation starter and guide to better understanding how our mental health affects us every day. Thirty-three writers, athletes, and artists offer essays, lists, comics, and illustrations that explore their personal experiences with mental illness, how we do and do not talk about mental health, help for better understanding how every person's brain is wired differently, and what, exactly, might make someone crazy.
If you've ever struggled with your mental health, or know someone who has, come on in, turn the pages, and let's get talking.
Dry by Neal Shusterman and Jarrod Shusterman

The drought—or the Tap-Out, as everyone calls it—has been going on for a while now. Everyone's lives have become an endless list of don'ts: don't water the lawn, don't fill up your pool, don't take long showers.
Until the taps run dry.
Suddenly, Alyssa's quiet suburban street spirals into a warzone of desperation; neighbors and families turned against each other on the hunt for water. And when her parents don't return and her life—and the life of her brother—is threatened, Alyssa has to make impossible choices if she's going to survive.
Evelyn Summers is imprisoned for a crime that was wiped from her memory.
In order for Evelyn to be released, she—along with other "reformed" prisoners—must pass seven mental, physical, and virtual challenges known as the Freedom Trials. One mistake means execution and, with her history of being a snitch, her fellow inmates will do everything they can to get revenge.
When new prisoner Alex Martinez arrives, armed with secrets about Evelyn's missing memories, she must make a choice. She can follow the rules to win and walk free, or covertly uncover details of the crime that sent her there. But competing in the trials and dredging up her erased past may cost Evelyn the one thing more valuable than freedom: her life.
A lot can happen on the road from lost to found…
Ali Collins doesn't have room in her life for clutter or complications. So when her estranged father passes away and leaves her his only prized possession—a 1968 Firebird convertible—Ali knows she won't keep it. Not when it reminds her too much of all her father's unfulfilled promises. And especially not when a buyer three hundred miles up the Pacific coast is offering enough money for the car to save her childhood home from foreclosure. There's only one problem, though. Ali has no idea how to drive a stick shift.
But her ex-boyfriend, Nico, does.
The road trip gets off to a horrible start, filled with unexpected detours, roadblocks, and all the uncomfortable tension that comes with being trapped in a car with your ex. But when Nico starts collecting items from the quirky strangers they meet along the way, Ali starts to sense that these objects aren't random. Somehow they seem to be leading her to an unknown truth about her father. A truth that will finally prove to Ali that some things—even broken things—are worth saving.
Seventeen-year-old Anouk envies the human world, where people known as Pretties lavish themselves in fast cars, high fashion, and have the freedom to fall in love. But Anouk can never have those things, because she is not really human. Enchanted from animal to human girl and forbidden to venture beyond her familiar Parisian prison, Anouk is a Beastie: destined for a life surrounded by dust bunnies and cinders serving Mada Vittora, the evil witch who spelled her into existence. That is, until one day she finds her mistress murdered in a pool of blood—and Anouk is accused of the crime.
Now, the world she always dreamed of is rife with danger. Pursued through Paris by the underground magical society known as the Haute, Anouk and her fellow Beasties only have three days to find the real killer before the spell keeping them human fades away. If they fail, they will lose the only lives they've ever known…but if they succeed, they could be more powerful than anyone ever bargained for.
Rebels, rulers, scientists, artists, warriors and villains
Women are, and have always been, all these things and more.
Looking through the ages and across the globe, Anita Sarkeesian, founder of Feminist Frequency, along with Ebony Adams PHD, have reclaimed the stories of twenty-five remarkable women who dared to defy history and change the world around them. From Mongolian wrestlers to Chinese pirates, Native American ballerinas to Egyptian scientists, Japanese novelists to British Prime Ministers, History vs Women will reframe the history that you thought you knew.
Featuring beautiful full-color illustrations of each woman and a bold graphic design, this standout nonfiction title is the perfect read for teens (or adults!) who want the true stories of phenomenal women from around the world and insight into how their lives and accomplishments impacted both their societies and our own.
Having defeated the monstrous threat that nearly destroyed the peculiar world, Jacob Portman is back where his story began, in Florida. Except now Miss Peregrine, Emma, and their peculiar friends are with him, and doing their best to blend in. But carefree days of beach visits and normalling lessons are soon interrupted by a discovery—a subterranean bunker that belonged to Jacob's grandfather, Abe.
Clues to Abe's double-life as a peculiar operative start to emerge, secrets long hidden in plain sight. And Jacob begins to learn about the dangerous legacy he has inherited—truths that were part of him long before he walked into Miss Peregrine's time loop.
Now, the stakes are higher than ever as Jacob and his friends are thrust into the untamed landscape of American peculiardom—a world with few ymbrynes, or rules—that none of them understand. New wonders, and dangers, await in this brilliant next chapter for Miss Peregrine's peculiar children. Their story is again illustrated throughout by haunting vintage photographs, but with a striking addition for this all-new, multi-era American adventure—full color.
Sarai has lived and breathed nightmares since she was six years old.
She believed she knew every horror, and was beyond surprise.
She was wrong.
In the wake of tragedy, neither Lazlo nor Sarai are who they were before. One a god, the other a ghost, they struggle to grasp the new boundaries of their selves as dark-minded Minya holds them hostage, intent on vengeance against Weep.
Lazlo faces an unthinkable choice—save the woman he loves, or everyone else?—while Sarai feels more helpless than ever. But is she? Sometimes, only the direst need can teach us our own depths, and Sarai, the muse of nightmares, has not yet discovered what she's capable of.
As humans and godspawn reel in the aftermath of the citadel's near fall, a new foe shatters their fragile hopes, and the mysteries of the Mesarthim are resurrected: Where did the gods come from, and why? What was done with thousands of children born in the citadel nursery? And most important of all, as forgotten doors are opened and new worlds revealed: Must heroes always slay monsters, or is it possible to save them instead?
Seventeen-year-old Seelie Stanton never wanted to kill anyone. She never wanted to be invisible in her own family, she never wanted to crush on her best friend Alyssa, and she definitely never wanted to know how effectively a mallet could destroy a human head.
But the universe doesn't care what she wants and neither does Shane Mayfield. When the former high school basketball star attacks her, she has no choice but to defend herself. She saves her own life, but she can't bring herself to talk about what happened that night. Not all of it. Not even when she's arrested for murder.
When recent high school graduate Cameron Carter lands an internship with Congressman Billy Beck in Washington, DC, he thinks it is his ticket out of small town captivity. What he lacks in connections and Beltway polish he makes up in smarts, and he soon finds a friend and mentor in fellow staffer Ariel Lancaster.
That is, until she winds up dead.
As rumors and accusations about her death fly around Capitol Hill, Cameron's low profile makes him the perfect candidate for an FBI investigation that he wants no part of. Before he knows it—and with his family's future at stake—he discovers DC's darkest secrets as he races to expose a deadly conspiracy.
If it doesn't get him killed first.
Who are the Sawkill Girls?
Marion: The newbie. Awkward and plain, steady and dependable. Weighed down by tragedy and hungry for love she's sure she'll never find.
Zoey: The pariah. Luckless and lonely, hurting but hiding it. Aching with grief and dreaming of vanished girls. Maybe she's broken—or maybe everyone else is.
Val: The queen bee. Gorgeous and privileged, ruthless and regal. Words like silk and eyes like knives; a heart made of secrets and a mouth full of lies.
Their stories come together on the island of Sawkill Rock, where gleaming horses graze in rolling pastures and cold waves crash against black cliffs. Where kids whisper the legend of an insidious monster at parties and around campfires. Where girls have been disappearing for decades, stolen away by a ravenous evil no one has dared to fight…until now.
Janesville, Wisconsin (cold in the sense that there is no God)
1994
The worst thing that's ever happened to Craig is also the best: Amy. Amy and Craig never should've gotten together. Craig is an awkward, Dungeons & Dragons playing geek, and Amy is the beautiful, fiercely intelligent student body president of their high school.
Yet somehow they did until Amy dumped him. Then got back together with him. Then dumped him again. Then got back together with him again. Over and over and over.
Unfolding over their senior year, Amy and Craig's exhilarating, tumultuous relationship is a kaleidoscope of joy, pain, and laughter as an uncertain future—and adult responsibility—loom on the horizon.
Craig fights for his dream of escaping Janesville and finding his place at a quirky college, while Amy's quest to uncover her true self sometimes involves being Craig's girlfriend and sometimes doesn't.
Seven heartbreaks. Seven joys. Told nonsequentially, acclaimed playwright Don Zolidis's debut novel is a brutally funny, bittersweet taste of the utterly unique and utterly universal experience of first love.
Every millennium, one age ends and another age dawns…and whoever holds the Scroll of a Thousand Prayers holds the power to call the great Kami Dragon from the sea and ask for any one wish. The time is near…and the missing pieces of the scroll will be sought throughout the land of Iwagoto. The holder of the first piece is a humble, unknown peasant girl with a dangerous secret.
Demons have burned the temple Yumeko was raised in to the ground, killing everyone within, including the master who trained her to both use and hide her kitsune shapeshifting powers. Yumeko escapes with the temple's greatest treasure—one part of the ancient scroll. Fate thrusts her into the path of a mysterious samurai, Kage Tatsumi of the Shadow Clan. Yumeko knows he seeks what she has…and is under orders to kill anything and anyone who stands between him and the scroll.
*Someday by David Levithan
For as long as A can remember, life has meant waking up in a different person's body every day, forced to live as that person until the day ended. A always thought there wasn't anyone else who had a life like this.
But A was wrong. There are others.
A has already been wrestling with powerful feelings of love and loneliness. Now comes an understanding of the extremes that love and loneliness can lead to—and what it's like to discover that you are not alone in the world.
In Someday, David Levithan takes readers further into the lives of A, Rhiannon, Nathan, and the person they may think they know as Reverend Poole, exploring more deeply the questions at the core of Every Day and Another Day: What is a soul? And what makes us human?
Siblings Ilse and Wolf hide a deep secret in their blood: with it, they can work magic. And the government just found out.
Blackmailed into service during World War II, Ilse lends her magic to America's newest weapon, the atom bomb, while Wolf goes behind enemy lines to sabotage Germany's nuclear program. It's a dangerous mission, but if Hitler were to create the bomb first, the results would be catastrophic.
When Wolf's plane is shot down, his entire mission is thrown into jeopardy. Wolf needs Ilse's help to develop the magic that will keep him alive, but with a spy afoot in Ilse's laboratory, the letters she sends to Wolf begin to look treasonous. Can Ilse prove her loyalty—and find a way to help her brother—before their time runs out?
Joan of Arc. Anne Frank. Cleopatra. Pocahontas. Mary Shelley. Many of these heroines are well-known. But have you heard of Sybil Ludington, a 16-year-old daughter of an American colonel who rode twice as far as the far better-remembered Paul Revere to warn the militia that the British army was invading?
This fascinating book features 30 young women who accomplished remarkable things before their twentieth birthdays. Visually compelling with original illustrations, this book will inspire the next generation of strong, fearless women.
Mellie has always been the reliable friend, the good student, the doting daughter. But when an unspeakable act leads her to withdraw from everyone she loves, she is faced with a life-altering choice—a choice she must face alone.
Lise stands up—and speaks out—for what she believes in. And when she notices Mellie acting strangely, she gets caught up in trying to save her…all while trying to protect her own secret. One that might be the key to helping Mellie.
Told through Mellie and Lise's journal entries, this powerful, emotional novel chronicles Mellie's struggle to decide what is right for her and the unbreakable bond formed by the two girls on their journey.
It's 1871, and Emmeline Carter is poised to take Chicago's high society by storm. Between her father's sudden rise to wealth and her recent engagement to Chicago's most eligible bachelor, Emmeline has it all. But she can't stop thinking about the life she left behind, including her childhood sweetheart, Anders Magnuson.
Fiona Byrne, Emmeline's childhood best friend, is delighted by her friend's sudden rise to prominence, especially since it means Fiona is free to pursue Anders herself. But when Emmeline risks everything for one final fling with Anders, Fiona feels completely betrayed.
As the summer turns to fall, the city is at a tipping point: friendships are tested, hearts are broken, and the tiniest spark might set everything ablaze.
Joel Higgins has 901 unsent text messages saved on his phone.
Ever since the thing that happened, there are certain people he hasn't been able to talk to in person. Sure, he shows up at school, does his mandatory volunteer hours at the soup kitchen, and spends pretty much every moment thinking about Eli, the most amazing girl in the world. But that doesn't mean he's keeping it together, or even that he has any friends.
So instead of hanging out with people in real life, he drafts text messages. But he never presses send.
As dismal as sophomore year was for Joel, he doesn't see how junior year will be any better. For starters, Eli doesn't know how he feels about her, his best friend Andy's gone, and he basically bombed the SATs. But as Joel spends more time at the soup kitchen with Eli and Benj, the new kid whose mouth seems to be unconnected to his brain, he forms bonds with the people they serve there—including a veteran they call Rooster—and begins to understand that the world is bigger than his own pain.
In this dazzling, hilarious, and heartbreaking debut, Joel grapples with the aftermath of a tragic loss as he tries to make sense of the problems he's sees all around him with the help of banned books, Winnie-the-Pooh, a field of asparagus, and many pairs of socks.
9
Stella and Farida have been best friends forever, but lately things have been tense. It all started when Stella's brother came home from his latest tour with the US Marines in Afghanistan paranoid and angry. But Stella won't talk about it, and Farida can tell she's keeping something from her.
Desperate to help Rob, Stella thinks she just needs to get him out of the house. She definitely didn't expect going to the movies to end with Rob in handcuffs for assaulting one of her classmates after his anger spiraled out of control.
When a video of the fight goes viral, everyone has an opinion of Stella and her "violent vet" brother.
The entire school takes sides, the media labels Rob a terrorist sympathizer, and even Farida is dragged into the mess despite not being there. As the story continues trending, Stella will have to decide just how far she's willing to go for the truth, even if it means admitting her own failures.
In the city of Eldra, people are ruled by ancient prophecies. For centuries, the high council has stayed in power by virtue of the prophecies of the elder seers. After the last infallible prophecy came to pass, growing unrest led to murders and an eventual rebellion that raged for more than a decade. In the present day, Cassa, the orphaned daughter of rebels, is determined to fight back against the high council, which governs Eldra from behind the walls of the citadel. Her only allies are no-nonsense Alys, easygoing Evander, and perpetually underestimated Newt. Cassa struggles to come to terms with the legacy of rebellion her dead parents have left her, and the fear that she may be inadequate to shoulder the burden. But by the time Cassa and her friends uncover the mystery of the final infallible prophecy, it may be too late to save the city—or themselves.
World War II is over, but tensions between the communist Soviet Union and the US are at an all-time high. In America, communist threats are seen everywhere and a committee is formed in the nation's capital to investigate those threats. Larry Dane Brimner follows the story of 19 men—all from the film industry—who are summoned to appear before the House of Representatives Committee on Un-American Activities. All 19 believe that the committee's investigations into their political views and personal associations are a violation of their First Amendment rights. When the first 10 of these men refuse to give the committee the simple answers it wants, they are cited for contempt of Congress and blacklisted.
The del Cisne girls have never just been sisters; they're also rivals, Blanca as obedient and graceful as Roja is vicious and manipulative. They know that, because of a generations-old spell, their family is bound to a bevy of swans deep in the woods. They know that, one day, the swans will pull them into a dangerous game that will leave one of them a girl, and trap the other in the body of a swan.
But when two local boys become drawn into the game, the swans' spell intertwines with the strange and unpredictable magic lacing the woods, and all four of their fates depend on facing truths that could either save or destroy them. Blanca & Roja is the captivating story of sisters, friendship, love, hatred, and the price we pay to protect our hearts.
The breathtaking story of five brothers who bring each other up in a world run by their own rules. As the Dunbar boys love and fight and learn to reckon with the adult world, they discover the moving secret behind their father's disappearance. At the center of the Dunbar family is Clay, a boy who will build a bridge—for his family, for his past, for greatness, for his sins, for a miracle. The question is, how far is Clay willing to go? And how much can he overcome? Written in powerfully inventive language and bursting with heart, BRIDGE OF CLAY is signature Zusak.
The sequel to Sword and Verse follows a familiar face—Soraya—as she attempts to rebuild a nation after the downfall of the monarchy. Readers who love Rae Carson and Kristen Cashore won't be able to put this fantasy down.
Soraya Gamo was meant to be queen of Qilara, until an Arnath slave rebellion upended the social order and destroyed the capital city. Now, improbably, she sits on the new ruling council beside Mati, Raisa, and Jonis from Book 1, and must work with her former enemies.
She finally holds the political power she always wanted—but over a nation in ruins. As she helps to rebuild Qilara, she can, at last, use what everyone once told her to hide: her brain.
But not everyone is ready to accept that the Arnathim are no longer enslaved to the Qilarites. So when a slave ship arrives in the city, full of Arnathim captured before Qilara fell, the civil unrest that has been bubbling since the rebellion erupts.
Forced to confront her own prejudices, Soraya struggles to gain the trust of the Arnath people she once disregarded and establish peace in what has become chaos. With the threat of attacks high, Gelti, a former guard captain, trains Soraya in self-defense. As the two grow close, tension within the city ramps up, with danger, betrayal, and deception meeting Soraya everywhere she turns.
Friends become foes, adversaries become companions, and the clashing of classes threatens to unravel all the good Soraya has been trying to do. Can Soraya, raised to be a submissive Qilarite lady, learn to be a true leader? Or will the sins of her past forever haunt the footsteps of her future?
Dear Evan Hansen by Val Emmich, Steven Levenson, Benj Pasek, Justin Paul
Dear Evan Hansen,
Today's going to be an amazing day and here's why…
When a letter that was never meant to be seen by anyone draws high school senior Evan Hansen into a family's grief over the loss of their son, he is given the chance of a lifetime: to belong. He just has to stick to a lie he never meant to tell, that the notoriously troubled Connor Murphy was his secret best friend.
Suddenly, Evan isn't invisible anymore—even to the girl of his dreams. And Connor Murphy's parents, with their beautiful home on the other side of town, have taken him in like he was their own, desperate to know more about their enigmatic son from his closest friend.As Evan gets pulled deeper into their swirl of anger, regret, and confusion, he knows that what he's doing can't be right, but if he's helping people, how wrong can it be?
No longer tangled in his once-incapacitating anxiety, this new Evan has a purpose. And a website. He's confident. He's a viral phenomenon. Every day is amazing. Until everything is in danger of unraveling and he comes face to face with his greatest obstacle: himself.
A simple lie leads to complicated truths in this big-hearted coming-of-age story of grief, authenticity and the struggle to belong in an age of instant connectivity and profound isolation.
Hunt the Stones.
Beware the Thief.
Avenge the Past.
Esta's parents were murdered. Her life was stolen. And everything she knew about magic was a lie. She thought the Book of Mysteries held the key to freeing the Mageus from the Order's grasp, but the danger within its pages was greater than she ever imagined.
Now the Book's furious power lives inside Harte. If he can't control it, it will rip apart the world to get its revenge, and it will use Esta to do it.
To bind the power, Esta and Harte must track down four elemental stones scattered across the continent. But the world outside the city is like nothing they expected. There are Mageus beyond the Brink not willing to live in the shadows—and the Order isn't alone in its mission to crush them.
In St. Louis, the extravagant World's Fair hides the first stone, but an old enemy is out for revenge and a new enemy is emerging. And back in New York, Viola and Jianyu must defeat a traitor in a city on the verge of chaos.
As past and future collide, time is running out to rewrite history—even for a time-traveling thief.
The Healer by Donna Freitas
Marlena Oliveira has—mysteriously, miraculously—been given the power to heal all kinds of ailments. People around the world believe she is a saint. But it all comes at a price. Because of her power, she'll never be able to live a normal life. And the older she gets, the more trapped she feels.
Then she meets Finn, a boy who makes her want to fall in love. For the first time, she begins to doubt her power—and herself. Is her gift worth all she must give up to keep it? And who would—or could—she be without it?
When Louise Wolfe's first real boyfriend mocks and disrespects Native people in front of her, she breaks things off and dumps him over e-mail. It's her senior year, anyway, and she'd rather spend her time with her family and friends and working on the school newspaper. The editors pair her up with Joey Kairouz, the ambitious new photojournalist, and in no time the paper's staff find themselves with a major story to cover: the school musical director's inclusive approach to casting The Wizard of Oz has been provoking backlash in their mostly white, middle-class Kansas town. From the newly formed Parents Against Revisionist Theater to anonymous threats, long-held prejudices are being laid bare and hostilities are spreading against teachers, parents, and students — especially the cast members at the center of the controversy, including Lou's little brother, who's playing the Tin Man. As tensions mount at school, so does a romance between Lou and Joey — but as she's learned, "dating while Native" can be difficult. In trying to protect her own heart, will Lou break Joey's?
Hey Kiddo by Jarrett J. Krosoczka
In kindergarten, Jarrett Krosoczka's teacher asks him to draw his family, with a mommy and a daddy. But Jarrett's family is much more complicated than that. His mom is an addict, in and out of rehab, and in and out of Jarrett's life. His father is a mystery—Jarrett doesn't know where to find him, or even what his name is. Jarrett lives with his grandparents—two very loud, very loving, very opinionated people who had thought they were through with raising children until Jarrett came along.
Jarrett goes through his childhood trying to make his non-normal life as normal as possible, finding a way to express himself through drawing even as so little is being said to him about what's going on. Only as a teenager can Jarrett begin to piece together the truth of his family, reckoning with his mother and tracking down his father.
Hey, Kiddo is a profoundly important memoir about growing up in a family grappling with addiction, and finding the art that helps you survive.
Reeling from the latest attack by a mysterious enemy, the Quatra Fleet Academy is finally admitting students from every planet in the solar system after centuries of exclusivity.
Hotshot pilot Vesper, an ambitious Tridian citizen, dreams of becoming a captain—but when she loses her spot to a brilliant, wisecracking boy from the wrong side of the asteroid belt, it makes her question everything she thought she knew. Growing up on the toxic planet Deva, Cormak will take any chance he can get to escape his dead-end life and join the Academy—even if he has to steal someone's identity to do it. Arran was always considered an outsider on icy Chetire, always dreaming of something more than a life working in the mines. Now an incoming cadet, Arran is looking for a place to belong–he just never thought that place would be in the arms of a Tridian boy. And Orelia is hiding a dark secret—she's infiltrated the Academy to complete a mission, one that threatens the security of everyone there. But if anyone finds out who she really is, it'll be her life on the line.
These cadets will have to put their differences aside and become a team if they want to defend their world from a cunning enemy—and they might even fall in love in the process.
Courtney "Coop" Cooper
Dumped. Again. And normally I wouldn't mind. But right now, my best friend and source of solace, Jupiter Sanchez, is ignoring me to text some girl.
Rae Evelyn Chin
I assumed "new girl" would be synonymous with "pariah," but Jupiter and Courtney make me feel like I'm right where I belong. I also want to kiss him. And her. Which is…perplexing.
Jupiter Charity-Sanchez
The only thing worse than losing the girl you love to a boy is losing her to your boy. That means losing him, too. I have to make a move…
One story.
Three sides.
No easy answers.
Salt by Hannah Moskowitz
Roaming the Mediterranean Sea on sailboats and hunting down monsters is the only life seventeen-year-old Indi and his siblings have ever known. He never loved it, but now that his parents are gone—vanished during a hunt three months ago—it's harder and harder to fight his desire to escape. He's constantly battling his ferocious love for his siblings and the temptation of his parents' journal, which contains directions to a treasure that their parents hinted at. Maybe it's something valuable enough to distract Beleza from her mission to hunt down the monster that killed their parents. Something that would take the little kids away from the sea that's turning Oscar into a pirate and wasting Zulu's brilliant six-year-old mind. Something that could give Indi a normal life.
What If It's Us by Becky Albertalli and Adam Silvera
ARTHUR is only in New York for the summer, but if Broadway has taught him anything, it's that the universe can deliver a showstopping romance when you least expect it.
BEN thinks the universe needs to mind its business. If the universe had his back, he wouldn't be on his way to the post office carrying a box of his ex-boyfriend's things.
But when Arthur and Ben meet-cute at the post office, what exactly does the universe have in store for them…?
Maybe nothing. After all, they get separated.
Maybe everything. After all, they get reunited.
But what if they can't nail a first date even after three do-overs?
What if Arthur tries too hard to make it work and Ben doesn't try hard enough?
What if life really isn't like a Broadway play?
But what if it is?
What if it's us?
16
On June 19, 1984, seventeen-year-old Ricky Kasso murdered Gary Lauwers in what local police and the international press dubbed a "Satanic Sacrifice."
The murder became the subject of several popular songs, and television specials addressed the issue of whether or not America's teens were practicing Satanism. Even Congress got in on the act, debating Satanic symbolism in songs by performers like AC/DC and Ozzy Osbourne. "The country is in crisis!" screamed the pundits. After all, it was the height of the Reagan era and Nancy Reagan's "just say no" campaign was everywhere. But what this case revealed were bigger problems lurking at the heart of suburban America.
Ricky Kasso wasn't a bad kid, but he was lost. To feel better, he started smoking pot, moving on from that to PCP and LSD. He ended up living on the streets and thinking he had nothing to lose. Gary Lauwers went from being a victim of bullying to using drugs to fit in, and finally robbery—but then he made the mistake of stealing from Ricky, and from that moment on, his fate was sealed.
A few months later, Gary went into the woods behind the park with Ricky and two other boys. Only three of them came out.
The subsequent police investigation and accompanying media circus turned the village upside down. It shattered the image of an idyllic small town, changed the way neighbors viewed each other, and recast the War on Drugs.
In a unique collaboration with photographer and educator Wendy Ewald, eighteen immigrant teenagers create an alphabet defining their experiences in pictures and words. Wendy helped the teenagers pose for and design the photographs, interviewing them along the way about their own journeys and perspectives.
Taj is headed west, but the consequences of leaving Kos behind confront him at every turn. Innocent civilians flee to refugee camps as Karima's dark magic continues to descend on the city. Taj must return, but first he needs a plan.
With Arzu's help, Taj and Aliya make it to the village of her ancestors, home of the tastahlik—sin-eaters with Taj's same ability to both battle and call forth sins. As Taj comes to terms with his new magic, he realizes there are two very different groups of tastahlik—one using their powers for good, the other for more selfish ends.
Aliya is struggling with her own unique capabilities. She's immersed in her work to uncover the secret to Karima's magic, but her health begins to mysteriously deteriorate. With the help of a local western mage, Aliya uncovers her true destiny—a future she's not sure she wants.
As Taj and Aliya explore their feelings for each other and Arzu connects with her homeland, the local westerners begin to question Taj's true identity. Karima is on his heels, sending dark warnings to the little village where he's hiding. Taj will have to go back and face her before she sends her mostly deadly weapon—Taj's former best friend, Bo.
Only three students had access to a teacher's racy photos before they went viral. There's Mouse, a brainy overachiever so desperate to escape his father and go to MIT that he would do almost anything, legal or not. Then there's Drew, the star athlete who can get any girl's number—and private photos—with his charm but has a history of passing those photos around. And finally there's Jenna, a good girl turned rebel after her own shocking photos made the rounds at school last year, who is still waiting for justice. All three deny leaking the photos, but someone has to take the fall. This edgy whodunit tackles hot-button issues of sexting and gossip and will have readers tearing through the pages to reach the final reveal.
Tasia Quirk is young, Black, and fabulous. She's a senior, she's got great friends, and a supportive and wealthy family. She even plays football as the only girl on her private high school's team.
But when she catches her mamma trying to stuff a mysterious box in the closet, her identity is suddenly called into question. Now Tasia's determined to unravel the lies that have overtaken her life. Along the way, she discovers what family and forgiveness really mean, and that her answers don't come without a fee. An artsy bisexual boy from the Valley could help her find them―but only if she stops fighting who she is, beyond the color of her skin.
Innovation starts with a problem whose solution sets in motion all kinds of unexpected discoveries. That's why you can draw a line from pendulums to punching the clock at a factory, from ice blocks to summer movie blockbusters, from clean water to computer chips.
In the lively storytelling style that has made him a popular, bestselling author, Steven Johnson looks at how accidental genius, brilliant mistakes, and unintended consequences shape the way we live in the modern world. Johnson's "long zoom" approach connects history, geography, politics, and scientific advances with the deep curiosity of inventors or quirky interests of tinkerers to show how innovation truly comes about.
His fascinating account is organized into six topics: glass, cold, sound, clean, time, light. Johnson's fresh exploration of these simple, single-syllable word concepts creates an endlessly absorbing story that moves from lightning strikes in the prehistoric desert to the herculean effort to literally raise up the city of Chicago to laser labs straight out of a sci-fi movie.
In other words, it's the story of how we got to now!
Throughout history, periods have been hidden from the public. They're taboo. They're embarrassing. They're gross. And due to a crumbling or nonexistent national sex ed program, they are misunderstood. Because of these stigmas, a status quo has been established to exclude people who menstruate from the seat at the decision-making table, creating discriminations like the tampon tax, medicines that favor male biology, and more.
Period Power aims to explain what menstruation is, shed light on the stigmas and resulting biases, and create a strategy to end the silence and prompt conversation about periods.
Believing they have been recruited by the CIA, six teen hackers arrive in LA for a hacking aptitude test with the promise of a college scholarship and a job with the CIA after graduation. But one of the teens, Owen, walks out, refusing to participate. The other five decide to stay and complete the tests. When they finish, they leave feeling equally accomplished and unnerved.
Then silence—until they receive a text from Owen: You've been played. He's uncovered evidence that the hackers created "Phantom Wheel," the most devastating virus ever made. Jacento, the corporation behind it all, plans to use this virus to gain unprecedented access to personal data. And that's just the beginning of the devastation. Can the teen hackers stop Phantom Wheel—and protect their own secrets from being revealed—before it's too late?
It's time for war.
After suffering terrible losses, Henrietta and Lord Blackwood have led their warriors to Sorrow-Fell, a vast estate where only those invited by a Blackwood may enter—and the ideal place to plan a final assault against the Ancients.
It's time for a wedding.
Henrietta nervously awaits her marriage to Blackwood, but when the ritual to become his bride reveals a dark secret, she realizes that Sorrow-Fell is not a safe haven; it's a trap. Convincing the sorcerers of this, however, is not easy. So with Maria, the true chosen one, and Magnus, the young man who once stole her heart, at her side, Henrietta plots a dangerous journey straight into the enemy's lair. Some will live. Some will die. All will be tested.
In this stunning conclusion to the Kingdom on Fire series, Henrietta must choose between the love from her past, the love from her present, and a love that could define her future. While battles rage, the fate of the kingdom rests on her decision: Will she fall or rise up to become the woman who saves the realm?
It's time for Henrietta to make her stand.
It's 2002, a year after 9/11. It's an extremely turbulent time politically, but especially so for someone like Shirin, a sixteen-year-old Muslim girl who's tired of being stereotyped.
Shirin is never surprised by how horrible people can be. She's tired of the rude stares, the degrading comments—even the physical violence—she endures as a result of her race, her religion, and the hijab she wears every day. So she's built up protective walls and refuses to let anyone close enough to hurt her. Instead, she drowns her frustrations in music and spends her afternoons break-dancing with her brother.
But then she meets Ocean James. He's the first person in forever who really seems to want to get to know Shirin. It terrifies her—they seem to come from two irreconcilable worlds—and Shirin has had her guard up for so long that she's not sure she'll ever be able to let it down.
Mari, Nik, and their newly formed Pack are being hunted. Thaddeus and the God of Death will stop at nothing until they are obliterated from the earth. But Mari and Nik have one goal: to reach the plains of the Wind Riders, in order to band together to stop Thaddeus from destroying all that Mari and Nik hold dear.
But will the mysterious Wind Riders accept the Pack, or will Mari and Nik and their people be rejected by the mighty Riders and be forced to flee for their lives? And what happens when a rogue Lead Stallion gets too close to the Pack, rejecting all Wind Riders and turning to a stranger for companionship instead?
23
By winning the state high school basketball championship in 1955, ten teens from an Indianapolis school meant to be the centerpiece of racially segregated education in the state shattered the myth of their inferiority. Their brilliant coach had fashioned an unbeatable team from a group of boys born in the South and raised in poverty. Anchored by the astonishing Oscar Robertson, a future college and NBA star, the Crispus Attucks Tigers went down in history as the first state champions from Indianapolis and the first all-black team in U.S. history to win a racially open championship tournament—an integration they had forced with their on-court prowess.
When Lady Katherine's father is killed for being an illegally practicing Catholic, she discovers treason wasn't the only secret he's been hiding: he was also involved in a murder plot against the reigning Queen Elizabeth I. With nothing left to lose, Katherine disguises herself as a boy and travels to London to fulfill her father's mission, and to take it one step further—kill the queen herself.
Katherine's opportunity comes in the form of William Shakespeare's newest play, which is to be performed in front of Her Majesty. But what she doesn't know is that the play is not just a play. It's a plot to root out insurrectionists and destroy the rebellion once and for all.
The mastermind behind this ruse is Toby Ellis, a young spy for the queen with secrets of his own. When Toby and Katherine are cast opposite each other as the play's leads, they find themselves inexplicably drawn to one another. But the closer they grow, the more precarious their positions become. And soon they learn that star-crossed love, mistaken identity, and betrayal are far more dangerous off the stage than on.
Stella lives with depression, and her goals for junior year are pretty much limited to surviving her classes, staying out of her parents' constant fights and staving off unwanted feelings enough to hang out with her friends Lin and Katie.
Until Kevin. A quiet, wry senior who understands Stella and the lows she's going through like no one else. With him, she feels less lonely, listened to—and hopeful for the first time since ever…
But to keep that feeling, Stella lets her grades go and her friendships slide. And soon she sees just how deep Kevin's own scars go. Now little arguments are shattering. Major fights are catastrophic. And trying to hold it all together is exhausting Stella past the breaking point. With her life spinning out of control, she's got to figure out what she truly needs, what's worth saving—and what to let go.
Bett's life is a series of pluses and minuses: good moments she believes she doesn't deserve, and self-punishments that she believes she does.
Two years ago Bett was athletic, fearless, and prone to daredevil behavior (fizzicle feats, she called them). But when a dare gone wrong leaves her best friend severely and permanently injured, everything changes. Now, Bett is extremely overweight, depressed, and forbids herself from enjoying anything in life, from her favorite sports to having friends—anything she determines to be a plus. But some pluses can't be avoided, and when that happens, Bett punishes herself through binge eating. As long as she can keep the pluses and minuses balanced, she can make it through another day.
Then, on the first day of junior year, it's immediately clear that Bett has to shift gears. The driver of the small motley crew on the bus with her is also the school's track coach who is hell-bent on recruiting them all for his team. And running happens to be Bett's favorite thing to do, which means it's the last thing she'll allow herself to do, or else she'll have to minus each run out with a dozen Hostess cupcakes. Not only that, but there's a vandal destroying all the art at the school, and Bett finds herself and her new teammates at the forefront of the rebellion against the vandal—despite the fact that this rebellion involves the very same fizzicle feats Bett swore she'd NEVER do again. Suddenly Bett's life is full of pluses, too many to balance with even a grocery store's worth of cupcakes. And she finds herself agonizing: Should she continue to punish herself for enjoying life when her best friend can't in the same way? Or should she finally allow herself to live again?
Aelin has risked everything to save her people—but at a tremendous cost. Locked within an iron coffin by the Queen of the Fae, Aelin must draw upon her fiery will as she endures months of torture. Aware that yielding to Maeve will doom those she loves keeps her from breaking, though her resolve begins to unravel with each passing day…
With Aelin captured, Aedion and Lysandra remain the last line of defense to protect Terrasen from utter destruction. Yet they soon realize that the many allies they've gathered to battle Erawan's hordes might not be enough to save them. Scattered across the continent and racing against time, Chaol, Manon, and Dorian are forced to forge their own paths to meet their fates. Hanging in the balance is any hope of salvation—and a better world.
And across the sea, his companions unwavering beside him, Rowan hunts to find his captured wife and queen—before she is lost to him forever.
As the threads of fate weave together at last, all must fight, if they are to have a chance at a future. Some bonds will grow even deeper, while others will be severed forever in the explosive final chapter of the Throne of Glass series.
Six years ago, sisters Evelyn and Philippa Hapwell were swept away to a strange and beautiful kingdom called the Woodlands, where they lived for years. But ever since they returned to their lives in post-WWII England, they have struggled to adjust.
Ev desperately wants to return to the Woodlands, and Philippa just wants to move on. When Ev goes missing, Philippa must confront the depth of her sister's despair and the painful truths they've been running from. As the weeks unfold, Philippa wonders if Ev truly did find a way home, or if the weight of their worlds pulled her under.
When Cassandra Gupta was chosen to be the youngest member of a top-secret mission to the far reaches of the universe, she knew to expect the unexpected. But nothing could have prepared her for the catastrophic events that would occur once she left Earth.
Cassie and the rest of the crew have found themselves in the middle of a conflict between two alien civilizations hell-bent on destroying each other…and anyone else who gets in their way.
What was supposed to be a reconnaissance mission soon becomes a fight for their lives. But Cassie knows that it isn't enough to simply survive.
The war is coming to Earth, and only she has the information that can possibly stop the devastation it will bring. With humanity's fate in the balance, Cassie must decide who she can trust and who she's willing to sacrifice in order to complete her mission.
The year since a mass shooting shook their Queens neighborhood has played out differently for Jess and Lucas, both of whom were affected by that night in eerily similar and deeply personal ways.
As Jess struggles to take care of her depressed mother and Lucas takes up boxing under the ever-watchful eye of his overprotective parents, their paths converge. They slowly become friends and then something more, learning to heal and move forward together.
But what does it mean to love after an unspeakable tragedy?
Jenny didn't want to move to the creepy, possibly haunted town with her dad. But the cops are on to her, and the only way she can protect herself is by moving as far away from her hometown as possible and staying out of trouble.
But even after she moves, Jenny still gets the itch. The itch to light a match and then watch it burn.
It's something she hasn't been able to stop, ever since an accident years ago. Now, in a new town, Jenny has the strange feeling that someone is watching her every move. Will her arsonist ways be exposed? Or is the burning truth deep inside her a greater danger?
*West by Edith Pattou
When Rose first met Charles, he was trapped in the form of a white bear. To rescue him, Rose traveled to the land that lay east of the sun and west of the moon to defeat the evil Troll Queen. Now Rose has found her happily-ever-after with Charles—until a sudden storm destroys his ship and he is presumed dead. But Rose doesn't believe the shipwreck was an act of nature, nor does she believe Charles is truly dead. Something much more sinister is at work. With mysterious and unstoppable forces threatening the lives of the people she loves, Rose must once again set off on a perilous journey. And this time, the fate of the entire world is at stake.
30
For Teodora DiSangro, a mafia don's daughter, family is fate.

All her life, Teodora has hidden the fact that she secretly turns her family's enemies into music boxes, mirrors, and other decorative objects. After all, everyone in Vinalia knows that stregas—wielders of magic—are figures out of fairytales. Nobody believes they're real.
Then the Capo, the land's new ruler, sends poisoned letters to the heads of the Five Families that have long controlled Vinalia. Four lie dead and Teo's beloved father is gravely ill. To save him, Teo must travel to the capital as a DiSangro son—not merely disguised as a boy, but transformed into one.
Enter Cielo, a strega who can switch back and forth between male and female as effortlessly as turning a page in a book. Teo and Cielo journey together to the capital, and Teo struggles to master her powers and to keep her growing feelings for Cielo locked in her heart. As she falls in love with witty, irascible Cielo, Teo realizes how much of life she's missed by hiding her true nature. But she can't forget her mission, and the closer they get to the palace, the more sinister secrets they uncover about what's really going on in their beloved country—and the more determined Teo becomes to save her family at any cost.
It's not the end of the world, but it's starting to feel that way. On November 17, the Next World Society is planning to leave Earth behind and reboot human civilization on a planet unaffected by climate change and pollution. It sounds crazy to Rooney Harris, but to her mother and younger brother it sounds like salvation. As her mother's obsession with Departure threatens to tear their family apart, Rooney is scrambling to hold it together. But will saving her family mean sacrificing her dreams—or theirs?
Seventeen-year-old Evie Dasher knows firsthand the devastating consequences of humanity's war with the aliens. When she's caught up in a raid at a notorious club known as one of the few places where humans and the surviving Luxen can mingle freely, she meets Luc, an unnaturally beautiful guy she initially assumes is a Luxen…but he is in fact something much more powerful. Her growing attraction for Luc will lead her deeper and deeper into a world she'd only heard about, a world where everything she thought she knew will be turned on its head…
How does a boy struggling in school become an American hero and a space pioneer?
Daredevil behavior? Check. Whether it is sailing leaky boats in the Atlantic Ocean or joining an ambulance corps to race to the rescue, living on the edge is required behavior for an astronaut.
Sibling rivalry? Check. An identical twin brother who both cheers you on and eggs you on is the perfect motivator.
Inspiration? Check. Finding the right book can unexpectedly change the course of your life by providing a dream and a road map for achieving it.
Courage? Check. Mastering skills that could mean the difference between life and death as a fighter pilot, test pilot, and astronaut takes bravery.
Endurance? Check. The grit and can-do spirit that enables you to get up every time you're knocked down and fuels the power to meet each challenge head-on and then ask, "What's next?"
Scott Kelly believes, "If you can dream it, you can do it." This checklist put Scott on a rocket that launched him into space, allowed him to break a record during his inspiring year aboard the International Space Station, and showed human beings the qualities needed to go from Earth to Mars—and beyond.
Jack has a lot of sex—and he's not ashamed of it. While he's sometimes ostracized, and gossip constantly rages about his sex life, Jack always believes that "it could be worse."
But then, the worse unexpectedly strikes: When Jack starts writing a teen sex advice column for an online site, he begins to receive creepy and threatening love letters that attempt to force Jack to curb his sexuality and personality. Now it's up to Jack and his best friends to uncover the stalker—before their love becomes dangerous.
Ground-breaking and page-turning, Jack of Hearts (and other parts) celebrates the freedom to be oneself, especially in the face of adversity.
"That Others May Live" is a mantra that defines the fearless men of Alaska's 212th Pararescue Unit, the PJs, one of the most elite military forces on the planet. Whether they are rescuing citizens injured and freezing in the Alaskan wilderness or saving wounded Rangers and SEALS in blazing firefights at war, the PJs are some of the least known and most highly trained of America's warriors.
Never Quit is the true story of how Jimmy Settle, an Alaskan shoe store clerk, became a Special Forces Operator and war hero. After being shot in the head during a dangerous high mountain operation in Afghanistan, Jimmy returns to battle with his teammates for a heroic rescue, the bullet fragments stitched over and still in his skull. In a cross between a suicide rescue mission and an against-all-odds mountain battle, his team of PJs risk their lives again in an epic firefight. When his helicopter is hit and begins leaking fuel, Jimmy finds himself in the worst possible position as a rescue specialist―forced to leave members from his own team behind. Jimmy will have to risk everything to get back into the battle and save his brothers.
From death-defying Alaskan wilderness training, wild rescues, and battles against the Taliban and Al Qaeda, this is the true story of how a boy from humble beginnings became an American hero.
The last place on earth Taylor Sorenson wants to be is in Saigon in the middle of the Vietnam War. His mom dragged him here to visit his dad, who's stationed at the US embassy, and Taylor is bored out of his skull. One night, during an embassy dinner, he decides to sneak out to see the Tet celebrations in the city. But before he makes it very far, fighting erupts across all of South Vietnam—and Taylor is captured by the North Vietnamese Army.
Realizing he could be an important bargaining chip, the NVA decides to move Taylor to the north. The only way there is the Ho Chi Ming Trail, a series of dangerous paths that snake from South Vietnam through Laos and Cambodia before finally reaching North Vietnam. But thousands have died on the trail, and Taylor doesn't know what's waiting for him at the end.
What follows is a harrowing journey during one of the most controversial wars in US history, where one boy is forced to confront the true cost of war, and what it really means to survive.
*OtherEarth by Jason Segel and Kirsten Miller
Simon saved his best friend, Kat, from the clutches of the Company and their high-tech VR gaming experience, Otherworld. But it was at a steep price. Now he, Kat, and their friend Busara are on the run. They know too much. About the Company's dark secrets. About the real-life consequences of playing Otherworld. And about Kat's stepfather's involvement in everything. The group is headed to New Mexico to find Simon's old roommate, who is a tech genius and possibly the only person who can help them reveal the truth about the Company before it's too late and the line between what's real and what's fantasy is erased…forever.
Imagine a future in which you can leave reality behind and give in to your greatest desires. That future is now. And the future is terrifying.
Snow in Love by Melissa de la Cruz, Aimee Friedman, Nic Stone, and Kasie West
What's better than one deliciously cozy, swoon-worthy holiday story?
Four of them, from some of today's bestselling authors.
From KASIE WEST, a snowy road trip takes an unexpected detour when secrets and crushes are revealed.
From AIMEE FRIEDMAN, a Hanukkah miracle may just happen when a Jewish girl working as a department store elf finds love.
From MELISSA DE LA CRUZ, Christmas Eve gets a plot twist when a high school couple exchange surprising presents.
From NIC STONE, a scavenger hunt amid the holiday crowds at an airport turns totally romantic.
So grab a mug of hot cocoa, snuggle up, and get ready to fall in love…
Nathan Bird doesn't believe in happy endings. Although he's the ultimate film buff and an aspiring screenwriter, Nate's seen the demise of too many relationships to believe that happy endings exist in real life.
Playing it safe to avoid a broken heart has been his MO ever since his father died and left his mom to unravel—but this strategy is not without fault. His best-friend-turned-girlfriend-turned-best-friend-again, Florence, is set on making sure Nate finds someone else. And in a twist that is rom-com-worthy, someone does come along: Oliver James Hernández, his childhood best friend.
After a painful mix-up when they were little, Nate finally has the chance to tell Ollie the truth about his feelings. But can Nate find the courage to pursue his own happily ever after?
The nightmare of the outbreak is finally over, but Cat's fight has only just begun.
Exhausted, wounded, and reeling from revelations that have shaken her to her core, Cat is at a breaking point. Camped in the woods with Cole and Leoben, she's working day and night, desperate to find a way to stop Lachlan's plan to reprogram humanity. But she's failing—Cat can't even control her newly regrown panel, and try as she might to ignore them, she keeps seeing glitching visions from her past everywhere she turns.
When news arrives that the Hydra virus might not be as dead as they'd thought, the group is pushed into an uneasy alliance with Cartaxus to hunt down Lachlan and fix the vaccine. Their search takes them to Entropia, a city of genehackers hidden deep in the desert that could also hold the answers about Cat's past that she's been searching for.
But when confronted with lies and betrayals, Cat is forced to question everything she knows and everyone she trusts. And while Lachlan is always two steps ahead, the biggest threat to Cat may be the secrets buried in her own mind.
Watch your step.Eliza knows the legends about the swamp near her house—that people have fallen into sinkholes, never to be seen again, maybe even falling to the center of the earth. As an aspiring geologist, she knows the last part is impossible. But when her best friends drag her onto the uneven ground anyway, Eliza knows to be worried. And when the earth opens under her feet, there isn't even time to say I told you so. As she scrambles through one cave, which leads to another, and another, Eliza finds herself in an impossible world—where a small group of people survive underground, running from vicious creatures, eating giant bugs, and creating their own subterranean society. Eliza is grateful to be alive, but this isn't home. Is she willing to risk everything to get back to the surface?
Can you want something—or someone—so badly that it changes your destiny?
Elyse Schmidt never would have thought so, until it happened to her. When Elyse and her not-so-secret crush, Josh Harris, are the sole survivors of a plane crash, tragedy binds them together. It's as if their love story is meant to be. Everything is perfect, or as perfect as it can be when you've literally fallen out of the sky and landed hard on the side of a mountain—until suddenly it isn't. When the pieces of Elyse's life stop fitting together, what's left?
You Are the Everything is a story about the fates we yearn for, the fates we choose, and the fates that are chosen for us.
November
1
Sixteen-year-old Luli has just aged out of the orphanage where she grew up, and her childhood friend Yun helps her get a job at the factory where Yun works. Both girls enjoy the freedom of making their own decisions and earning their own money—until Yun gets pregnant by her boyfriend, who's rumored to be a human trafficker. China's restrictive family planning laws put Yun in a difficult position: she'll either have to have an expensive abortion or face crippling fines for having a child out of wedlock. When she disappears, it's up to Luli to track her down and find a way to help her.
6
Time is running out.
Together, they can save the world.
But they each other's worst nightmare.
In Renegades, Nova and Adrian (aka Insomnia and Sketch) fought the battle of their lives against the Anarchist known as the Detonator. It was a short-lived victory.
The Anarchists still have a secret weapon, one that Nova believes will protect her. The Renegades also have a strategy for overpowering the Anarchists, but both Nova and Adrian understand that it could mean the end of Gatlon City—and the world—as they know it.
In a palace of illusions, nothing is what it seems.
Each generation, a competition is held to find the next empress of Honoku. The rules are simple. Survive the palace's enchanted seasonal rooms. Conquer Winter, Spring, Summer, and Fall. Marry the prince. All are eligible to compete—all except yōkai, supernatural monsters and spirits whom the human emperor is determined to enslave and destroy.
Mari has spent a lifetime training to become empress. Winning should be easy. And it would be, if she weren't hiding a dangerous secret. Mari is a yōkai with the ability to transform into a terrifying monster. If discovered, her life will be forfeit. As she struggles to keep her true identity hidden, Mari's fate collides with that of Taro, the prince who has no desire to inherit the imperial throne, and Akira, a half-human, half-yōkai outcast.
Torn between duty and love, loyalty and betrayal, vengeance and forgiveness, the choices of Mari, Taro, and Akira will decide the fate of Honoku in this beautifully written, edge-of-your-seat YA fantasy.
In the dying cornfields of his family's farm, seventeen-year-old Cade finds a girl broken and bleeding. She has one request: hide me.
Tucked away in an abandoned barn on the edge of the farm, the mysterious Jane Doe starts to heal and details of her past begin to surface. A foster kid looking for a way out, Jane got caught up in the wrong crowd and barely escaped with her life.
Cade has a difficult past of his own. He's been trapped in the border town of Tanner, Texas, his whole life. His dad is a drunk. His mom is gone. Money is running out. Cade is focused on one thing, a football scholarship–his only chance.
Cade and Jane spend their nights in the barn planning their escapes, and their days with Cade's friends: sweet, artistic Mateo and his determined sister Jojo who vows to be president one day.
But it's not that easy to disappear.
Just across the border in a city in Mexico lies the life Jane desperately wants to leave behind—a past filled with drugs and danger, information she never wanted, and a cartel boss who is watching her every move.
Jane Doe's past is far from over, and the secret she holds could kill them all.
Princess Jade has grown up in exile, hidden away in a monastery while her stepmother, the ruthless Xifeng, rules as Empress of Feng Lu. But the empire is in distress and its people are sinking into poverty and despair. Even though Jade doesn't want the crown, she knows she is the only one who can dethrone the Empress and set the world right. Ready to reclaim her place as rightful heir, Jade embarks on a quest to raise the Dragon Lords and defeat Xifeng and the Serpent God once and for all. But will the same darkness that took Xifeng take Jade, too? Or will she find the strength within to save herself, her friends, and her empire?
Set in an East Asian-inspired fantasy world filled with breathtaking pain and beauty, Kingdom of the Blazing Phoenix is filled with dazzling magic, powerful prose, and characters readers won't soon forget.
When you make a deal with the devil…
Someone will get burned. Shy and musically gifted nine-year-old Damien Dover went missing from his home in the Catskills two months ago. The trail has gone cold, with no new leads.
When the killer they know all too well tasks Seneca, Maddox, and Madison with solving the case and finding the boy, they can't imagine what his interest in the tragedy could be. But with Aerin kidnapped and at the twisted mastermind's mercy, her friends have no choice but to play his game and try to solve the puzzle.
As the three amateur sleuths hit the Jersey Shore to gather clues, they begin to uncover the true background of the killer, and the horrors that shaped him into who he is. The scavenger hunt leads them to a serial child-snatcher, a former victim, and dark secrets they could never have seen coming.
As Aerin struggles to play nice with the person who killed her sister in order to buy herself time, her friends work feverishly against the ticking clock that could mean her life, and every clue they uncover leads Seneca to suspect she's more connected to the killer's history than she ever realized.
Set in the gentrified south among debutante balls, grand estates and rolling green hills, Little White Lies combines the charm of a fully-realized setting, a classic fish-out-of-water story, and the sort of layered mystery only author Jennifer Lynn Barnes can pull off. When Sawyer Taft agrees to move in with her grandmother, she expects some things to be different, but what she doesn't expect is to get sucked into a group of over-privileged, yet somehow lovable debs who have—wait for it—kidnapped one of their own in hopes of blackmailing her into keeping their secrets under wraps—secrets which are far bigger and more scandalous than anyone could have imagined. As Sawyer works to uncover the identity of her father, she must also navigate the twisted relationships between her new friends and their powerful parents, and help them discover the villain among them.
*Skyward by Brandon Sanderson
Spensa's world has been under attack for hundreds of years. An alien race called the Krell leads onslaught after onslaught from the sky in a never-ending campaign to destroy humankind. Humanity's only defense is to take to their ships and combat the enemy. Pilots are the heroes of what's left of the human race.
Becoming a pilot has always been Spensa's dream. Since she was a little girl, she has imagined soaring above Earth and proving her bravery. But her fate is intertwined with her father's–a pilot himself who was killed years ago when he abruptly deserted his team, leaving Spensa's chances of attending flight school at slim to none.
No one will let Spensa forget what her father did, but she is determined to fly. And the Krell just made that a possibility. They've doubled their fleet, which will make Spensa's world twice as deadly…but just might take her skyward.
Who cares that the prize for the Sun City Originals contest is fifteen grand? Not Dia, that's for sure. Because Dia knows that without a band, she hasn't got a shot at winning. Because ever since Hanna's drinking took over her life, Dia and Jules haven't been in it. And because ever since Hanna left—well, there hasn't been a band.
It used to be the three of them, Dia, Jules, and Hanna, messing around and making music and planning for the future. But that was then, and this is now—and now means a baby, a failed relationship, a stint in rehab, all kinds of off beats that have interrupted the rhythm of their friendship.
But like the lyrics of a song you used to play on repeat, there's no forgetting a best friend. And for Dia, Jules, and Hanna, this impossible challenge—to ignore the past, in order to jump start the future—will only become possible if they finally make peace with the girls they once were, and the girls they are finally letting themselves be.
The mission was a failure. Even though Zivah and Dineas discovered a secret that could bring down the empire, their information is useless without proof. Now, with their cover blown and their quest abandoned, their only remaining hope is to get home before Ampara brings the full might of its armies against their peoples.
As Shidadi and Dara alike prepare for war, Zivah and Dineas grapple with the toll of their time in the capital. After fighting alongside the Amparans against his own kin, can Dineas convince the Shidadi—and himself—where his loyalties lie? After betraying her healer's vows in Sehmar City, can Zivah find a way to redeem herself-especially when the Dara ask her to do the unthinkable? And after reluctantly falling in love, what will the two do with their lingering feelings, now that the Dineas from Sehmar City is gone forever? Time is running out for all of them, but especially Zivah whose plague symptoms surface once again. Now, she must decide how she'll define the life she has left.
Together, healer and warrior must find the courage to save their people, expose the truth, and face the devastating consequences headed their way.
Every Christmas, Wren is chased through the woods near her isolated Irish village by her family's enemies—the Judges—and there's nothing that she or her grandfather can do to stop it. Once Wren's people, the Augurs, controlled an ancient, powerful magic. But now that power lies with the Judges, who are set on destroying the Augurs for good.
In a desperate bid to save her family, Wren takes a dangerous undercover assignment as an intern amidst those who want her dead. But as the web of lies, deceit, and betrayal thickens around her, she finds herself hurtling towards a truth that threatens to consume her and reveal who she really is. Not only has she come to the attention of powerful Judge Cassa Harkness, but she is also falling dangerously in love with the one person she shouldn't…
The XY by Virginia Bergin

In River's world, XYs are a relic of the past, along with things like war and violence. Thanks to the Global Agreements, River's life is simple, safe, and peaceful…until she comes across a body in the road one day. A body that is definitely male, definitely still alive. River isn't prepared for this. There's nothing in the Agreements about how to deal with an XY. Yet one lies before her, sick, suffering, and at her mercy.
River can kill him, or she can save him. Either way, nothing will ever be the same.
13
Dark Mind Rising is a thrilling, speculative murder mystery by Pulitzer Prize–winning writer Julia Keller about a chilling future in which citizens believe they're free after years of emotional surveillance only to discover a killer is targeting their deepest fears.
Golden "Go" Jennings wasn't supposed to be on Bus 21 the day it blew up in New York City. Neither was her boyfriend, Chandler. But they were. And so was Rudy, a cute stranger Go shared a connection with the night before. And Caroline, a girl whose silence ended up costing nineteen people their lives.
Though it's been a year since the bombing, Go isn't any closer to getting over what happened. With Chan completely closed off to even talking about it, Go makes an impulsive decision: round up the rest of the survivors and head to New York City. There they will board an art installation made of the charred remnants of Bus 21 and hopefully reach some sort of resolution.
But things are never easy when it comes to rehashing the past. Uniting the four stirs up conflicting feelings of anger and forgiveness, and shows them that, although they all survived, they may still need saving.
I was one of five. The five girls Kyle texted that day. The girls it could have been. Only Jamie—beautiful, saintly Jamie—was kind enough to respond. And it got her killed.
On the eve of Kyle's sentencing a year after Jamie's death, all the other "chosen ones" are coping in various ways. But our tenacious narrator is full of anger, stuck somewhere between the horrifying past and the unknown future as she tries to piece together why she gets to live, while Jamie is dead.
Now she finds herself drawn to Charlie, Jamie's boyfriend—knowing all the while that their relationship will always be haunted by what-ifs and why-nots. Is hope possible in the face of such violence? Is forgiveness? How do you go on living when you know it could have been you instead?
Arkansas, 1984: The town of Griffin Flat is known for almost nothing other than its nuclear missile silos. MAD—Mutually Assured Destruction—is a fear every local lives with and tries to ignore. Unfortunately that's impossible now that film moguls have picked Griffin Flat as the location for a new nuclear holocaust movie, aptly titled The Eve of Destruction.
When sixteen-year-old Laura Ratliff wins a walk-on role (with a plus-one!) thanks to a radio call-in contest, she is more relieved than excited. Mingling with Hollywood stars on the set of a phony nuclear war is a perfect distraction from being the only child in her real nuclear family—which has also been annihilated. Her parents are divorced. Her mother has recently married one of the only African-American men in town. Her father, an officer in the Strategic Air Command, is absent…except when he phones at odd hours to hint at an impending catastrophe. But isn't that his job?
Laura's only real friend is her new stepbrother, Terrence. She picks him as her plus-one and manages to enrage both her fair-weather friends and film crew. (Now the script has to adjust for "another black.") But that adjustment is nothing compared to what happens on set after the scripted nuclear explosion. Because nobody seems to know if a real nuclear bomb has detonated or not.
Owen Foster has never wanted for anything. Then his mother shows up at his elite New Orleans boarding school cradling a bombshell: his privileged life has been funded by stolen money. After using the family business, the single largest employer in his small Louisiana town, to embezzle millions and drain the employees' retirement accounts, Owen's father vanished without a trace, leaving Owen and his mother to deal with the fallout.
Owen returns to Lake Cane to finish his senior year, where people he hardly remembers despise him for his father's crimes. It's bad enough dealing with muttered insults and glares, but when Owen and his mother receive increasingly frightening threats from someone out for revenge, he knows he must get to the bottom of what really happened at Louisiana Frac…and the cryptic note his father sent him at his boarding school days before disappearing.
Owen's only refuge is the sprawling, isolated pecan orchard he works at after school, owned by a man named Gus who has his own secrets—and in some ways seems to know Owen better than he knows himself. As Owen uncovers a terrible injustice that looms over the same Preacher Woods he's claimed as his own, he must face a shocking truth about his past—and write a better future.
Pulp by Robin Talley
In 1955, eighteen-year-old Janet Jones keeps the love she shares with her best friend Marie a secret. It's not easy being gay in Washington, DC, in the age of McCarthyism, but when she discovers a series of books about women falling in love with other women, it awakens something in Janet. As she juggles a romance she must keep hidden and a newfound ambition to write and publish her own story, she risks exposing herself—and Marie—to a danger all too real.
Sixty-two years later, Abby Zimet can't stop thinking about her senior project and its subject—classic 1950s lesbian pulp fiction. Between the pages of her favorite book, the stresses of Abby's own life are lost to the fictional hopes, desires and tragedies of the characters she's reading about. She feels especially connected to one author, a woman who wrote under the pseudonym "Marian Love," and becomes determined to track her down and discover her true identity.
In this novel told in dual narratives, New York Times bestselling author Robin Talley weaves together the lives of two young women connected across generations through the power of words. A stunning story of bravery, love, how far we've come and how much farther we have to go.
Noah Shaw wants nothing more than to escape the consequences of his choices.
He can't.
He's sure the memories that haunt him are merely proof of a broken heart.
They aren't.
He thinks he can move forward without first confronting his past.
He's wrong.
The Resolutions by Mia Garcia
From hiking trips to four-person birthday parties to never-ending group texts, Jess, Lee, Ryan, and Nora have always been inseparable. But now with senior year on the horizon, they've been growing apart. And so, as always, Jess makes a plan.
Reinstating their usual tradition of making resolutions together on New Year's Eve, Jess adds a new twist: instead of making their own resolutions, the four friends assign them to one another—dares like kiss someone you know is wrong for you, find your calling outside your mom's Puerto Rican restaurant, finally learn Spanish, and say yes to everything.
But as the year unfolds, Jess, Lee, Ryan, and Nora each test the bonds that hold them together. And amid first loves, heartbreaks, and life-changing decisions, beginning again is never as simple as it seems.
No one is safe, not with a horrifying new strain of Sleeping Sickness tearing through the population. After fleeing the City with her friends, Sev has one goal: to find the cure her mother developed and put an end to the epidemic once and for all.
But decoding her mother's last words—to seek out "Port North"—is easier said than done.
Nobody she talks to has heard of Port North, and with only Tai-ge and June on her side, Sev fears Dr. Yang will find the cure first, and that he'll use it to start a new world order under his rule.
With no leads, Sev is running out of options—until she discovers someone hiding in the cargo hold of her heli plane. Someone she thought was dead. Someone with maps that could point the way to Port North, if only she could read them.
Unfortunately, the one person Sev never wants to see again might be the one person who can help her find the cure.
The fight is just beginning.
Faris has been forced to give up the man she loves for a dangerous but necessary alliance. Her loyalty is bound by a powerful spell to his future bride, the villainous Bryn. And her mother's powerful spell that could be the key to saving Avinea fights with poisoned magic for control of her heart.
None of that matters though because everything Faris has done has been for Cadence, the little sister she's been trying to rescue from the king's slavery. Now they're finally reunited, but Cadence has a gut-wrenching confession: she remembers everything from while she was under the king's enchantment. She wants nothing to do with Faris.
Heartbroken, Faris focuses on tracking Merlock, the king who must be killed to stop The Burn, by manipulating her mother's spell through her dreams. Before long though, Faris realizes these aren't normal dreams, they might just be real, and they may show her a way to kill Merlock herself.
But there are things darker than poison that lie in The Burn, and not even the spell deep in Faris's chest can stop them. Faris will again be faced with impossible choices. Does she risk everything to save Avinea, even if she might lose North and further betray her sister's trust? Or does she succumb to the poison inside that begs her to think this time, finally, of herself?
Sefia is determined to keep Archer out of the Guard's clutches and their plans for war between the Five Kingdoms. The Book, the ancient, infinite codex of the past, present and future, tells of a prophecy that will plunge Kelanna in that bloody war, but it requires a boy—Archer—and Sefia will stop at nothing to ensure his safety. The Guard has already stolen her mother, her father, and her Aunt Nin. Sefia would sooner die than let them take anymore from her—especially the boy she loves.
But escaping the Guard and the Book's prophecy is no easy task. After all, what is written always comes to pass. As Sefia and Archer watch Kelanna start to crumble to the Guard's will, they will have to choose between their love and joining a war that just might tear them apart. Full of magic, suspense, and mystery, Traci Chee brings her Sea of Ink and Gold trilogy to a close in this spellbinding final installment.
Lindley Hamilton has been the leader of the space station Lusca since every first generation crew member on board, including her mother, the commander, was killed by a deadly virus.
Lindley always assumed she'd captain the Lusca one day, but she never thought that day would come so soon. And she never thought it would be like this—struggling to survive every day, learning how to keep the Lusca running, figuring out how to communicate with Earth, making sure they don't run out of food.
When a member of the surviving second generation dies from symptoms that look just like the deadly virus, though, Lindley feels her world shrinking even smaller. And as more people die, Lindley must face the terrifying reality—that either the virus has mutated, or one of their own is a killer.
Born into a family of privilege and wealth, he was sent to military school at the age of 13. After an unremarkable academic career, he joined the family business in real estate and built his fortune. His personal brand: sex, money and power. From no-holds-barred reality TV star to unlikely candidate, Donald J. Trump rose to the highest political office: President of the United States of America.
Learn fascinating details about his personal history, including:
-Why Trump's grandfather left Germany and immigrated to America
-Why Woodie Guthrie wrote a song criticizing Trump's father
-How Trump's romance with Ivana began—and ended
-When Trump first declared his interest in running for President
Discover the incredible true story of America's 45th President: his questionable political and personal conduct, and his unprecedented rise to power.
Richly informed by original research and illustrated throughout with photographs and documents, Unpresidented is a gripping and important read.
Wilder by Andrew Simonet
I met Melissa in the rubber room, a.k.a. in-school suspension. And that's not her real name.
She had secrets, I had enemies.
"People are either useful or dangerous," she said. "One or the other."
"Which one am I?" I said.
"You're both."
Meili was right. (That's her real name.)
You can solve a lot of problems if you don't mind getting hurt.
Jason Wilder is in permanent in-school suspension for fighting. Meili Wen gets there by breaking a girl's finger. Jason and Meili don't just connect; they collide. Two people who would never cross paths—outsiders from radically different backgrounds—they form an exhilarating, unpredictable bond. When circumstances push, they push back. There's no plan. And there's no stopping.
"I am so crap. How can you stand being with me? Don't answer that or I will crash this thing with both of us on it, swear to god, are you ready?"
Yes. No. Didn't matter.
I reached both arms around Meili's waist as we zoomed down the hill.
Stacey Wynn was the clear front-runner for Lincoln High student council president. But then French-Canadian transfer student Julia Romero entered the race…and put the moves on Stacey's best friend/campaign adviser, Brian.
Stacey also didn't count on Tony Guo, resident stoner, whose sole focus is on removing the school's ban of his favorite chocolate milk, becoming the voice of the little guy, thanks to a freshman political "mastermind" with a blue Mohawk.
Three candidates, three platforms, and a whirlwind of social media, gaffes, high school drama, and protests make for a ridiculously hilarious political circus that just may hold some poignant truth somewhere in the mix.
20
Five years after being kidnapped, Elian's captor sends him into the mall—with a bomb strapped to his chest.
Across the mall is Maya, a girl whose crippling anxiety holds her prisoner in its own way.
Whether it's chance or fate, Maya keeps Eli from ending them all. And now nothing is the same. Drawn together by their dark pasts, Maya and Eli know it takes only seconds for their entire worlds to change. But time will tell if meeting each other will change them for better or worse.
Lady Helen has retreated to a country estate outside Bath to prepare for her wedding to the Duke of Selburn, yet she knows she has unfinished business to complete. She and the dangerously charismatic Lord Carlston have learned they are a dyad, bonded in blood, and only they are strong enough to defeat the Grand Deceiver, who threatens to throw mankind into chaos. But the heinous death-soaked Ligatus Helen has absorbed is tearing a rift in her mind. Its power, if unleashed, will annihilate both Helen and Carlston unless they can find a way to harness its ghastly force and defeat their enemy.
In the final book of the trilogy that began with The Dark Days Club and continued with The Dark Days Pact, the intrepid Lady Helen's story hurtles to a shocking conclusion full of action, heartbreak, and betrayal.
Five Feet Apart by Rachael Lippincott with Mikki Daughtry and Tobias Iaconis

Can you love someone you can never touch?
Stella Grant likes to be in control—even though her totally out of control lungs have sent her in and out of the hospital most of her life. At this point, what Stella needs to control most is keeping herself away from anyone or anything that might pass along an infection and jeopardize the possibility of a lung transplant. Six feet apart. No exceptions.
The only thing Will Newman wants to be in control of is getting out of this hospital. He couldn't care less about his treatments, or a fancy new clinical drug trial. Soon, he'll turn eighteen and then he'll be able to unplug all these machines and actually go see the world, not just its hospitals.
Will's exactly what Stella needs to stay away from. If he so much as breathes on Stella she could lose her spot on the transplant list. Either one of them could die. The only way to stay alive is to stay apart. But suddenly six feet doesn't feel like safety. It feels like punishment.
What if they could steal back just a little bit of the space their broken lungs have stolen from them? Would five feet apart really be so dangerous if it stops their hearts from breaking too?
The world is in chaos.
After Saul's strike on Oslo—one seemingly led by Maia herself—the Effigies' reputation is in shambles. Now they're being hunted by nations across the globe, grouped in with the very terrorists they've been trying to stop.
With Maia's resurrected twin, June, carrying out vicious attacks across the world, everyone believes Maia is a killer. Belle has gone rogue, Chae Rin and Lake have disappeared, and the Sect is being dismantled and replaced by a terrifying new world order helmed by Blackwell. As for Saul, his ultimate plan still remains a mystery.
And Maia? No one has seen or heard from her in weeks.
It's all somehow connected—Saul, Phantoms, the Effigies, everything. But if the Effigies can't put the pieces together soon, there may not be much left of the world they've fought so desperately to save.
27
Sylvie has always known she deserves more. Out in the permanent twilight of the Dusklands, her guardians called her power to create illusions a curse. But Sylvie knows it gives her a place in Coeur d'Or, the palais of the Amber Empress and her highborn legacies.
So Sylvie sets off toward the Amber City, a glittering jewel under a sun that never sets, to take what is hers.
But her hope for a better life is quickly dimmed. The empress invites her in only as part of a wicked wager among her powerful courtiers. Sylvie must assume a new name, Mirage, and begin to navigate secretive social circles and deadly games of intrigue in order to claim her spot. Soon it becomes apparent that nothing is as it appears and no one, including her cruel yet captivating sponsor, Sunder, will answer her questions. As Mirage strives to seize what should be her rightful place, she'll have to consider whether it is worth the price she must pay.
Take two American teen chefs, add one heaping cup of Paris, toss in a pinch of romance, and stir…Rosie Radeke firmly believes that happiness can be found at the bottom of a mixing bowl. But she never expected that she, a random nobody from East Liberty, Ohio, would be accepted to celebrity chef Denis Laurent's school in Paris, the most prestigious cooking program for teens in the entire world. Life in Paris, however, isn't all cream puffs and crepes. Faced with a challenging curriculum and a nightmare professor, Rosie begins to doubt her dishes. Henry Yi grew up in his dad's restaurant in Chicago, and his lifelong love affair with food landed him a coveted spot in Chef Laurent's school. He quickly connects with Rosie, but academic pressure from home and his jealousy over Rosie's growing friendship with gorgeous bad-boy baker Bodie Tal makes Henry lash out and push his dream girl away. Desperate to prove themselves, Rosie and Henry cook like never before while sparks fly between them. But as they reach their breaking points, they wonder whether they have what it takes to become real chefs. Perfect for lovers of Chopped Teen Tournament and Kids Baking Championship, as well as anyone who dreams of a romantic trip to France, Love à la Mode follows Rosie and Henry as they fall in love with food, with Paris, and ultimately, with each other.
The Huntresses of Artemis must obey two rules: never disobey the goddess, and never fall in love. After being rescued from a harrowing life as an Oracle of Delphi, Kahina is glad to be a part of the Hunt; living among a group of female warriors gives her a chance to reclaim her strength. But when a routine mission goes awry, Kahina breaks the first rule in order to save the legendary huntress Atalanta.
Magic is sin
Aidan desires only one thing: to rule. Arrogant, headstrong and driven by the element of Fire, he will stop at nothing to bring the evil Howls that destroyed Scotland to their knees. But Fire is a treacherous element, and the very magic that brought him to power could burn his world to ash.
Especially with the blood of his fellow Hunters on his hands.
Driven by a bloodlust he can't control and dark whispers that may not be entirely in his head, he and his magic-eschewing friend Kianna will do whatever it takes to liberate their broken world. Even at the risk of confronting the Church. Even at the risk of losing his humanity.
But power isn't the only thing on Aidan's mind. He's falling for the intoxicating Tomas, an Incubus who offers everything Aidan desires. For a price.
And if that price burns the world down, well…Aidan is used to playing with Fire.
Unconventional Warfare by Chris Lynch

Discover the secret missions behind America's greatest conflicts.Danny Manion has been fighting his entire life. Sometimes with his fists. Sometimes with his words. But when his actions finally land him in real trouble, he can't fight the judge who offers him a choice: jail… or the army.Turns out there's a perfect place for him in the US military: the Studies and Observation Group (SOG), an elite volunteer-only task force comprised of US Air Force Commandos, Army Green Berets, Navy SEALS, and even a CIA agent or two. With the SOG's focus on covert action and psychological warfare, Danny is guaranteed an unusual tour of duty, and a hugely dangerous one. Fortunately, the very same qualities that got him in trouble at home make him a natural-born commando in a secret war. Even if almost nobody knows he's there.National Book Award finalist Chris Lynch begins a new, explosive fiction series based on the real-life, top-secret history of US black ops.
December
4
After the terrifying events on Mount Raksha, the witches have returned, and River has betrayed Kamzin to regain his dark powers. The witches' next step: march on the Three Cities and take over the Empire—led by River's brother, Esha.
If Kamzin is to save Azmiri and prevent the destruction of the Empire, she must find a star that fell in the Ash Mountains to the north. Fallen stars have immense power, and if Kamzin and Lusha can find the star, they can use its magic to protect their homeland. To get there, Kamzin has allied with Azar-at, the dangerous and deceptive fire demon, who can grant her great power—in exchange for pieces of her soul. But River wants the star too, and as their paths collide in dangerous and unexpected ways, Kamzin must wrestle with both her guilt and her conflicted feelings for the person who betrayed her.
Facing dark magic, a perilous journey, and a standoff against the witches, can Kamzin, Lusha, and Tem find the star and save their Empire?
In Sky Hawkins's family, leading your first heist is a major milestone—even more so than learning to talk, walk, or do long division. It's a chance to gain power and acceptance within your family, and within society. But stealing your first treasure can be complicated, especially when you're a wyvern—a human capable of turning into a dragon.
Embarking on a life of crime is never easy, and Sky discovers secrets about her mother, who recently went missing, the real reason her boyfriend broke up with her, and a valuable jewel that could restore her family's wealth and rank in their community.
With a handpicked crew by her side, Sky knows she has everything she needs to complete her first heist, and get her boyfriend and mother back in the process. But then she uncovers a dark truth about were-dragon society—a truth more valuable and dangerous than gold or jewels could ever be.
Aodren: A lonely, young king, searching for a way to dismantle his father's dark legacy.
Lirra: A girl with the power to control the wind, torn between duty and following her dreams
For twenty years, Channelers—women with a magical ability—have been persecuted in Malam by those without magic. Now King Aodren wants to end the bloody divide and unite his kingdom. But decades of hatred can't be overcome by issuing decrees, and rumors of a deadly Channeler-made substance are only fueling people's fears. Lirra has every reason to distrust Aodren. Yet when he asks for help to discover the truth behind the rumors, she can't say no. With Lirra by his side, Aodren sees a way forward for his people. But can he rewrite the mistakes of the past before his enemies destroy the world he's working so hard to rebuild? Erin Summerill returns with a high-stakes fantasy full of romance, magic, and revenge perfect for fans of Susan Dennard and C. J. Redwine.
What if damnation is the price of true love?
Innocent blood has been spilled on the steps of the Council Hall, the sacred stronghold of the Shadowhunters. In the wake of the tragic death of Livia Blackthorn, the Clave teeters on the brink of civil war. One fragment of the Blackthorn family flees to Los Angeles, seeking to discover the source of the disease that is destroying the race of warlocks. Meanwhile, Julian and Emma take desperate measures to put their forbidden love aside and undertake a perilous mission to Faerie to retrieve the Black Volume of the Dead. What they find in the Courts is a secret that may tear the Shadow World asunder and open a dark path into a future they could never have imagined. Caught in a race against time, Emma and Julian must save the world of Shadowhunters before the deadly power of the parabatai curse destroys them and everyone they love.
A century after her ancestors overcame a bloodthirsty tyrant, seventeen-year-old Valory Braiosa attends a training academy for elicromancers, immortal beings with magical gifts. Yet Valory's power seems impossible to tame, and she faces imprisonment by the Nisseran authorities. Then a resurrection spell awakens a long-dormant evil, and Valory may be the only one who can vanquish this terrifying villain. Together with a band of allies—including an old friend; a haughty princess; and a mysterious, handsome stranger—Valory learns to channel her power and fight back. It's up to her to crush the cunning enemy and save Nissera from chaos.
Weaving together her imaginative world of gritty fairytale magic with snippets from Beauty and the Beast and The Little Mermaid, Hannah West goes dark and dangerous in this gripping companion to her acclaimed debut, Kingdom of Ash and Briars.
Strange Days by Constantine J. Singeer
Alex Mata doesn't want to worry about rumors of alien incursions—he'd rather just skate and tag and play guitar. But when he comes home to find an alien has murdered his parents, he's forced to confront a new reality: aliens are real, his parents are dead, and nobody will believe him if he tells. On the run, Alex finds himself led to the compound of tech guru Jeffrey Sabazios, the only public figure who stands firm in his belief that aliens are coming.
At Sabazios's invitation, Alex becomes a Witness, one of a special group of teens gifted with an ability that could save the Earth: they can glide through time and witness futures. When a Witness sees a future, that guarantees it will happen the way it's been seen, making their work humanity's best hope for stopping the alien threat. Guided by Sabazios, befriended by his fellow time travelers, and maybe even falling in love, Alex starts feeling like the compound is a real home—until a rogue glide shows him the dangerous truth about his new situation.
Now in a race against time, Alex is forced to reevaluate who he can love, who he can trust, and who he needs to leave behind.
Set in our world, spanning the near to distant futures, Stronger, Faster, and More Beautiful is a novel made up of six interconnected stories that ask how far we will go to remake ourselves into the perfect human specimens, and how hard that will push the definition of "human."
This extraordinary work explores the amazing possibilities of genetic manipulation and life extension, as well as the ethical quandaries that will arise with these advances. The results range from the heavenly to the monstrous. Deeply thoughtful, poignant, horrifying, and action-packed, Arwen Elys Dayton's Stronger, Faster, and More Beautiful is groundbreaking in both form and substance.
11
Deadfall by Stephen Wallenfels
Twin brothers Ty and Cory Bic are on the run. When they encounter a dying deer in the middle of a remote mountain road with fresh tire tracks swerving down into a ravine, they know they have to help. But when they reach the wrecked car the vehicle appears empty, with signs that the driver escaped.
Until they hear a sound coming from the trunk.
Ty and Cory are escaping demons of their own. But what they discover in the trunk puts them in the crosshairs of something darker and more sinister than their wildest nightmares.
Told through a gripping, lightning-fast narrative that alternates between present and past, this unputdownable survival thriller unravels the tangled circumstances that led Ty and Cory to the deer in the road and set them on a perilous course through the wilderness of the Pacific Northwest.
The Fade by Demitria Lunetta
We don't want to disappear.
We want to be found.
Something terrible happened in her basement. Haley can feel it.
Four girls went missing several years ago, and the police never solved the case. But Haley knows the missing girls were murdered. How else can she explain the hostile presence in her house?
The ghostly girls need something from her. And unless Haley can figure out what they want…she might be next.
18
Wil, the exiled princess of northern Arrod, must do what she never thought possible: return home to discover the origins of her own curse.
But home is very different from how she left it—Wil's unpredictable elder brother Baren is now king, leading a war against the Southern Isles. And with time running out, Wil must navigate the dangerous secrets within her family to find the truth.
Nothing goes as planned, and suddenly Wil and her allies are fighting for their lives as the Southern king is out to ensure neither of his children will survive to take the throne. Traveling across cursed seas and treacherous kingdoms, Wil and Loom must make peace with their pasts if they hope to secure the future of their world.
But when their plans lead them right back to evil marveler Pahn, and to Baren—who is more dangerous than ever—can Wil and her friends outsmart their enemies, this time for good?
In this powerful collection, well-known YA authors answer real letters from teens all over the world about the dark side of love: dating violence, break-ups, cheating, betrayals, and loneliness. This book contains a no-holds-barred, raw outpouring of the wisdom these authors have culled from mining their own hearts for the fiction they write. Their responses are autobiographical, unflinching, and filled with love and hope for the anonymous teen writers.
With contributors Becky Albertalli, Adi Alsaid, Libba Bray, Mike Curato, Heather Demetrios, Amy Ewing, Zach Fehst, Gayle Forman, Corey Ann Haydu, Varian Johnson, A.S. King, Nina LaCour, Kim Liggett, Kekla Magoon, Sarah McCarry, Sandhya Menon, Cristina Moracho, Jasmine Warga, and Ibi Zoboi.
Hotshot pilot Nax Hall has a history of making poor life choices. So it's not exactly a surprise when he's kicked out of the elite Ellis Station Academy in less than twenty-four hours. But Nax's one-way trip back to Earth is cut short when a terrorist group attacks the Academy.
Nax and three other washouts escape—barely—but they're also the sole witnesses to the biggest crime in the history of space colonization. And the perfect scapegoats.
On the run, Nax and his fellow failures plan to pull off a dangerous heist to spread the truth. Because they may not be "Academy material," and they may not even get along, but they're the only ones left to step up and fight.
Full of high-stakes action, subversive humor, and underdogs becoming heroes, this YA sci-fi adventure is perfect for fans of Illuminae, Heart of Iron, or the cult classic TV show Firefly and is also a page-turning thrill ride that anyone—not just space nerds—can enjoy.
Kenzie Caine is enrolled at Vanderbilt University, with the goal of becoming a veterinarian. When she lands a summer job caring for and helping to rehabilitate abused horses at the Bellmeade Estate stables, she is over-the-moon happy. One place she does not want to be is at home with her parents. Since the tragic death of Kenzie's younger sister, her mother has unraveled and her father has lost Kenzie's trust.
At the stables, Kenzie is in her element. But a serious heart condition limits her ability to complete the more physical aspects of the job, so her employers have tasked the charming Austin Boyd with helping her. But Austin has secrets. And as Kenzie and Austin become closer, those secrets threaten to harm their relationship, as well as reveal other startling truths.
Once again Lurlene McDaniel delivers the type of story for which she is famous—and readers everywhere will be reaching for their tissues.
Seventeen-year-old Zae Monroe is over relationships. Between getting cheated on by the only guy she's ever loved and watching her parents' marriage crumble, she decides to turn the tables and go after what she wants, and what she wants are kisses. Athletes, musicians, poets, bad boys—their lips are all on her agenda, and it's time to collect.
Zae proposes a contest with her friends to see who can kiss the most boys during spring break. But what starts as a harmless competition leads to a downward spiral of drama. Zae is forced to face the reasons behind her boy angst and starts to wonder if she was wrong about the male race…or at least some of them.
In the Land of the Rising Sun, where high culture meets high kitsch, and fashion and technology are at the forefront of the First World's future, the foreign-born teen elite attend ICS-the International Collegiate School of Tokyo. Their accents are fluid. Their homes are ridiculously posh. Their sports games often involve a (private) plane trip to another country. They miss school because of jet lag and visa issues. When they get in trouble, they seek diplomatic immunity.
Enter foster-kid-out-of-water Elle Zoellner, who, on her sixteenth birthday, discovers that her long-lost father, Kenji Takahara, is actually a Japanese hotel mogul and wants her to come live with him. Um, yes, please! Elle jets off first class from Washington, DC, to Tokyo, which seems like a dream come true. Until she meets her enigmatic father, her way-too-fab aunt, and her hyper-critical grandmother, who seems to wish Elle didn't exist. In an effort to please her new family, Elle falls in with the Ex-Brats, a troop of uber-cool international kids who spend money like it's air. But when she starts to crush on a boy named Ryuu, who's frozen out by the Brats and despised by her new family, her already tenuous living situation just might implode.
My Almost Flawless Tokyo Dream Life is about learning what it is to be a family, and finding the inner strength to be yourself, even in the most extreme circumstances.
31
*The Curses by Laure Eve
Picking up the pieces after the chilling events of the previous year isn't easy, but the Grace siblings are determined. Wolf is back after a mysterious disappearance, and everyone's eager to return to normal. Except Summer, the youngest Grace. Summer has a knack for discovering the truth—and something is troubling her. But exposing secrets is a dangerous game, and it's not one Summer can win alone. At Summer's behest, the coven comes back together, drawing their erstwhile friend River back into the fold. But as the coven's powers magnify, Wolf's behavior becomes unpredictable—and Summer must question the nature of the friend she so loves. This riveting sequel to The Graces is saturated with magic, the destructive cost of power, and the nature of forgiveness.
In case you missed them, here are the previous editions of 2018 upcoming YA books roundups: YA between January and March, YA between April and June, and YA between July and September.