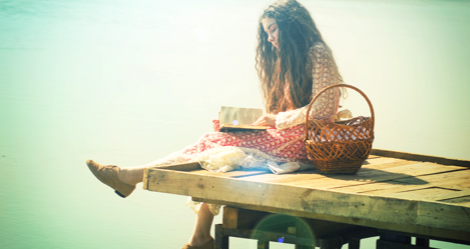 This content contains affiliate links. When you buy through these links, we may earn an affiliate commission.
We're deep in the heart of summer here in the Northern Hemisphere, which means it's time to get excited about the books hitting shelves through the rest of the season. These upcoming YA books will hit shelves between July and September 2018. It's not a comprehensive list of upcoming YA books, but it's pretty close.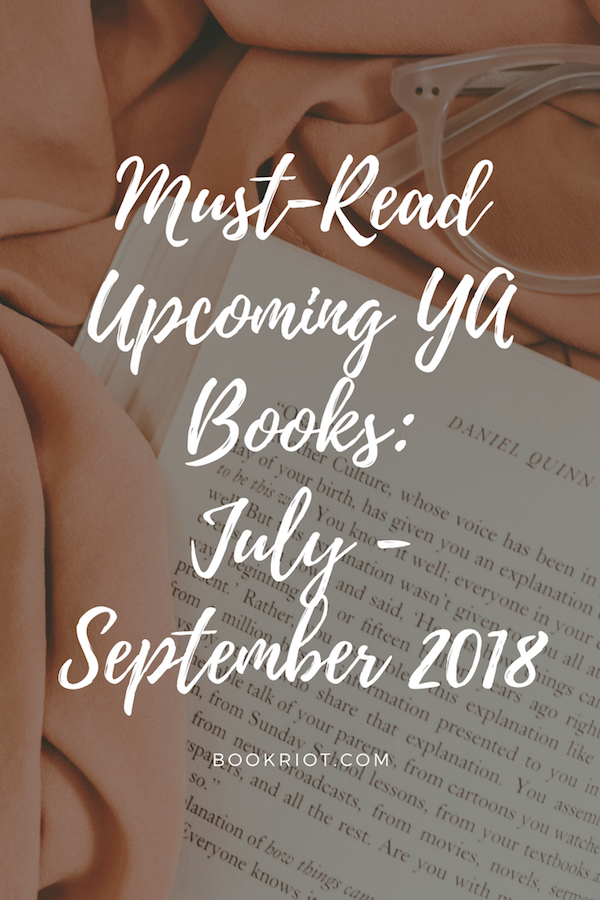 Here you'll find both fiction and nonfiction. Books that are part of a series are denoted with a *. Descriptions are from Amazon and books are listed beneath the date of publication in alphabetical order. Note that sometimes upcoming YA books have their publication dates changed, so the dates below correspond to the best known information at the time of this writing.
Upcoming YA Releases
July 3
*The Collide by Kimberly McCreight
Wylie is finally out of the detention center, but that doesn't mean she's safe. As much as she wants to forget everything that's happened and return to her normal life, Wylie knows that true freedom means discovering, once and for all, who is hunting the girls who are Outliers—and why.
Armed with only a few clues and a handful of trusted allies, Wylie sets out to separate fact from fiction. But soon she is unearthing long-buried secrets and finds herself entangled in a conspiracy that is much bigger and more dangerous than she ever could have imagined. Worse yet, the nearer Wylie gets to discovering the truth, the closer her enemies get to silencing her and the other girls. This time, maybe forever.
Doing It by Hannah Witton
Nobody really has sex all figured out. So Hannah Witton wrote a book full of honest, hilarious (and sometimes awkward) anecdotes, confessions, and revelations. Hannah talks about doing it safely. Doing it joyfully. Doing it when you're ready. Not doing it. Basically, doing it the way you want, when you want (if you want).
Doing It works as an introduction to sex as well as a guidebook for those who are already sexually active, with insight on topics such as healthy relationships, porn, contraception, sex shaming, and more. Approachable and empowering, this is a go-to resource for all things s-e-x.
The daughter of two astronauts, Romy Silvers is no stranger to life in space. But she never knew how isolating the universe could be until her parents' tragic deaths left her alone on the Infinity, a spaceship speeding away from Earth.
Romy tries to make the best of her lonely situation, but with only brief messages from her therapist on Earth to keep her company, she can't help but feel like something is missing. It seems like a dream come true when NASA alerts her that another ship, the Eternity, will be joining the Infinity.
Romy begins exchanging messages with J, the captain of the Eternity, and their friendship breathes new life into her world. But as the Eternity gets closer, Romy learns there's more to J's mission than she could have imagined. And suddenly, there are worse things than being alone….
DARIO HEYWARD KNOWS ONE THING: He's never going back to Moldavia Studios, the iconic castle that served as the set, studio, and home to the cast and crew of dozens of cult classic B-horror movies. It's been three years since Dario's even seen the place, after getting legally emancipated from his father, the infamous director of Moldavia's creature features.
But then Dario's brother invites him home to a mysterious ceremony involving his father and a tribute to his first film—The Curse of the Mummy's Tongue. Dario swears his homecoming will be a one-time visit. A way for him to get closure on his past—and reunite with Hayley, his first love and costar of Zombie Children of the Harvest Sun, a production fraught with real-life tragedy—and say good-bye for good. But the unthinkable happens—Dario gets sucked back into the twisted world of Moldavia and the horrors, both real and imagined, he's left there.
With only months to rescue the sinking studio and everyone who has built their lives there, Dario must confront the demons of his past—and the uncertainties of his future. But can he escape the place that's haunted him his whole life?
What Brynn Caldwell can't remember might get her killed.
Brynn is a promising science student recovering from a major setback: Last year, a bad relationship sent her spiraling into depression. But as she puts the pieces of her life back together, a few don't fit.
Soon Brynn starts having flashbacks—hazy memories of being abducted and possibly brainwashed. It's all connected to a wonder drug to treat PTSD that might actually be the ultimate weapon: a tool to control people's memories. And Brynn can't trust the people who know the truth—her best friend turned enemy, her genius scientist mother with a secret, and Brynn herself, whose memories might all be lies.
Now, to stop a possible terrorist attack, Brynn has to uncover what she's been forced to forget—and learn what side she's really on.
Born and raised in Boulder, Colorado, Essence McKree feels older than any seventeen-year-old she knows. Ever since weed was legalized, her mother has been working in a pot shop, high more often than not. Lately it's been up to Essa to care for her nine-year-old sister, Puck.
When Essa meets Oliver—a brainy indoor type who's in town for the summer—she is cautious at first, distrustful of the tourist crowd and suspicious of Oliver's mysterious past in Chicago. But Puck is charmed and pushes Essa toward him. Soon Essa finds herself showing Oliver the Boulder she has forgotten: the mountain parties, the long hikes…and at Oliver's urging, the exploration of Buddhism at the local zendo.
When Oliver agrees to accompany Essa on a three-day survival game in the Rocky Mountains, she feels a lightness she hasn't known in a long time. Then she discovers that Puck has stowed away and followed them into the wilderness. After spending a night stuck in a mountain storm, Essa wakes to find Puck missing. Now Essa must rely on her newfound spiritual strength if she is to save her sister's life, and ultimately her own.
July 10
They say Château Beaumont is cursed. But servant-girl Lucie can't believe such foolishness about handsome Jean-Loup Christian Henri LeNoir, Chevalier de Beaumont, master of the estate. But when the chevalier's cruelty is revealed, Lucie vows to see him suffer. A wisewoman grants her wish, with a spell that transforms Jean-Loup into monstrous-looking Beast, reflecting the monster he is inside. But Beast is nothing like the chevalier. Jean-Loup would never patiently tend his roses; Jean-Loup would never attempt poetry; Jean-Loup would never express remorse for the wrong done to Lucie. Gradually, Lucie realizes that Beast is an entirely different creature from the handsome chevalier, with a heart more human than Jean-Loup's ever was. Lucie dares to hope that noble Beast has permanently replaced the cruel Jean-Loup—until an innocent beauty arrives at Beast's château with the power to break the spell.
Haunted by the sacrifices he made in Constantinople, Radu is called back to the new capital. Mehmed is building an empire, becoming the sultan his people need. But Mehmed has a secret: as emperor, he is more powerful than ever…and desperately lonely. Does this mean Radu can finally have more with Mehmed…and would he even want it?
Lada's rule of absolute justice has created a Wallachia free of crime. But Lada won't rest until everyone knows that her country's borders are inviolable. Determined to send a message of defiance, she has the bodies of Mehmed's peace envoy delivered to him, leaving Radu and Mehmed with no choice. If Lada is allowed to continue, only death will prosper. They must go to war against the girl prince.
But Mehmed knows that he loves her. He understands her. She must lose to him so he can keep her safe. Radu alone fears that they are underestimating his sister's indomitable will. Only by destroying everything that came before—including her relationships—can Lada truly build the country she wants.
Claim the throne. Demand the crown. Rule the world.
Things have changed for seventeen-year-old Zoe ever since the otherworldly events that brought her together with the mysterious bounty hunter she calls X. In order to save Zoe and her family, X has done the unthinkable—he's given up his freedom and returned to captivity in the Lowlands.
X is determined to break the lords' hold on him once and for all, but being stripped of his power pushes him toward a darkness he's never experienced and a past he's never known. The secrets that surface could be the key to reuniting X and Zoe…or they could mean the destruction of everything they have been fighting for.
In the ancient river kingdom, where touch is a battlefield and bodies the instruments of war, Mia Rose has pledged her life to hunting Gwyrach: women who can manipulate flesh, bones, breath, and blood. The same women who killed her mother without a single scratch.
But when Mia's father announces an alliance with the royal family, she is forced to trade in her knives and trousers for a sumptuous silk gown. Determined to forge her own path forward, Mia plots a daring escape, but could never predict the greatest betrayal of all: her own body. Mia possesses the very magic she has sworn to destroy.
Now, as she untangles the secrets of her past, Mia must learn to trust her heart…even if it kills her.
Hocus Pocus is beloved by Halloween enthusiasts all over the world. Diving once more into the world of witches, this electrifying two-part young adult novel, released on the twenty-fifth anniversary of the 1993 film, marks a new era of Hocus Pocus. Fans will be spellbound by a fresh retelling of the original film, followed by the all-new sequel that continues the story with the next generation of Salem teens.
Shortly after moving from California to Salem, Massachusetts, Max Dennison finds himself in hot water when he accidentally releases a coven of witches, the Sanderson sisters, from the afterlife. Max, his sister, and his new friends (human and otherwise) must find a way to stop the witches from carrying out their evil plan and remaining on earth to torment Salem for all eternity.
Twenty-five years later, Max and Allison's seventeen-year-old daughter, Poppy, finds herself face-to-face with the Sanderson sisters in all their sinister glory. When Halloween celebrations don't quite go as planned, it's a race against time as Poppy and her friends fight to save her family and all of Salem from the witches' latest vile scheme.
It's senior year, and Miranda Black's best friend, Syd, has run away—suddenly and inexplicably, leaving behind nothing but a pink leopard print cell phone with a text message from the mysterious HIM. Everyone wants to know why Syd left, but the truth is, Miranda has no idea. When Miranda's mother abandoned her as a child, Miranda had found shelter in her friendship with Syd, who wore her own motherlessness like a badge of honor. Now Miranda's been left behind again, left to untangle the questions of why Syd left, where she is—and if she's even a friend worth saving, all while stumbling into first love with the most unlikely boy in school. How do you take on the future when it feels like so much of your past wasn't even real?
Legacy by Jessica Blank
Ever since her older brother Andy died, Alison's life has been just as dark as her home in Tacoma, Washington.
Her mom is in perpetual mourning, her father ran out on them, and after hanging out with Andy's hard-partying friends for a year, Alison's reputation is trashed. She planned on taking the path of least resistance during her senior year—hanging out with her punk rocker boyfriend and trying not to flunk out of school—until a massive fight with her mother pushes her over the edge, and she runs away.
At first, joining a group of radical environmentalists who are occupying a Washington State forest is just about having a place to crash. But the ancient woods prove to be as vibrant and welcoming as they are vulnerable, and for the first time, Alison realizes that she might be more powerful than she thought. As tensions in the forest mount and confrontations with authorities get physical, Alison has to decide whether she's willing to put her own life on the line to fight for what she believes in.
In this stunning literary work, Jessica Blank uses the anti-establishment and radical mood of the 1990s to show a girl grappling to find the strength and courage to do what's right…for the world…and for herself.
Adrienne Cahill cares about three things: getting into a great college; becoming a revered journalist like her idol, Sydney Declay; and making her late father proud of her.
So when Adrienne is offered the chance to write an article that will get her into her dream school and debunk her foolish stepfather's belief that a legendary family of hermits is living in the Siberian wilderness, there's no question that she's going to fly across the world.
But the Russian terrain is even less forgiving than Adrienne. And when disaster strikes, none of their extensive preparations seem to matter. Now Adrienne's being held captive by the family she was convinced didn't exist, and her best hope for escape is to act like she cares about them, even if it means wooing the youngest son.
Ever since her best friend Anna died, Evie has been an outcast in her small fishing town. Hiding her talents, mourning her loss, drowning in her guilt.
Then a girl with an uncanny resemblance to Anna appears on the shore, and the two girls catch the eyes of two charming princes. Suddenly Evie feels like she might finally have a chance at her own happily ever after.
But magic isn't kind, and her new friend harbors secrets of her own. She can't stay in Havnestad—or on two legs—without Evie's help. And when Evie reaches deep into the power of her magic to save her friend's humanity—and her prince's heart—she discovers, too late, what she's bargained away.
The Superhero and Me by Danielle Banas
Never trust a guy in spandex.
In Abby Hamilton's world, superheroes do more than just stop crime and save cats stuck in trees—they also drink milk straight from the carton and hog the television remote. Abby's older brother moonlights as the famous Red Comet, but without powers of her own, following in his footsteps has never crossed her mind.
That is, until the city's newest vigilante comes bursting into her life.
After saving Abby from an attempted mugging, Morriston's fledgling supervillain Iron Phantom convinces her that he's not as evil as everyone says, and that their city is under a vicious new threat. As Abby follows him deeper into their city's darkest secrets, she comes to learn that heroes can't always be trusted, and sometimes it's the good guys who wear black.
Jolie's a lot of things, but she knows that pretty isn't one of them.
She has mandibular prognathism, which is the medical term for underbite. Chewing is a pain, headaches are a common occurrence, and she's never been kissed. She's months out from having a procedure to correct her underbite, and she cannot wait to be fixed.
Jolie becomes paralyzed with the fear that she could die under the knife. She and her best friends, Evelyn and Derek, decide to make a "Things Jolie Needs to Do Before She Bites It (Which Is Super Unlikely, but Still, It Could Happen)" list. Things like: eat every appetizer on the Applebee's menu and kiss her crush Noah Reed.
But since when did everything ever go exactly to plan?
Filled with humor, heart—and an honest look at today's beauty standards—Jolie's journey is a true feel-good story.
A captain with a secret.
A spy with a mission.
A kingdom on the verge of ruin.
After proving her worth as a deft spy and strategic matchmaker, Sage Fowler is now comfortably positioned in high society as the royal tutor. When she learns of a secret mission, she jumps at the chance to serve her kingdom once more—and to be reunited with her fiancé, Captain Alex Quinn.
However, Sage's headstrong insistence clashes with Alex's gruff military exterior. And after a skirmish with a bordering kingdom, they're separated when tragedy strikes. Now in enemy territory, Sage desperately scrambles to complete Alex's reconnaissance mission. Can she save her kingdom once more?
When seventeen-year-old senator's son Grant Tavish is involved in a fatal accident, all he wants to do is face the consequences of what he's done. But those consequences never come, even if headlines of "affluenza" do. The truth soon becomes clear: due to his father's connections, Grant is going to get away with murder.
As a family tradition approaches, a cave excursion on the Appalachian Trail, Grant seizes the opportunity to take justice into his own hands by staging an accident and never coming back. But before he has a chance to enact his plans, the cave system collapses, trapping him miles beneath the surface with four other teens from much less fortunate circumstances. As they struggle to survive, they share their innermost secrets and fears, and just when it seems they might be on track to finding a way out, they realize…
There's something else down there.
And it's hunting them.
It's Chloe Snow's sophomore year of high school, and life has only grown more complicated.
Last year, Chloe was the star of the musical. This year, after an audition so disastrous she runs off the stage in tears, she's cast as a lowly member of the ensemble. Will she be able to make it through the show knowing everyone's either pitying her or reveling in her downfall?
Chloe's best friend, Hannah, is no help: she's been sucked into the orbit of Lex, the velvet-gloved, iron-fisted ruler of the sophomore class. Chloe's dad is busy falling in love with Miss Murphy, and Chloe is no longer speaking to her mother, who is sending her increasingly desperate and unhinged emails from Mexico. As her parents' divorce negotiations unravel, a custody battle looms.
If only Chloe could talk to Grady about it: his parents are divorced, and he's easy to talk to. Or he was, until he declared his love for Chloe, and she turned him down because despite all her rational brain cells she can't seem to get over Mac, and then Grady promptly started going out with Lex.
As the performance of the show approaches, Chloe must find a way to navigate all the messy elements of her life and make it through to the end of the year.
July 17
While camping in a remote location, Maddie Davenport gathers around the fire with her friends and family to tell scary stories. Caleb, the handsome young guide, shares the local legend of the ferocious Mountain Men who hunt unsuspecting campers and leave their mark by carving grisly antlers into their victims' foreheads.
The next day, the story comes true.
Now Maddie and her family are lost in the deep woods–with no way out–being stalked by their worst nightmares. Because there were other, more horrifying stories told that night—and Maddie's about to find out just how they end…
Fleur Waters never takes anything seriously—until she shows up at her local boxing club one day to prove a point. She's the only girl there, and the warm-up alone is exhausting…but the workout gives her an escape from home and school, and when she lands her first uppercut on a punching bag she feels a rare glow of satisfaction.
So she goes back the next week, determined to improve. Fleur's overprotective mom can't abide the idea of her entering a boxing ring (why won't she join her pilates class instead?). Her friends don't get it either and even her boyfriend, "Prince" George, seems concerned by her growing muscles and appetite—but it's Fleur's body, Fleur's life. So she digs in her heels in hope that she can overcome the obstacles and strike a blow for equality.
Aisha Un-Haad would do anything for her family. When her brother contracts a plague, she knows her janitor's salary isn't enough to fund his treatment. So she volunteers to become a Scela, a mechanically enhanced soldier sworn to protect and serve the governing body of the Fleet, the collective of starships they call home. If Aisha can survive the harrowing modifications and earn an elite place in the Scela ranks, she may be able to save her brother.
Key Tanaka awakens in a Scela body with only hazy memories of her life before. She knows she's from the privileged end of the Fleet, but she has no recollection of why she chose to give up a life of luxury to become a hulking cyborg soldier. If she can make it through the training, she might have a shot at recovering her missing past.
In a unit of new recruits vying for top placement, Aisha's and Key's paths collide, and the two must learn to work together—a tall order for girls from opposite ends of the Fleet. But a rebellion is stirring, pitting those who yearn for independence from the Fleet against a government struggling to maintain unity.
With violence brewing and dark secrets surfacing, Aisha and Key find themselves questioning their loyalties. They will have to put aside their differences, though, if they want to keep humanity from tearing itself apart.
Liv Burnham thinks nobody knows Morgan Frost like she does, but a terrible accident pushes her down the rabbit hole where Morgan's secrets hide and she'll be lucky to make it out alive….
On a hot summer night, Liv, Morgan, Clay and Nathan are on the way home from a party in Clay's convertible. Best friends dating brothers? It doesn't get better than that. But the joyride ends in sudden impact, a screech of brakes, and shattering glass. On that lonely country road, four lives change forever.
Liv wakes in the hospital. At first she's confused when they call her Morgan, but she assumes it's a case of mistaken identity. Yet when the bandages come off, it's not her face in the mirror anymore. It's Morgan's.
Morgan always seemed to have the perfect life. But as Liv tries to fit herself into Morgan's world, she discovers endlessly disturbing secrets of the criminal and murderous variety and a dark task to finish…if she doesn't lose her mind first.
Forced to confront the disturbing truths that Morgan kept hidden in life, Liv must navigate a world of long-buried murder, a dangerous love affair—and a romance that feels like a betrayal.
Letting Go of Gravity by Meg Leder
Parker struggles to reconnect with her twin brother, Charlie—who's recovering from cancer—as she tries to deal with her anxiety about the future in this powerful new novel.
Twins Parker and Charlie are polar opposites.
Where Charlie is fearless, Parker is careful.
Charlie is confident while Parker aims to please.
Charlie is outgoing and outspoken; Parker is introverted and reserved.
And of course, there's the one other major difference: Charlie got leukemia. Parker didn't.
But now that Charlie is officially in remission, life couldn't be going better for Parker. She's landed a prestigious summer internship at the hospital and is headed to Harvard in the fall to study pediatric oncology—which is why the anxiety she's felt since her Harvard acceptance is so unsettling. And it doesn't help that her relationship with Charlie has been on the rocks since his diagnosis.
Enter Finn, a boy who's been leaving strange graffiti messages all over town. Parker can't stop thinking about those messages, or about Finn, who makes her feel free for the first time: free to doubt, free to make mistakes, and free to confront the truth that Parker has been hiding from for a long time.
That she keeps trying to save Charlie, when the person who really needs saving is herself.
My Family Divided (Young Reader Edition) by Diane Guerrero, with Erica Moroz
Before landing a spot on the megahit Netflix show Orange is the New Black; before wow-ing audiences as Lina on Jane the Virgin; and before her incredible activism and work on immigration reform, Diane Guerrero was a young girl living in Boston. One day, while Guerrero was at school, her undocumented immigrant parents were taken from their home, detained, and deported. Guerrero's life, which had been full of the support of a loving family, was turned upside down.
Reflective of the experiences of millions of undocumented immigrant families in the United States, Guerrero's story is at once heartbreaking and hopeful.
Emmett Atwater thought Babel's game sounded easy. Get points. Get paid. Go home. But it didn't take long for him to learn that Babel's competition was full of broken promises, none darker or more damaging than the last one.
Now Emmett and the rest of the Genesis spaceship survivors must rally and forge their own path through a new world. Their mission from Babel is simple: extract nyxia, the most valuable material in the universe, and play nice with the indigenous Adamite population.
But Emmett and the others quickly realize they are caught between two powerful forces-Babel and the Adamites-with clashing desires. Will the Genesis team make it out alive before it's too late?
Jake Liddell is a war hero.
The military is considering awarding him a Silver Star, a huge honor for any soldier—especially for the son of a military family.
Only Jake's questioning everything his family brought him up to believe.
Now at home, recovering from his physical wounds, the memories of what he experienced "over there" haunt him. Meanwhile, he feels pressure from all sides. Some people want him to speak out against the military system he was brought up to honor and respect. Others, like his famous grandfather (a general himself), are urging him to return to the battlefield to fight again.
Jake was raised to believe that fighting for one's country was a moral obligation. But now that he's seen firsthand the human cost of war, he is no longer sure. Bestselling YA author Todd Strasser delivers an engrossing and timely novel about very real issues faced by the young people caught in today's "forever war," and the price they pay.
Some people have school spirit.

Shelby Black has real ones.
Shelby Black has spent the past six months training to be an exorcist. Her great-uncle Roy—a Catholic priest—has put her through exorcist boot camp hell, hoping to develop her talent, but ohmygod, he still doesn't trust her to do an exorcism on her own.
High school is hard enough without having to explain that you fight demons for a living, so Shelby keeps her extracurricular activity to herself. The last thing she wants is for her crush, Spencer, to find out what she does in her off time.
But Shelby knows how to keep a secret—even a big one. Like the fact that her mom left under mysterious circumstances and it's all her fault. Shelby is hellbent on finding her mom, no matter what it costs her—even if what it ends up costing her is her soul AND a relationship with Spencer.
Emma's life has always gone according to her very careful plans. But things take a turn toward the unexpected when she falls in love for the first time with the one person in the world who's off-limits: her new foster brother, the gorgeous and tormented Dylan McAndrews.
Meanwhile, Emma's AP English class is reading Wuthering Heights, and she's been assigned to echo Emily Bronte's style in an epistolary format. With irrepressible feelings and no one to confide in, she's got a lot to write about. Distraught by the escalating intensity of their mutual attraction, Emma and Dylan try to constrain their romance to the page—for fear of threatening Dylan's chances at being adopted into a loving home. But the strength of first love is all-consuming, and they soon get enveloped in a passionate, secretive relationship with a very uncertain outcome.
July 24
Delaney has been kidnapped by aliens. Again. After only a month back on Earth with her hot new alien boyfriend Ruckus, the deadly and devastatingly handsome prince Trystan has dragged her right back to his planet.
While some girls may dream of winning a prince's heart, Delaney just wishes this one would leave her alone. Instead, she finds herself at the center of both a tense political battle between two alien kingdoms and Trystan's romantic attentions, both of which are absolutely ruining the life she's built on Earth. Not to mention the fact that she's about to be crowned queen of a planet she's barely even visited. Just another day in the life of an ordinary human girl.
After receiving a distress call from a drill team on a distant planet, a skeleton crew is sent into deep space to perform a standard search-and-rescue mission.
When they arrive, they find the planet littered with the remains of the project—including its members' dead bodies. As they try to piece together what could have possibly decimated an entire project, they discover that some things are best left buried—and some monsters are only too ready to awaken.
In the last days of the world, the walls of Viyara are still falling, and the dead are rising faster than ever.
Juliet is trapped—ordered by Lord Ineo of the Mahyanai to sacrifice the remaining members of her family, the Catresou, to stave off the end of the world. Though they're certain his plan is useless, Juliet and her former friend Runajo must comply with Lord Ineo's wishes—unless they can discover a different, darker path to protecting Viyara.
Romeo is tortured: Finally aware that his true love is alive, he is at once elated and devastated, for his actions led directly to the destruction of her clan. The only way to redemption is to offer his life to the Catresou to protect and support them…even if it means dying to do so.
When Romeo's and Juliet's paths converge once again, only a journey into Death will offer answers and the key to saving them all—but is it a journey either of them will survive?
In a Putin-esque near-future America, the gifted and talented high school has just been eliminated, and Sam and his friends have been using their unexpected free time to work on a tiny, undetectable, utterly reliable lie detector. They're all in it for the money—except Theo, their visionary. For Theo, it's about creating a better world. A BS-free world, where no one can lie, and the honest will thrive.
Just when they finish the prototype and turn down an offer to sell their brainchild to a huge corporation, Theo is found dead. Greedy companies, corrupt privatized police, and even the president herself will stop at nothing to steal the Truth App. Sam sets his sights on exposing all lies and holding everyone accountable.
But he and his friends quickly realize the costs of a BS-free world: the lives of loved ones, and political and economic stability. They now face a difficult question: Is the world capable of operating without lies, or are lies what hold it together?
After
Jess is alone. Her cabin has burned to the ground. She knows if she doesn't act fast, the cold will kill her before she has time to worry about food. But she is still alive—for now.
Before
Jess hadn't seen her survivalist, off-the-grid dad in over a decade. But after a car crash killed her mother and left her injured, she was forced to move to his cabin in the remote Canadian wilderness. Just as Jess was beginning to get to know him, a secret from his past paid them a visit, leaving her father dead and Jess stranded.
After
With only her father's dog for company, Jess must forage and hunt for food, build shelter, and keep herself warm. Some days it feels like the wild is out to destroy her, but she's stronger than she ever imagined.
Jess will survive. She has to. She knows who killed her father…and she wants revenge.
At the 2016 Rio Olympics, Ibtihaj Muhammad smashed barriers as the first American to compete wearing hijab, and made history as the first Muslim-American woman to medal. But it wasn't an easy road—in a sport most popular among wealthy white people, Ibtihaj often felt out of place. Ibtihaj was fast, hardworking, and devoted to her faith, but rivals and teammates (as well as coaches and officials) pointed out her differences, insisting she would never succeed. Yet Ibtihaj powered on. Her inspiring journey from a young outsider to an Olympic hero is a relatable, memorable, and uniquely American tale of hard work, determination, and self-reliance.
Sanctuary by Caryn Lix
Kenzie holds one truth above all: the company is everything.
As a citizen of Omnistellar Concepts, the most powerful corporation in the solar system, Kenzie has trained her entire life for one goal: to become an elite guard on Sanctuary, Omnistellar's space prison for superpowered teens too dangerous for Earth. As a junior guard, she's excited to prove herself to her company—and that means sacrificing anything that won't propel her forward.
But then a routine drill goes sideways and Kenzie is taken hostage by rioting prisoners.
At first, she's confident her commanding officer—who also happens to be her mother—will stop at nothing to secure her freedom. Yet it soon becomes clear that her mother is more concerned with sticking to Omnistellar protocol than she is with getting Kenzie out safely.
As Kenzie forms her own plan to escape, she doesn't realize there's a more sinister threat looming, something ancient and evil that has clawed its way into Sanctuary from the vacuum of space. And Kenzie might have to team up with her captors to survive—all while beginning to suspect there's a darker side to the Omnistellar she knows.
July 31
There are no more cheerleaders in the town of Sunnybrook.
First there was the car accident—two girls dead after hitting a tree on a rainy night. Not long after, the murders happened. Those two girls were killed by the man next door. The police shot him, so no one will ever know his reasons. Monica's sister was the last cheerleader to die. After her suicide, Sunnybrook High disbanded the cheer squad. No one wanted to be reminded of the girls they'd lost.
That was five years ago. Now the faculty and students at Sunnybrook High want to remember the lost cheerleaders. But for Monica, it's not that easy. She just wants to forget.
Only, Monica's world is starting to unravel. There are the letters in her stepdad's desk, an unearthed, years-old cell phone, a strange new friend at school…Whatever happened five years ago isn't over. Some people in town know more than they're saying. And somehow, Monica is at the center of it all.
There are no more cheerleaders in Sunnybrook, but that doesn't mean anyone else is safe.
Five years after the destruction of the so-called rehabilitation camps that imprisoned her and countless other Psi kids, seventeen-year-old Suzume "Zu" Kimura has assumed the role of spokesperson for the interim government, fighting for the rights of Psi kids against a growing tide of misinformation and prejudice. But when she is accused of committing a horrifying act, she is forced to go on the run once more in order to stay alive.
Determined to clear her name, Zu finds herself in an uncomfortable alliance with Roman and Priyanka, two mysterious Psi who could either help her prove her innocence or betray her before she gets the chance. But as they travel in search of safety and answers, and Zu grows closer to the people she knows she shouldn't trust, they uncover even darker things roiling beneath the veneer of the country's recovery. With her future—and the future of all Psi—on the line, Zu must use her powerful voice to fight back against forces that seek to drive the Psi into the shadows and save the friends who were once her protectors.
No one looking at Morgan Kemper would think she had a secret—at least not one that she's deeply ashamed of.
To everyone she meets, she comes across as sweet, pretty, and put together. But Morgan knows that looks can be deceiving. For over a year, she's shoplifted countless pieces of clothing and makeup. Each time, she tells herself it will be the last, and each time, it never is.
But when she's caught and sentenced to thirty hours of community service, the image Morgan has carefully constructed starts to crumble. She's determined to complete her punishment without her friends discovering the truth about her sticky fingers, but that's easier said than done…especially once she meets Eli, the charming, handsome nephew of the owner of the charity shop where Morgan is volunteering.
Soon Morgan is faced with an impossible decision: continue to conceal the truth or admit that she's lied to everyone in her life, including the boy she's falling for.
In a world where women have no rights, sisters Serina and Nomi Tessaro face two very different fates: one in the palace, the other in prison.
Serina has been groomed her whole life to become a Grace—someone to stand by the heir to the throne as a shining, subjugated example of the perfect woman. But when her headstrong and rebellious younger sister, Nomi, catches the heir's eye, it's Serina who takes the fall for the dangerous secret that Nomi has been hiding.
Now trapped in a life she never wanted, Nomi has only one way to save Serina: surrender to her role as a Grace until she can use her position to release her sister. This is easier said than done. A traitor walks the halls of the palace, and deception lurks in every corner. But Serina is running out of time, imprisoned on an island where she must fight to the death to survive and one wrong move could cost her everything.
This isn't a love story, but it is a story about love.
This is the story of Joan Harris and Daisy McNamara and the year everything in their lives came apart.
It starts when Robbie McNamara appears at Joan's house with someone else's blood dripping from his hands. Then it all unravels from there in a string of bad angel dust, good biology teachers, rusty scalpels, and stunning car crashes. People keep disappearing, and everyone is lying.
There was always Joan and Daisy, just Daisy and Joan. The thing is, even if you love someone, how long should you hold on before letting go to save yourself?
If Only by Jennifer Gilmore
BEFORE: When Bridget imagined her life at sixteen, it didn't look like this. She didn't think that her boyfriend would dump her for another girl. And she certainly didn't think that she would be pregnant.
With just a few months until she gives birth, Bridget must envision an entirely new future—one for her baby. But as she sifts through the many paths and the many people who want to parent her child, she can't help but feel that there is no right decision.
AFTER: Ivy doesn't know much about her birth mother. She knows that she is now the same age Bridget was when she placed Ivy for adoption. She knows that Bridget was the one who named her. And she knows that fifteen years ago Bridget disappeared from Ivy's and her adoptive moms' lives.
Ivy wants to discover more about herself, but as she goes to find Bridget, she can't help but feel that the risks might far outweigh the benefits of knowing where she comes from and why her birth mother chose to walk away.
The last thing Elise wants is to start over in a new town. But after her brother's death in Afghanistan, she and her mother move to a sleepy coastal village to be closer to Elise's sister-in-law and niece.
When Elise meets Mati during a beachside walk, they quickly discover how much they have in common. Mati is new to town, too. Over the course of the summer, their relationship begins to blossom, and what starts out as a friendship becomes so much more.
But as Elise and Mati grow closer, her family becomes more and more uncomfortable with their relationship, and their concerns all center on one fact—Mati is Afghan.
When Viola Li returns from a trip, she develops a sudden and extreme case of photosensitivity—an inexplicable allergy to sunlight. Thanks to her crisis-manager parents, she doesn't just have to wear layers of clothes and spaceship-sized hat. She has to avoid all hint of light. Say goodbye to windows and running outdoors. Even her phone becomes a threat.Viola is determined to maintain a normal life, particularly after she meets Josh. He's a funny, talented Thor look-alike with his own mysterious grief. But their romance makes her take more risks, and when a rebellion against her parents backfires dangerously, she must find her way to a life—and love—as deep and lovely as her dreams.
Moss has lived with her pa on a remote island for as long as she remembers. The Old World has disappeared beneath the waves—only Pa's magic, harnessing the wondrous stormflowers on the island, can save the sunken continents. But a storm is brewing, promising cataclysmic changes. Soon, two strange boys wash up on the shore. As the clouds swell and the ocean churns, Moss learns to open her eyes to the truth about her isolated world…
August 7
When the Bat's away, the Cat will play. It's time to see how many lives this cat really has.
Two years after escaping Gotham City's slums, Selina Kyle returns as the mysterious and wealthy Holly Vanderhees. She quickly discovers that with Batman off on a vital mission, Gotham City looks ripe for the taking.
Meanwhile, Luke Fox wants to prove that as Batwing he has what it takes to help people. He targets a new thief on the prowl who has teamed up with Poison Ivy and Harley Quinn. Together, they are wreaking havoc. This Catwoman is clever—she may be Batwing's undoing.
A formidable outlaw family that claims to be the first among nations.
A son destined to lead, thrust suddenly into power.
Three fierce young women of the Rahtan, the queen's premier guard.
A legendary street thief leading a mission, determined to prove herself.
A dark secret that is a threat to the entire continent.
When outlaw leader meets reformed thief, a cat-and-mouse game of false moves ensues, bringing them intimately together in a battle that may cost them their lives―and their hearts.
Something is wrong with Marianne.
It's not just that her parents have finally split up. Or that life hasn't been the same since she quit dancing. Or even that her mother has checked herself into the hospital.
She's losing time. Doing things she would never do. And objects around her seem to break whenever she comes close. Something is after her. And the only one who seems to believe her is the daughter of a local psychic.
But their first attempt at an exorcism calls down the full force of the thing's rage. It demands Marianne give back what she stole. Whatever is haunting her, it wants everything she has—everything it's convinced she stole. Marianne must uncover the truth that lies beneath it all before the nightmare can take what it thinks it's owed, leaving Marianne trapped in the darkness of the other side.
Eleanor Roosevelt, Fighter for Justice shows young readers how the former First Lady evolved from a poor little rich girl to a protector and advocate for those without a voice. Though now seen as a cultural icon, she was a woman deeply insecure about her looks and her role in the world. But by recognizing her fears and constantly striving to overcome her prejudices, she used her proximity to presidents and her own power to aid in the fight for Civil Rights and other important causes. This biography gives readers a fresh perspective on her extraordinary life. It includes a timeline, biography, index, and many historic photographs.
Since she was seven years old, Yvonne has had her trusted violin to keep her company, especially in those lonely days after her mother walked out on their family. But with graduation just around the corner, she is forced to face the hard truth that she just might not be good enough to attend a conservatory after high school.
Full of doubt about her future, and increasingly frustrated by her strained relationship with her successful but emotionally closed-off father, Yvonne meets a street musician and fellow violinist who understands her struggle. He's mysterious, charming, and different from Warren, the familiar and reliable boy who has her heart. But when Yvonne becomes unexpectedly pregnant, she has to make the most difficult decision yet about her future.
When sixteen-year-old Sylvie's brother takes over management of their family's vast estates, Sylvie feels powerless to stop his abuse of the local commoners. Her dearest friend asks her to run away to the woods with him, and soon a host of other villagers join them. Together, they form their own community and fight to right the wrongs perpetrated by the king and his noblemen. Perfect for fans of fairy tale retellings or anyone who loves a strong female lead, this gorgeously written take on the Robin Hood tale goes beyond the original's focus on economic justice to explore love, gender, the healing power of nature, and what it means to be a family.
Three teen geniuses from diverse backgrounds must take down an online terrorist ring, rescue an imprisoned father, and prepare for their final showdown with a misguided mastermind in this third and final book in the Genius YA trilogy by Leopoldo Gout.
A mother hanged for murder.
A daughter left to pick up the pieces of their crumbling estate.
Can she clear her family's name if it means facing her own dark past?
When Michael walks through the doors of Catholic school, things can't get much worse. His dad has just made the family move again, and Michael needs a friend. When a girl challenges their teacher in class, Michael thinks he might have found one, and a fellow atheist at that. Only this girl, Lucy, isn't just Catholic…she wants to be a priest.
Lucy introduces Michael to other St. Clare's outcasts, and he officially joins Heretics Anonymous, where he can be an atheist, Lucy can be an outspoken feminist, Avi can be Jewish and gay, Max can wear whatever he wants, and Eden can practice paganism.
Michael encourages the Heretics to go from secret society to rebels intent on exposing the school's hypocrisies one stunt at a time. But when Michael takes one mission too far—putting the other Heretics at risk—he must decide whether to fight for his own freedom or rely on faith, whatever that means, in God, his friends, or himself.
It's the end of senior year, and Rose Regnero is over it.
She's over chasing stories for a school newspaper no one reads. Over missing out on "normal" high school life. And most of all, over Grant Leitch: editor-in-chief, former close friend, never-quite-boyfriend. Now all she wants is a typical prom, complete with handsome date, fancy corsage, and dancing to cheesy pop songs.
It's the end of senior year, and Grant Leitch is in denial.
He's in denial about handing over the reins of the paper to an unworthy underclassman. In denial that Rose suddenly, inexplicably quit the paper and now won't talk to him. But mostly he's in denial that she is at prom with another guy, and it's no one's fault but his own. Grant's only hope of luring Rose back to him (and the paper) is a juicy story she won't be able to resist.
In the end it takes a toga-wearing prom crasher, an emergency lockdown, a secret stalker, and a wild after-party to bring Grant and Rose together for one last story…and one final chance to admit that they're made for each other.
@doctorfusionbebop: Some 17 y. o. chick named Dee Guerrera was just sent to Alcatraz 2.0 for killing her stepsister. So, how long do you think she'll last?
@morrisdavis72195: I hope she meets justice! She'll get what's coming to her! BWAHAHA!
@EltonJohnForevzz: Me? I think Dee's innocent. And I hope she can survive.
WELCOME TO THE NEAR FUTURE, where good and honest citizens can enjoy watching the executions of society's most infamous convicted felons, streaming live on The Postman app from the suburbanized prison island Alcatraz 2.0.
When seventeen-year-old Dee Guerrera wakes up in a haze, lying on the ground of a dimly lit warehouse, she realizes she's about to be the next victim of the app. Knowing hardened criminals are getting a taste of their own medicine in this place is one thing, but Dee refuses to roll over and die for a heinous crime she didn't commit. Can Dee and her newly formed posse, the Death Row Breakfast Club, prove she's innocent before she ends up wrongfully murdered for the world to see? Or will The Postman's cast of executioners kill them off one by one?
For most people, no matter how bad a nightmare is, it always comes to an end. But for Cata and the others, there may be no escape.
After an experimental treatment meant to cure their insomnia went horribly wrong, the teens were plunged into a shared dreamworld where their most terrifying fears became reality.
The six of them have no way of waking up. And they're now beginning to realize that if they die there, they might actually die in the real world. One of the dreamers is already gone, and anyone could be next. So they must work together to survive.
But as they learn the truth about one another, they soon discover they are trapped with someone far more dangerous than their nightmares…
Nine by Zach Hines
In an alternate world startlingly close to our own, humans have nine lives—and they can't wait to use them up.
The government has death incentives aimed at controlling overpopulation. As you shed lives, you shed your awkward phases: one death is equal to one physical and mental upgrade.
Julian's friends are obsessed with the idea of burning, but Julian is determined to stay on his first life for as long as he can. His mother burned too fast and inflicted a debilitating rebirth sickness on herself.
Julian realizes that he's going to have to burn at some point—especially when he becomes a target for Nicholas, the manipulative leader of the Burners, the school's suicide club. And when Julian eventually succumbs, he uncovers suspicious gaps in the rebirth system that may explain exactly why his mother went so far down the rabbit hole years ago.
Along with a group of student dissenters, Julian sets out to find answers and is soon on the verge of exposing the greatest conspiracy ever unleashed on the world.
Mari Turner's life is perfect. That is, at least, to her thousands of followers who have helped her become an internet starlet.
But when she breaks down and posts a video confessing she's been living a lie—that she isn't the happy, in love, inspirational online personality she's been trying so hard to portray—it goes viral and she receives a major backlash.
To get away from it all, she makes an impulsive decision: to hike the entire John Muir Trail. Mari and her late cousin Bri were supposed to do it together, to celebrate their shared eighteenth birthday. But that was before Mari got so wrapped up in her online world that she shut anyone out who questioned its worth—like Bri.
With Bri's boots and trail diary, a heart full of regret, and a group of strangers that she meets along the way, Mari tries to navigate the difficult terrain of the hike. But the true challenge lies within, as she searches for the way back from to the girl she fears may be too lost to find: herself.
As one of the Queen's elite assassins, Sal finally has the power, prestige, and permission to hunt down the lords who killed their family. But Sal still has to figure out who the culprits are. They must enlist the help of some old friends and enemies while ignoring a growing distaste for the queen and that the charming Elise is being held prisoner by her father.
But there's something terribly wrong in the north. Talk of the return of shadows, missing children, and magic abounds. As Sal takes out the people responsible for their ruined homeland, Sal learns secrets and truths that can't be forgotten.
It's been two years since the night that changed Ashley's life. Two years since she was raped by her brother's teammate. And a year since she sat in a court and watched as he was given a slap on the wrist sentence. But the years have done nothing to stop the pain.
It's been two years of hell for Derek. His family is totally messed up and he and his sister are barely speaking. He knows he handled it all wrong. Now at college, he has to come to terms with what happened, and the rape culture that he was inadvertently a part of that destroyed his sister's life.
When it all comes to head at Thanksgiving, Derek and Ashley have to decide if their relationship is able to be saved. And if their family can ever be whole again.
On the night of October 30, 1938, thousands of Americans panicked when they believed that Martians had invaded Earth. What appeared to be breaking news about an alien invasion was in fact a radio drama based on H. G. Wells's War of the Worlds, performed by Orson Welles and his Mercury Theatre players. Some listeners became angry once they realized they had been tricked, and the reaction to the broadcast sparked a national discussion about fake news, propaganda, and the role of radio. In this compelling nonfiction chapter book, Gail Jarrow explores the production of the broadcast, the aftermath, and the concept of fake news in the media.
Seventeen-year-old Peter Blankman is a math genius. He also suffers from devastating panic attacks. Pete gets through each day with the help of his mother—a famous scientist—and his beloved twin sister, Bel.
But when his mom is nearly assassinated in front of his eyes and Bel disappears, Pete finds himself on the run. Dragged into a world where state and family secrets intertwine, Pete must use his extraordinary analytical skills to find his missing sister and track down the people who attacked his mother. But his greatest battle will be with the enemy inside: the constant terror that threatens to overwhelm him.
Weaving between Pete's past and present, This Story Is a Lie is a testimony from a protagonist who is brilliant, broken and trying to be brave.
Adeluna is a soldier. Five years ago, she helped the magic-rich island of Grace Loray overthrow its oppressor, Agrid, a country ruled by religion.
But adjusting to postwar life has not been easy. When an Argridian delegate vanishes during peace talks with Grace Loray's new Council, Argrid demands brutal justice—but Lu suspects something dangerous is at work.
Devereux is a pirate. As one of the stream raiders who run rampant on Grace Loray, he scavenges the island's magic plants and sells them on the black market. But after Argrid accuses raiders of the diplomat's abduction, Vex becomes a target. An expert navigator, he agrees to help Lu find the Argridian—but the truth they uncover could be deadlier than any war.
Benat is a heretic. The crown prince of Argrid, he harbors a secret obsession with Grace Loray's forbidden magic. When Ben's father, the king, gives him the shocking task of reversing Argrid's fear of magic, Ben has to decide if one prince can change a devout country—or if he's building his own pyre.
As conspiracies arise, Lu, Vex, and Ben will have to decide who they really are…and what they are willing to become for peace.
Welcome back to New York, 2119. A skyscraper city, fueled by impossible dreams.
Leda just wants to move on from what happened in Dubai. Until a new investigation forces her to seek help—from the person she's spent all year trying to forget.
Rylin is back in her old life, reunited with an old flame. But when she starts seeing Cord again, she finds herself torn: between two worlds, and two very different boys.
Calliope feels trapped, playing a long con that costs more than she bargained for. What happens when all her lies catch up with her?
Watt is still desperately in love with Leda. He'll do anything to win her back—even dig up secrets that are better left buried.
And now that Avery is home from England—with a new boyfriend, Max—her life seems more picture-perfect than ever. So why does she feel like she would rather be anything but perfect?
With friends, love, social media, body image, and more–navigating young adulthood can seem impossible. The Ultimate Survival Guide to Being a Girl provides humorous and highly relatable guidelines for all of the struggles young girls face, presented in author Christina De Witte's signature comic style and told from the point of view of her lovable Instagram and Internet character, Chrostin. A Hyperbole and a Half for the young adult audience, the book includes comics and hands-on advice about serious issues like mental health and self-care, and also deals with questions on every young girl's mind, like "Can you survive on pizza alone?"
Quirky, hilarious, and sincere, The Ultimate Survival Guide to Being a Girl empowers young women to challenge society's unrealistic standards of beauty and embrace their individuality. This is sure to be a favorite for teen girls.
August 14
Bonnie and Clyde: we've been on a first name basis with them for almost a hundred years. Immortalized in movies, songs, and pop culture references, they are remembered mostly for their storied romance and tragic deaths. But what was life really like for Clyde Barrow and Bonnie Parker in the early 1930s? How did two dirt-poor teens from west Texas morph from vicious outlaws to legendary couple? And why?
Award-winning author Karen Blumenthal devoted months to tracing the footsteps of Bonnie and Clyde, unearthing new information and debunking many persistent myths. The result is an impeccably researched, breathtaking nonfiction tale of love, car chases, kidnappings, and murder set against the backdrop of the Great Depression.
Fresh Ink edited by Lamar Giles
Careful—you are holding fresh ink. And not hot-off-the-press, still-drying-in-your-hands ink. Instead, you are holding twelve stories with endings that are still being written—whose next chapters are up to you.
Because these stories are meant to be read. And shared.
Thirteen of the most accomplished YA authors deliver a label-defying anthology that includes ten short stories, a graphic novel, and a one-act play about topics like gentrification, acceptance, untimely death, coming out, and poverty and ranging in genre from contemporary realistic fiction to adventure and romance. This collection will inspire you to break conventions, bend the rules, and color outside the lines. All you need is fresh ink.
Larry Page and Sergey Brin started out as two Stanford college students with a wild idea: They were going to organize the world's information. From that one deceptively simple goal, they created one of the most influential and innovative companies in the world. The word "google" has even entered our vocabulary as a verb. Now, find out the true history of Google—from its humble beginnings as a thesis project made out of "borrowed" hardware and discount toys through its revolution of the world's relationship with technology to a brief glimpse of where they might take us next.
In Google It, award-winning investigative reporter Anna Crowley Redding shares an inspiring story of innovation, personal and intellectual bravery, and most importantly, of shooting for the moon in order to change the world.
Kate's father has been pressuring her to be perfect for her whole life, pushing her to be the best swimmer she can be. But when Kate finds her dad cheating on her mom, Kate's perfect world comes crashing down, and Kate is forced to leave home and the swim team she's been a part of her whole life.
Now in a new home and new school, faced with the prospect of starting over, Kate isn't so sure that swimming is what she wants anymore. But when she decides to quit, her whole world seems to fall apart. But when Kate gets to know Michael, the cute boy that lives across the hall, she starts to think that starting over might not be so bad. There's only one problem: Michael has a girlfriend.
As the pressures of love, family, and success press down on her, can Kate keep her head above water?
Julia has been ensnared in so many different webs, it's hard to see how she'll ever break free. She must do Casimir's bidding in order to save the life of her brother. She must work against Casimir to save the lives of most everyone else she knows.
Casimir demands that Julia use her vanishing skills to act as a spy at court and ensure that a malleable prince is installed on the throne of Frayne. But Julia is secretly acting as a double agent, passing information to the revolutionaries and witches who want a rebel princess to rule.
Beyond these deadly entanglements, Julia is also desperately seeking the truth about herself: How is it she can vanish? Is she some form of monster? Is her life her own?
With every move she makes, Julia finds herself tangled ever tighter. Should she try to save her country? Her brother? A beloved child? Can she even save herself?
GIRLS IN TROUBLE. That's what Sylvie Blake's older sister Julia renamed their favorite fairy tale book, way back when they were just girls themselves. Now Julia has disappeared—and no one knows for sure if she wants to be away, or if she's the one in trouble.
Then a copy of their old storybook arrives with a mysterious list inside, and Sylvie begins to see signs of her sister, and their favorite fairy tales, everywhere she goes.
With the help of her best friend's enigmatic brother and his beat-up car, Sylvie sets out to follow the strange signs right to Julia and return to New York with her in tow. But trouble comes in lots of forms—and Sylvie soon learns that the damsel in distress is often the only one who can save herself.
Hello! Millie Porter here. I'm posting this from a garden shed, because three so-called adults are in the house arguing over whether you can train penguins. You see, I moved in with my dad, granddad, and aunty to escape my mum's neat freak boyfriend. (He follows me around with a vacuum cleaner, like that's a normal thing to do. It's not.)
The point is, this reality thing is HARD, so my BFF Lauren and I are taking it online to tell you how to handle it. We are going to make a difference with this vlog. That is, if I can just get Dave the cat's tail OUT OF MY FACE.
Yes, we know it's usually only übergeeks like Bradley Sanderson who do vlogs. Yes, we know that Instagram queen Erin Breeler will not like it ONE TINY BIT. But Lauren says she'll be too obsessed with the hot new boy at school to notice us.
You get to see me juggling real life, online life, and a cat intent on my destruction as it happens―IRL.
This is my life. Uploaded.
This collection of twenty-one essays from major YA authors—including award-winning and bestselling writers—touches on a powerful range of topics related to growing up female in today's America, and the intersection with race, religion, and ethnicity. Sure to inspire hope and solidarity to anyone who reads it, Our Stories, Our Voices belongs on every young woman's shelf.
The Raging Ones by Krista Ritchie and Becca Ritchie
In a freezing world, where everyone knows the day they will die, three teens break all odds.
Franny Bluecastle, a tough city teen, dreams of dying in opulence, to see wealth she's never known. Like the entire world, she believes it's impossible to dodge a deathday.
Until the day she does.
Court Icecastle knows wealth. He also knows pain. Spending five years in Vorkter Prison, a fortress of ice and suffering, he dreams of life beyond the people that haunt him and the world that imprisoned him.
Mykal Kickfall fights for those he loves. The rugged Hinterlander shares a frustrating yet unbreakable connection with Court―which only grows more lawless and chaotic as their senses and emotions connect with Franny.
With the threat of people learning they've dodged their deathdays, they must flee their planet to survive. But to do so, all three will have to hide their shared bond as they vie for a highly sought after spot in the newest mission to space. Against thousands of people far smarter, who'll live longer, and never fear death the way that they do.
It's hard to find the truth beneath the lies you tell yourself.
Then: They were four—Bex, Jenni, Ellory, Ret. (Venus. Earth. Moon. Sun.) Electric, headstrong young women; Ellory's whole solar system.
Now: Ellory is alone, her once inseparable group of friends torn apart by secrets, deception, and a shocking incident that changed their lives forever.
Then: Lazy summer days. A party. A beautiful boy. Ellory met Matthias and fell into the beginning of a spectacular, bright love.
Now: Ellory returns to Pine Brook to navigate senior year after a two-month suspension and summer away—no boyfriend, no friends. No going back. Tormented by some and sought out by others, troubled by a mysterious note-writer who won't let Ellory forget, and consumed by guilt over her not entirely innocent role in everything and everyone she's lost, Ellory finds that even in the present, the past is everywhere.
The path forward isn't a straight line. And moving on will mean sorting the truth from the lies—the lies Ellory has been telling herself.
Seventeen-year-old Claire Collins has a plan: get into college and leave North Carolina behind. What she doesn't have is an idea for how to get rid of the local football star and womanizer extraordinaire―Adam Meade, who she can't even avoid (despite many efforts), because Claire's dad is the high school football coach.
Seventeen-year-old Adam Meade never fails. He always gets what he wants…until he meets Claire, the new girl who leaves him unnerved, pissed off, and confused. But there's something about her that he just can't resist…
With the bite of lemon meringue pie and the sugar of sweet tea, Surviving Adam Meade is a sexy and compelling young adult novel about two strong-willed people who think they know what they want but have no idea what they need.
August 21
Twin sisters Iris and Malina thought they knew how to reverse the ancient curse that haunts their line, the spell that destines them to use their gleams—unique forms of beauty-manipulating magic—to entice and enchant none other than Death himself. But both sisters thought wrong.
Instead of ending the wicked bargain with the power of her infinite bloom, Iris is taken to an uncanny realm between this world and the next. Only, unlike all of Death's companions before, Iris's body goes on the one-way journey along with her soul, arriving in a kingdom never meant to sustain a living girl.
Left behind, Lina searches for a way to save Iris. But as Lina unearths the dark secrets that bind her family and Iris tries to outwit Death on his own terrain, a power resurfaces that even Mara, the original witch mother, fears.
Now both sisters must learn to fully embrace their gleams—or else they'll truly lose each other forever.
Based on the hit graphic-novel series from BOOM! Studios, the publisher behind Lumberjanes, GiantDays follows the hilarious and heartfelt misadventures of three university first-years: Daisy, the innocent home-schooled girl; Susan, the sardonic wit; and Esther, the vivacious drama queen. While the girls seem very different, they become fast friends during their first week of university. And it's a good thing they do, because in the giant adventure that is college, a friend who has your back is key—something Daisy discovers when she gets a little too involved in her extracurricular club, the Yogic Brethren of Zoise. When she starts acting strange and life around campus gets even stranger (missing students, secret handshakes, monogrammed robes everywhere…), Esther and Susan decide it's up to them to investigate the weirdness and save their friend.
Tallulah Liddell had been defined by her appearance for as long as she could remember. Overweight and insecure, she preferred to fly under the radar, draw as little attention to herself so no one can hurt her. The only boy who did seem to ever notice her was her longtime crush, Nash Lee. But when he laughs at a joke aimed at Tallulah the summer before their senior year, Tallulah's love dissipates, and she becomes determined to lose weight, to no longer be an object of her classmates'—and especially Nash's—ridicule.
Nash Lee has it all—he's the star running back of Lawton's football team, being scouted by division one colleges, and on track to have a carefree senior year. But when an accident leaves him with a permanent limp, all of Nash's present and future plans are destroyed, leaving him bitter, angry, and unrecognizable from the person he used to be.
Facing a new school year with her new body, Tallulah is out to seek revenge on Nash's cruelty. All does not go according to plan, though, and Tallulah and Nash unexpectedly find themselves falling for each other. But with all the pain resting in each of their hearts, can their love survive?
Ruby's world has changed more than she ever could have imagined. She's in love with a powerful Frost King. She's the heir to the Fire Throne. And she may be a Nightblood–the spawn of a vengeful deity hellbent on releasing an imprisoned army of shadowy wraiths. Once freed, these beasts will roam the earth, devouring the spirits of every last person until he or she is nothing but an empty husk.
Ruby is able to control the shadows to a degree, even hosting one in her own body. But will this tenuous connection–which threatens to consume her–be enough to hold the beasts back? With time running out, she must bring Frostbloods and Firebloods together to make a stand against an immortal foe more deadly than any she's faced. And the price of peace may be her very life.
In this heart-pounding finale of Elly Blake's gorgeously written and action-packed Frostblood Saga, the fate of Frostbloods, Firebloods, and all of humanity is at stake.
Sometimes I feel like everyone else was handed a copy of the rules for life and mine got lost. Grace is autistic and has her own way of looking at the world. She's got a horse and a best friend who understand her, and that's pretty much all she needs. But when Grace kisses Gabe and things start to change at home, the world doesn't make much sense to her any more. Suddenly everything threatens to fall apart, and it's up to Grace to fix it on her own. Whip-smart, hilarious and unapologetically honest, The State of Grace by Rachael Lucas is a heart-warming story of one girl trying to work out where she fits in, and whether she even wants to.
Savannah is dreading being home alone with her overbearing mother after her big sister―and best friend―goes off to college. But if she can just get through senior year, she'll be able to escape to college, too. What she doesn't count on is that her mother's obsession with weight has only grown deeper since her appearance on an extreme weight-loss show, and now Savvy's mom is pressuring her even harder to be constantly mindful of what she eats.
Between her mom's diet-helicoptering, missing her sister, and worrying about her collegiate future, Savvy has enough to worry about. And then she meets George, the cute new kid at school who has insecurities of his own. As Savvy and George grow closer, they help each other discover how to live in the moment and enjoy the here and now before it disappears.
To Be Honest is another sharp, witty novel from Maggie Ann Martin, about a spunky heroine who is dealing with very real issues―body image, parental pressure, loneliness, first love, and finding your way―with heart and humor.
WHAT'S GOING ON IN BONE LAKE? THE TRUTH WILL SURPRISE YOU.
In small town Michigan, Penny Hardjoy, an aspiring journalist, teams up with the nerdy boy next door and the town's star quarterback to find her conspiracy theorist father after he goes missing and several other people turn up dead in the woods.
The deeper she digs, the weirder things start to get. Townspeople repeat the same phrases—verbatim. Men in black suits stroll around Main Street. Chunks of Penny's memory go missing.
Pretty soon, her research leads her to the long-ago meteorite crash in Bone Lake's woods, and she's going to have to reconsider her definition of "real" if she wants answers. . . .
Mischa Abramavicius is a walking, talking, top-scoring, perfectly well-rounded college application in human form. So when she's rejected not only by the Ivies, but her loathsome safety school, she is shocked and devastated. All the sacrifices her mother made to send her to prep school, the late nights cramming for tests, the blatantly résumé-padding extracurriculars (read: Students for Sober Driving)…all that for nothing.
As Mischa grapples with the prospect of an increasingly uncertain future, she questions how this could have happened in the first place. Is it possible that her transcript was hacked? With the help of her best friend and sometimes crush, Nate, and a group of eccentric techies known as "The Ophelia Syndicate," Mischa launches an investigation that will shake the quiet community of Blanchard Prep to its stately brick foundations.
August 28
In this gripping sequel to All Rights Reserved, Speth Jime has freed her home of Portland from the oppressive system that forced everyone to pay for every word they spoke. Now she will discover the cost of that freedom, and the devastating secrets of the world beyond her dome.
Darius Kellner speaks better Klingon than Farsi, and he knows more about Hobbit social cues than Persian ones. He's a Fractional Persian—half, his mom's side—and his first-ever trip to Iran is about to change his life.
Darius has never really fit in at home, and he's sure things are going to be the same in Iran. His clinical depression doesn't exactly help matters, and trying to explain his medication to his grandparents only makes things harder. Then Darius meets Sohrab, the boy next door, and everything changes. Soon, they're spending their days together, playing soccer, eating faludeh, and talking for hours on a secret rooftop overlooking the city's skyline. Sohrab calls him Darioush—the original Persian version of his name—and Darius has never felt more like himself than he does now that he's Darioush to Sohrab.
Embry Woods has secrets. Some are small, like the ones about her complicated past. Others are bigger, like her growing feelings for best friend's ex-boyfriend, Holden. But the biggest secret she carries is about what they did at the abandoned Sea Cliff Inn…and the resulting terrible fire.
Embry helps a homeless man escape from the flames and is immediately hailed as a hero, but she knows that couldn't be further from the truth. Though she's wracked with guilt, Embry thinks she can take one last secret to her grave.
But then she receives an anonymous note—someone else was there that night. Now she must respond to a series of threatening messages asking her to make impossible choices.
Someone is playing a high-stakes game with her life. And their last move is murder.
It's 1942, and as the war rages in Europe, Maisie McCall is in the Scottish Highlands swinging an axe for the Women's Timber Corps. Maisie relishes her newfound independence working alongside other lumberjacks—including the mysterious John Lindsay.
As Maisie and John work side by side felling trees together, Maisie can't help but feel that their friendship has the spark of something more to it. And yet every time she gets close to him, John pulls away. It's not until Maisie rescues John from a terrible logging accident that he begins to open up to her about the truth of his past, and the pain he's been hiding.
Suddenly everything is more complicated than Maisie expected. And as she helps John untangle his shattered history, she must decide if she's willing to risk her heart to help heal his. But in a world devastated by war, love might be the only thing left that can begin to heal what's broken.
*Mirage by Somaiya Daud
In a world dominated by the brutal Vathek empire, eighteen-year-old Amani is a dreamer. She dreams of what life was like before the occupation; she dreams of writing poetry like the old-world poems she adores; she dreams of receiving a sign from Dihya that one day, she, too, will have adventure, and travel beyond her isolated home.
But when adventure comes for Amani, it is not what she expects: she is kidnapped by the regime and taken in secret to the royal palace, where she discovers that she is nearly identical to the cruel half-Vathek Princess Maram. The princess is so hated by her conquered people that she requires a body double, someone to appear in public as Maram, ready to die in her place.
As Amani is forced into her new role, she can't help but enjoy the palace's beauty―and her time with the princess' fiancé, Idris. But the glitter of the royal court belies a world of violence and fear. If Amani ever wishes to see her family again, she must play the princess to perfection…because one wrong move could lead to her death.
Seventeen-year-old Frank Baker is a golfing sensation. He's set to earn a full-ride scholarship to play at the university of his choice, but his single dad wants him to skip college and turn pro―golf has taken its toll on the family bank account, and his dad is eager to start cashing in on his son's prowess. Frank knows he isn't ready for life on the pro tour―regardless of the potential riches―so his swing coach enlists a professional golfer turned journalist to be Frank's secret adviser.
Pressure mounts when, after reaching the final of the U.S. Amateur tournament, Frank wins an automatic invite to the Masters. And when the prodigy, against all odds, starts tearing up the course at Augusta National, sponsors are lined up to throw money at him―and his father. But Frank's entry in the Masters hinges on maintaining his standing as an amateur. Can he and his secret adviser―who has his own conflicts―keep Frank's dad at bay long enough to bring home the legendary green jacket?
When he was just eighteen, Eric David Dawson co-founded the non-profit Peace First based on the idea that young people can change the world for the better—not someday, but right now. Twenty-five years later, Peace First has reached millions worldwide, teaching young people how to become peacemakers and create real change. Now, Dawson has written PUTTING PEACE FIRST, the handbook every aspiring peacemaker needs.
Using the inspiring stories of real life peacemakers, each chapter highlights a different aspect of peacemaking, from Opening Your Heart to Taking a Stand. With clear, step-by-step explanations of how each peacemaker achieved their goals, this book is a guide for anyone who wants to make a difference.
In the summer of 1982, five friends discover an ancient stone box hidden deep in the woods. They seal inside of it treasured objects from their childhoods, and they make a vow:
Never come to the box alone.
Never open it after dark.
Never take back your sacrifice.
Four years later, a series of strange and terrifying events begin to unfold: mirrors inexplicably shattering, inanimate beings coming to life, otherworldly crows thirsting for blood. Someone broke the rules of the box, and now everyone has to pay.
But how much are they willing to sacrifice?
*Seafire by Natalie C. Parker
After her family is killed by corrupt warlord Aric Athair and his bloodthirsty army of Bullets, Caledonia Styx is left to chart her own course on the dangerous and deadly seas. She captains her ship, the Mors Navis, with a crew of girls and women just like her, who have lost their families and homes because of Aric and his men. The crew has one mission: stay alive, and take down Aric's armed and armored fleet.
But when Caledonia's best friend and second-in-command barely survives an attack thanks to help from a Bullet looking to defect, Caledonia finds herself questioning whether to let him join their crew. Is this boy the key to taking down Aric Athair once and for all…or will he threaten everything the women of the Mors Navis have worked for?
Ava's disappearance was the crack in the Rivers family glacier. I wish I could explain to you how we were before, but I can't, because the before is so filmy and shadowed with the after.
The after is all Vera remembers. When her twin sister, Ava, disappeared one Halloween night, her childhood became a blur of theories, tips, and leads, but never any answers. The case made headlines, shocked Vera's Northern California community, and turned her family into tragic celebrities.
Now, at eighteen, Vera is counting down the days until she starts her new life at college in Portland, Oregon, far away from the dark cloud she and family have lived under for twelve years. But all that changes when a girl shows up at the local hospital.
Her name is Ava Rivers and she wants to go home.
Ava's return begins to mend the fractures in the Rivers family. Vera and Ava's estranged older brother returns. Vera reconnects with Max, the sweet, artistic boy from her childhood. Their parents smile again. But the questions remain: Where was Ava all these years? And who is she now?
Full of danger, stormy otherworld seas, ghost ships, and terrifying monsters, this thrilling debut novel is perfect for fans of Taran Matharu and Neal Shusterman.
Death is just the beginning.

After dying in a terrible car accident, Rhett awakens in the afterlife and is recruited to join the crew of the Harbinger, a colossal seafaring vessel tasked with ferrying the souls of the dead. To where exactly, no one knows. But the crew must get the souls there, and along the way protect them from vicious soul-eating monsters that will stop at nothing to take the ship and all of its occupants.
Rhett and his new friends have a hard enough time fighting back the monsters that grow bolder and more ferocious every day. But then a new threat emerges, a demon who wants something that Rhett has. And if she gets it, it could mean the end of everything… for both the living and the dead.
Six survived to tell the story, but who knows the truth? The next hotly anticipated YA novel from bestselling US sensation Kody Keplinger, author of THE DUFF and RUN It's been three years since the Virgil County High School Massacre. Three years since my best friend, Sarah, was killed in a bathroom stall during the mass shooting. Everyone knows Sarah's story—that she died proclaiming her faith. But it's not true. I know because I was with her when she died. I didn't say anything then, and people got hurt because of it. Now Sarah's parents are publishing a book about her, so this might be my last chance to set the record straight…but I'm not the only survivor with a story to tell about what did—and didn't—happen that day. Except Sarah's martyrdom is important to a lot of people, people who don't take kindly to what I'm trying to do. And the more I learn, the less certain I am about what's right. I don't know what will be worse: the guilt of staying silent or the consequences of speaking up…
Scorn the witch. Fear the witch. Burn the witch.
History is filled with stories of women accused of witchcraft, of fearsome girls with arcane knowledge. Toil & Trouble features fifteen stories of girls embracing their power, reclaiming their destinies and using their magic to create, to curse, to cure—and to kill.
A young witch uses social media to connect with her astrology clients—and with a NASA-loving girl as cute as she is skeptical. A priestess of death investigates a ritualized murder. A bruja who cures lovesickness might need the remedy herself when she falls in love with an altar boy. A theater production is turned upside down by a visiting churel. In Reconstruction-era Texas, a water witch uses her magic to survive the soldiers who have invaded her desert oasis. And in the near future, a group of girls accused of witchcraft must find their collective power in order to destroy their captors.
On Easter Sunday of 1873, just eight years after the Civil War ended, a band of white supremacists marched into Grant Parish, Louisiana, and massacred over one hundred unarmed African Americans. The court case that followed reached the highest court in the land. Yet, following one of the most ghastly incidents of mass murder in American history, not one person was convicted.
The opinion issued by the Supreme Court in U.S. v. Cruikshank set in motion a process that would help create a society in which black Americans were oppressed and denied basic human rights—legally, according to the courts. These injustices paved the way for Jim Crow and would last for the next hundred years. Many continue to exist to this day.
In this compelling and thoroughly researched volume for young readers, Lawrence Goldstone traces the evolution of the law and the fascinating characters involved in the story of how the Supreme Court helped institutionalize racism in the American justice system.
September 1
We are all awesome in our own ways but sometimes we need a little pep talk and some inspiration. This book is the perfect nudge for readers of all ages! It's a boredom buster, a stress reliever, a gift for your best friend, family member, or anyone who's feeling a bit down―yourself included. Whoever the reader, How to Feel Awesome Every Day is guaranteed to put a smile on their face.
When Lacy wakes up dead in Westminster Cemetery, final resting place of Edgar Allan Poe, she's confused. It's the job of Sam, a young soldier who died in 1865, to teach her the rules of the afterlife and to warn her about Suppression—a punishment worse than death.
Lacy desperately wants to leave the cemetery and find out how she died, but every soul is obligated to perform a job. Given the task of providing entertainment, Lacy proposes an open mic, which becomes a chance for the cemetery's residents to express themselves. But Lacy is in for another shock when surprising and long-buried truths begin to emerge.
Two years ago, a virus hit London, killing thousands of people and driving the rest into hiding. But Leon has somehow survived, making it through two harsh winters. Now he's living on the fragile hope that the freezing snow and ice of the English climate wiped out the virus for good. Word even reaches Leon of a rescue boat on its way.
But all is not as safe as it seems. The virus has been busy…
September 4
From the multi-award-winning author of A Monster Calls comes a haunting tale of power and obsession that turns the story of Moby Dick upside down. "Call me Bathsheba." The whales of Bathsheba's pod live for the hunt. Led by the formidable Captain Alexandra, they fight a never-ending war against men. Then the whales attack a man ship, and instead of easy prey they find the trail of a myth, a monster, perhaps the devil himself…With their relentless Captain leading the chase, they embark on the final hunt, one that will forever change the worlds of whales and men.
Sonia Sotomayor, the first Hispanic and third woman appointed to the Supreme Court of the United States, was a young girl when she dared to dream big. Her dream? To become a lawyer and a judge.
As Justice Sotomayor explains, "When I was a child my family was poor and we knew no lawyers or judges and none lived in our neighborhood. I knew nothing about the Supreme Court and how much its work in reinterpreting the Constitution and the laws of the United States affected peoples' lives. You cannot dream of becoming something you don't even know about. That has been the most important lesson of my life. You have to learn to dream big dreams."
Sonia did not let the hardships of her background—which included growing up in the rough housing projects of New York City's South Bronx, dealing with juvenile diabetes, coping with parents who argued and fought personal demons, and worrying about money—stand in her way. Always, she believed in herself. Her determination, along with guidance from generous mentors and the unwavering love of her extended Puerto Rican family, propelled her ever forward.
A new pair of shoes, a university degree, a husband—these are the things that a girl dreams of in a Nigerian village. And with a government scholarship right around the corner, everyone can see that these dreams aren't too far out of reach.
But the girl's dreams turn to nightmares when her village is attacked by Boko Haram, a terrorist group, in the middle of the night. Kidnapped, she is taken with other girls and women into the forest where she is forced to follow her captors' radical beliefs and watch as her best friend slowly accepts everything she's been told.
Still, the girl defends her existence. As impossible as escape may seem, her life—her future—is hers to fight for.
When her FBI agent father is framed for murder, Kylene is forced to move back to the small town that turned its back on her, and the boy who betrayed her. All Ky cares about is clearing her father's name, but her reappearance comes with its own consequences. Someone won't let her forget the photo scandal that drove her away two years ago. With threats against her mounting, the FBI sends a rookie agent to tail her.
More determined than ever to expose the town's hidden skeletons, Ky unwittingly thrusts herself into a much bigger plot. Everyone thought she'd forgive and forget. They're about to learn they messed with the wrong girl.
Interweaving handwritten text and art in his signature style, John Hendrix tells the fascinating story of Dietrich Bonhoeffer and his fight against the oppression of the German people during World War II. Bonhoeffer was a German Lutheran pastor and theologian who was shocked to watch the German church embrace Hitler's agenda of hatred. He spoke out against the Nazi party and led a breakaway church that rebelled against racist and nationalist beliefs of the Third Reich. Struggling with how his faith interacted with his ethics, Bonhoeffer eventually became convinced that Hitler and the Nazi Party needed to be stopped—and he was willing to sacrifice anything and everything to do so.
Morgan was born with a hole in her middle: a perfectly smooth, sealed, fist-sized chunk of nothing near her belly button. At sixteen she's tired of keeping her physical abnormality a secret. One night, after a lifetime of hiding behind lumpy sweaters and a smart mouth, she decides to bare all.
At first she feels liberated. But the fallout is more than she bargained for. A few photos snowball into a media frenzy, and suddenly she is desperate to get back to her own strange version of normal. But between hospital visits, Internet celebrity, and a disintegrating relationship with her best (and only) friend, normal is slipping further and further away.
Then a new doctor appears with a boy who may be both Morgan's cure and her destiny. What happens when you meet the person who is—literally—your perfect match? And is being whole really all it's cracked up to be?
Serena Fuentes won't waste one moment of her whirlwind trip to Paris. She has it all mapped out, right down to the photos she will take, and the last thing she wants is a change in plans.
Yet suddenly she's touring the city with Jean-Luc, a French friend of her sister's boyfriend. He has to take pictures of his own if he ever hopes to pass his photography class, and his project totally slows Serena down. Why can't he get with her program?
One minute they're bickering, the next minute they're bonding … and soon they're exploring corners of Paris together that Serena never imagined. When it comes to love, sometimes it takes a different lens to see what's right in front of us.
A romantic adventure for anyone who sees the possibilities in a spontaneous tour of the City of Lights with a charming French stranger, and anyone who's ever wondered if true love is waiting on the other side of the ocean.
Just when Grace is beginning to get used to being an orphan, her estranged uncle suddenly comes forward to claim her.
That might have been okay if he'd spoken to her even once since her father died.
Or if moving in with Uncle Rusty didn't mean returning to New Harbor.
Grace once spent the best summers of her life in New Harbor. Now the place just reminds her of all she's lost: her best friend, her boyfriend and any memory of the night that changed her forever.
People say the truth will set you free, but Grace isn't sure about that. Once she starts looking for it, the truth about that night is hard to find and what happens when her healing hurts the people she cares about the most?
"Aren't you a terrorist?" "There are no roles for people who look like you." "That's a sin." "No girls allowed." They've heard it all. Actress Alia Shawkat reflects on all the parts she was told she was too "ethnic" to play. Former NFL player Wade Davis recalls his bullying of gay classmates in an attempt to hide his own sexuality. Teen Gavin Grimm shares the story that led to the infamous "bathroom bill," and how he's fighting it. Holocaust survivor Fanny Starr tells of her harrowing time in Auschwitz, where she watched her family disappear, one by one.
What made them rise up through the hate? What made them overcome the obstacles of their childhood to achieve extraordinary success? How did they break out of society's limited view of who they are and find their way to the beautiful and hard-won lives they live today? With a foreword by Minnesota senator and up-and-coming Democratic party leader Amy Klobuchar, these essays share deeply personal stories of resilience, faith, love, and, yes, persistence.
Nita doesn't murder supernatural beings and sell their body parts on the internet—her mother does that. Nita just dissects the bodies after they've been "acquired." Until her mom brings home a live specimen and Nita decides she wants out; dissecting a scared teenage boy is a step too far. But when she decides to save her mother's victim, she ends up sold in his place—because Nita herself isn't exactly "human." She has the ability to alter her biology, a talent that is priceless on the black market. Now on the other side of the bars, if she wants to escape, Nita must ask herself if she's willing to become the worst kind of monster.
Luke has been away for two endless years, but he's finally returning today. Lily was only twelve when he left. But now, at fourteen, she feels transformed. She can't wait to see how Luke will react when he sees the new her. And when her mother tells her that Luke will be staying with them for a while, in the bedroom right next to hers, her heart nearly stops.
Having Luke back is better than Lily could have ever dreamed. His lingering looks set Lily on fire. Is she just imagining them? But then, when they're alone, he kisses her. Then he kisses her again. Lily's friends think anyone his age who wants to be with a fourteen-year-old must be really messed up. Maybe even dangerous. But Luke would never do anything to hurt her…would he?
In this powerful tale of a terrifying leap into young adulthood, readers will accompany Lily on her harrowing journey from hopelessness to hope.
What if Ariel had never defeated Ursula?
It's been five years since the infamous sea witch defeated the little mermaid…and took King Triton's life in the process. Ariel is now the voiceless queen of Atlantica, while Ursula runs Prince Eric's kingdom on land. But when Ariel discovers that her father might still be alive, she finds herself returning to a world—and a prince—she never imagined she would see again.
People kill people. Guns just make it easier.
A gun is sold in the classifieds after killing a spouse, bought by a teenager for needed protection. But which was it? Each has the incentive to pick up a gun, to fire it. Was it Rand or Cami, married teenagers with a young son? Was it Silas or Ashlyn, members of a white supremacist youth organization? Daniel, who fears retaliation because of his race, who possessively clings to Grace, the love of his life? Or Noelle, who lost everything after a devastating accident, and has sunk quietly into depression?
One tense week brings all six people into close contact in a town wrought with political and personal tensions. Someone will fire. And someone will die. But who?
Bina has never forgotten the time she and her mother ran away from home. Her mother promised they would hitchhike to the city to escape Bina's cruel father and start over. But before they could even leave town, Bina had a new stepfather and two new stepsisters, and a humming sense of betrayal pulling apart the bond with her mother—a bond Bina thought was unbreakable.
Eight years later, after too many lies and with trouble on her heels, Bina finds herself on the side of the road again, the city of her dreams calling for her. She has an old suitcase, a fresh black eye, and a room waiting for her at Catherine House, a young women's residence in Greenwich Village with a tragic history, a vow of confidentiality, and dark, magical secrets. There, Bina is drawn to her enigmatic downstairs neighbor Monet, a girl who is equal parts intriguing and dangerous. As Bina's lease begins to run out, and nightmare and memory get tangled, she will be forced to face the terrible truth of why she's come to Catherine House and what it will take for her to leave…
Sadie by Courtney Summers
A missing girl on a journey of revenge and a Serial-like podcast following the clues she's left behind.
Sadie hasn't had an easy life. Growing up on her own, she's been raising her sister Mattie in an isolated small town, trying her best to provide a normal life and keep their heads above water.
But when Mattie is found dead, Sadie's entire world crumbles. After a somewhat botched police investigation, Sadie is determined to bring her sister's killer to justice and hits the road following a few meager clues to find him.
When West McCray―a radio personality working on a segment about small, forgotten towns in America―overhears Sadie's story at a local gas station, he becomes obsessed with finding the missing girl. He starts his own podcast as he tracks Sadie's journey, trying to figure out what happened, hoping to find her before it's too late.
Inspired by Abbie Hoffman's radical classic, Steal This Book, author Alexandra Styron's stirring call for resistance and citizen activism will be clearly heard by young people who don't accept "it is what it is," who want to make sure everybody gets an equal piece of the American pie, and who know that the future of the planet is now.
Styron's irreverent and informative primer on how to make a difference is organized into three sections: The Why, The What, and The How. The book opens with a personal essay and a historic look at civil disobedience and teenage activism in America. That's followed by a deep dive into several key issues: climate change, racial justice, women's rights, LGBTQIA rights, immigration, religious understanding, and intersectionality. Each chapter is introduced by an original full page comic and includes a summary of key questions, interviews with movers and shakers—from celebrities to youth activists—and spotlights on progressive organizations. The book's final section is packed with how-to advice on ways to engage, from group activities such as organizing, marching, rallying, and petitioning to individual actions like voting with your wallet, volunteering, talking with relatives with different viewpoints, and using social activism to get out a progressive message.
Queen Katharine has waited her entire life to wear the crown. But now that she finally has it, the murmurs of dissent grow louder by the day. There's also the alarming issue of whether or not her sisters are actually dead—or if they're waiting in the wings to usurp the throne.
Mirabella and Arsinoe are alive, but in hiding on the minland and dealing with a nightmare of their own: being visited repeatedly by a specter they think might be the fabled Blue Queen. Though she says nothing, her rotting, bony finger pointing out to sea is clear enough: return to Fennbirn.
Jules, too, is in a strange place—in disguise. And her only confidants, a war-gifted girl named Emilia and her oracle friend Mathilde, are urging her to take on a role she can't imagine filling: a legion-cursed queen who will lead a rebel army to Katharine's doorstep.
This is an uprising that the mysterious Blue Queen may have more to do with than anyone could have guessed—or expected.
Seventeen-year-old Annabeth prefers the fantasy of her books and paintings to reality―because in reality, her mom is dead, and it was all her fault. She vows to make her dad's life easier in return. But upon accompanying him to his friends' secluded manor, he goes missing in the woods.
Annabeth suspects the manor's heir Griffin knows more about the disappearance than he's letting on. He's irritable, removed, and he's under police investigation for the mysterious "accidents" happening at his family's estate.
Annabeth fears her father isn't lost, but rather a victim of something sinister. She launches her own investigation, tracing clues that whisper of myth and legend and death, until she stumbles upon a secret. One that some would die to protect, others would kill to expose―and which twists Annabeth's fantasy and reality together in deadly new ways.
T. Lily Decker is a high school senior with a twelve-year plan: avoid stress, drugs, alcohol and boyfriends, and take regular psych quizzes administered by her best friend, Sawyer, to make sure she's not developing schizophrenia.
Genetics are not on Lily's side. When she was seven, her mother, who had paranoid schizophrenia, tried to kill her. And a secret has revealed that Lily's odds are even worse than she thought. Still, there's a chance to avoid triggering the mental health condition, if Lily can live a careful life from ages eighteen to thirty, when schizophrenia most commonly manifests.
But when a newspaper internship results in Lily witnessing a mother elephant try to kill her three-week-old calf, Swifty, Lily can't abandon the story or the calf. With Swifty in danger of dying from grief, Lily must choose whether to risk everything, including her sanity and a first love, on a desperate road trip to save the calf's life, perhaps finding her own version of freedom along the way.
September 11
Mira the Dragonhearted is on the run with her friends following a fiery escape from the prison where she'd been condemned for speaking out against dragon trafficking.
And she wants answers. Has the treaty she's been defending her whole life truly sold out the Fallen Isles to their enemies? Did her own parents lie to her? Will she lose control of her power and hurt the ones she loves?
The only way to find the truth is to go home again, to face the people who betrayed her and the parents she's not sure she can trust. Home, where she must learn to rise above her fears. Or be consumed.
Phoebe Lane is a lightning rod for monsters.
She and her mom are forced to flee flesh-eating plants, blobs from outer space, and radioactive ants. They survive thanks to Phoebe's dad—an invisible titan, whose giant eyes warn them where the next monster attack will take place.
All Phoebe wants is to stop running from motel to motel and start living a monster-free life in New York or Paris. But when her mom mysteriously vanishes, Phoebe is left to fend for herself in small-town Pennybrooke.
That's when Phoebe starts to transform…
Go behind the headlines to explore the wider background of news stories that are making a major impact across the world. In School Shootings, we look at why these terrible events occur, and what sort of people carry them out. What is the scale of the problem? Are such attacks more common in some parts of the world than others? Have they always taken place, or are they a new phenomenon? And how should we best respond to the fear of them happening again? What actions should be taken and what changes should be made?
Abby Furlowe has plans. Big plans. She's hot, she's popular, she's a cheerleader and she's going to break out of her small Texas town and make it big. Fame and fortune, adoration and accolades. It'll all be hers.
But then she notices some spots on her skin. She writes them off as a rash, but things only get worse. She's tired all the time, her hands and feet are numb and her face starts to look like day-old pizza. By the time her seventeenth birthday rolls around, she's tried every cream and medication the doctors have thrown at her, but nothing works. When she falls doing a routine cheerleading stunt and slips into a coma, her mystery illness goes into overdrive and finally gets diagnosed: Hansen's Disease, aka leprosy.
Abby is sent to a facility to recover and deal with this new reality. Her many misdiagnoses mean that some permanent damage has been done, and all of her plans suddenly come tumbling down. If she can't even wear high heels anymore, what is the point of living? Cheerleading is out the window, and she might not even make it to prom. PROM!
But it's during this recovery that Abby has to learn to live with something even more difficult than Hansen's Disease. She's becoming aware of who she really was before and what her behavior was doing to others; now she's on the other side of the fence looking in, and she doesn't like what she sees.
Cyrus Field had a big dream to connect North America and the United Kingdom with a telegraph line, which would enable instant communication. In the mid-1800s, no one knew if it was possible. That didn't dissuade Cyrus, who set out to learn about undersea cables and built a network of influential people to raise money and create interest in his project. Cyrus experienced numerous setbacks: many years of delays and failed attempts, millions of dollars lost, suspected sabotage, technological problems, and more. But Cyrus did not give up and forged ahead, ultimately realizing his dream in the summer of 1866. Mary Morton Cowan brilliantly captures Cyrus's life and his steadfast determination to achieve his dream.
Dream Country begins in suburban Minneapolis at the moment when seventeen-year-old Kollie Flomo begins to crack under the strain of his life as a Liberian refugee. He's exhausted by being at once too black and not black enough for his African American peers and worn down by the expectations of his own Liberian family and community. When his frustration finally spills into violence and his parents send him back to Monrovia to reform school, the story shifts. Like Kollie, readers travel back to Liberia, but also back in time, to the early twentieth century and the point of view of Togar Somah, an eighteen-year-old indigenous Liberian on the run from government militias that would force him to work the plantations of the Congo people, descendants of the African American slaves who colonized Liberia almost a century earlier. When Togar's section draws to a shocking close, the novel jumps again, back to America in 1827, to the children of Yasmine Wright, who leave a Virginia plantation with their mother for Liberia, where they're promised freedom and a chance at self-determination by the American Colonization Society. The Wrights begin their section by fleeing the whip and by its close, they are then the ones who wield it. With each new section, the novel uncovers fresh hope and resonating heartbreak, all based on historical fact.
The only thing worse than being locked in is facing what you locked out.
Two strangers with fractured memories escape a strange prison only to discover they weren't locked in, but locking someone―or something―out. The Echo Room by Parker Peevyhouse is a smart, claustrophobic, speculative thriller with an immersive psychological mystery.
Memphis "M" Engel is stubborn to a fault, graced with an almost absurd knowledge of long lost languages and cultures, and a heck of an opponent in a fight. In short: she's awesome.
Ashwin "Ash" Sood is a little too posh for M's tastes, a little too good looking, and has way too many secrets. He desperately wants the ancient map M inherited from her archeologist father, believing it will lead him to a relic with the power to destroy the world. M obviously can't trust him.
Equally desperate to find the relic for reasons of her own, M forms an uneasy partnership with Ash. From the catacombs of Paris, to a sacred forest in Norway, to the ruins of a submerged temple in Egypt, together they crisscross the globe in their search. But through it all, M can never be sure: Is she traveling with a friend or enemy?
*Impostors by Scott Westerfeld
Frey and Rafi are inseparable…two edges of the same knife. But Frey's very existence is a secret.
Frey is Rafi's twin sister—and her body double. Their powerful father has many enemies, and the world has grown dangerous as the old order falls apart. So while Rafi was raised to be the perfect daughter, Frey has been taught to kill. Her only purpose is to protect her sister, to sacrifice herself for Rafi if she must.
When her father sends Frey in Rafi's place as collateral in a precarious deal, she becomes the perfect impostor—as poised and charming as her sister. But Col, the son of a rival leader, is getting close enough to spot the killer inside her. As the deal starts to crumble, Frey must decide if she can trust him with the truth…and if she can risk becoming her own person.
With Impostors, master storyteller Scott Westerfeld returns with a new series set in the world of his mega-bestselling Uglies—a world full of twist and turns, rebellion and intrigue, where any wrong step could be Frey's last.
Welcome to a world where nightmarish creatures reign supreme.
Five hundred years ago, Jack made a deal with the devil. It's difficult for him to remember much about his mortal days. So he focuses on fulfilling his sentence as a Lantern—one of the watchmen who guard the portals to the Otherworld, a realm crawling with every nightmarish creature imaginable. Jack has spent centuries jumping from town to town, ensuring that nary a mortal—or not-so-mortal—soul slips past him. That is, until he meets beautiful Ember O'Dare.
Seventeen, stubborn, and a natural-born witch, Ember feels a strong pull to the Otherworld. Undeterred by Jack's warnings, she crosses into the forbidden plane with the help of a mysterious and debonair vampire—and the chase through a dazzling, dangerous world is on. Jack must do everything in his power to get Ember back where she belongs before both the earthly and unearthly worlds descend into chaos.
Rule by Ellen Goodlett
Three girls. Three deadly secrets. Only one can wear the crown.
The king is dying, his heir has just been murdered, and rebellion brews in the east. But the kingdom of Kolonya and the outer Reaches has one last option before it descends into leaderless chaos.
Or rather, three unexpected options.
Zofi has spent her entire life trekking through the outer Reaches with her band of Travelers. She would do anything to protect the band, her family. But no one can ever find out how far she's already gone.
Akeylah was raised in the Eastern Reach, surrounded by whispers of rebellion and abused by her father. Desperate to escape, she makes a decision that threatens the whole kingdom.
Ren grew up in Kolonya, serving as a lady's maid and scheming her way out of the servants' chambers. But one such plot could get her hung for treason if anyone ever discovers what she's done.
When the king summons the girls, they arrive expecting arrest or even execution. Instead they learn the truth: they are his illegitimate daughters, and one must become his new heir. But someone in Kolonya knows their secrets, and that someone will stop at nothing to keep the sisters from their destiny… to rule.
Rumi Seto spends a lot of time worrying she doesn't have the answers to everything. What to eat, where to go, whom to love. But there is one thing she is absolutely sure of—she wants to spend the rest of her life writing music with her younger sister, Lea.
Then Lea dies in a car accident, and her mother sends her away to live with her aunt in Hawaii while she deals with her own grief. Now thousands of miles from home, Rumi struggles to navigate the loss of her sister, being abandoned by her mother, and the absence of music in her life. With the help of the "boys next door"—a teenage surfer named Kai, who smiles too much and doesn't take anything seriously, and an eighty-year-old named George Watanabe, who succumbed to his own grief years ago—Rumi attempts to find her way back to her music, to write the song she and Lea never had the chance to finish.
Carol Anderson's White Rage took the world by storm, landing on the New York Times bestseller list and best book of the year lists from New York Times, Washington Post, Boston Globe, and Chicago Review of Books. It launched her as an in-demand commentator on contemporary race issues for national print and television media and garnered her an invitation to speak to the Democratic Congressional Caucus. This compelling young adult adaptation brings her ideas to a new audience.
When America achieves milestones of progress toward full and equal black participation in democracy, the systemic response is a consistent racist backlash that rolls back those wins. We Are Not Yet Equal examines five of these moments: The end of the Civil War and Reconstruction was greeted with Jim Crow laws; the promise of new opportunities in the North during the Great Migration was limited when blacks were physically blocked from moving away from the South; the Supreme Court's landmark 1954 Brown v. Board of Education decision was met with the shutting down of public schools throughout the South; the Civil Rights Act of 1964 and Voting Rights Act of 1965 led to laws that disenfranchised millions of African American voters and a War on Drugs that disproportionally targeted blacks; and the election of President Obama led to an outburst of violence including the death of black teen Michael Brown in Ferguson, Missouri as well as the election of Donald Trump.
In the last decade, studies have reported a drastic rise in teens who experience anxiety, panic, and an inability to cope with the pressures of daily life. As mental health challenges become less stigmatized, young people are more likely than ever before to know how to identify their feelings and ask for help. Even celebrity teen icons like Selena Gomez are "coming out" as anxiety sufferers.

Zen Teen addresses this epidemic with powerful coping mechanisms and creative tools-including two fun quizzes, tons of engaging exercises and a cool playlist-designed for the teenage mind. With topics like "The Unique Genius of You" and "Rock-Star Rituals," Tanya Carroll Richardson prompts teens to get calm by engaging in mindful tasks like identifying gurus, tapping into warrior energy, mastering meditation, practicing realistic optimism, becoming a self-awareness samurai, learning to surrender, finding a spirit animal, expressing challenging emotions, living with loving-kindness, protecting the planet, and making vision boards that embrace "the Tao of Cool."
September 18
A horrific explosion levels part of the city and Camryn Kingfisher is the sole survivor.
Amidst controversy, conspiracy theories, and threats from government officials, Camryn longs for the truth. But the only person who she can turn to is a transparent boy in a lab coat named Quint. Unsure whether he's a hallucination or a ghost, Camryn has no choice but to trust him as they become embroiled in a plot that is bigger than either of them realize.
In a race where the fabric of time and space is at stake, they must figure out who caused the explosion before the culprit comes back to finish Camryn―and her city―off for good.
With a strong family, the best friend a guy could ask for, and a budding romance with the girl of his dreams, life shows promise for Teodoro "T" Avila. But he takes some hard hits the summer before senior year when his nearly perfect brother, Manny, returns from a tour in Iraq with a devastating case of PTSD. In a desperate effort to save Manny from himself and pull their family back together, T's fiery sister, Xochitl, hoodwinks her brothers into a cathartic road trip.
Told through T's honest voice, this is a candid exploration of mental illness, socioeconomic pressures, and the many inescapable highs and lows that come with growing up―including falling in love.
Ever since her mom died three years ago, Analee Echevarria has had trouble saying out loud the weird thoughts that sit in her head. With a best friend who hates her and a dad who's marrying a yogi she can't stand, Analee spends most of her time avoiding reality and role-playing as Kiri, the night elf hunter at the center of her favorite online game.
Through Kiri, Analee is able to express everything real-life Analee cannot: her bravery, her strength, her inner warrior. The one thing both Kiri and Analee can't do, though, is work up the nerve to confess her romantic feelings for Kiri's partner-in-crime, Xolkar—a.k.a. a teen boy named Harris whom Analee has never actually met in person.
So when high school heartthrob Seb Matias asks Analee to pose as his girlfriend in an attempt to make his ex jealous, Analee agrees. Sure, Seb seems kind of obnoxious, but Analee could use some practice connecting with people in real life. In fact, it'd maybe even help her with Harris.
But the more Seb tries to coax Analee out of her comfort zone, the more she starts to wonder if her anxious, invisible self is even ready for the real world. Can Analee figure it all out without losing herself in the process?
Cottonwood Hollow, Kansas, is a strange place. For the past century, every girl has been born with a special talent, like the ability to Fix any object, Heal any wound, or Find what is missing.
To best friends Rome, Lux, and Mercy, their abilities often feel more like a curse. Rome may be able to Fix anything she touches, but that won't help her mom pay rent. Lux's ability to attract any man with a smile has always meant danger. And although Mercy can make Enough of whatever is needed, even that won't help when her friendship with Rome and Lux is tested.
Follow three best friends in this enchanting debut novel as they discover that friendship is stronger than curses, that trust is worth the risk, and sometimes, what you've been looking for has been under your feet the whole time.
Audrey Rose Wadsworth and her partner-in-crime-investigation, Thomas Cresswell, are en route to New York to help solve another blood-soaked mystery. Embarking on a week-long voyage across the Atlantic on the opulent RMS Etruria, they're delighted to discover a traveling troupe of circus performers, fortune tellers, and a certain charismatic young escape artist entertaining the first-class passengers nightly.
But then, privileged young women begin to go missing without explanation, and a series of brutal slayings shocks the entire ship. The disturbing influence of the Moonlight Carnival pervades the decks as the murders grow ever more freakish, with nowhere to escape except the unforgiving sea. It's up to Audrey Rose and Thomas to piece together the gruesome investigation as even more passengers die before reaching their destination. But with clues to the next victim pointing to someone she loves, can Audrey Rose unravel the mystery before the killer's horrifying finale?
Clare has been miserable since her exorcism. The preacher that rid her of evil didn't understand that her demon—simply known as Her—was like a sister to Clare. Now, Clare will do almost anything to get Her back. After a chance encounter with the son of the preacher who exorcised her, Clare goes on an adventure through the dark underbelly of her small Southern town, discovering its deep-seated occult roots. As she searches for Her, she must question the fine lines between good and evil, love and hate, and religion and free will. Vivid and sharp, The Good Demon tells the unusual story of friendship amid dark Gothic horror.
When everything has been taken from you, what else is there to do but run?
So that's what Annabelle does—she runs from Seattle to Washington, DC, through mountain passes and suburban landscapes, from long lonely roads to college towns. She's not ready to think about the whyyet, just the how—muscles burning, heart pumping, feet pounding the earth. But no matter how hard she tries, she can't outrun the tragedy from the past year, or the person—The Taker—that haunts her.
Followed by Grandpa Ed in his RV and backed by her brother and two friends (her self-appointed publicity team), Annabelle becomes a reluctant activist as people connect her journey to the trauma from her past. Her cross-country run gains media attention and she is cheered on as she crosses state borders, and is even thrown a block party and given gifts. The support would be nice, if Annabelle could escape the guilt and the shame from what happened back home. They say it isn't her fault, but she can't feel the truth of that.
Through welcome and unwelcome distractions, she just keeps running, to the destination that awaits her. There, she'll finally face what lies behind her—the miles and love and loss…and what is to come.
For most of high school, Bijan Majidi has flown under the radar. He gets good grades, reads comics, hangs out with his best friend, Sean, and secretly crushes on Elle, one of the most popular girls in his school. When he's called off the basketball team's varsity bench and makes the winning basket in a playoff game, everything changes in an instant.
But not everyone is happy that Bijan is the man of the hour: an anonymous cyberbully sends the entire school a picture of Bijan photoshopped to look like a terrorist. His mother is horrified, and the school administration is outraged. They promise to find and punish the culprit. All Bijan wants is to pretend it never happened and move on, but the incident isn't so easily erased. Though many of his classmates rally behind Bijan, some don't want him or his type to be a part of their school. And Bijan's finding out it's not always easy to tell your enemies from your friends.
Elloren Gardner and her friends were only seeking to right a few wrongs when they rescued a Selkie and freed a military dragon. The last thing they expected was to be thrust into a realm-wide underground resistance against Gardnerian conquest.
While the Resistance struggles to fight back against the harsh rulings of the Mage Council, more and more Gardnerian soldiers descend upon the University…led by none other than Lukas Grey, now commander of the nearby military base. Though Elloren tries to keep him at arm's length, Lukas is determined to tie himself to her, still convinced that she is the heir to the power of the Black Witch, a legacy of magic that will decide the future of all Erthia. As his own magic calls out to her, seeking to awaken a dark force within, Elloren finds it more and more difficult to believe that she's truly powerless, as her uncle always claimed.
Caught between her growing feelings for the rebellious Yvan Guriel and the seductive power offered by Lukas, Elloren must find a way to stay true to what she knows is right and protect everyone she loves…even if that means protecting them from herself.
Just Mercy (Young Reader Edition) by Bryan A. Stevenson
In this very personal work—proceeds of which will go to charity—Bryan Stevenson recounts many and varied stories of his work as a lawyer in the U.S. criminal justice system on behalf of those in society who have experienced some type of discrimination and/or have been wrongly accused of a crime and who deserve a powerful advocate and due justice under the law.
Through the Equal Justice Initiative (EJI), an organization Stevenson founded as a young lawyer and for which he currently serves as Executive Director, this important work continues. EJI strives to end mass incarceration and excessive punishment in the United States, working to protect basic human rights for the most vulnerable people in American society.
Kens by Raziel Reid
Every high school has the archetypical Queen B and her minions. In Kens, the high school hierarchy has been reimagined. Willows High is led by Ken Hilton, and he makes Regina George from Mean Girls look like a saint. Ken Hilton rules Willows High with his carbon-copies, Ken Roberts and Ken Carson, standing next to his throne. It can be hard to tell the Kens apart. There are minor differences in each edition, but all Kens are created from the same mold, straight out of Satan's doll factory. Soul sold separately.
Tommy Rawlins can't help but compare himself to these shimmering images of perfection that glide through the halls. He's desperate to fit in, but in a school where the Kens are queens who are treated like Queens, Tommy is the uncool gay kid. A once-in-a-lifetime chance at becoming a Ken changes everything for Tommy, just as his eye is caught by the tall, dark, handsome new boy, Blaine. Has Blaine arrived in time to save him from the Kens? Tommy has high hopes for their future together, but when their shared desire to overthrow Ken Hilton takes a shocking turn, Tommy must decide how willing he is to reinvent himself—inside and out. Is this new version of Tommy everything he's always wanted to be, or has he become an unknowing and submissive puppet in a sadistic plan?
The story of Frankenstein's creator is a strange, romantic, and tragic one, as deeply compelling as the novel itself. Mary ran away to Lake Geneva with the poet Percy Bysshe Shelley when she was just sixteen. It was there, during a cold and wet summer, that she first imagined her story about a mad scientist who brought a corpse back to life. Success soon followed for Mary, but also great tragedy and misfortune.
Catherine Reef brings this passionate woman, brilliant writer, and forgotten feminist into crisp focus, detailing a life that was remarkable both before and after the publication of her iconic masterpiece. Includes index.
Pride by Ibi Zoboi
Zuri Benitez has pride. Brooklyn pride, family pride, and pride in her Afro-Latino roots. But pride might not be enough to save her rapidly gentrifying neighborhood from becoming unrecognizable.
When the wealthy Darcy family moves in across the street, Zuri wants nothing to do with their two teenage sons, even as her older sister, Janae, starts to fall for the charming Ainsley. She especially can't stand the judgmental and arrogant Darius. Yet as Zuri and Darius are forced to find common ground, their initial dislike shifts into an unexpected understanding.
But with four wild sisters pulling her in different directions, cute boy Warren vying for her attention, and college applications hovering on the horizon, Zuri fights to find her place in Bushwick's changing landscape, or lose it all.
In a timely update of Jane Austen's Pride and Prejudice, critically acclaimed author Ibi Zoboi skillfully balances cultural identity, class, and gentrification against the heady magic of first love in her vibrant reimagining of this beloved classic.
Born in the picturesque town of Taxco, Mexico, Julissa Arce was left behind for months at a time with her two sisters, a nanny, and her grandma while her parents worked tirelessly in America in hopes of building a home and providing a better life for their children. That is, until her parents brought Julissa to Texas to live with them. From then on, Julissa secretly lived as an undocumented immigrant, went on to become a scholarship winner and an honors college graduate, and climbed the ladder to become a vice president at Goldman Sachs.
This moving, at times heartbreaking, but always inspiring story will show young readers that anything is possible. Julissa's story provides a deep look into the little-understood world of a new generation of undocumented immigrants in the United States today–kids who live next door, sit next to you in class, or may even be one of your best friends.
Long ago, a village made a bargain with the devil: to ensure their prosperity, when the Slaughter Moon rises, the village must sacrifice a young man into the depths of the Devil's Forest.
Only this year, the Slaughter Moon has risen early.
Bound by duty, secrets, and the love they share for one another, Mairwen, a spirited witch; Rhun, the expected saint; and Arthur, a restless outcast, will each have a role to play as the devil demands a body to fill the bargain. But the devil these friends find is not the one they expect, and the lies they uncover will turn their town—and their hearts—inside out.
Naya, the daughter of a sea merchant captain, nervously undertakes her first solo trading mission in the necromancer-friendly country bordering her homeland of Talmir. Unfortunately, she never even makes it to the meeting. She's struck down in the streets of Ceramor. Murdered.
But death is not the end for Naya. She awakens to realize she's become an abomination–a wraith, a ghostly creature bound by runes to the bones of her former corpse. She's been resurrected in order to become a spy for her country. Reluctantly, she assumes the face and persona of a servant girl named Blue.
She never intended to become embroiled in political plots, kidnapping, and murder. Or to fall in love with the young man and former necromancer she is destined to betray.
This anthology explores disability in fictional tales told from the viewpoint of disabled characters, written by disabled creators. With stories in various genres about first loves, friendship, war, travel, and more, Unbroken will offer today's teen readers a glimpse into the lives of disabled people in the past, present, and future.
The contributing authors are awardwinners, bestsellers, and newcomers including Kody Keplinger, Kristine Wyllys, Francisco X. Stork, William Alexander, Corinne Duyvis, Marieke Nijkamp, Dhonielle Clayton, Heidi Heilig, Katherine Locke, Karuna Riazi, Kayla Whaley, Keah Brown, and Fox Benwell. Each author identifies as disabled along a physical, mental, or neurodiverse axis―and their characters reflect this diversity.
Doris―a lone liberal in a conservative small town―has mostly kept to herself since the terrible waterslide incident a few years ago. Nell had to leave behind her best friends, perfect life, and too-good-to-be-true boyfriend in Chicago to move to Alabama. Grant was the star quarterback and epitome of "Mr. Popular" whose drinking problem has all but destroyed his life. What do these three have in common? A summer job working in a store called Unclaimed Baggage cataloging and selling other people's lost luggage. Together they find that through friendship, they can unpack some of their own emotional baggage and move on into the future.
Starting in 2011, refugees flood out of war-torn Syria in Exodus-like proportions. The surprising flood of victims overwhelms neighboring countries, and chaos follows. Resentment in host nations heightens as disruption and the cost of aid grows. By 2017, many want to turn their backs on the victims. The refugees are the unwanted.
Don Brown depicts moments of both heartbreaking horror and hope in the ongoing Syrian refugee crisis. Shining a light on the stories of the survivors, The Unwanted is a testament to the courage and resilience of the refugees and a call to action for all those who read.
On her eighteenth birthday, Hayden inherits her childhood home―on the condition that she uncover its dark secrets.
Hayden tried to put the past behind her, and it worked. She's getting ready for college, living in a Brooklyn apartment, and hanging out with her best friend and roommate Del. But now it's all catching up with her: her mother's mysterious disappearance a decade before, her father's outlandish theories about a lost supernatural race, and Hayden's own dark dreams of strange symbols and rituals in the Colorado woods where she grew up.
As soon as Hayden arrives at her hometown, her friend Del in tow, it begins: Neighbors whisper secrets about Hayden's mother; the boy next door is now all grown-up in a very distracting way; and Hayden feels the trees calling to her. And among them, deep in the woods, Hayden will discover something incredible―something that threatens reality itself.
Emika Chen barely made it out of the Warcross Championships alive. Now that she knows the truth behind Hideo's new NeuroLink algorithm, she can no longer trust the one person she's always looked up to, who she once thought was on her side.
Determined to put a stop to Hideo's grim plans, Emika and the Phoenix Riders band together, only to find a new threat lurking on the neon-lit streets of Tokyo. Someone's put a bounty on Emika's head, and her sole chance for survival lies with Zero and the Blackcoats, his ruthless crew. But Emika soon learns that Zero isn't all that he seems–and his protection comes at a price.
Caught in a web of betrayal, with the future of free will at risk, just how far will Emika go to take down the man she loves?
September 25
Nic Chen refuses to spend her senior year branded as the girl who cheated on her charismatic and lovable boyfriend. To redefine her reputation among her Ivy League–obsessed classmates, Nic begins writing their college admissions essays.
But the more essays Nic writes for other people, the less sure she becomes of herself, the kind of person she is, and whether her moral compass even points north anymore.
Provocative, brilliant, and achingly honest, 500 Words or Less explores the heartbreak and hope that marks the search for your truest self.
The people of Uztar have long looked to the sky with hope and wonder. Nothing in their world is more revered than the birds of prey and no one more honored than the falconers who call them to their fists.
Brysen strives to be a great falconer―while his twin sister, Kylee, rejects her ancient gifts for the sport and wishes to be free of falconry. She's nearly made it out, too, but a war is rolling toward their home in the Six Villages, and no bird or falconer will be safe.
Together the twins must journey into the treacherous mountains to trap the Ghost Eagle, the greatest of the Uztari birds and a solitary killer. Brysen goes for the boy he loves and the glory he's long craved, and Kylee to atone for her past and to protect her brother's future. But both are hunted by those who seek one thing: power.
The first time the Nightmares came, it nearly cost Alice her life. Now she's trained to battle monstrous creatures in the dark dream realm known as Wonderland with magic weapons and hardcore fighting skills. Yet even warriors have a curfew.
Life in real-world Atlanta isn't always so simple, as Alice juggles an overprotective mom, a high-maintenance best friend, and a slipping GPA. Keeping the Nightmares at bay is turning into a full-time job. But when Alice's handsome and mysterious mentor is poisoned, she has to find the antidote by venturing deeper into Wonderland than she's ever gone before. And she'll need to use everything she's learned in both worlds to keep from losing her head . . . literally.
Once there were two sisters born with a bond so strong that it forged them together forever. Roa and Essie called it the hum. It was a magic they cherished—until the day a terrible accident took Essie's life and trapped her soul in this world.
Dax—the heir to Firgaard's throne—was responsible for the accident. Roa swore to hate him forever. But eight years later he returned, begging for her help. He was determined to dethrone his cruel father, under whose oppressive reign Roa's people had suffered.
Roa made him a deal: she'd give him the army he needed if he made her queen. Only as queen could she save her people from Firgaard's rule.
Then a chance arises to right every wrong—an opportunity for Roa to rid herself of this enemy king and rescue her beloved sister. During the Relinquishing, when the spirits of the dead are said to return, Roa discovers she can reclaim her sister for good.
All she has to do is kill the king.
Elizabeth Lavenza hasn't had a proper meal in weeks. Her thin arms are covered with bruises from her "caregiver," and she is on the verge of being thrown into the streets…until she is brought to the home of Victor Frankenstein, an unsmiling, solitary boy who has everything–except a friend.
Victor is her escape from misery. Elizabeth does everything she can to make herself indispensable–and it works. She is taken in by the Frankenstein family and rewarded with a warm bed, delicious food, and dresses of the finest silk. Soon she and Victor are inseparable.
But her new life comes at a price. As the years pass, Elizabeth's survival depends on managing Victor's dangerous temper and entertaining his every whim, no matter how depraved. Behind her blue eyes and sweet smile lies the calculating heart of a girl determined to stay alive no matter the cost . . . as the world she knows is consumed by darkness.
Jetta's family is famed as the most talented troupe of shadow players in the land. With Jetta behind the scrim, their puppets seem to move without string or stick—a trade secret, they say. In truth, Jetta can see the souls of the recently departed and bind them to the puppets with her blood.
But ever since the colonizing army conquered their country, the old ways are forbidden, so Jetta must never show, never tell. Her skill and fame are her family's way to earn a spot aboard the royal ship to Aquitan, where shadow plays are the latest rage, and where rumor has it the Mad Emperor has a spring that cures his ills—and could cure Jetta's, too. Because seeing spirits is not the only thing that plagues her.
But as rebellion seethes and as Jetta meets a young smuggler, she will face truths and decisions that she never imagined—and safety will never seem so far away.
Seventeen-year-old Nedra Brysstain leaves her home in the rural, northern territories of Lunar Island to attend the prestigious Yugen Academy with only one goal in mind: master the trade of medicinal alchemy. A scholarship student matriculating with the children of Lunar Island's wealthiest and most powerful families, Nedra doesn't quite fit in with the other kids at Yugen.
Until she meets Greggori "Grey" Astor. Grey is immediately taken by the brilliant and stubborn Nedra, who he notices is especially invested in her studies. And that's for a good reason: a deadly plague has been sweeping through the north, and it's making its way toward the cities. With her family's life–and the lives of all of Lunar Island's citizens–on the line, Nedra is determined to find a cure for the plague.
Grey and Nedra grow close, but as the sickness spreads and the body count rises, Nedra becomes desperate to find a cure. Soon, she finds herself diving into alchemy's most dangerous corners–and when she turns to the most forbidden practice of all, necromancy, even Grey might not be able to pull her from the darkness.
Neal Bascomb, author of The Nazi Hunters, returns with his next thrilling work of narrative nonfiction about a group of Allied POWs who staged an escape for the ages during World War I. Illustrated throughout with incredible photographs and published on the 100th anniversary of the Holzminden escape!At the height of World War I, as battles raged in the trenches and in the air, another struggle for survival was being waged in the most notorious POW camp in all of Germany: Holzminden. A land-locked Alcatraz of sorts, it was home to the most troublesome Allied prisoners–and the most talented at escape. The Grand Escape tells the remarkable tale of a band of pilots who pulled off an ingenious plan and made it out of enemy territory in the biggest breakout of WWI, inspiring their countrymen in the darkest hours of the war.
At seventeen, June Hardie is everything a young woman in 1951 shouldn't be—independent, rebellious, a dreamer. June longs to travel, to attend college and to write the dark science fiction stories that consume her waking hours. But her parents only care about making June a better young woman. Her mother grooms her to be a perfect little homemaker while her father pushes her to marry his business partner's domineering son. When June resists, her whole world is shattered—suburbia isn't the only prison for different women…
June's parents commit her to Burrow Place Asylum, aka the Institution. With its sickening conditions, terrifying staff and brutal "medical treatments," the Institution preys on June's darkest secrets and deepest fears. And she's not alone. The Institution terrorizes June's fragile roommate, Eleanor, and the other women locked away within its crumbling walls. Those who dare speak up disappear…or worse. Trapped between a gruesome reality and increasingly sinister hallucinations, June isn't sure where her nightmares end and real life begins. But she does know one thing: in order to survive, she must destroy the Institution before it finally claims them all.
*Orphaned by Eliot Schrefer
Before humans, and before human history, there were the apes.
Snub is a young gorilla, living in the heart of what will eventually be known as Africa. She is jealous of her mother's new baby…and restless in her need to explore. When a natural disaster shakes up her family, Snub finds herself as the guardian of her young sibling…and lost in a reshaped world.
Snub may feel orphaned, but she is not alone. There are other creatures stalking through the woods—a new form of predator, walking on two legs. One of their kind is also orphaned, and is taken in by Snub. But the intersection of the human world and the gorilla world will bring both new connections and new battles.
Ready For It by Chusita Fashion Fever
YouTube sensation Chusita Fashion Fever gives no nonsense advice on everything from relationships, sexual identity, your first time and the difference between on-screen sex versus #IRL. And this is about real life; Chusita addresses actual questions and concerns posed by her teenage fans.
The bold package features body-positive comic illustrations and "fun facts" health sections, while Chusita's signature voice is authentic and non-judgmental; straight and LGBTI readers are welcome. Myths are debunked and taboos explored―allowing readers to learn not only about the logistics of sex, but about consent, respect, self care, and the intuition needed to make mature sexual decisions with confidence.
Let's be honest: most of us think about sex A LOT, and we have plenty of unanswered questions: What's the best way to talk to my partner about what I want? How do I figure out my sexuality? How do I have sex safely? What does an orgasm actually feel like?
Laci Green—a sex educator and YouTuber who's been hailed by Time magazine as the millennial Dr. Ruth—has built a platform of millions of followers by answering sex-related questions frankly, nonjudgmentally, and hilariously.
Now Laci brings her signature style and voice to a comprehensive book about the multitude of issues and concerns that go along with sexuality: anatomy, consent, LGBTQ issues, STI and pregnancy prevention, sexual empowerment, healthy relationships, myth-busting, and more.
Sex Plus is the first book of its kind: empowering, sex-positive, and cool. Comprehensive, honest, and vetted by a range of medical experts, this book will help you take control of your sex life.
After all, knowledge is pleasure.
Tales from the Inner City is a collection of incredibly original stories, rich with feeling, strangely moving, almost numinous. And when the reader comes to the artwork, it's like walking into an amazing room, and then throwing open a curtain to see a brilliant scene that makes you understand and appreciate everything you've encountered in a deeper way.
Nothing is as it seems.
These are the first words Kiva's best friend Seth says, after three years of silence.
Kiva thought she was growing up in ancient Alexandria. That's what she and all her classmates had been led to believe by their parents. It turns out she was living in virtual reality, in a sleep chamber in deep space, and three years ago, Seth woke up. Now it's her turn to join him.
Together, Kiva and Seth must take an escape shuttle to search for the engine part their home ship needs to keep running. But it's been a long time since the Krakatoa has communicated with any of the other three ships harboring human civilization. Kiva and Seth are not sure what they'll find if and when they finally make contact.
Danger, romance and twists you'll never see coming abound in this high-stakes science fiction adventure.
Moses and his cousin Charlie were best friends, wisecracking pranksters, unstoppable forces of teenage energy―until the night they became accidental arsonists and set in motion a chain of events that left Moses alone, guilt-stricken, and most likely trapped in his dead-end town.
Then Moses gets a lucky break: the chance to volunteer as a camp counselor for week and prove that the incident at the bowling alley should be expunged from his record. And since a criminal record and enrollment at Duke are mutually exclusive, he's determined to get through his community service and get on with his life. But tragedy seems to follow him wherever he goes, and this time, it might just stop him in his tracks.
It's 1944, and World War II is raging across Europe and the Pacific. The war seemed far away from Margot in Iowa and Haruko in Colorado–until they were uprooted to dusty Texas, all because of the places their parents once called home: Germany and Japan.
Haruko and Margot meet at the high school in Crystal City, a "family internment camp" for those accused of colluding with the enemy. The teens discover that they are polar opposites in so many ways, except for one that seems to override all the others: the camp is changing them, day by day and piece by piece. Haruko finds herself consumed by fear for her soldier brother and distrust of her father, who she knows is keeping something from her. And Margot is doing everything she can to keep her family whole as her mother's health deteriorates and her rational, patriotic father becomes a man who distrusts America and fraternizes with Nazis.
With everything around them falling apart, Margot and Haruko find solace in their growing, secret friendship. But in a prison the government has deemed full of spies, can they trust anyone–even each other?
Alyce's mother has just been burnt at the stake for practicing witchcraft. With only a thin set of instructions and a witch's mommet for guidance, Alyce must face the world that she's been sealed off from — a world of fear and superstition. With a witch hunter fast on her trail, she'll need the help of an innkeeper and a boy looking to discover the truth behind his own mother's past.
But as her journey continues, another war rages: a hidden war of the supernatural, of the living and the dead. Good and evil are blurred, and nobody's motives can be trusted. And Alyce finds herself thrown unwillingly into the conflict. Struggling to understand her own powers, she is quickly drawn into a web of secret, lies, and dark magic that could change the fate of the world she is just coming to know.
Love these upcoming YA book previews but feel overwhelmed? Tune in every first Wednesday of the month for bite-sized looks at essential YA titles for your TBR.