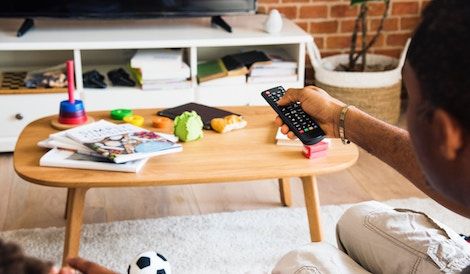 Fiction
7 Book-to-TV Adaptations to Watch Out For This Fall
This content contains affiliate links. When you buy through these links, we may earn an affiliate commission.
Book-to-TV adaptations can be very hit or miss, but they're hard to resist — especially if you're a reader who also happens to enjoy binge-watching. This summer brought the debut of several new entries to the category, including HBO's Sharp Objects and Hulu's Castle Rock. Now that fall has arrived, there are plenty more novel-inspired series hitting the small screen. Here's a look at the some of this new season's new shows based on books.
https://www.youtube.com/watch?v=yKSYTlSaGik
Based on the Caroline Kepnes novel of the same name, You follows bookstore manager Joe Goldberg (played by Penn Bagdley) as he becomes infatuated with a customer named Beck (Elizabeth Lail). As he uses social media to gather intimate details about her, his crush quickly turns into a full-on obsession.
If you were a fan of Gossip Girl, chances are you'll like this adaptation. Bagdley has admitted his creepy character is basically the same as ol' Lonely Boy himself, Dan Humphrey. It's also been dubbed a mash-up of Gossip Girl and other successful TV adaptations, like Pretty Little Liars and Riverdale. And it has mostly positive reviews on Rotten Tomatoes if that's a priority.
The psychological thriller series is currently airing on Lifetime and has already been renewed for season two.
The three-part PBS adaptation of The Miniaturist, based on Jessie Burton's 2014 bestselling novel, wrapped up its run in late September, but you can catch all of the episodes online now. The story follows Nella Oortman (Anya Taylor-Joy) after she arrives in Amsterdam in 1686 to meet her new wealthy husband. When he presents her with a dollhouse replica of their home, painstakingly crafted by a mysterious Miniaturist, she quickly begins to uncover the secrets it holds.
Since it's set in the 17th century, you can expect plenty of atmosphere from this series, complete with elaborate set pieces and intricate costumes. Critics have also praised the performances of the three main leads, Taylor-Joy, Romola Garai, and Hayley Squires.
https://www.youtube.com/watch?v=G9OzG53VwIk
Netflix is releasing its 10-episode horror series, The Haunting of Hill House, just in time for Halloween. Adapted from Shirley Jackson's acclaimed 1959 novel of the same name, the show moves between past and present to follow a family as they confront the terrifying events that drove them from their old childhood home. As in the book, the phrase "ghosts from your past" takes on a whole new meaning in this adaptation — which should (I hope) make for some excellent spooky viewing this season.
Tell Me a Story
https://www.youtube.com/watch?v=-3nzLiWcGiU
Though it doesn't draw from only one novel in particular, Tell Me a Story certainly takes inspiration from literature. The CBS All Access series takes several of your favorite fairy tales and transforms them into one dark psychological thriller based in modern-day New York. The first season reportedly interweaves the tales of "The Three Little Pigs," "Little Red Riding Hood," and "Jack and the Beanstalk."
The show, headed by Scream franchise writer Kevin Williamson, drops on Oct. 31.
HBO is going full-on Italian for its adaptation of My Brilliant Friend, the best-selling novel by pseudonymous novelist Elena Ferrante. In addition to partnering with Italian co-producer RAI on the series, the network hired Italian director Saverio Costanzo to oversee the adaptation and cast mostly unknown stars directly from Naples.
Most impressively, the network kept the strong Neapolitan dialect that the author intended for her characters, Elena and Lila. The story, which is the first in Ferrante's famed Neopolitan Novel series, follows the complicated lifelong friendship of the pair, who met as young schoolgirls in Naples in the 1950s.
The eight-episode adaptation, which marks HBO's first ever foreign language series, premieres on Nov. 18.
After scoring a hit with 2016's The Night Manager, AMC returns with another John le Carré-inspired series. Based on the 1983 book by the famous espionage novelist, the story follows Charlie, a fiery actress who meets a mysterious man named Becker while vacationing in Greece. As you can probably guess, Becker is not exactly what he seems. Their relationship becomes even more entangled when mastermind spy Kurtz enters the picture.
Alexander Skarsgard, Michael Shannon, and Florence Pugh star in the six-part miniseries, which premieres on Nov. 19.
I can't help but be sort of intrigued by SyFy's upcoming psychological thriller based on the novella and series of short stories by George R.R. Martin. Previously described by the author as "Psycho in space" (how can your curiosity not be peaked?), the show takes place in the year 2093 on the most advanced ship ever built, the Nightflyer. It follows a group of scientists driven to the edge of the solar system — and the brink of their sanity — during a quest to find other life forms.
Judging from the trailer, it'll be weird, a little cheesy, and creepy as hell. The series will makes its debut sometime this fall, although a release date has yet to be announced.