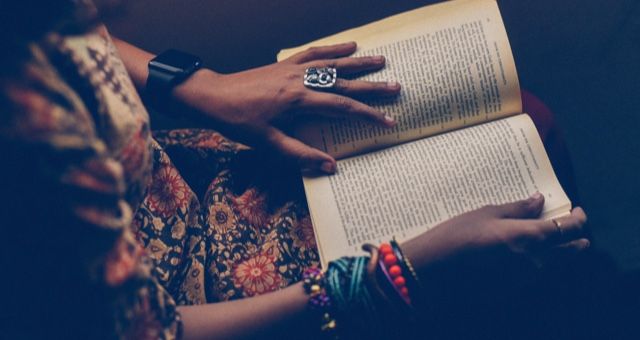 Lists
Spotted at BookExpo: Upcoming Titles by YA Authors of Color
This content contains affiliate links. When you buy through these links, we may earn an affiliate commission.
This year at BookExpo, I had one question: Which novels by YA authors of color will I want to tear into next?
I'd marked my calendar to attend sessions about YA, new adult, and diversity topics. I'd made a list of titles that had gotten buzz beforehand. And I was ready and raring to hit the floor and ask publishers for their recommendations.
I'm happy to report that I left armed with a solid list of titles by YA authors of color from both traditional and independent publishers. I should note that I narrowed my search to realistic fiction, so most of the stories on my list fit into that category.
I'm especially excited to add this book, suggested to me by the reps at Simon & Schuster, to my list, because out of all of books by YA authors of color I discovered, this is the only new adult fiction title. The new adult genre features protagonists ages 18–30 and I've fallen in love with it in the past couple of years.
Permanent Record is a story about what happens when Pablo, an NYU dropout, meets Leanna, a pop idol and former child star. Even though they couldn't be leading more different lives, they have one thing in common: they're both desperately trying to escape other people's expectations.
The reps at Simon & Schuster also told me that Choi's debut novel, Emergency Contact, a YA novel about relationships and social media, is another must-read.
Permanent Record release date: Sept. 3, 2019
I was all in on this title as soon as I heard Brandy Colbert's name. Colbert became one of my favorite YA authors of color last year when I was introduced to her beautiful writing and storytelling skills in Little & Lion. So I was thrilled that her newest work was one of the featured titles at BookExpo's Young Adult Editor's Buzz session.
During the panel, Alvina Ling, Editor-in-Chief at Little, Brown Books for Young Readers, described The Revolution of Birdie Randolph as a story about a mother-daughter relationship, parental expectations, and a diverse black community. Birdie is a studious high schooler whose world is disrupted when two things happen: she meets a boy she knows her parents won't accept, and an estranged aunt who's struggled with addiction shows up at her family's doorstep.
Release date: Aug. 20, 2019
Pet by Akwaeke Emezi
While I was visiting the Penguin Random House area, the reps suggested Pet, published by Make Me a World, one of their newest imprints. So I made my way to Make Me a World's booth to find out more about them. Make Me a World recognizes that today's young readers have access to more worlds than they ever have before, thanks to social and digital media. According to the collateral the reps gave me, their imprint "aims to bridge that gap and bring overlapping and often unexpected worlds closer together."
Pet is the only book on this list with elements of the fantastical. It's the story of Jam and her best friend, Redemption, who have been taught that monsters don't exist. But when a creature named Pet comes to life from a painting, Jam starts to question everything she's learned—especially when she learns that Pet has come to hunt for a monster who may be lurking in Redemption's house.
Release date: Sept. 10, 2019
Always excited to find a title from an indie publisher, I jumped at a chance to find out about this novel from Sourcebooks at an Indie Insights session about upcoming YA and new adult titles. I was intrigued that it's a story told from two perspectives, written by two authors, one of whom is a woman of color.
I'm Not Dying with You Tonight takes place all in one night. Lena is a high-schooler with big style and big ambitions; Lena's classmate, Campbell, is just trying to survive the year at her new school. These girls don't share a friendship, let alone a point of view. But when violence descends upon a Friday-night football game, they have only each other to rely on to get through the night.
Release date: Aug. 6, 2019
SLAY by Brittney Morris
I love a protagonist who shatters female stereotypes. So I'm intrigued by this title, another recommendation I picked up from the Simon & Schuster reps during my visit to their booth. Before I even knew it was about a female teenage gamer of color, I was drawn in by the cover. The determined expression on the character's face might just say it all.
SLAY tells the story of Kiera Johnson, honor student by day and powerful gamer and developer by night. When SLAY, the game Kiera developed anonymously, comes under attack from the mainstream media, Kiera navigates challenges around race and identity while trying to protect the only world in which she can be herself.
Release date: Sept. 24, 2019
I get really excited when I see that a novel is written by a poet, because I so appreciate the love and beauty that poets can put into every word and sentence. So when I heard buzz about this book, I knew I wanted to get the scoop on it while I was at the Penguin Random House booth. Although I wasn't able to get an advanced reader copy at the show, I'm excited to add this to my TBR list.
In Who Put This Song On?, 17-year-old Morgan is one of the very few students of color at her suburban high school. When she starts hanging out with a group of kids who also feel like outsiders, she begins to find—and more importantly, accept—her voice and place in the world.
Release date: Sept. 24, 2019
After we talked about Who Put This Song On?, the rep at Penguin Random House put a copy of Jackpot in my hands. "I think you're going to want to read this," she told me. As she started telling me about the characters and the plot, it didn't take long for me to agree.
Jackpot is about Rico, who, when she isn't in school, is either working as a part-time cashier at Gas 'n Go or taking care of her younger brother at home. But everything changes when she finds out she's sold a lotto ticket that's won the jackpot. Now, she's on the hunt for the person who holds the unclaimed ticket. But she can't do it without the help of Zan, heir to a toilet-paper empire, and popular boy at school who Rico is sure doesn't even know she exists.
Release date: Oct. 15, 2019
Here's another pick from the Indie Insights session featuring upcoming YA and new adult titles. The rep from Akashic Books told us that their readers crave stories that reflect issues that are real and "not soft"—issues that sometimes adults won't discuss with them. Home Girl is one of those stories.
Home Girl, available in the U.S. in September, takes us into the world of teenager Naomi as she bounces from foster home to foster home. The rep described it as a "modern-day Oliver Twist–type novel" that explores the pain of not belonging. Wheatle himself grew up in the UK care system, so we can expect what he writes to ring with authenticity.
Release date: Sept. 3, 2019
As an Asian American, I'm always excited to find a book about second-generation Asian American teenagers, so of course I was eager to learn more about this title, which was featured at the Young Adult Editor's Buzz session. I was promised that Frankly in Love full of fun word play, starting with the hero's name, Frank Li.
Frankly in Love is about Frank, a Korean American high schooler whose parents have a lot of specific expectations for him—including ending up with a nice Korean girl. So when Frank falls for a smart, funny non-Korean girl, he and his Korean friend Joy—who's facing the same dilemma—come up with a plan to keep their parents from finding out about their significant others.
Release date: Sept. 10, 2019
---
All in all, I was happy to see BookExpo feature so many titles by YA Authors of color. Want more scoop about what happened at BookExpo? Check out these posts by other Rioters:
Another Year, Another BookExpo