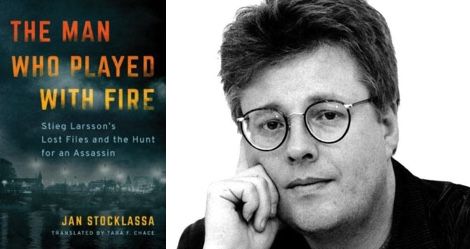 News
Unseen Stieg Larsson Investigation to be Revealed in New Book
This content contains affiliate links. When you buy through these links, we may earn an affiliate commission.
An unseen investigation by Stieg Larsson, the late journalist and author of the Millennium Trilogy, has come to light and will be revealed in a new true crime book. Larsson was a leading expert on antidemocratic, right-wing, extremist organizations. He died in 2004, shortly after delivering the manuscripts for The Girl with the Dragon Tattoo, The Girl Who Played with Fire, and The Girl Who Kicked the Hornet's Nest.
On February 28, 1986, Swedish Prime Minister Olof Palme was shot dead in Stockholm. The crime is still unsolved today. It's now known that Larsson began his own investigation into the assassination—continuing the search until his own death. In 2014, journalist and documentary filmmaker, Jan Stocklassa gained access to the 20 boxes of Larsson's research into the case.
"In The Man Who Played with Fire: Stieg Larsson and the Hunt for an Assassin, Stocklassa reveals new facts about the case and reveals the hitherto unknown research of the best-selling author in a fascinating true crime story. For the first time in many years, the police in Sweden have taken active measures to investigate a new suspect in the murder case and are pursuing leads based on the research revealed in Stocklassa's book."
The Man Who Played with Fire will be published by Amazon Crossing, Amazon's literature in translation imprint. It will be translated from the original Swedish by Tara F. Chace. The book has a publication date of October 1, 2019.
In the press release announcing the acquisition, Senior Editor Elizabeth DeNoma writes, "Jan Stocklassa's access to Stieg Larsson's investigation and his own years-long intrepid, exciting exploration into the suspects, motives, and connections gives readers a true crime story about one of the most gripping unsolved murder mysteries of modern times, investigated by one of the most well-known authors of all time. We can't wait to share this story with Stieg Larsson's English-language fans who will be struck by the parallels between the famous author and his famous character, Mikael Blomkvist."
Stocklassa is also the executive producer of a documentary of the same name that focuses on Larsson's research into extreme right-wing groups. It premiered at the Sundance Film Festival in January 2019.