Children's
19 Sparkly And Wonderful Books About Unicorns for Babies and Children
This content contains affiliate links. When you buy through these links, we may earn an affiliate commission.
Who doesn't love unicorns? They're magical, they sparkle, they can make it rain glitter and cupcakes, and sometimes they even fly! (Technically, that might be an alicorn rather than a unicorn but I am choosing to be inclusive in this post. Alicorns are also awesome.) Unicorns can also help us discover what is magical about just being ourselves. Here is a selection of unicorn books for babies, toddlers, and children. Unicorns are for everyone.
Unicorn Books For Babies & Toddlers
Unicorn has a magical horn and a magical life and wants to tell the youngest readers about herself in rhyme.
Meet Baby Unicorn! This novelty book also includes a finger puppet so that the reader can act along as baby unicorn describes things in her magic forest.
Una can dance! Una dances, boogies and grooves. Let Una show you how she dazzles on the dancefloor in this board book.
Phoebe lists all of the things she will get to do as a unicorn—but when she discovers that unicorns eat hay instead of pizza she realizes that being herself is pretty great too.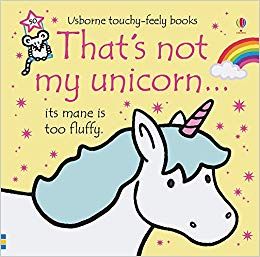 This touchy-feely book features textured unicorns and a story about finding just the right unicorn.
Unicorn Picture Books
6. Uni the Unicorn by Amy Krouse Rosenthal and Brigette Barrager
The other unicorns make fun of Uni because she believes that little girls are real—but Uni knows that she will find a smart, strong little girl to be friends with someday. There is also a sequel called Uni the Unicorn and the Dream Come True.
When a little boy wishes for a pet unicorn, he has no idea how much trouble they can be! His new unicorn friend sheds, pokes holes in the ceiling, and make a big mess! This story recounts all of the ways a pet unicorn can truly ruin your life.
Thelma is a regular horse who wishes that she was a unicorn. When her wish comes true, she discovers that she was happier without the horn and sparkles—she was happy just as herself.
Goat's life was going pretty well until Unicorn showed up with his obnoxious ability to make it rain cupcakes. Goat wants you to know about all of the cool stuff he can do but you probably just want to hear about Unicorn, right?
When Lily meets Roger the penguin, she wants to go on all sorts of adventures—but Roger doesn't want to go on any adventures or to make new friends. Lily teaches Roger all about trying new things and that the world is an amazing place.
A unicorn, a griffin, and an alchemist must work together to free the moon when it gets stuck between two mountains.
When a king offers a reward to anyone who can find out how his twelve unicorns break their golden chains every night, a little girl is determined to find out the truth. This is a variation on the story of the twelve dancing princesses.
The unicorn has never seen anyone else like him. A robin, a butterfly, and a squirrel team up to help him discover who he is.
The unicorn in this story is actually a goat. But I love both unicorns and goats so I'm going for it. Lucy is excited to pay 25 cents for a pet unicorn but when her unicorn arrives she finds that he is not at all what she expected. This is the first book in a series.
Unicorn drives Horse crazy but when Unicorn is kidnapped for a local circus, will Horse save him?
Kelp has never really liked living under the sea. He doesn't look much like his narwhal family. When a strong current sends him to the surface of the water and he finds creatures like himself for the first time, he needs to decide whether he is a land narwhal or a sea unicorn.
Luna is lost and needs to find the moon—on the way she encounters a magical cast of characters and even some dreams that seem to come to life.
Claire and her stuffed unicorn love fairy tales in which people live happily ever after but, as she is falling asleep one night, Claire wonders what makes someone happy forever. Claire and Capricorn the unicorn go on a dreamland adventure to answer this question.
For slightly older readers, this collection of stories and poems by Jane Yolen teach readers about the healing power of unicorn horns, how they can purify water, and even how one might go about catching a unicorn. Similar books are available for dragons, witches, and ghosts.