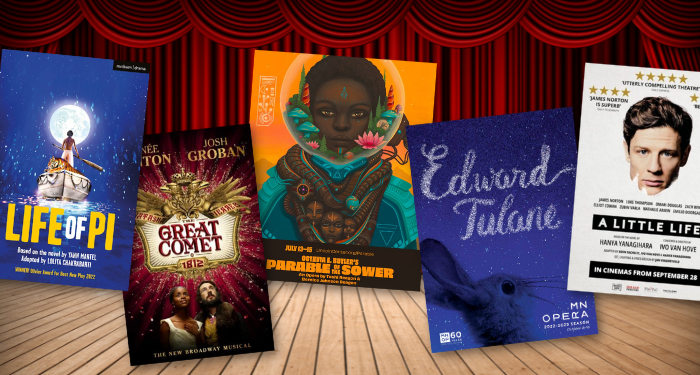 Lists
12 of the Most Unexpected Book-to-Stage Adaptations
This content contains affiliate links. When you buy through these links, we may earn an affiliate commission.
I consider some books virtually impossible to film because they're too complex or because showing certain characters or settings would spoil twists the book reveals more gradually. Live theater has some of the same constraints, such as a short time frame. Plus, it has limited space and less potential for stunts and special effects.
This also enables unique forms of creativity in theater that aren't possible on the page or on film. The energy and chemistry of a live cast and crew recreating a play nightly are irreplaceable. The logistics of accessibility and other safety concerns, or settings like ships on the ocean, work differently on stage and on film.
Some books have too much interiority to translate well to the stage. This was Charles Isherwood's main critique of plays based on Kafka on the Shore by Haruki Murakami and The Waves by Virginia Woolf in 2008. Woolf was a Modernist writer who helped innovate stream-of-consciousness writing. Murakami is often described as a postmodernist, and Isherwood thought Murakami's surreal imagery was better suited to a novel than to a play.
Some choices for stage adaptations are baffling. In 2006, a German theater collective performed a play based on parts of Karl Marx's treatise Das Kapital. As this article says, the book has no plot or characters. So, it seems too abstract and theoretical to work onstage.
I can read some stories that I find too violent or traumatic to watch, either on stage or on film. I find this, especially with plays about sexual assault, where plays make the violence immediate. In 2005, when Alice Walker's 1982 novel, The Color Purple, became a Broadway musical, some critics thought it was an overly traumatic subject for a musical. Since then, it's received rave reviews, two Tony Awards, and 11 Tony nominations. The Color Purple is important to both the literary and musical theater canons.
A 2022 Dutch stage adaptation of Hanya Yanagihara's acclaimed bestselling novel A Little Life received similar critiques. According to one critic, the depictions of trauma cross a line on the stage into "bathos." Also, many disabled writers consider the novel part of a broader, ableist trend of depicting disability as necessarily worse than death.
Sometimes, adaptations make sprawling stories more manageable. It's hard to imagine staging Leo Tolstoy's War and Peace in its entirety as a live musical. Dave Malloy, the composer of Natasha, Pierre & The Great Comet of 1812, based his musical on a 70-page segment of Tolstoy's novel. He said this section has the "perfect structure" to form a Broadway musical. It opened on Broadway in 2016.
In 2015, Toshi Reagon and Bernice Johnson Reagon adapted Octavia E. Butler's post-apocalyptic novel Parable of the Sower into an opera. Some reviewers found it preachy or too ambitious to stage; some critics loved it.
The Drover's Wife recently reinvented an Australian short story from 1892. Leah Purcell, an Aboriginal Australian playwright, novelist, and actor, adapted and starred in a play and a movie, both loosely based on Henry Lawson's short story of the same name. Reviewers praised Purcell's version for portraying the protagonist (a white settler in the original story) as Indigenous and adding new Indigenous characters. This adaptation countered and critiqued the racist stereotypes in the original story.
Ambitious stage adaptations take risks and can be polarizing, but that makes them even more fascinating. Read more about plays adapted from novels. For the reverse, check out these stage-to-book adaptations.