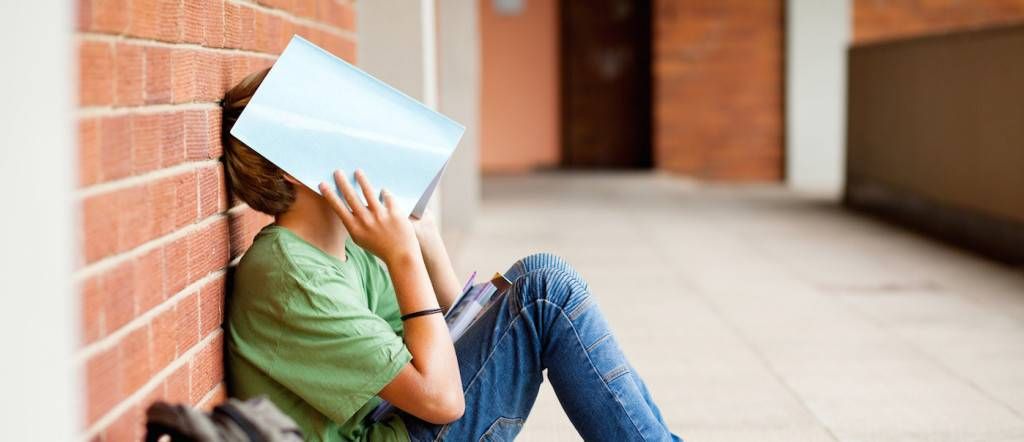 The Ultimate Guide to Books for Reluctant Readers Ages 12 to 13
This content contains affiliate links. When you buy through these links, we may earn an affiliate commission.

---
Here in New York City, I've observed a distinct mood change around the schoolyards. Decibel levels have crept into the danger zone, kids are literally bouncing off the walls (scuffed sneaker prints on the walls to prove it), and teachers are gulping down Advil. Something is coming.
S U M M E R
While some of us welcome summer (more relaxed schedules, wearing tank tops, going to the beach), others dread it (kids are not in school, family reunions, it's hot!). And for many kids, reading takes a huge backslide during the summer. Those nightly reading assignments and endless five-hundred word essays for school may have made reading a chore rather than a joy.
Here at Book Riot we've had a lot of questions come in about this very topic, especially among kids ages twelve to thirteen. Here is a list of recommended books with high interest plots (special thanks to Ms. Pryor and Ms. Millman, librarians extraordinaire, for their help in compiling this list!), plus some more tips for keeping your reluctant readers turning those pages throughout the summer. Feel free to add your suggestions in the comments section below!
Book Suggestions
After a school year full of analyzing texts, drawing sentence diagrams, and writing persuasive first paragraphs, kids need books that will draw them in and keep them interested. (And kids don't need to be afraid someone is going to ask them to write a character sketch afterwards.) Give these a try!
*Note: For books in a series, the series name links to the book series set (if available), and the photo and blurb refer to the first book in the series.
Fiction:
Alex Rider series by Anthony Horowitz (first book in series: Stormbreaker): Alex Rider is the 14-year-old hero of British author Horowitz's spy thriller series. When his guardian and uncle, Ian, is mysteriously killed, Alex discovers that his uncle was not the bank vice-president he purported to be, but rather a spy for the British government. Now the government wants Alex to take over his uncle's mission: investigating Sayle Enterprises, the makers of a revolutionary computer called Stormbreaker.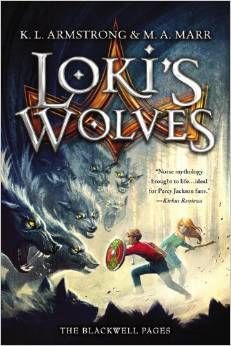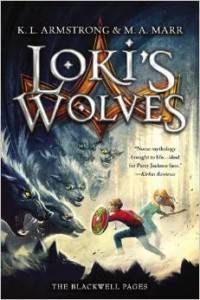 The Blackwell Pages series by K.L. Armstrong (first book in series: Loki's Wolves): Matt hears the words, but he can't believe them. He's Thor's representative? Destined to fight trolls, monstrous wolves and giant serpents…or the world ends? He's only thirteen. While Matt knew he was a modern-day descendent of Thor, he's always lived a normal kid's life. In fact, most people in the small town of Blackwell, South Dakota, are direct descendants of either Thor or Loki, including Matt's classmates Fen and Laurie Brekke. No big deal. But now Ragnarok is coming, and it's up to the champions to fight in the place of the long-dead gods. Matt, Laurie, and Fen's lives will never be the same as they race to put together an unstoppable team, find Thor's hammer and shield, and prevent the end of the world.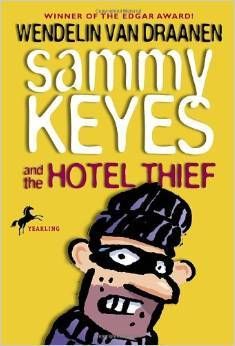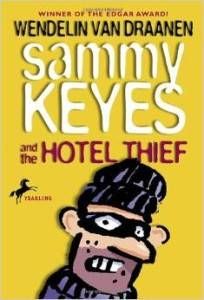 Sammy Keyes series by Wendelin Van Draanan (first book in series: Sammy Keyes and the Hotel Thief): What Sammy should have done was put the binoculars down and call 911. What she does instead is tighten up the focus on her right eye to get a better look. There's something very familiar about this thief. But when Sammy eventually spills her story to Officer Borsch, he doesn't believe her. He treats her like some snot-nosed little kid. Well, Sammy's not going to stand for that. She's a snot-nosed seventh grader now, and she knows what she saw. And somehow she's going to prove it.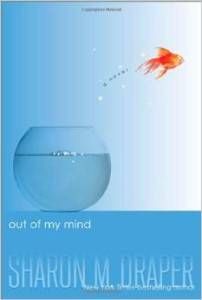 Out of My Mind by Sharon Draper: Melody is not like most people. She cannot walk or talk, but she has a photographic memory; she can remember every detail of everything she has ever experienced. She is smarter than most of the adults who try to diagnose her and smarter than her classmates in her integrated classroom—the very same classmates who dismiss her as mentally challenged, because she cannot tell them otherwise. But Melody refuses to be defined by cerebral palsy. And she's determined to let everyone know it…somehow.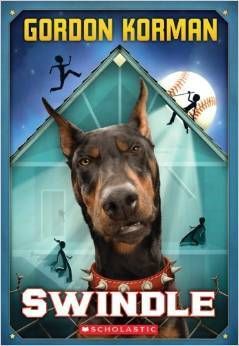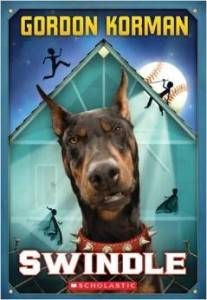 Swindle series by Gordon Korman (first book in series: Swindle): Ocean's 11 for 11-year-olds! After a mean collector named Swindle cons him out of his most valuable baseball card, Griffin Bing must put together a band of misfits to break into Swindle's compound and recapture the card. There are many things standing in their way — a menacing guard dog, a high-tech security system, a very secret hiding place, and their inability to drive — but Griffin and his team are going to get back what's rightfully his . . . even if hijinks ensue.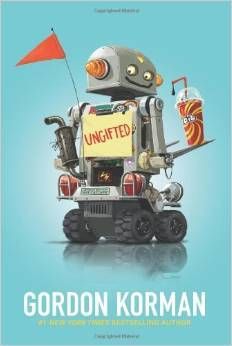 Ungifted by Gordon Korman: When Donovan Curtis pulls a major prank at his middle school, he thinks he's finally gone too far. But thanks to a mix-up by one of the administrators, instead of getting in trouble, Donovan is sent to the Academy of Scholastic Distinction, a special program for gifted and talented students. Although it wasn't exactly what Donovan had intended, the ASD couldn't be a more perfectly unexpected hideout for someone like him. But as the students and teachers of ASD grow to realize that Donovan may not be good at math or science (or just about anything), he shows that his gifts may be exactly what the ASD students never knew they needed.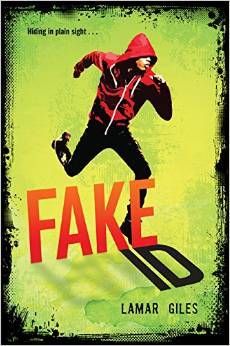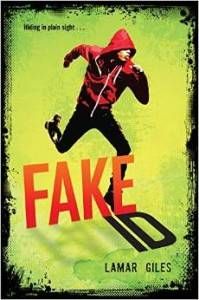 Fake ID by Lamar Giles: Nick Pearson is hiding in plain sight. In fact, his name isn't really Nick Pearson. He shouldn't tell you his real name, his real hometown, or why his family just moved to Stepton, Virginia. And he definitely shouldn't tell you about his friend Eli Cruz and the major conspiracy Eli was uncovering when he died. About how Nick had to choose between solving Eli's murder with his hot sister, Reya, and "staying low-key" like the Program said to do.
But he's going to tell you—unless he gets caught first. . . .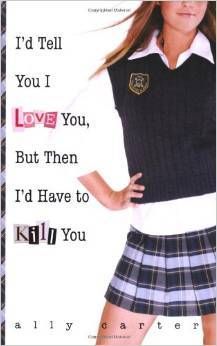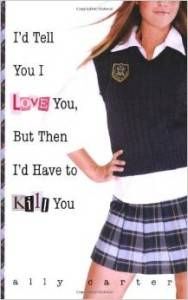 Gallagher Girls Series by Ally Carter (first book in series: I'd Tell You I Love You, But Then I'd Have to Kill You ): Cammie Morgan is a student at the Gallagher Academy for Exceptional Young Women, a fairly typical all-girls school-that is, if every school taught advanced martial arts in PE and the latest in chemical warfare in science, and students received extra credit for breaking CIA codes in computer class. The Gallagher Academy might claim to be a school for geniuses but it's really a school for spies.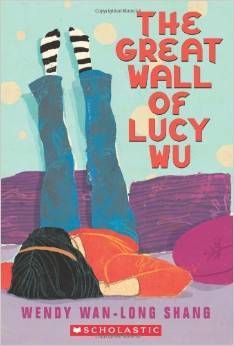 The Great Wall of Lucy Wu by Wendy Wan-Long Shang: Lucy Wu, aspiring basketball star and interior designer, is on the verge of having the best year of her life. She's ready to rule the school as a sixth grader, go out for captain of the school basketball team, and take over the bedroom she has always shared with her sister. In an instant, though, her plans are shattered when she finds out that Yi Po, her beloved grandmother's sister, is coming to visit for several months — and is staying in Lucy's room.
Lucy's vision of a perfect year begins to crumble, and in its place come an unwelcome roommate, foiled birthday plans, a bully who tries to scare Lucy off the basketball team, and Chinese school with the annoying know-it-all Talent Chang. Lucy's year is ruined — or is it?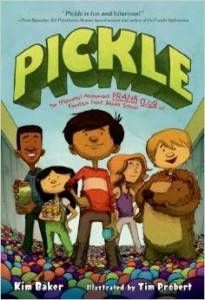 Pickle by Kim Baker: This is the story of THE LEAGUE OF PICKLEMAKERS
Ben: who began it all by sneaking in one night and filling homeroom with ball-pit balls.
Frank: who figured out that an official club, say a pickle-making club, could receive funding from the PTA.
Oliver: who once convinced half of the class that his real parents had found him and he was going to live in a submarine.
Bean: who wasn't exactly invited, but her parents own a costume shop, which comes in handy if you want to dress up like a giant squirrel and try to scare people at the zoo.
TOGETHER, they are an unstoppable prank-pulling force, and Fountain Point Middle School will never be the same.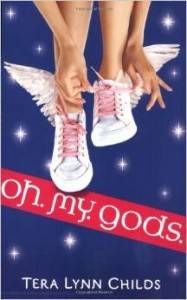 Oh. My. Gods. series by Tera Lynn Childs: When Phoebe's mom returns from Greece with a new husband and plans to move to an island in the Aegean Sea, Phoebe's well-plotted senior year becomes ancient history. Now, instead of enjoying a triumphant track season and planning for college with her best friends, Phoebe is trying to keep her head above water at the super-exclusive Academy. If it isn't hard enough being the new kid in school, Phoebe's classmates are all descendents of the Greek gods! When you're running against teammates with superpowers, dealing with a stepsister from Hades, and nursing a crush on a boy who is quite literally a god, the drama takes on mythic proportions!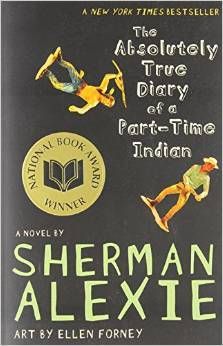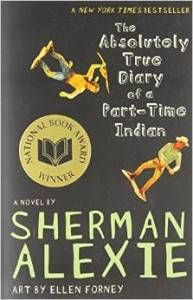 The Absolutely True Diary of a Part-Time Indian by Sherman Alexie: A story of Junior, a budding cartoonist growing up on the Spokane Indian Reservation. Determined to take his future into his own hands, Junior leaves his troubled school on the rez to attend an all-white farm town high school where the only other Indian is the school mascot.
Heartbreaking, funny, and beautifully written, The Absolutely True Diary of a Part-Time Indian, which is based on the author's own experiences, coupled with poignant drawings by Ellen Forney that reflect the character's art, chronicles the contemporary adolescence of one Native American boy as he attempts to break away from the life he was destined to live.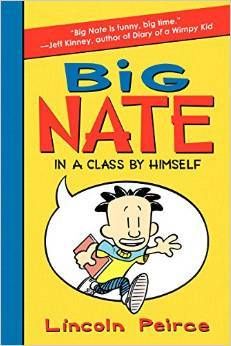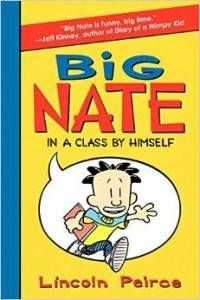 Big Nate series by Lincoln Pierce (first book in series: Big Nate: In a Class By Himself: Nate knows he's meant for big things. REALLY big things. But things don't always go your way just because you're awesome. Nate barely survives his dad's toxic oatmeal before rushing off to school—minus his lunch. He body slams the no-nonsense principal. He accidentally insults his least favorite teacher, the horrifying Mrs. Godfrey (aka Godzilla). And school has barely started! Trouble always seems to find him, but Nate keeps his cool. He knows he's destined for greatness. A fortune cookie told him so. Here comes BIG NATE, accidental mischief maker and definitely NOT the teacher's pet.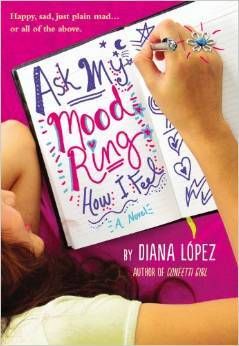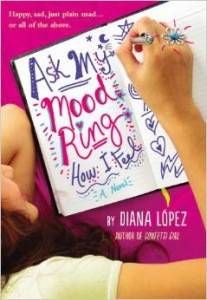 Ask My Mood Ring How I Feel by Diana Lopez: It's summer before eighth grade, and Erica "Chia" Montenegro is feeling so many things that she needs a mood ring to keep track of her emotions. She's happy when she hangs out with her best friends, the Robins. She's jealous that her genius little sister skipped two grades. And she's passionate about the crushes on her Boyfriend Wish list. And when Erica's mom is diagnosed with breast cancer, she feels worried and doesn't know what she can do to help.
When her family visits a cuarto de milagros, a miracle room in a famous church, Erica decides to make a promesa to God in exchange for her mom's health. As her mom gets sicker, Erica quickly learns that juggling family, friends, school, and fulfilling a promesa is stressful, but with a little bit of hope and a lot of love, she just might be able to figure it out.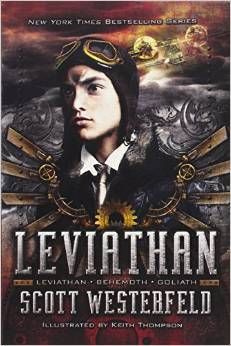 The Leviathan Trilogy by Scott Westerfeld (first book in series: Leviathan): It is the cusp of World War I. The Austro-Hungarians and Germans have their Clankers, steam-driven iron machines loaded with guns and ammunition. The British Darwinists employ genetically fabricated animals as their weaponry. Their Leviathan is a whale airship, and the most masterful beast in the British fleet. In this striking futuristic rendition of an alternate past where machines are pitted against genetically modified beasts, Aleksandar Ferdinand, a Clanker, and Deryn Sharp, a Darwinist, are on opposite sides in the First World War. But their paths cross in the most unexpected way, and together they embark on an around-the-world adventure….One that will change both their lives forever.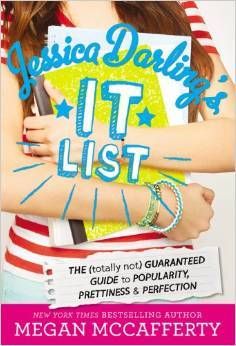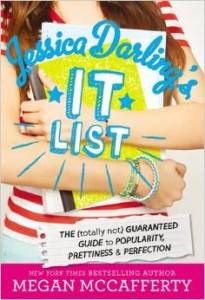 Jessica Darling's It List series by Megan McCafferty (first book in series: Jessica Darling's It List: The (Totally Not) Guaranteed Guide to Popularity, Prettiness & Perfection): Jessica Darling is about to enter her first year at Pineville Junior High, so her college-age sister gives her a short list of guidelines to ensure her success in the seventh-grade social scene. When she arrives at school, however, Jessica quickly realizes that following the tips will be harder than she expected. Her best friend has had a makeover and attracts the attention of freshmen football players, her new classmates have outlandish and confusing methods for trying to gain popularity, and she has mistakenly been scheduled for Woodshop, which includes a class full of smart-aleck boys led by a ridiculously off-the-wall teacher. As Jessica navigates this strange new world, she inevitably finds herself in situations both amusing and awkward, and she eventually starts to accept the fact that her sister's methods for surviving junior high might not work for her.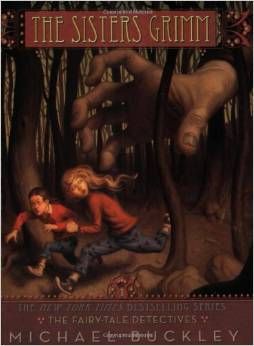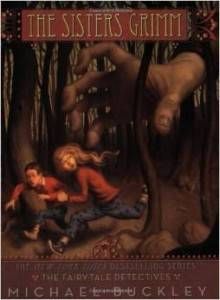 The Sisters Grimm series by Michael Buckley (first book in series: The Fairy Tale Detectives): In book one of this bestselling series, sisters Sabrina and Daphne are sent to live with their mysterious grandmother, Relda Grimm. The sisters learn they are descendants of the Brothers Grimm, whose famous book of fairy tales is actually a collection of case files. The girls are the latest in a long line of fairy-tale detectives, and their new hometown is filled with Everafters (as magical folks like to be called)—some good and some very, very bad. When a mysterious Everafter sets a giant loose on the town, it's up to the Sisters Grimm to save the day.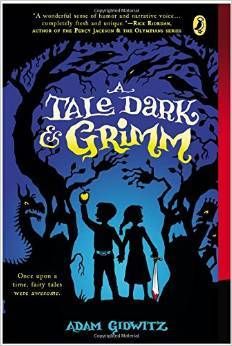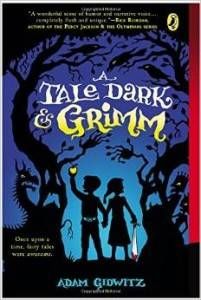 A Tale Dark and Grimm series by Adam Gidwitz (first book: A Tale Dark and Grimm): Hansel and Gretel walk out of their own story and into eight other classic Grimm (and Grimm-inspired) fairy tales. An irreverent, witty narrator leads us through encounters with witches, warlocks, dragons, and the devil himself. As the siblings roam a forest brimming with menacing foes, they learn the true story behind the famous tales, as well as how to take charge of their destinies and create their own happily ever after. Because once upon a time, fairy tales were awesome.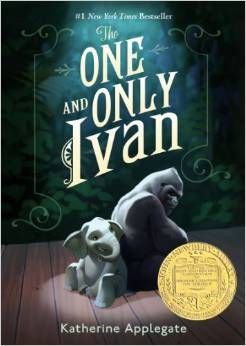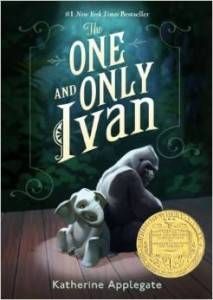 The One and Only Ivan by Katherine Applegate: Having spent twenty-seven years behind the glass walls of his enclosure in a shopping mall, Ivan has grown accustomed to humans watching him. He hardly ever thinks about his life in the jungle. Instead, Ivan occupies himself with television, his friends Stella and Bob, and painting. But when he meets Ruby, a baby elephant taken from the wild, he is forced to see their home, and his art, through new eyes.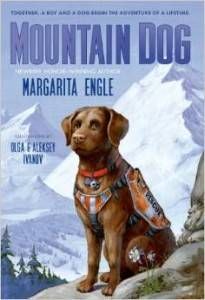 Mountain Dog by Margarita Engle: When Tony's mother is sent to jail, he is sent to stay with a great uncle he has never met in Sierra Nevada. It is a daunting move–Tony's new world bears no semblance to his previous one. But slowly, against a remote and remarkable backdrop, the scars from Tony's troubled past begin to heal.
With his Tió and a search-and-rescue dog named Gabe by his side, he learns how to track wild animals, is welcomed to the Cowboy Church, and makes new friends at the Mountain School. Most importantly though, it is through Gabe that Tony discovers unconditional love for the first time, in Mountain Dog by Margarita Engle.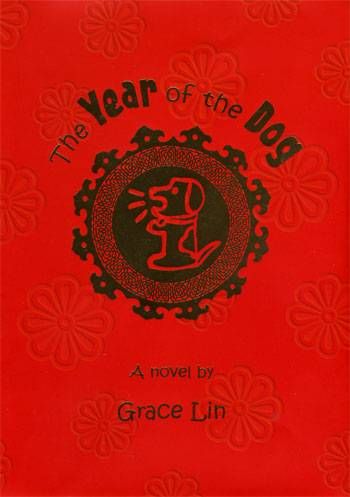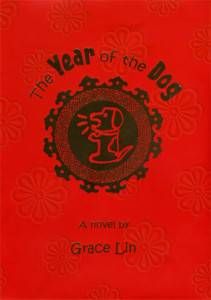 Pacy Lin Novel Series by Grace Lin (first book in series: The Year of the Dog): It's the Chinese Year of the Dog, and as Pacy celebrates with her family, she finds out that this is the year she is supposed to "find herself." Universal themes of friendship, family, and finding one's passion in life make this novel appealing to readers of all backgrounds.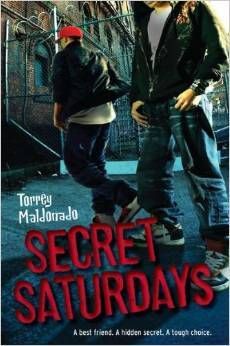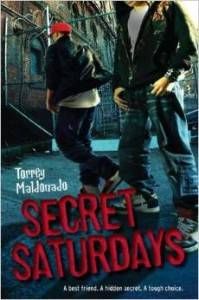 Secret Saturdays by Torrey Maldonado: Sean is Justin's best friend – or at least Justin thought he was. But lately Sean has been acting differently. He's been telling lies, getting into trouble at school, hanging out with a tougher crowd, even getting into fights. When Justin finally discovers that Sean's been secretly going to visit his father in prison and is dealing with the shame of that, Justin wants to do something to help before his friend spirals further out of control. But will trying to save Sean jeopardize their friendship? Should Justin risk losing his best friend in order to save him?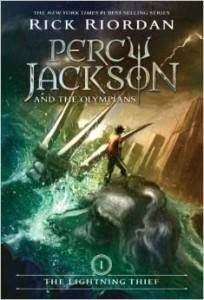 Percy Jackson and the Olympians series by Rick Riordan (first book in series: The Lightning Thief): After getting expelled from yet another school for yet another clash with mythological monsters only he can see, twelve-year-old Percy Jackson is taken to Camp Half-Blood, where he finally learns the truth about his unique abilities: He is a demigod, half human, half immortal. Even more stunning: His father is the Greek god Poseidon, ruler of the sea, making Percy one of the most powerful demigods alive. There's little time to process this news. All too soon, a cryptic prophecy from the Oracle sends Percy on his first quest, a mission to the Underworld to prevent a war among the gods of Olympus.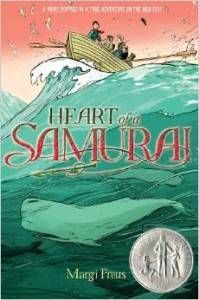 Heart of a Samurai by Margi Preus: In 1841 a Japanese fishing vessel sinks. Its crew is forced to swim to a small, unknown island, where they are rescued by a passing American ship. Japan's borders remain closed to all Western nations, so the crew sets off to America, learning English on the way.
Manjiro, a 14-year-old boy, is curious and eager to learn everything he can about this new culture. Eventually the captain adopts Manjiro and takes him to his home in New England. The boy lives there for some time and then heads to San Francisco to pan for gold. After many years, he makes it back to Japan, only to be imprisoned as an outsider. With his hard-won knowledge of the West, Manjiro is in a unique position to persuade the emperor to ease open the boundaries around Japan; he may even achieve his unlikely dream of becoming a samurai.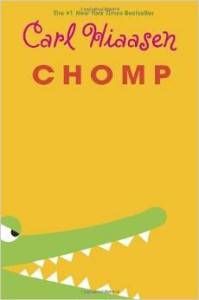 Chomp by Carl Hiaasen: Wahoo Cray lives in a zoo. His father is an animal wrangler, so he's grown up with all manner of gators, snakes, parrots, rats, monkeys, and snappers in his backyard. The critters, he can handle. His father is the unpredictable one. When his dad takes a job with a reality TV show called Expedition Survival!, Wahoo figures he'll have to do a bit of wrangling himself—to keep his dad from killing Derek Badger, the show's inept and egotistical star, before the shoot is over. But the job keeps getting more complicated. Derek Badger foolishly believes his own PR and insists on using wild animals for his stunts. And Wahoo's acquired a shadow named Tuna—a girl who's sporting a shiner courtesy of her father and needs a place to hide out. (See also Hoot, Flush, and Scat by the same author.)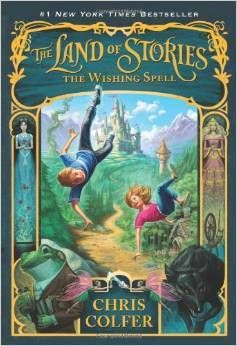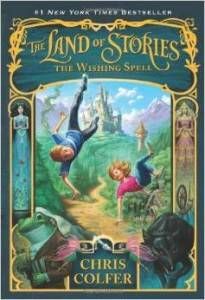 The Land of Stories series by Chris Colfer (first book: The Wishing Spell): Alex and Conner Bailey's world is about to change, in this fast-paced adventure that uniquely combines our modern day world with the enchanting realm of classic fairy tales. The Land of Stories tells the tale of twins Alex and Conner. Through the mysterious powers of a cherished book of stories, they leave their world behind and find themselves in a foreign land full of wonder and magic where they come face-to-face with the fairy tale characters they grew up reading about. But after a series of encounters with witches, wolves, goblins, and trolls alike, getting back home is going to be harder than they thought.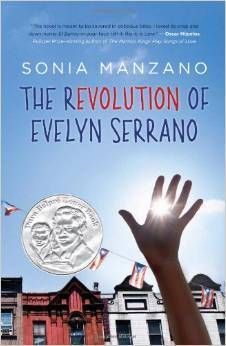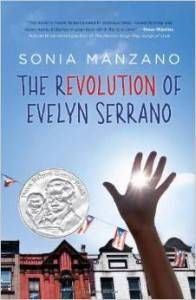 The Revolution of Evelyn Serrano by Sonia Manzano: There are two secrets Evelyn Serrano is keeping from her Mami and Papo: her true feelings about growing up in her Spanish Harlem neighborhood, and her attitude about Abuela, her sassy grandmother who's come from Puerto Rico to live with them. Then, like an urgent ticking clock, events erupt that change everything. The Young Lords, a Puerto Rican activist group, dump garbage in the street and set it on fire, igniting a powerful protest. When Abuela steps in to take charge, Evelyn is thrust into the action. Tempers flare, loyalties are tested. Through it all, Evelyn learns important truths about her Latino heritage and the history makers who shaped a nation.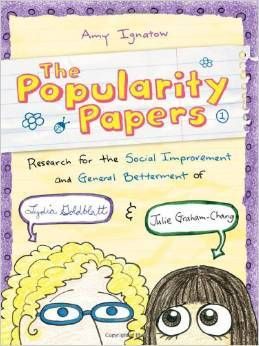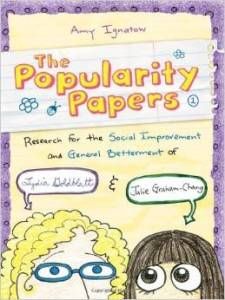 The Popularity Papers series by Amy Ignatow (first book in series: The Popularity Papers: Research for the Social Improvement and General Betterment of Lydia Goldblatt and Julie Graham-Chang): Lydia and Julie are best friends with one goal: to crack the code of popularity. Lydia's the bold one: aspiring theater star, stick-fighting enthusiast, and human guinea pig. Julie's the shy one: observer and artist, accidental field hockey jock, and faithful recorder. In this notebook they write down their observations and carry out experiments to try to determine what makes the popular girls tick. But somehow, the harder Lydia and Julie try to imitate the popular girls, the farther they get from their goal—and each other. Amy Ignatow understands friendship and the fifth grade, and she knows just how to wring humor out of ordinary and extraordinary moments.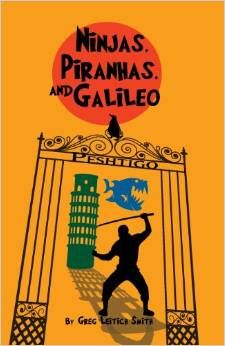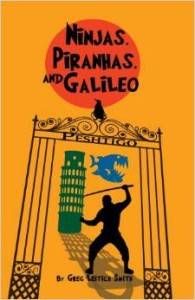 Ninjas, Piranhas, and Galileo by Greg Leitich Smith: Elias, Shohei, and Honoria have always been three united against That Which is The Peshtigo School. But suddenly understanding and sticking up for a best friend isn't as easy as it used to be. Elias, reluctant science fair participant, finds himself defying the authority of Mr. Ethan Eden, teacher king of chem lab. Shohei, all-around slacker, is approaching a showdown with his adoptive parents, who have decided that he needs to start "hearing" his ancestors. And Honoria, legal counsel extraordinaire, discovers that telling a best friend you like him, without actually telling him, is a lot harder than battling Goliath Reed or getting a piranha to become a vegetarian.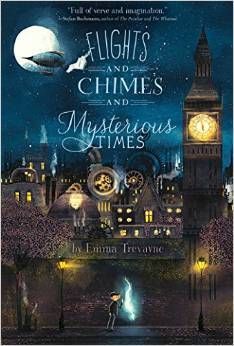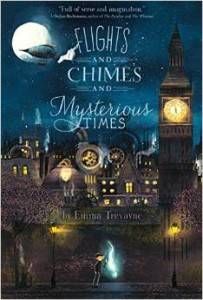 Flights and Chimes and Mysterious Times by Emma Trevayne: Ten-year-old Jack Foster has stepped through a doorway and into quite a different London. Londinium is a smoky, dark, and dangerous place, home to mischievous metal fairies and fearsome clockwork dragons that breathe scalding steam. The people wear goggles to protect their eyes, brass grill insets in their nostrils to filter air, or mechanical limbs to replace missing ones. Over it all rules the Lady, and the Lady has demanded a new son—a perfect flesh-and-blood child. She has chosen Jack. His only hope of escape lies with a legendary clockwork bird. The Gearwing grants wishes—or it did, before it was broken—before it was killed. But some things don't stay dead forever.
Hook's Revenge series by Heidi Shulz (first book in series: Hook's Revenge): Twelve-year-old Jocelyn dreams of becoming every bit as daring as her infamous father, Captain James Hook. Her grandfather, on the other hand, intends to see her starched and pressed into a fine society lady. When she's sent to Miss Eliza Crumb-Biddlecomb's Finishing School for Young Ladies, Jocelyn's hopes of following in her father's fearsome footsteps are lost in a heap of dance lessons, white gloves, and way too much pink.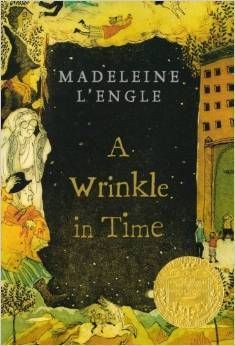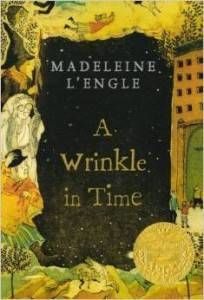 The Time Quintet by Madeleine L'Engle (first book in series: A Wrinkle in Time): It was a dark and stormy night; Meg Murry, her small brother Charles Wallace, and her mother had come down to the kitchen for a midnight snack when they were upset by the arrival of a most disturbing stranger. "Wild nights are my glory," the unearthly stranger told them. "I just got caught in a downdraft and blown off course. Let me sit down for a moment, and then I'll be on my way. Speaking of ways, by the way, there is such a thing as a tesseract." A tesseract (in case the reader doesn't know) is a wrinkle in time. A Wrinkle in Time is the story of the adventures in space and time of Meg, Charles Wallace, and Calvin O'Keefe (athlete, student, and one of the most popular boys in high school). They are in search of Meg's father, a scientist who disappeared while engaged in secret work for the government on the tesseract problem.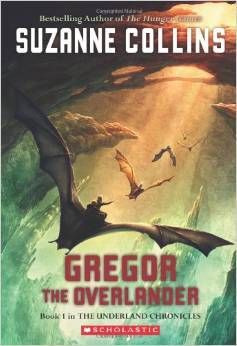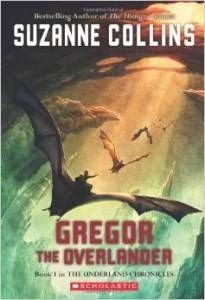 The Underland Chronicles series by Suzanne Collins (first book in series: Gregor the Overlander): In the first novel of the New York Times bestselling series by Suzanne Collins, author of The Hunger Games, young Gregor falls through a grate in the laundry room of his apartment building and hurtles into the dark Underland. This strange world is on the brink of war, and Gregor's arrival is no accident. A prophecy foretells that Gregor has a role to play in the Underland's uncertain future. Gregor wants no part of it — until he realizes it's the only way to solve the mystery of his father's disappearance. Gregor embarks on a dangerous adventure that will change both him and the Underland forever.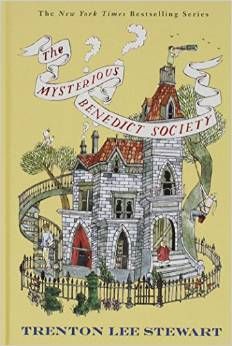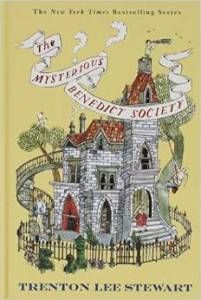 The Mysterious Benedict Society series by Trenton Lee Stewart (first book in series: The Mysterious Benedict Society): When this peculiar ad appears in the newspaper, dozens of children enroll to take a series of mysterious, mind-bending tests. (And you, dear reader, can test your wits right alongside them.) But in the end just four very special children will succeed. Their challenge: to go on a secret mission that only the most intelligent and resourceful children could complete. To accomplish it they will have to go undercover at the Learning Institute for the Very Enlightened, where the only rule is that there are no rules.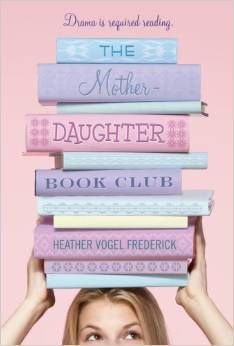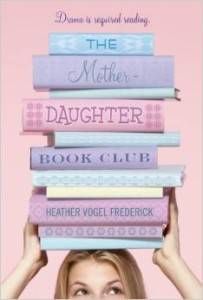 The Mother-Daughter Book Club series by Heather Vogel Frederick (first book in series: The Mother-Daughter Book Club): Even if Megan would rather be at the mall, Cassidy is late for hockey practice, Emma's already read every book in existence, and Jess is missing her mother too much to care, the new book club is scheduled to meet every month.
But what begins as a mom-imposed ritual of reading Little Women soon helps four unlikely friends navigate the drama of middle school. From stolen journals, to secret crushes, to a fashion-fiasco first dance, the girls are up to their Wellie boots in drama. They can't help but wonder: What would Jo March do?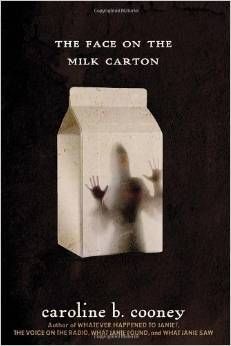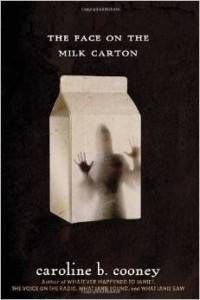 Janie Johnson series by Caroline B. Cooney (first book in series: The Face on the Milk Carton): No one ever really paid close attention to the faces of the missing children on the milk cartons. But as Janie Johnson glanced at the face of the ordinary little girl with her hair in tight pigtails, wearing a dress with a narrow white collar—a three-year-old who had been kidnapped twelve years before from a shopping mall in New Jersey—she felt overcome with shock. She recognized that little girl—it was she. How could it possibly be true? Janie can't believe that her loving parents kidnapped her, but as she begins to piece things together, nothing makes sense. Something is terribly wrong. Are Mr. and Mrs. Johnson really her parents? And if not, who is Janie Johnson, and what really happened?
Home Team series by Mike Lupica (first book in series: The Only Game): Jack Callahan is the star of his baseball team and sixth grade is supposed to be his year. Undefeated season. Records shattered. Little League World Series. The works. That is, until he up and quits. Jack's best friend Gus can't understand how Jack could leave a game that means more to them than anything else. But Jack is done. It's a year of change. Jack's brother has passed away, and though his family and friends and the whole town of Walton thinks baseball is just the thing he needs to move on, Jack feels it's anything but.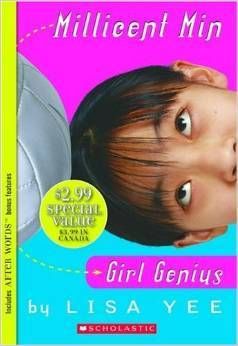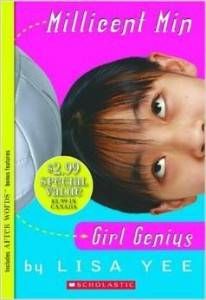 Millicent Min Trilogy by Lisa Yee (first book in series: Millicent Min, Girl Genius): Millicent Min is having a bad summer. Her fellow high school students hate her for setting the curve. Her fellow 11-year-olds hate her for going to high school. And her mother has arranged for her to tutor Stanford Wong, the poster boy for Chinese geekdom. But then Millie meets Emily. Emily doesn't know Millicent's IQ score. She actually thinks Millie is cool. And if Millie can hide her awards, ignore her grandmother's advice, swear her parents to silence, blackmail Stanford, and keep all her lies straight, she just might make her first friend. What's it gong to take? Sheer genius.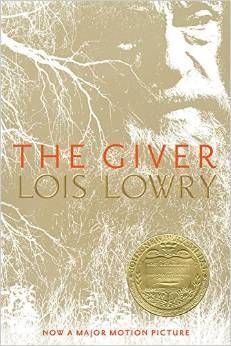 The Giver Quartet by Lois Lowry (first book in series: The Giver): The haunting story centers on twelve-year-old Jonas, who lives in a seemingly ideal, if colorless, world of conformity and contentment. Not until he is given his life assignment as the Receiver of Memory does he begin to understand the dark, complex secrets behind his fragile community.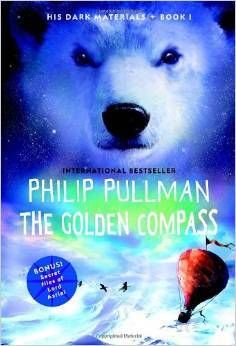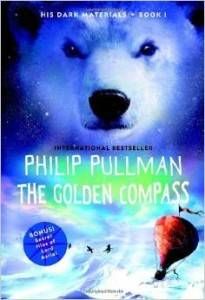 His Dark Materials Trilogy by Philip Pullman (first book in series: The Golden Compass): Lyra Belacqua is content to run wild among the scholars of Jodan College, with her daemon familiar always by her side. But the arrival of her fearsome uncle, Lord Asriel, draws her to the heart of a terrible struggle-a struggle born of Gobblers and stolen children, witch clans and armored bears. And as she hurtles toward danger in the cold far North, Lyra never suspects the shocking truth: she alone is destined to win, or to lose, this more-than-mortal battle. Philip Pullman's award-winning The Golden Compass is a masterwork of storytelling and suspense, critically acclaimed and hailed as a modern fantasy classic.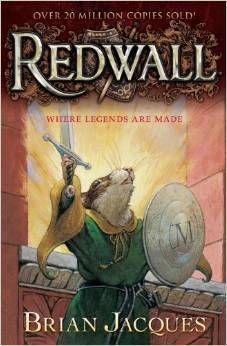 Redwall series by Brian Jacques (first book in series: Redwall): The question in this first volume is resoundingly clear: What can the peace-loving mice of Redwall Abbey do to defend themselves against Cluny the Scourge and his battle-seasoned army of rats? If only they had the sword of Martin the Warrior, they might have a chance. But the legendary weapon has long been forgotten-except, that is, by the bumbling young apprentice Matthias, who becomes the unlikeliest of heroes.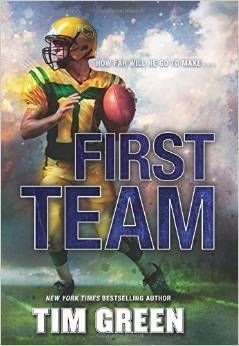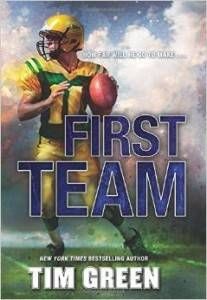 First Team by Tim Green: With his strong left arm, Brock knows he can be a great quarterback, and with the help of his new friend, Mak, he has a plan to make the first team. But the coaches have plans of their own, especially for the kids from the wrong side of the tracks, which is exactly where Brock now lives. As Brock is trying to fit in, his father's past is catching up to him—and one chance meeting causes everything to come crashing down. Will Brock finally be able to navigate his new life, or will his past force him back on the run? (Try also Perfect Season, Unstoppable, and Force Out by the same author.)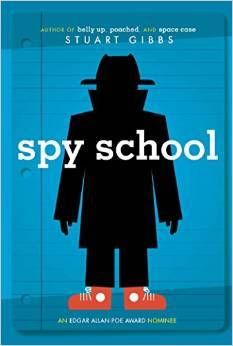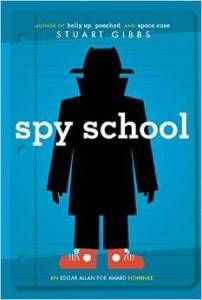 Spy School series by Stuart Gibbs (first book in series: Spy School): Can an undercover nerd become a superstar agent? Ben Ripley sure hopes so—and his life may depend on it! Ben Ripley may only be in middle school, but he's already pegged his dream job: C.I.A. or bust. Unfortunately for him, his personality doesn't exactly scream "secret agent." In fact, Ben is so awkward, he can barely get to school and back without a mishap. Because of his innate nerdiness, Ben is not surprised when he is recruited for a magnet school with a focus on science—but he's entirely shocked to discover that the school is actually a front for a junior C.I.A. academy. Could the C.I.A. really want him?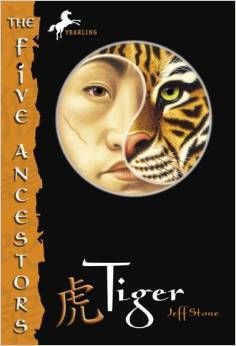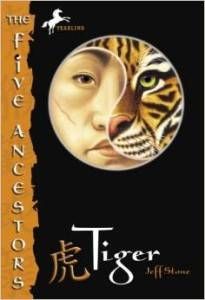 The Five Ancestors series by Jeff Stone (first book in series: Tiger): Twelve-year-old Fu and his temple brothers Malao, Seh, Hok, and Long don't know who their parents were. Raised from infancy by their grandmaster, they think of their temple as their home and their fellow warrior monks—their "temple brothers"—as their family. Then one terrible night, the temple is destroyed. Fu and his brothers are the only survivors. Charged by their grandmaster to uncover the secrets of their past, the five flee into the countryside and go their separate ways. Book #1 follows Fu as he struggles to find out more and prove himself in the process.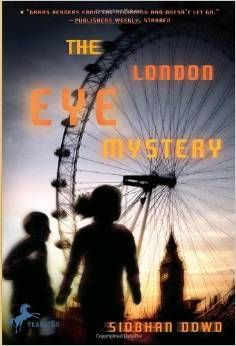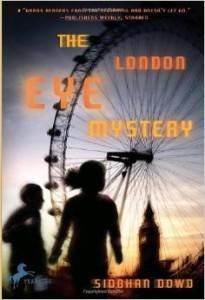 The London Eye Mystery by Siobhan Dowd: Ted and Kat watched their cousin Salim board the London Eye, but after half an hour it landed and everyone trooped off—except Salim. Where could he have gone? How on earth could he have disappeared into thin air? Ted and his older sister, Kat, become sleuthing partners, since the police are having no luck. Despite their prickly relationship, they overcome their differences to follow a trail of clues across London in a desperate bid to find their cousin. And ultimately it comes down to Ted, whose brain works in its own very unique way, to find the key to the mystery.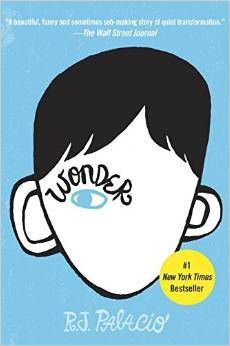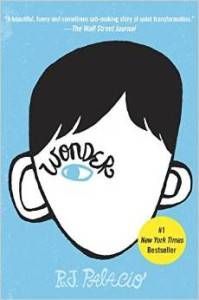 Wonder by R.J. Palacio: August Pullman was born with a facial difference that, up until now, has prevented him from going to a mainstream school. Starting 5th grade at Beecher Prep, he wants nothing more than to be treated as an ordinary kid—but his new classmates can't get past Auggie's extraordinary face. It begins from Auggie's point of view, but soon switches to include his classmates, his sister, her boyfriend, and others. These perspectives converge in a portrait of one community's struggle with empathy, compassion, and acceptance.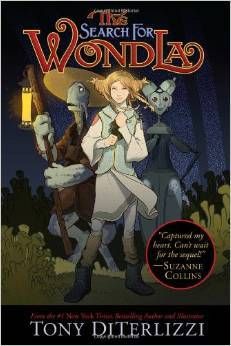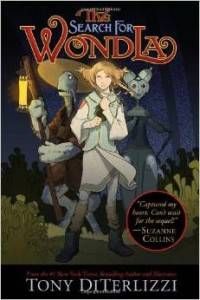 The Search for Wondla series by Tony DiTerlizzi (first book in series: The Search for Wondla): When a marauder destroys the underground sanctuary that Eva Nine was raised in by the robot Muthr, the twelve-year-year-old girl is forced to flee aboveground. Eva Nine is searching for anyone else like her: She knows that other humans exist because of an item she treasures—a scrap of cardboard on which is depicted a young girl, an adult, and a robot, with the strange word, "WondLa."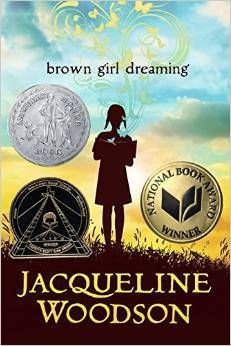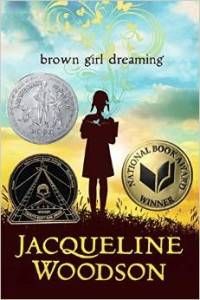 Brown Girl Dreaming by Jacqueline Woodson: Raised in South Carolina and New York, Woodson always felt halfway home in each place. In vivid poems, she shares what it was like to grow up as an African American in the 1960s and 1970s, living with the remnants of Jim Crow and her growing awareness of the Civil Rights movement. Touching and powerful, each poem is both accessible and emotionally charged, each line a glimpse into a child's soul as she searches for her place in the world. Woodson's eloquent poetry also reflects the joy of finding her voice through writing stories, despite the fact that she struggled with reading as a child. Her love of stories inspired her and stayed with her, creating the first sparks of the gifted writer she was to become.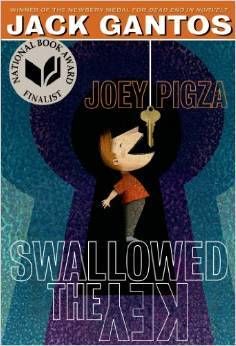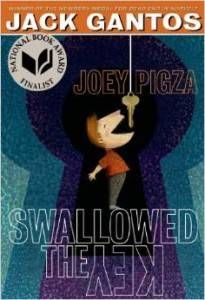 Joey Pigza series by Jack Gantos (first book in series: Joey Pigza Swallowed the Key): Joey Pigza's got heart, he's got a mom who loves him, and he's got "dud meds," which is what he calls the Ritalin pills that are supposed to even out his wild mood swings. Sometimes Joey makes bad choices. He learns the hard way that he shouldn't stick his finger in the pencil sharpener, or swallow his house key, or run with scissors. Joey ends up bouncing around a lot – and eventually he bounces himself all the way downtown, into the district special-ed program, which could be the end of the line. As Joey knows, if he keeps making bad choices, he could just fall between the cracks for good. But he is determined not to let that happen.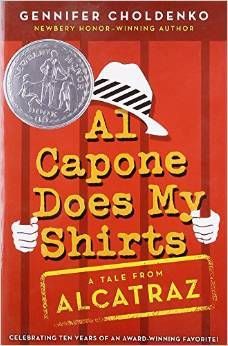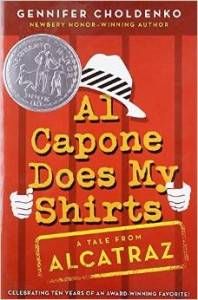 Al Capone series by Gennifer Choldenko (first book in series: Al Capone Does My Shirts): Today I moved to a twelve-acre rock covered with cement, topped with bird turd and surrounded by water. I'm not the only kid who lives here. There's my sister, Natalie, except she doesn't count. And there are twenty-three other kids who live on the island because their dads work as guards or cook's or doctors or electricians for the prison, like my dad does. Plus, there are a ton of murderers, rapists, hit men, con men, stickup men, embezzlers, connivers, burglars, kidnappers and maybe even an innocent man or two, though I doubt it. The convicts we have are the kind other prisons don't want. I never knew prisons could be picky, but I guess they can. You get to Alcatraz by being the worst of the worst. Unless you're me. I came here because my mother said I had to.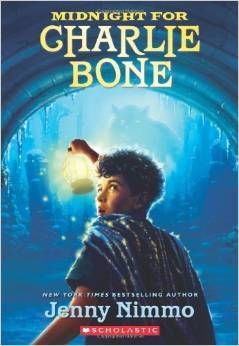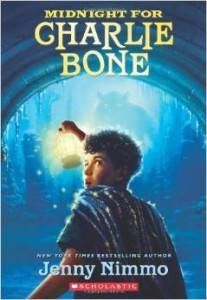 Children of the Red King series by Jenny Nimmo (first book in series: Midnight for Charlie Bone): A mysterious case, the search for a missing girl, and a legacy of magic . . . When Charlie Bone discovers that he can hear the conversations of people in photographs, he is shipped off to Bloor's Academy, an elite school for the rich, gifted, and magically endowed. Once there, he realizes that some of his classmates have equally mysterious powers, and Charlie becomes absorbed in uncovering their dangerous secrets.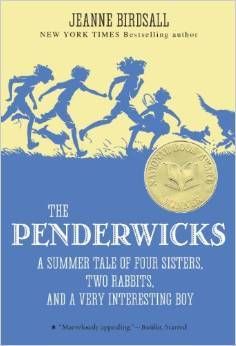 The Penderwicks series by Jeanne Birdsall (first book in series: The Penderwicks: A Summer Tale of Four Sisters, Two Rabbits, and a Very Interesting Boy): This summer the Penderwick sisters have a wonderful surprise: a holiday on the grounds of a beautiful estate called Arundel. Soon they are busy discovering the summertime magic of Arundel's sprawling gardens, treasure-filled attic, tame rabbits, and the cook who makes the best gingerbread in Massachusetts. But the best discovery of all is Jeffrey Tifton, son of Arundel's owner, who quickly proves to be the perfect companion for their adventures. The icy-hearted Mrs. Tifton is not as pleased with the Penderwicks as Jeffrey is, though, and warns the new friends to stay out of trouble. Which, of course, they will—won't they? One thing's for sure: it will be a summer the Penderwicks will never forget.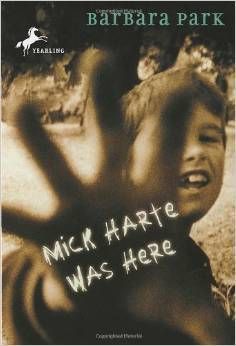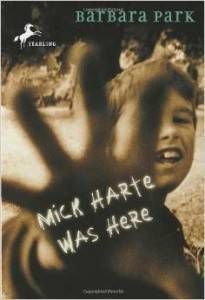 Mick Harte Was Here by Barbara Park: How could someone like Phoebe's brother die? Mick Harte was one of the coolest kids you'd ever want to meet. Mick was also the kid who would still be alive now—if he'd only worn his bicycle helmet. . . .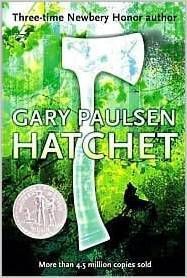 Brian's Saga Book series by Gary Paulsen (first book in series: Hatchet): Thirteen-year-old Brian Robeson is on his way to visit his father when the single-engine plane in which he is flying crashes. Suddenly, Brian finds himself alone in the Canadian wilderness with nothing but a tattered Windbreaker and the hatchet his mother gave him as a present—and the dreadful secret that has been tearing him apart since his parent's divorce. But now Brian has no time for anger, self pity, or despair—it will take all his know-how and determination, and more courage than he knew he possessed, to survive.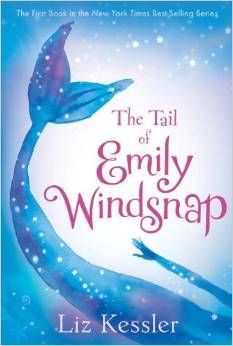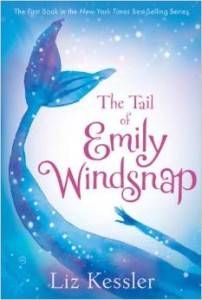 The Tail of Emily Windsnap series by Liz Kessler (first book in series: The Tail of Emily Windsnap): For as long as she can remember, twelve-year-old Emily Windsnap has lived on a boat. And, oddly enough, for just as long, her mother has seemed anxious to keep Emily away from the water. But when Mom finally agrees to let her take swimming lessons, Emily makes a startling discovery — about her own identity, the mysterious father she's never met, and the thrilling possibilities and perils shimmering deep below the water's surface. With a sure sense of suspense and richly imaginative details, first-time author Liz Kessler lures us into a glorious undersea world where mermaids study shipwrecks at school and Neptune rules with an iron trident — an enchanting fantasy about family secrets, loyal friendship, and the convention-defying power of love.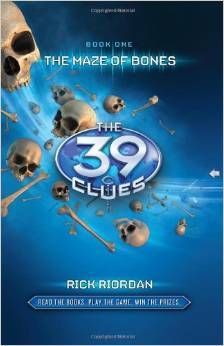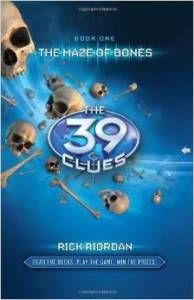 The 39 Clues series by Rick Riordan (first book in series: The Maze of Bones): Minutes before she died Grace Cahill changed her will, leaving her decendants an impossible decision: "You have a choice – one million dollars or a clue."
Grace is the last matriarch of the Cahills, the world's most powerful family. Everyone from Napoleon to Houdini is related to the Cahills, yet the source of the family power is lost. 39 Clues hidden around the world will reveal the family's secret, but no one has been able to assemble them. Now the clues race is on, and young Amy and Dan must decide what's important: hunting clues or uncovering what REALLY happened to their parents.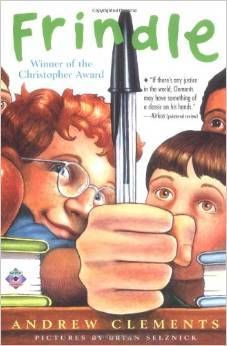 Frindle by Andrew Clements: Is Nick Allen a troublemaker? He really just likes to liven things up at school — and he's always had plenty of great ideas. When Nick learns some interesting information about how words are created, suddenly he's got the inspiration for his best plan ever…the frindle. Who says a pen has to be called a pen? Why not call it a frindle? Things begin innocently enough as Nick gets his friends to use the new word. Then other people in town start saying frindle. Soon the school is in an uproar, and Nick has become a local hero. His teacher wants Nick to put an end to all this nonsense, but the funny thing is frindle doesn't belong to Nick anymore. The new word is spreading across the country, and there's nothing Nick can do to stop it.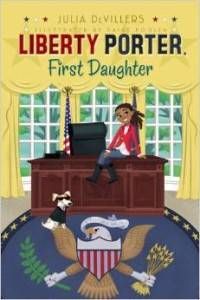 Liberty Porter, First Daughter series by Julia Devillers (first book in series: Liberty Porter, First Daughter): In Liberty Porter First Daughter, eight-year-old Liberty Porter's father has just been elected President of the United States—and she's the new First Daughter! As Liberty moves into the White House, she vows to make herself indispensable to her country—but can she get past her run-ins with the Chief of Staff?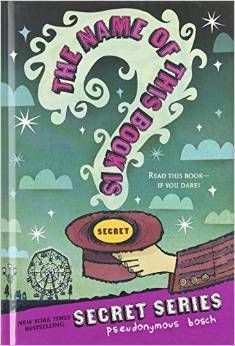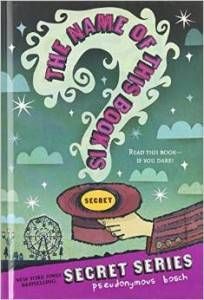 The Secret Series by Pseudonymous Bosch (first book in series: The Name of this Book is Secret): Warning: this description has not been authorized by Pseudonymous Bosch. As much as he'd love to sing the praises of his book (he is very vain), he wouldn't want you to hear about his brave 11-year old heroes, Cass and Max-Ernest. Or about how a mysterious box of vials, the Symphony of Smells, sends them on the trail of a magician who has vanished under strange (and stinky) circumstances. And he certainly wouldn't want you to know about the hair-raising adventures that follow and the nefarious villains they face. You see, not only is the name of this book secret, the story inside is, too. For it concerns a secret. A Big Secret.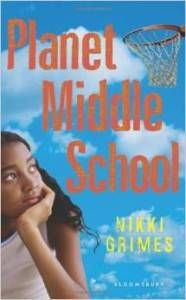 Planet Middle School by Nikki Grimes: For twelve years, Joylin Johnson's life has been just fine, thank you very much. A game of basketball with the boys-especially her friend Jake-was all it took to put a smile on her face. Baggy jeans, T-shirt, and hair in a ponytail were easy choices. Then suddenly the world seemed to turn upside down, and everything changed at once. Her best girl friend is now flirting with her best guy friend. Her clothes seem all wrong. Jake is acting weird, and basketball isn't the same. And worst of all, there is this guy, Santiago, who appears from . . . where? What lengths will Joy go to-and whom will she become-to attract his attention?
Non-Fiction:
There are great biographies that make famous people really come alive to kids. Go to the biography section at the local library and grab whatever might look interesting, or try these two series and see what you think.
Childhood of Young Americans Series
Graphic Novels:
El Deafo by Cece Bell: Going to school and making new friends can be tough. But going to school and making new friends while wearing a bulky hearing aid strapped to your chest? That requires superpowers! In this funny, poignant graphic novel memoir, author/illustrator Cece Bell chronicles her hearing loss at a young age and her subsequent experiences with the Phonic Ear, a very powerful—and very awkward—hearing aid. The Phonic Ear gives Cece the ability to hear—sometimes things she shouldn't—but also isolates her from her classmates. She really just wants to fit in and find a true friend, someone who appreciates her as she is. After some trouble, she is finally able to harness the power of the Phonic Ear and become "El Deafo, Listener for All." And more importantly, declare a place for herself in the world and find the friend she's longed for.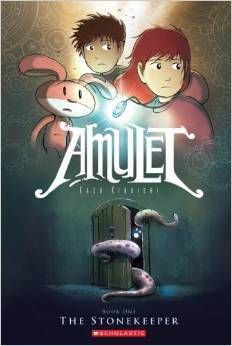 Amulet series by Kazu Kibuishi (first book in series: The Stonekeeper): After the tragic death of their father, Emily and Navin move with their mother to the home of her deceased great-grandfather, but the strange house proves to be dangerous. Before long, a sinister creature lures the kids' mom through a door in the basement. Em and Navin, desperate not to lose her, follow her into an underground world inhabited by demons, robots, and talking animals. Eventually, they enlist the help of a small mechanical rabbit named Miskit. Together with Miskit, they face the most terrifying monster of all, and Em finally has the chance to save someone she loves.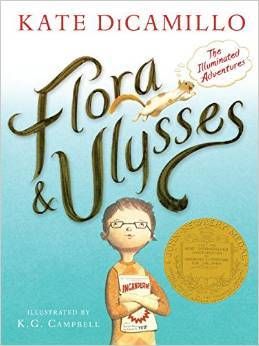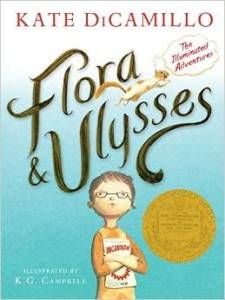 Flora and Ulysses: The Illuminated Adventures by Kate DiCamillo: It begins, as the best superhero stories do, with a tragic accident that has unexpected consequences. The squirrel never saw the vacuum cleaner coming, but self-described cynic Flora Belle Buckman, who has read every issue of the comic book Terrible Things Can Happen to You!, is the just the right person to step in and save him. What neither can predict is that Ulysses (the squirrel) has been born anew, with powers of strength, flight, and misspelled poetry — and that Flora will be changed too, as she discovers the possibility of hope and the promise of a capacious heart.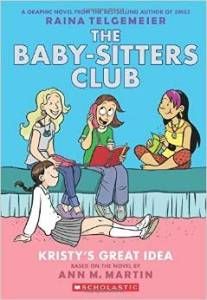 The Baby-Sitter's Club Graphix series by Ann M. Martin and illustrated by Raina Telgemeier (first book in series: Kristy's Great Idea): Kristy, Mary Anne, Claudia, and Stacey are best friends and founding members of The Baby-sitters Club. Whatever comes up — cranky toddlers, huge dogs, scary neighbors, prank calls — you can count on them to save the day. But baby-sitting isn't always easy, and neither is dealing with strict parents, new families, fashion emergencies, and mysterious secrets. But no matter what, the BSC have what they need most: friendship.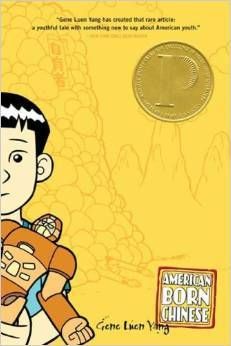 American Born Chinese by Gene Luen Yang: Jin Wang starts at a new school where he's the only Chinese-American student. When a boy from Taiwan joins his class, Jin doesn't want to be associated with an FOB like him. Jin just wants to be an all-American boy, because he's in love with an all-American girl. Danny is an all-American boy: great at basketball, popular with the girls. But his obnoxious Chinese cousin Chin-Kee's annual visit is such a disaster that it ruins Danny's reputation at school, leaving him with no choice but to transfer somewhere he can start all over again. The Monkey King has lived for thousands of years and mastered the arts of kung fu and the heavenly disciplines. He's ready to join the ranks of the immortal gods in heaven. But there's no place in heaven for a monkey. Each of these characters cannot help himself alone, but how can they possibly help each other? They're going to have to find a way–if they want fix the disasters their lives have become.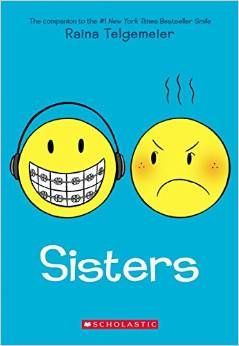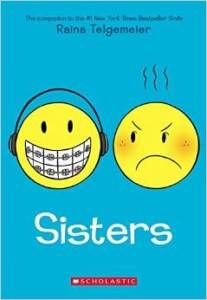 Sisters by Raina Telgemeier: Raina can't wait to be a big sister. But once Amara is born, things aren't quite how she expected them to be. Amara is cute, but she's also a cranky, grouchy baby, and mostly prefers to play by herself. Their relationship doesn't improve much over the years, but when a baby brother enters the picture and later, something doesn't seem right between their parents, they realize they must figure out how to get along. They are sisters, after all. (Try also Smile and Drama by the same author.)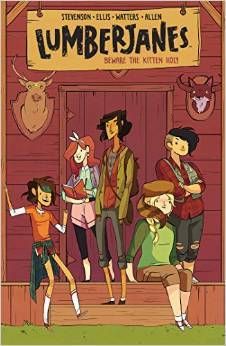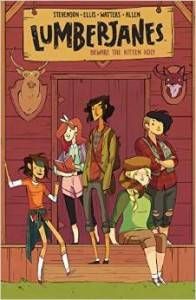 Lumberjanes by Noelle Stevenson, Grace Ellis, Brooke Allen, and Shannon Watters: Five best friends spending the summer at Lumberjane scout camp…defeating yetis, three-eyed wolves, and giant falcons…what's not to love?! Friendship to the max! Jo, April, Mal, Molly and Ripley are five best pals determined to have an awesome summer together…and they're not gonna let any insane quest or an array of supernatural critters get in their way!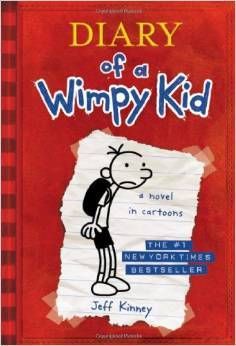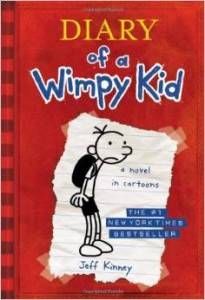 Diary of a Wimpy Kid series by Jeff Kinney (first book in series: Diary of a Wimpy Kid): It's a new school year, and Greg Heffley finds himself thrust into middle school, where undersized weaklings share the hallways with kids who are taller, meaner, and already shaving. The hazards of growing up before you're ready are uniquely revealed through words and drawings as Greg records them in his diary.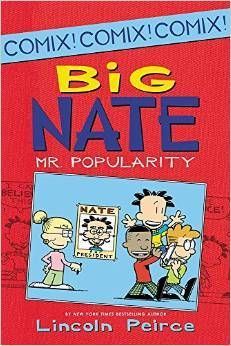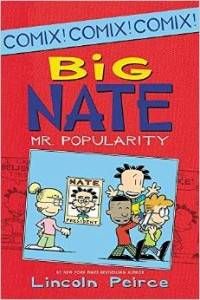 Big Nate: Mr. Popularity by Lincoln Pierce: "Nate decides to run for class president, hoping to beat out his more popular competition. With Francis's help, he might just be able to do it. Dealing with School Picture Day, playing on the basketball team, and coping with crushes are just some of the hijinks Nate gets into in this comics collection." (School Library Journal)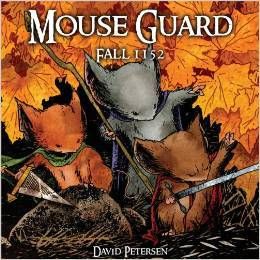 Mouse Guard series by David Petersen (first book in series: Mouse Guard: Fall 1152): In the world of Mouse Guard, mice struggle to live safely and prosper amongst harsh conditions and a host of predators. Thus the Mouse Guard was formed: more than just soldiers that fight off intruders, they are guides for common mice looking to journey without confrontation from one hidden village to another. The Guard patrol borders, find safeways and paths through dangerous territories and treacherous terrain, watch weather patterns, and keep the mouse territories free of predatory infestation. They do so with fearless dedication so that they might not just exist, but truly live.
Audiobooks
You can check out audiobooks at your local library or get a subscription service through Audible or audiobooks.com. Load up the iPod and bring these books along during your summer travel!
More Suggestions!
Read Out Loud (Yes, read aloud to 12 and 13 year olds!)
Kids twelve and thirteen still want to be read to, even if they've been reading independently for many years (and even though they may ask you to read to them only when no one else can see them). Read classics that you might have loved out loud with your kid. Ann M. Martin's The Baby-Sitters Club, Lloyd Alexander's The Book of Three, Francine Pascal's Sweet Valley High, Carolyn Keene's Nancy Drew, C.S. Lewis' The Chronicles of Narnia, Susan Cooper's The Dark is Rising, J.R.R. Tolkien's The Lord of the Rings.
BONUS: Look for the original books covers you remember from used bookstores, on Ebay, or at your local Goodwill.
Research Favorite Authors and Check Out Book Websites
Look up your favorite author to see if s/he has a website (they usually do!). Websites have FAQs, extra resources, and announcements for book readings or when their next book is coming out.
NPR has an excellent podcast series called Backseat Book Club where they interview authors and review books. There are great recommendations on there, and hearing the authors talk about their inspiration and why they wrote their stories might inspire kids to pick up the books.
Rita Meade spoke about middle grade books with author Heidi Schulz and had some excellent suggestions here on Book Riot's Dear Book Nerd Episode #35.
Read Books that Inspired Movies and Television Shows: Watch the movie then read the book or vice versa, then talk about what you might have liked from each. There might be productions and local theater companies performing shows based on books as well, so keep an eye out for those! Some reviews and more book/movie pairings can be found on FromtheMixed-UpFiles.com.
The True Meaning of Smekday by Adam Rex (Home the movie)
Harriet the Spy by Louise Fitzhugh (movie)
Freaky Friday by Mary Rodgers (movie)
Charlie and the Chocolate Factory by Roald Dahl (movie)
Because of Winn-Dixie by Kate DiCamillo (movie)
Matilda by Roald Dahl (movie and Broadway musical)
Ender's Game by Orson Scott Card (movie)
My Side of the Mountain by Jean Craighead George (movie)
Mr. Popper's Penguins by Richard and Florence Atwater (movie)
How to Train Your Dragon series by Cressida Cowell (movie)
The Invention of Hugo Cabret by Brian Selznick (movie)
Jeremy Fink and the Meaning of Life by Wendy Mass (movie)
A Wrinkle in Time by Madeleine L'Engle (movie)
Nim's Island by Wendy Orr (movie)
The Tale of Despereux by Kate DiCamillo (movie)
Fantastic Mr. Fox by Roald Dahl (movie)
Coraline by Neil Gaiman (movie)
Join Summer Reading Programs
Public Library Summer Reading Programs usually have great programs with prizes and events.
Barnes and Noble Summer Reading Program
Pizza Hut Book It Program (details will be announced on June 22)
I hope this list is helpful and keeps your reluctant readers busy throughout the summer!