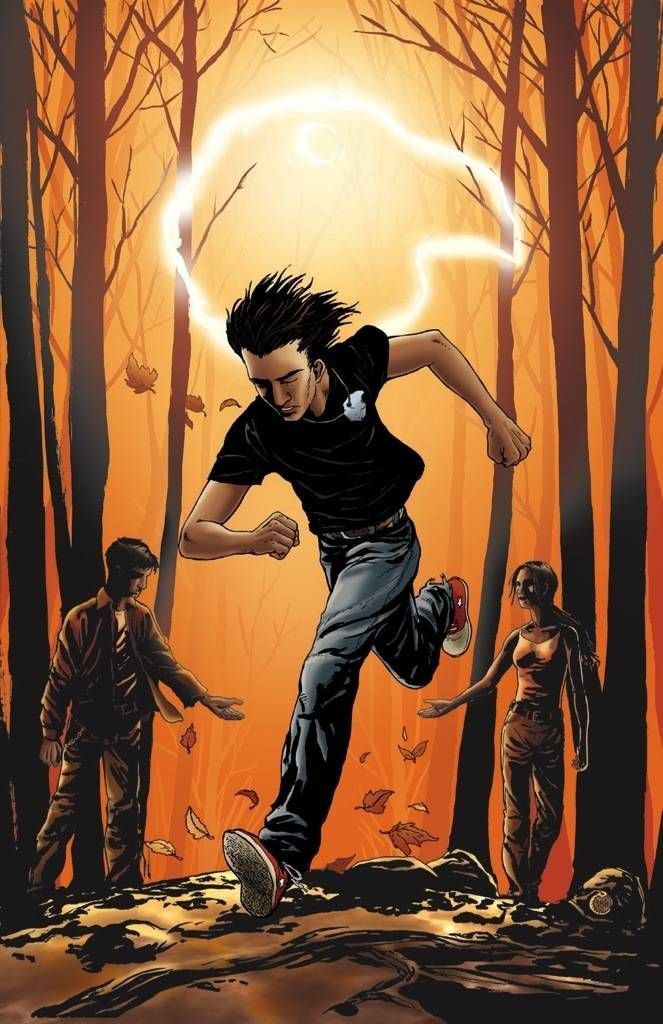 Red: A Haida Manga by Michael Nicoll Yahgulanaas
The Haida are a North-Pacific island people with a highly developed and very distinctive artistic tradition. In Red: A Haida Manga, Yahgulanaas tells an ancient Haida story of loss and redemption, but eschews sequential Western storytelling forms for the fluidity and flexibility of manga. As he described it in a recent Reddit AMA:
What I learned from that general experience was something called Manga back in 2000. Manga at that point was not widely known in the western world, and they were talking about Manga-ka as quite well-known and respected artists. They were well-paid, published, people saw their artwork as a respectable contribution to the community. Compare that to what's happening in North America – the purview of young men suffering from hormone toxicity levels. It's not high brow art. So I was thinking I'm trying to take a complex, ancient iconic art form – which is totem poles, which is my cultural birthright, I guess, and translate that in a way that becomes accessible to regular people in primarily North America.

And the way to do it, I feel, is to do it in comic books. Because comic books are accessible. As much as the market used to be driven by young men, the thing about comic books is you don't need to be educated or privileged in any sense – you can come from any cultural background and read a comic book. I thought that using that medium would be a way to connect what I'd spend 30 years defending as a political activist.

So that's where I created Haida Manga.
Reading Red: A Haida Manga is visually overwhelming. The non-linear storytelling means you have to work hard to make sense of what is going on, and for readers not comfortable with manga the lack of rigid borders is confusing. But if you stick with Red: A Haida Manga, what you discover at the end is that all the pages can be rearranged to form a mural made up of the archetypal Haida totem figures.
Whoa, right? You can watch a video of the creation process below.
[youtube]https://youtu.be/POMbyPLhqRI[/youtube]
7 Generations: A Plains Cree Saga by David Alexander Robertson and Scott B. Henderson
7 Generations is made up of four books that tell the story of Edwin, a Plains Cree teenager, who at the opening of the saga has just attempted suicide. Through the four volumes, Stone, Scars, Ends/Begins, and The Pact, Edwin must learn how his family history has shaped him if he is going to recover from generations of trauma.
This is a hugely effecting collection, tracing intergenerational trauma in indigenous communities from the time of European contact onwards. Edwin learns why his father, James, has never been able to parent him, and together they learn what it will take to heal and move forward. And yet it never feels like an after-school special; Edwin is honest and real, and his family's struggles are presented warts-and-all. This comic is achingly honest.
You can watch the trailer for the collected special edition here:
[youtube]https://www.youtube.com/watch?v=pcsjANq0oJI[/youtube]
There are other series in the offing, including the suggestion that Jon Proudstar might soon relaunch Tribal Force. I would love to get more recommendations of comics by Indigenous artists. Do you have a favourite? Please share it in the comments.