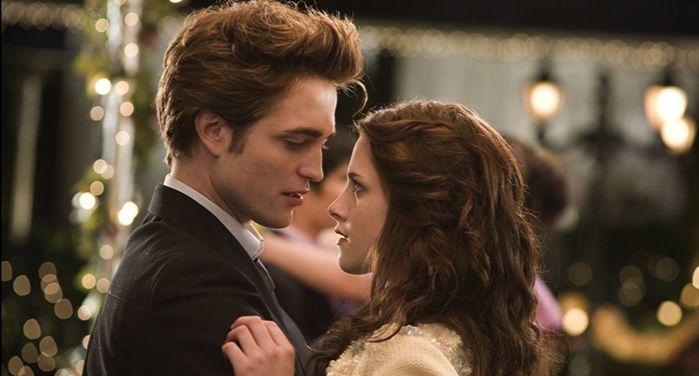 Pop Culture
The TWILIGHT Soundtrack: A Deep Dive Into A Classic
Do you ever listen to a soundtrack and think, "This film did not deserve a soundtrack of this caliber." This is how I feel about the Twilight movie soundtracks. (See also, the Fifty Shades movies.) No matter your view on the franchise, you can't deny that the music was pretty damn perfect, ushering in a new era of fans for bands like Paramore and Death Cab for Cutie. Here are some interesting factoids about the Twilight soundtracks!
Robert Pattinson Contributed to the First Soundtrack…
Twi-hards already know this, but Robert Pattinson flexed more than his acting chops and sparkly muscles in the first Twilight film. He has two tracks featured in the movie, one even makes it onto the official soundtrack. "Never Think" plays after Edward stalks Bella to Port Angeles and saves her from the biker boys and they go for some mushroom ravioli at a local restaurant. If you have a hard time remembering a song being played, it's understandable. It's subtle, and Pattinson's "singing" in this song is mostly melodic mumbling…crooning? And "Let Me Sign" plays as Edward sucks out James's venom from Bella's arm at the end of the ballet studio battle.
…But He Almost Didn't
Before you start to think that this was a super convenient way for Pattinson to also feature his music in what was sure to be a blockbuster hit, apparently director Catherine Hardwicke got a hold of his songs and put them in the footage without getting Pattinson's permission first. In fact, Hardwicke originally asked Pattinson to create the love theme for the film and he refused. But don't worry, he did eventually consent to having his music in the film (unlike Bella consenting to him watching her sleep, but that is another problem for another time).
Music Is Important to Stephenie Meyer
Before the Twilight series was even picked up for adaptation, author Stephenie Meyer had made it clear to fans of the series how much music inspired her during the writing process. On her website, she has made playlists with songs she hears in her head while reading the book
Stephenie's playlists can also be found on her Spotify:
We Can Thank a Woman for the Epic Twilight Soundtrack
Music supervisor Alexandra Patsavas is a true master of creating soundtracks and has worked in the music department of over 60 films and television shows. Some of her most notable work is on the TV show The O.C., which has been widespread credited for introducing a generation of new, up-and-coming artists to viewers. As part of her role on the show, Patsavas was in charge of both approaching bands and artists about recording exclusive covers for the show, as well as identifying promising unsigned or underground performers. Patsavas brought her skills to all five of the Twilight movie soundtracks.
Impact on the Music Industry
Inspired by many of Stephenie's own playlists, the official movie soundtracks became known for their eclectic mix of mainstream and underground. Similarly to Patsavas's other work, the power of the Twilight soundtracks helped to boost sales for artists who would not typically be in the music repertoire of the Twilight demographic. Alternative and indie rock artists such as Muse, Death Cab for Cutie, The Black Keys, St. Vincent, and Bon Iver all benefited from what Boston Herald music and theater writer Jed Gottlieb called the "Twilight bump."
For example, Muse, a band very close to Meyer's own heart, appeared on the first three soundtracks. Bassist Chris Wolstenholme said to the BBC that the films were not "their cup of tea," but sometimes to make it big in America, you have to "sell your soul." However begrudgingly, they couldn't ignore the fact that the franchise played a large role in their breaking into the U.S. market.
"British band Muse has one Top 40 hit in the States…but last year the trio sold out the TD Garden. How? Muse appeared on the first three 'Twilight' soundtracks," Gottlieb wrote back in his 2011 review of The Twilight Saga: Breaking Dawn, Part I (Original Motion Picture Soundtrack). "Such is the kingmaker power of 'Twilight.'
Recognition & Success
The Twilight soundtrack debuted at #1 on the Billboard 200 chart and was eventually certified double platinum. The soundtrack stayed on the Billboard 200 chart for 48 consecutive weeks. In addition, the soundtrack hit #1 prior to the official release (preorders), the first soundtrack to do so since the 8 Mile soundtrack six years previously in 2002. The soundtrack and its lead single, "Decode" by Paramore, were nominated at the 2010 Grammy Awards in the categories of Best Compilation Soundtrack Album and Best Song Written For Motion Picture, Television Or Other Visual Media, respectively. The subsequent soundtracks also performed well but were not as successful as the original.
Twilight Soundtrack Greatest Hits
"Decode" by Paramore
Lead singer Hayley Williams is a self-proclaimed super fan of the series and once the news about the film began to circulate, she was determined to be a part of it. Williams reportedly wrote the lyrics to "Decode" and went to Hardwicke directly. Fun fact: when Williams first played the song for her bandmates, they initially thought the lyrics were too "harsh" until she explained what the book was about.
"Supermassive Black Hole" by Muse
Sorry Muse, but this song will forever be known as The Baseball Song. Hardwicke even told INSIDER this past November, in a retrospective for the film's 12th anniversary, that they "did not ever have another song because we knew how much Stephenie loved Muse." This is one song that was for sure a home run. (Sorry, the pun was too easy.)
"A Thousand Years" by Christina Perri
The song was written by Perri and David Hodges specifically for Breaking Dawn Part I, playing as the second song during the end credits. The song became known as a "sleeper hit" after fans got to hear the song in its entirety on the soundtrack. The song eventually peaked at 31 on the Billboard 200 Chart and has gone seven-times platinum. The success of the song prompted the team to use it again in Breaking Dawn Part II, this time with an extra verse and a duet with Steve Kazee. In an interview with Teen Vogue, Perri remarked that the song was meant to capture Edward and Bella's "epic" love story.
"[The song] plays during the last moments that we see Edward and Bella, and then a curtain call of the whole cast, so it's pretty epic. Now the song is not just for Edward and Bella; it's for the whole franchise," Perri said to Teen Vogue. "It's crazy for my little Twihard heart."
"Flightless Bird, American Mouth" by Iron & Wine
This song has become iconic for the Twilight series, playing both during the prom scene at the end of the first film and a special wedding mix was created for Edward and Bella's wedding in Breaking Dawn Part I. In an interview with Entertainment Weekly, Stewart revealed that she would play the song during rehearsals for the prom scene and then again when they actually filmed.
Some of my personal favorites also include "Leave Out All The Rest" by Linkin Park, "Eyes on Fire" by Blue Foundation (also check out the amazing So You Think You Can Dance performance to this song!) and "Possibility" by Lykke Li (who deserves more recognition than that random inclusion in a Glee episode). And also, "It Will Rain" by Bruno Mars is an amazing song to cry to.
Stream on Spotify, Apple Music, Amazon Music, Tidal
---
More Twilight content from Book Riot: