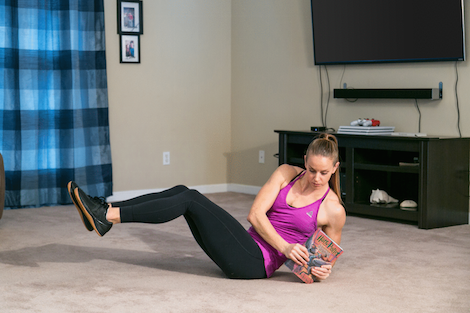 Turn a Harry Potter Movie Marathon into an At-Home Workout: Critical Linking, January 14, 2018
In celebration of HBO Go's recent release of all eight films, Rebook Crossfit athlete (and a self-described "Harry Potter nerd"), Lindy Barberhas put together a series of exercises inspired by the world of wizardry. That way, you can enjoy your movie marathon, without feeling bad about sitting in front of a screen all day.
"With fitness being such a big aspect of my life, I don't spend much time on the couch just watching TV," Barber tells PEOPLE. "I try not to be sedentary for long periods of time. But if you tell me there's a Harry Potter marathon on, that might be the game changer."
Barber's solution? Seven easy-to-follow moves (see below) to tone up while you watch. And, with about 20 hours of Harry Potter film-time total, there's no excuse not to fit these in.
Just when you thought we'd hit peak Harry Potter everything, there comes along a workout for watching the movies on HBO Go. You're welcome!
____________________
I was still thinking about that boy, and his raw emotional response. I felt so lucky to have been there to witness it. I thought of all the boys growing up in working-class neighborhoods around the country who are terrified to show any emotion. Because that's how I grew up, too — terrified. Yet this young guy was brave enough to raise his hand, in front of everyone, and share how he felt after listening to me read a book. And when he began to cry a few of his classmates patted his little shoulders in a show of support. I don't know if I've ever been so moved inside the walls of a school.
This piece by Matt de la Pena on why we shouldn't shield children from darkness in books is a must-read. Grab your tissues.
____________________
Once a month, kids pull up chairs in front of a wall full of cats in kennels who are waiting to be adopted. The children introduce themselves, and they begin to read.
They read stories about zoo animals and tales of heroes on long journeys in far off places. Some older kids catch the cats up on novels they've been reading before they launch into the book.
Because it's a great story about kids reading to cats to improve their reading skills and also there are pictures of cute kids AND cats.
____________________
Kate Kato's awesome papercraft reimaginings of book covers. Go and be awed.