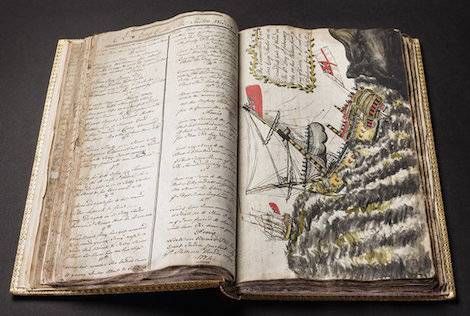 So there is a common link between a Tumblr account and Ralph Waldo Emerson, and who would have thought that a transcendentalist from the mid-1800s would have anything to do with a social networking platform?
Stay with me.
When I took a survey lit course, we spent some time with Ralph Waldo Emerson, and the concept of a commonplace book was introduced to me. We were instructed to keep one of our own throughout the semester, and to write down any quotes or passages in our readings that we wanted to discuss in class.
I covered Emerson for a project and did some additional research, and in the university's library I found an old case-bound book that declared its contents Emerson's "Commonplace Book." I lost hours to this little journal, reading through his stray thoughts, favorite quotes, memories, and experiences he didn't want to forget. I was completely charmed by it, and wanted to give keeping my own commonplace book a serious go of it. Except there was one problem.
My handwriting is terrible.
Like unbelievably terrible, oh my god. No one can decipher it. I can't even translate half of it after I've scribbled something out. It's like my brain expects my hand to write my thoughts down as fast as a keyboard can type it, and I just can't meet those kind of unrealistic expectations. There's a reason why no one gets handwritten cards from me on their birthday. So how could I keep a commonplace book if I can't read anything I'm writing down?
I started a tumblr account.
Through the use of hashtags to group my quotes and passages, I started saving quotes from books and poetry that moved me, made me cry, grabbed me by the throat, and reminded me why I love language and literature so, so much. And this way, I wasn't just keeping those passages to myself; I was sharing them with everyone else. Yes, I could have just shared posts from tumblr blogs that make it their business to collect literary quotes, but there was something special and more personal about writing the quote out myself, and then reading it out loud as I did.
I'm not as active with my tumblr account as I used to be, and goodness knows I don't have a large following (by any stretch of the imagination), but I did have a handful of quotes that took off. It was really cool to see what resonated with people, and what would then become a part of their own commonplace book. I'd like to share what works, authors, and quotes were best loved by other people from my commonplace book on tumblr:
1. "But she knew now that there comes a time when ugly and beautiful serve pretty much the same purpose, when anything you look at is just a peg to hang the unruly sensations of your body on, the bits and pieces of your mind." — Hateship, Friendship, Courtship, Loveship, Marriage, by Alice Munro
2. "There were, after all, other worlds than these." — Wizard and Glass: The Dark Tower IV, by Stephen King
3. "He spoke in the hoarse, cadenced tones of a lifelong teller of tales—one of those divine fools born to merge memory and mendacity into dreams as airily gorgeous as cobwebs strung with drops of dew." — The Waste Lands: The Dark Tower III, by Stephen King
4. "Better to have a single perfect diamond than a sack of flawed stones." — The Night Circus, by Erin Morgenstern
5. "I heard this saying once: The heart wants what it wants, and right off the bat I decided that even if that was true I'd never heard a more damned unhelpful bunch of bullfuckery." — Sweet, by Tammara Webber
6. "So her soul crawled out from its hiding place." — Their Eyes Were Watching God, by Zora Neale Hurston
7. "I am like a small creature swallowed whole by a monster, she thought, and the monster feels my tiny little movements inside." — The Haunting of Hill House, by Shirley Jackson
8. "Too bad about Frank, isn't it?" — 2001: A Space Odyssey, by Arthur C. Clarke
9. "I'm going to tell you something important. Grown-ups don't look like grown-ups on the inside either. Outside, they're big and thoughtless and they always know what they're doing. Inside, they look just like they always have. Like they did when they were your age. The truth is, there aren't any grown-ups. Not one, in the whole wide world." — The Ocean At The End Of The Lane, by Neil Gaiman
10. "He rubbed his cheek on her back and learned that way her sorrow, the roots of it; its wide trunks and intricate branches." — Beloved, by Toni Morrison
If you have a Tumblr account, do you treat it like a commonplace book, too? What quotes or passages have people really responded to? Share in the comments!