Pop Culture
"Truth is Stranger Than Fan Fiction": The Best of Bookish PORTLANDIA
If you like sketch comedy and you have a sweet spot for satire, you should be watching IFC's Portlandia. It was created by and stars Fred Armisen, formerly of Saturday Night Live, and Carrie Brownstein, of the former/now-back-together girl rock band Sleater-Kinney.
Portlandia is packed with literary and bookish laughs, including a regularly-recurring sketch featuring Candace and Toni, the two humorless women booksellers at the feminist bookstore, Women and Women First. The store is based on Portland's real feminist bookstore, In Other Words. Brownstein recently gave an interview with Bust Magazine, talking about how this particular sketch isn't about making fun of feminists nor about independent bookstores. It's instead a love song to them:
"I think of those characters as superheroes," she says. "Like, we somehow managed to make two feminists the most popular characters on our show." In Other Words, the bookstore where those sketches are filmed, has even become a popular tourist attraction. "The fact that people go to Portland to visit a tiny feminist bookstore—no matter what the impetus is for them getting there—the fact that they go in there and look around and shop for books or stationery or whatever, is a major source of pride for me," Brownstein says. "As a feminist, I just think that's cool. So even though there's a silliness to [our sketches] and it's very pop culture, we also express a multidimensionality that feminism has always embraced, even though people have often tried to make the movement seem less than multidimensional. We show that humor can be part of it, and always has been."
With the fifth season of Portlandia kicking off — which will lead with a show dedicated entirely to Candace and Toni — let's take a look at the best of the bookish moments from the show so far.
Season One
Women and Women First
First up, here's a compilation of all of the Candace and Toni sketches from Season One in one super cut:
[youtube]https://youtu.be/8IfOKeZ-MWI[/youtube]
If you didn't catch them all, some of the guest stars in these sketches include Steve Buscemi, Aubrey Plaza, and Heather Graham.
Episode 1
One of the best sketches in the entire series happened in season one, episode one, where the adult hide-and-seek league takes their game to the Portland Community College library. What makes for a librarian nightmare makes for funny watching. Bonus, the team name is the Sherlock Holmies:
[youtube]https://youtu.be/BGqs2przXlg[/youtube]
Episode 2
Though it's not an entire sketch, there's a great close-up shot of the outside of Powell's:
Episode 4
Do you ever get tired of people trying to "one up" your reading? Then this skit will feel familiar:
[youtube]https://youtu.be/6JLWQEuz2gA[/youtube]
May we all end up eating what it is we read. (Or not).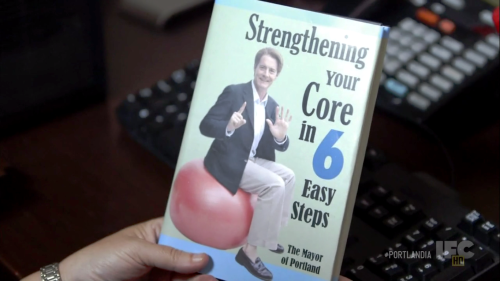 The mayor of Portland, played by Kyle MacLachlan in the show (with Portland's real actual mayor playing an assistant), is also an author. When his book about how to use a stabilizing ball is published, Fred and Carrie head to get their copies signed.
Episode 5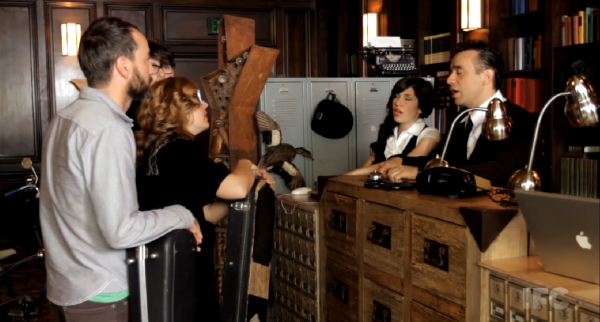 The Deuce Hotel, an homage to Portland's Ace Hotel, has a vintage bookish feel to it, complete with library card catalogs that serve as the service desk. When guests check in, they also have the option to borrow a vintage typewriter for the duration of their stay.
Season Two
Women and Women First
Season two saw more of Candace and Toni and a little bit less literary laughs elsewhere, in part thanks to the episode featuring the 10th anniversary celebration of Women and Women first:
[youtube]https://youtu.be/1FPFUrXbQgc[/youtube]
Cameos include Amber Tamblyn (who interns at the store), Penny Marshall, and LaMarcus Aldridge.
Episode 1
Fred and Carrie stop at a restaurant named "Around the World in 80 Plates."
Season Three
Women and Women First
Candace and Toni talk up vagina pillows and gender identity, as well as experience their first negative Yelp reviews. This super-cut might be one of the finest:
[youtube]https://youtu.be/MhJ0ypKCOBg[/youtube]
Episode 2
The city of Portland wants to give an honorary name to one of their streets. The committee can't settle on one choice and decide to use the "/" to honor everyone and everything in one street name. One of the honorees? Author Ken Kesey.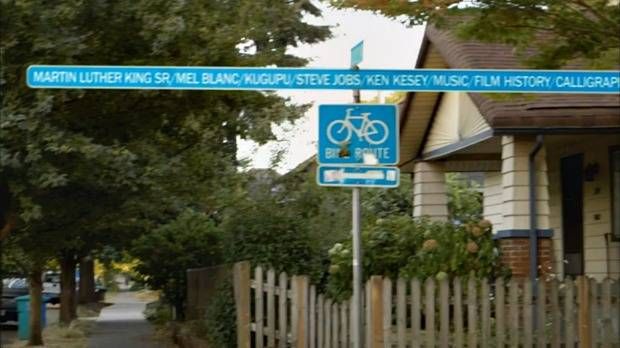 Episode 3
If the mayor of Portland has a "white whale"- it's the entire city of Seattle. His fury at taking it down comes to a head when the latest issue of Portland Monthly has a feature story on Seattle:
Episode 6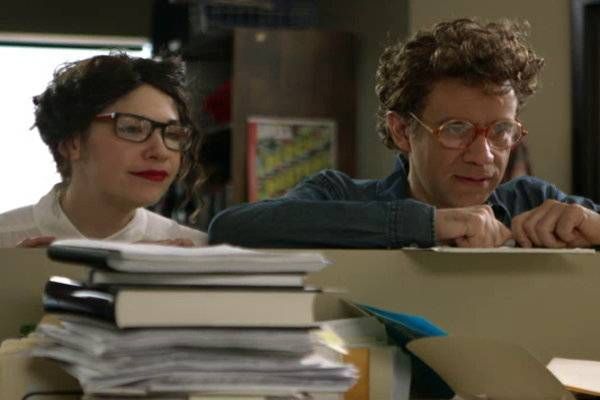 The Portland Tribune is changing course in this episode, moving from a newspaper to a new format. They're being rebranded and packaged as PDX Linx, with no print form. "People don't read articles," is the big catch phrase, and the format looks familiar for anyone who has spent any time on the internet:
Later on in the episode, the gutter punks — a duo that have a recurring sketch — find themselves at the library, digging into the microfilm for information about a cat from a "lost cat" poster from years (decades, maybe) gone by.
Episode 7
Another regular sketch in the series is about rats. The rats talk, have lives, move, etc. In one episode, one of the rats ended up at the bookstore and picked up a copy of a staff pick title all about rats and finds it to be offensive and inaccurate. In retaliation, he decides to write his own book about humans and tries to publish it. It's rejected by major publishing, so he self publishes it and puts it in the bookstore to sell.
[youtube]https://youtu.be/mRf7r2u_56o[/youtube]
Episode 8
Though the sketch isn't about books or literature, one of the show's most well-loved quotes comes from this episode: "Truth is stranger than fan fiction." It comes at a meeting of the Steampunk enthusiasts convention.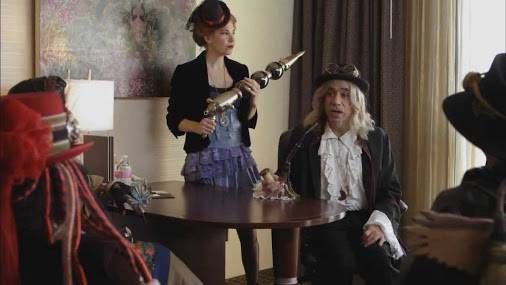 Season Four
Women and Women First
It's hard to say which of the Women and Women First sketches are the best, but perhaps the very first one of the season is my favorite. "We're kind of in the real estate business. Real estate of the mind. We take vacant space in the mind and fill it with literature."
Here's the compilation:
[youtube]https://youtu.be/OW0pj3pXf84[/youtube]
Episode 3
Carrie decides to declare a social media bankruptcy, and in the process, she talks about how she's going to spend more time at the library and Powell's, where she picks up the Lorrie Moore book she hasn't yet read.
The social media bankruptcy doesn't last forever, though, as Carrie can't resist the pull of the internet.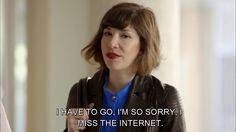 This episode also featured a long-threaded sketch that involved Steve Buscemi. After declining sales in celery — thanks to hot veggies like kale and heirloom tomatoes being big-sellers — Buscemi has to find some way to make celery sell again. At the end of the show, it turns out to be the plot of a John Grisham novel titled The Celery Incident.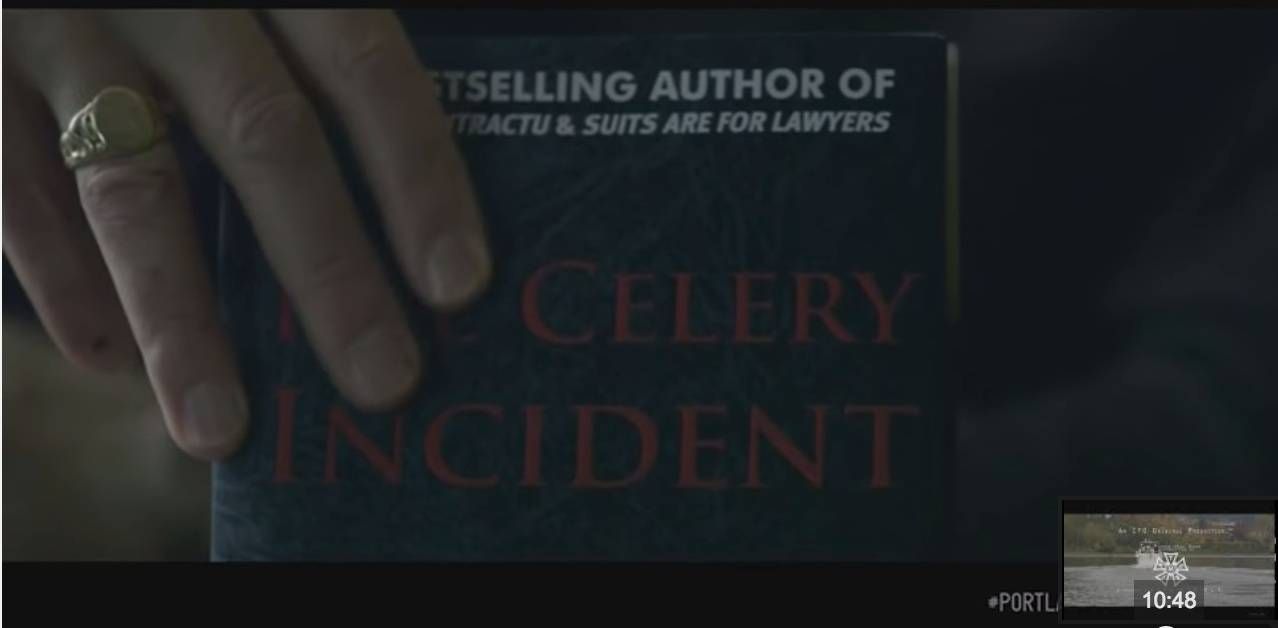 Episode 4
Malcolm and Kris decide they're going to tailgate. But it's not a normal tailgate. It's to the live show of Garrison Keillor's A Prairie Home Companion:
[youtube]https://youtu.be/mnHWoEUB4yg[/youtube]
Episode 8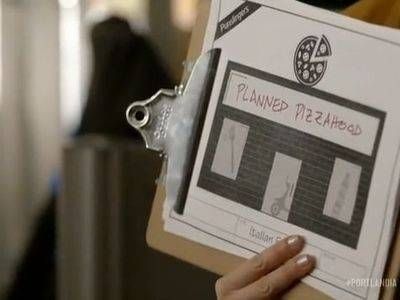 Anyone who loves puns will love Punslingers. And anyone who doesn't love puns, feel free to groan through this. Since this isn't a clip available on YouTube, you'll have to click over here to watch it (worth it). Cut off from the very end of the video is the final pun, which came through a request for a rebranding of the United States. Their solution? "The Brewnited Tastes of Americanos."
Finally, in the same episode, Fred and Carrie dress up as a pair of trees and ask a budding writer about how and why she uses her Moleskine notebooks the way she does:
[youtube]https://youtu.be/MzzHCFJsNBo[/youtube]
____________________
Follow us on Twitter for more bookish goodness!