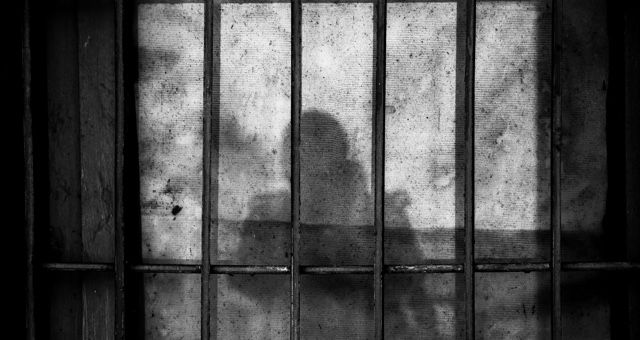 Mystery/Thriller
The United States of Wrongdoing: 50 Great Books About True Crimes
This list of must-read true crime books is sponsored by Savage Appetites by Rachel Moore, published by Scribner.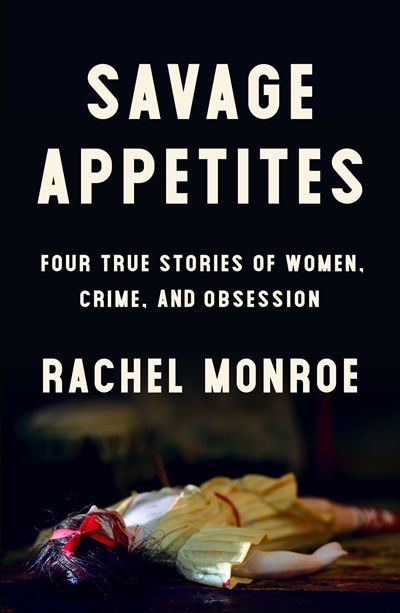 A provocative and original investigation of our cultural fascination with crime, linking four archetypes—Detective, Victim, Defender, Killer—to four true stories about women driven by obsession. Each woman represents and identifies with a particular archetype that provides an entryway into true crime. Through these four cases, Rachel Monroe traces the history of American crime. In a combination of personal narrative, reportage, and a sociological examination of violence and media in the twentieth and twenty-first century, SavageAppetites scrupulously explores empathy, justice, and the persistent appeal of violence.
---
I was so excited when I was assigned this post several months ago, because in writing a list of 50 must-read true crime books, it gave me a chance to mention some different titles besides the same eight or nine you see on every list. Yes, In Cold Blood, I'll Be Gone in the Dark, The Stranger Beside Me, and Helter Skelter are all fascinating reads, but there are actually other books about other crimes in those states. And I know this is going to come as a shock to you, but I have read a LOT of books about true crime.
So I took this opportunity to mention some books you have heard of, but probably more books that you have not. Some of these are nonviolent true crime books, some are about historic crimes, and a few are even from the point of view of victims. But sadly, like most lists about true crime books, this list is lacking in diversity. True crime seems to be an almost exclusively white genre. So if you know of any great books about true crime written by people of color, please shout them out to Book Riot on Twitter!
Before you proceed any further, please be aware that the descriptions you are going to read contain mentions of many upsetting actions and situations.
Alabama: The Sun Does Shine: How I Found Life and Freedom on Death Row by Anthony Ray Hinton with Lara Love Hardin
In 1985, at the age of 29, Hinton was arrest, charged with two counts of capital murder, and sentenced to death by electrocution—for crimes he didn't commit. He spent an agonizing 27 years on death row before he was freed.
Alaska: American Predator: The Hunt for the Most Meticulous Serial Killer of the 21st Century by Maureen Callahan
I read this book in preparation for this list and I am not going to lie: it was the most upsetting true crime book I have read. It's about the white whale of serial killers: a man with no motive, no particular type of victim or method of killing, and no specific area that he hunted. But who also studied books about serial killers and forensics to help him keep from getting caught. So they were unable to work up a profile on him, or even connect some of his crimes. Like I said, it's UPSETTING.
Arizona: Exposed: The Secret Life of Jodi Arias by Jane Velez-Mitchell
Travis Alexander was horrifically murdered in his home in 2008. The suspect: his tiny, soft-spoken ex-girlfriend. She eventually admitted it, but said it was self-defense. But then details about the darker side of their lives started to come out.
Arkansas: The Boys on the Tracks: Death, Denial, and a Mother's Crusade to Bring Her Son's Killers to Justice by Mara Leveritt
This is a completely bonkers story about two teenage boys who were mysteriously killed by a train, and how the mother of one of them found a complex conspiracy of silence and cover up the harder she tried to uncover the truth of their deaths.
California: The Grim Sleeper: The Lost Women of South Central by Christine Pelisek
Like Michelle McNamara and I'll Be Gone in the Dark, Pelisek investigated and linked several deaths in South Central, and was also responsible for nicknaming the murderer. In this book she details her investigation, but also does right by offering stories about the victims, not the killer.
Colorado: Black Klansman: A Memoir by Ron Stallworth
The basis for the 2018 Spike Lee movie, about Stallworth's time working undercover to expose the terrorist threat of the Ku Klux Klan. Well, kind of undercover—as a Black man, he couldn't actually attend meetings, so he would talk to them on the phone and his white partner would pose as him at meetings.
Connecticut: The Man in the Monster: An Intimate Portrait of a Serial Killer by Martha Elliott
This is journalist Elliott's personal interactions with Michael Ross, who raped and murdered eight young women between 1981 and 1984, and was sentenced to death. Elliott discusses the Ross she knew in the years between his convictions and his execution, which included his "mission" to share as much information about his motivations as he could in the hopes of saving lives in the future.
Delaware: The Killing of John Sharpless: The Pursuit of Justice in Delaware County by Stephanie Hoover
The profile of a miscarriage of justice: In 1885, John Sharpless was found dead in his barn. After an extensive manhunt, the police arrested a local African American man, despite the claims of the Widow Sharpless that he was not the man who had come to see her husband at the house that night.
Florida: Beneath a Ruthless Sun: A True Story of Violence, Race, and Justice Lost and Found by Gilbert King
The true case of the assault on the wife of a Florida citrus baron, and a racist sheriff who rounded up suspects in her attack based on prejudice, not evidence.
Georgia: Lone Wolf: Eric Rudolph and the Legacy of American Terror by Maryanne Vollers
Rudolph was the suspect in the Atlanta Olympic bombing, as well as two bombings at abortion clinics and a gay bar. But his ability to allude the FBI by hiding in the woods had them abandoning their search for him. But they got lucky years later: through his own carelessness, he was arrested, but still managed to remain a mystery, even in custody. (This one is only tangentially related to Georgia through one of the crimes, but I chose it because everyone already knows about Midnight in the Garden of Good and Evil.)
Hawaii: Murder in Paradise: A Christmas in Hawaii Turns to Tragedy by Chris Loos and Rick Castberg
The investigation and resolution of one of Hawaii's most notorious murder cases. When the police failed to do anything about the murder of John Ireland's 23-year-old daughter, Dana, while she was on vacation, Ireland launched his own investigation into the case, and got results.
Idaho: Deadly Confidante by Nancy Whitmore Poore
The case of Robin Lee Row, a woman accused of setting her house on fire and causing the death of her husband and two young children. Was she a cold-blooded killer, or the victim of a terrible tragedy?
Illinois: The Queen: The Forgotten Life Behind an American Myth by Josh Levin
The true story of Linda Taylor, a welfare cheat in Chicago who reported false crimes, and was also a kidnapper, and possibly a murderer. She was also famously a subject of discussion in one of Ronald Reagan's speeches.
Indiana: The Stranger In My Bed by Michael Fleeman
No, it's not a JoAnn Chaney novel. It's the true story of John David Smith, who disposed of his wives when he tired of them, and the nearly 30 years it took to expose him and bring him to justice.
Iowa: Skull in the Ashes: Murder, a Gold Rush Manhunt, and the Birth of Circumstantial Evidence in America by Peter Kaufman
It seemed like an open-and-shut case: one night in February of 1897, the general store in Walford, Iowa, burned down. Everyone knew that the store's owner, Frank Novak, slept in the store as a safeguard against burglars, so it was no surprise when a corpse was found in the ashes. But an investigation revealed several insurance policies and the possibility that the remains belonged to a different man.
Kansas: A Serial Killer's Daughter: My Story of Faith, Love, and Overcoming by Kerri Rawson
Rawson was a 26-year-old newlywed when the rug was pulled out from under her world: her Boy Scout Troop–leading, church-going father was arrested as the BTK, a serial killer who had tormented Wichita for decades. These are her feelings on what it's like to not only lose the father you love, but learn he's a monster.
Kentucky: Bluegrass: A True Story of Murder in Kentucky by William Van Meter
The horrifying true story of the murder of a freshman in her dorm room at Western Kentucky University in Bowling Green and the arrest of two men for the crime.
Louisiana: The Fact of a Body: A Murder and a Memoir by Alex Marzano-Lesnevich
Marzano-Lesnevich took a summer job in Louisiana to help defend men on death row, but what they found instead was the horrible case of Ricky Langley, who murdered a young boy, and it challenged everything they thought about the death penalty.
Maine: The Stranger in the Woods: The Extraordinary Story of the Last True Hermit by Michael Finkel
In 1985, Christopher Knight decided he had enough with society and walked into the Maine woods. For 27 years, he hid in the woods, talking to no one, and stealing from local cabins to stay alive. When they finally caught him, they had to decide if he was of sound mind or if someone who would live like that perhaps needed help.
Maryland: Adnan's Story: The Search for Truth and Justice After Serial by Rabia Chaudry
In early 2000, Adnan Syed was convicted and sentenced to life plus 30 years for the murder of his ex-girlfriend Hae Min Lee, a high school senior in Baltimore, Maryland. The podcast Serial covered part of his story, but family friend Chaudry continues to believe in his innocence and work for his release.
Massachusetts: A Death in Belmont by Sebastian Junger
In 1963, a woman was found murdered in her home in Belmont. Police arrested a Black man she had hired to help her around the house. But now evidence points to the killer actually being Albert DeSalvo, better known as The Boston Strangler, who was painting Junger's family's home in the area at the time of the murder.
Michigan: The Red Parts: Autobiography of a Trial by Maggie Nelson
In 2004, Nelson was readying for the publication of her book Jane: A Murder, about the 35-year-old unsolved murder of her aunt. Then DNA evidence brought in a suspect. In this book, she details the events of the arrest and the trial, and the impact it had on her and her family.
Minnesota: Dirty Doc Ames and the Scandal that Shook Minneapolis by Erik Rivenes
Albert Alonzo "Doc" Ames is perhaps the greatest political scandal in Minnesota history. As the mayor of Minneapolis, he was one of the most corrupt politicians of the era, enlisting criminals to help with policing, and using detectives to rob citizens.
Mississippi: The Blood of Emmett Till by Timothy B. Tyson
Tyson examines a pivotal event of the civil rights movement: the 1955 lynching of Emmett Till, a young Black man in Mississippi who was lynched by a mob of white men for supposedly disrespecting a white woman.
Missouri: Murder, Interrupted (James Patterson's Murder is Forever) by James Patterson
Patterson's true crime book contains two stories, one of which is about the murder in Missouri of Dee Dee Blanchard, the woman who kept her daughter, Gypsy, sick and in a wheelchair for her whole life. (You can see a fictionalized version of their story now on Hulu in The Act.)
Montana: Missoula: Rape and the Justice System in a College Town by Jon Krakauer
Krakauer examines the college town of Missoula, where hundreds of students reported sexual assaults to the local police between January 2008 and May 2012, but few of the cases were properly handled by either the university or local authorities.
Nebraska: Failure of Justice: A Brutal Murder, An Obsessed Cop, Six Wrongful Convictions by John Ferak
For four years the 1985 rape and murder of 68-year-old widow Helen Wilson went unsolved. And then six people were arrested and convicted. But decades later, it appeared justice had failed everyone.
Nevada: The Boy Nevada Killed: Floyd Loveless and the Juvenile Capital Punishment Debate by Janice Oberding
The 1944 case of 17-year-old Floyd Burton Loveless, the youngest person ever executed by the state of Nevada. Oberding recounts the the details that sparked national controversy over juvenile capital punishment.
New Hampshire: Notes on a Killing: Love, Lies, and Murder in a Small New Hampshire Town by Kevin Flynn and Rebecca Lavoie
Edith "Pen" Meyer was against her friend Sandy Merritt's relationship with Kenneth Carpenter, a married man. So Sandy was surprised when Pen called her to say she should get back together with Kenneth. And then Pen was never seen again.
New Jersey: The Hall-Mills Murder Case: The Minister and the Choir Singer by William Kunstler
In 1922, the bodies of Edward Hall, an Episcopal rector, and Eleanor Mills, his choir singer and lover, were found near a lovers' lane in New Jersey. Four years later, the minister's widow and her brothers were tried for the murders and acquitted.
New Mexico: Who Killed My Daughter?: The True Story of a Mother's Search for Her Daughter's Murderer by Lois Duncan
Author Duncan's 18-year-old daughter, Kaitlyn, was shot to death in 1989 as she drove home. It was never solved, despite several leads and unusual coincidences. It makes me sad that Duncan died in 2016 never knowing what happened.
New York: Party Monster: A Fabulous But True Tale of Murder in Clubland by James St. James
Famous NYC party boy Michael Alig was convicted in the 1990s of killing known drug dealer Angel. St. James was a close friend of Alig, and details the lavish life of sex, drugs, and partying that occurred before the murder.
North Carolina: Fatal Vision: A True Crime Classic by Joe McGinniss
Well, I did say there would be a couple classics in this list of 50 great books about true crimes. The story of Dr. Jeffrey MacDonald, a Princeton-educated physician convicted of murdering his pregnant wife and two small children. Made more famous by the fact that MacDonald, who maintains his innocence, sued McGinniss after the book came out. (See also: The Journalist and the Murderer by Janet Malcolm.)
North Dakota: The Murdered Family—Mystery of the Wolf Family Murders by Vernon Keel
Okay, I am cheating on this one—it's hard to find a book about a crime in North Dakota that isn't either out of print or wildly offensive to Native people. So I picked this novel, which is based on the 1920 true case of the Wolf Family, in which seven members of a farm family and their hired boy were murdered on their farm.
Ohio: Hope: A Memoir of Survival in Cleveland by Amanda Berry and Gina DeJesus, with Mary Jordan and Kevin Sullivan
In 2013, Berry and DeJesus, along with another young woman, were freed after years of captivity in the home of a Cleveland bus driver. This is their story of their hope for that freedom.
Oklahoma: Killers of the Flower Moon: The Osage Murders and the Birth of the FBI by David Grann
In the 1920s, the richest people per capita in the world were members of the Osage Nation in Oklahoma because of oil discovered beneath their land. But then someone started murdering them, and the people who looking into their deaths, so J. Edgar Hoover put a former Texas Ranger in charge of an undercover task force. (A film adaptation is in the works now from Martin Scorcese.)
Oregon: Small Sacrifices by Ann Rule
Long before anyone had heard of Susan Smith, Diane Downs shot her three children in her car and blamed it on a stranger. As police searched for a suspect, more and more evidence pointed to Downs herself. (The television movie about this case is why I can no longer listen to Hungry Like the Wolf by Duran Duran.)
Pennsylvania: Echoes in the Darkness by Joseph Wambaugh
The 1989 murder of a schoolteacher and the disappearance of her two children would not be solved for seven years. The solution is a grim and disturbing one, a web of hidden, dark desires.
Rhode Island: Down City: A Daughter's Story of Love, Memory, and Murder by Leah Carroll
Carroll discusses the early death of her alcoholic father and her photographer mother's murder at the hands of two Mafia drug dealers, who received lenient sentences for their crime.
South Carolina: The Killer Across the Table: Unlocking the Secrets of Serial Killers and Predators with the FBI's Original Mindhunter by John E. Douglas and Mark Olshaker
FBI profiler Douglas discusses four specific meetings with disturbed killers, including Todd Kohlhepp, a serial killer who was responsible for killings at a South Carolina motorbike shop that went unsolved for fifteen years.
South Dakota: Outlaw Tales of South Dakota: True Stories of the Mount Rushmore State's Most Infamous Crooks, Culprits, and Cutthroats by T.D. Griffith
Wild West tales of South Dakota's most notorious outlaws, from Wild Bill Hickok to Lame Johnny and Jack McCall to Lee "Curly" Grimes. (Also, when was the last time you watched Deadwood? It's time to watch it again. And the new movie, which is EXCELLENT.)
Tennessee: Alice + Freda Forever: A Murder in Memphis by Alexis Coe
In 1892, 19-year-old Alice Mitchell murdered her 17-year-old fiancée Freda Ward in broad daylight on the street in Memphis. But it wasn't the murder that shocked the nation—it was the idea that two women could be romantically involved.
Texas: Who Killed These Girls?: The Unsolved Murders That Rocked a Texas Town by Beverly Lowry
In December 1991, the murdered bodies of four girls were found in a frozen yogurt shop in Austin, Texas. The teens arrested and convicted of the murders had their convictions overturned, and to date, no one else has ever been charged with the killings.
Utah: The Poet and the Murderer : A True Story of Verse, Violence and the Art of Forgery by Simon Worrall
This is one of my favorite true crime books, just because it is so off the wall. A former Mormon, mad at the world and at religion, sent pipe bombs in the mail, killing two people. He also expertly forged an Emily Dickinson poem, so well in fact, that it sold at auction. (Weird fact: At one time, he was cellmates with one of the killers from Under the Banner of Heaven.)
Vermont: Death of Innocence: A Case of Murder in Vermont by Peter Meyer
The horrifying story of the rape and murder of two young girls, made all the more shocking by the revelation that it was carried out by two young teenage boys.
Virginia: American Fire: Love, Arson, and Life in a Vanishing Land by Monica Hesse
Hesse visited Accomack County in Virginia to learn about a four-month-long series of arsons that burned several abandoned buildings and the people responsible for the crimes.
Washington: Green River, Running Red: The Real Story of the Green River Killer—America's Deadliest Serial Murderer by Ann Rule
When you're covering 50 great books about true crimes, you have to have Ann Rule at least twice, right? After all, she's the queen of true crime books. This is about one of the most prolific serial killers in history, who murdered women around Seattle for two decades.
West Virginia: Diamond Doris: The True Story of the World's Most Notorious Jewel Thief by Doris Payne
This is a brand-new book! Payne grew up poor in West Virginia, where she started her life of crime, shoplifting small items and bits of jewelry, before moving up to larger crimes, and becoming one of the most notorious jewel thieves in the world. She was arrested for the last time at the age of 80! Payne details her exploits as well as her prison break.
Wisconsin: My Friend Dahmer by Derf Backderf
Backdorf's graphic memoir about being high school friends with Jeffrey Dahmer, who would later be known as one of the world's most famous cannibals. (This was recently made into a film.)
Wyoming: Alice & Gerald: A Homicidal Love Story by Ron Franscell
Alice and Gerald Uden appeared to be a happing. loving couple, but in reality, they had successfully gotten away for over three decades with murdering four people. But in 2013, a skeleton would lead police to their doorstep.