This giveaway is sponsored by Mulholland Books.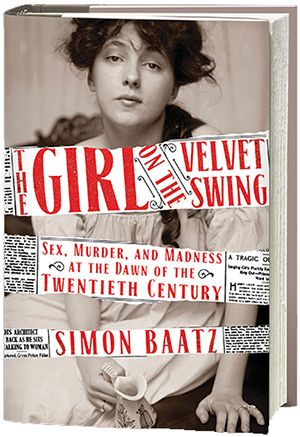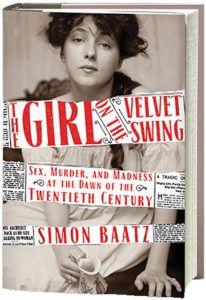 In 1901, Evelyn Nesbit, a New York society darling, dined with Stanford White in his decadent 24th Street apartment. Evelyn was given champagne, lost consciousness, and woke, nearly naked, in bed next to White. An acclaimed architect and notorious womanizer, White was 47. Evelyn Nesbit was just 16.
Four years later, Evelyn married Harry Thaw, a playboy millionaire rumored to be mentally disturbed. One night in 1906, a vengeful Thaw shot and killed White before hundreds of theatre-goers at Madison Square Garden—a venue designed by Stanford White himself. The murder and ensuing trial were the scandal of the century, perhaps the nation's first tabloid murder.
---
The first true crime story I remember being really into was that of Lizzie Borden. I saw a TV movie where she was played by Samantha from "Bewitched" and I just had to find a book to tell me more. You told us your picks for compelling true crime books with women at the center, and we're sharing them below!
---
Go Down Together: The True, Untold Story of Bonnie and Clyde by Jeff Guinn
Lethal Marriage: The Unspeakable Crimes of Paul Bernardo and Karla Homolka by Nick Pron
From Cradle to Grave: The Short Lives and Strange Deaths of Marybeth Tinning's Nine Children by Joyce Egginton
Dead Man Walking: The Eyewitness Account of the Death Penalty that Sparked a National Debate by Helen Prejean
American Heiress: The Wild Saga of the Kidnapping, Crimes and Trial of Patty Hearst by Jeff Toobin
The Crime of the Century: Richard Speck and the Murders that Shocked a Nation by Dennis L. Breo and William J. Martin
The Fact of a Body: A Murder and a Memoir by Alexandria Marzano-Lesnevich
Secrets of the Congdon Mansion: The Unofficial Guide to Glensheen and the Congdon Murders by Joe Kimball
The Trunk Murderess: Winnie Ruth Judd by Jana Bommersbach
The Search for the Green River Killer by Carlton Smith and Tomas Guillen
The Death of Innocents: An Eyewitness Account of Wrongful Executions by Helen Prejean
Helter Skelter: The True Story of the Manson Murders by Vincent Bugliosi with Curt Gentry
Blood and Money by Thomas Thompson
Ripper Confidential: New Research on the Whitechapel Murders by Tom Wescott
The Stranger Beside Me by Ann Rule
Missoula by Jon Krakauer
The Girl in the Leaves by Robert Scott and Sarah Maynard
Angel of Darkness by Caleb Carr
The Girls of Murder City: Fame, Lust, and the Beautiful Killers who Inspired Chicago by Douglas Perry
Anne Perry and the Murder of the Century by Peter Graham
Killers of the Flower Moon: The Osage Murders and the Birth of the FBI by David Grann
Liar, Temptress, Soldier, Spy: Four Women Undercover in the Civil War by Karen Abbott
Alice and Freda Forever by Alexis Coe
Lost Girls: An Unsolved American Mystery by Robert Kolker
Kitty Genovese: The Murder, the Bystanders, the Crime that Changed America by Kevin Cook
The Borden Murders: Lizzie Borden and the Trial of the Century by Sarah Miller
Small Sacrifices: A True Story of Passion and Murder by Ann Rule
Burial Rites by Hannah Kent
Mother's Day by Dennis McDougal
Strange Piece of Paradise by Terri Jentz
Queen of the South by Arturo Perez-Reverte