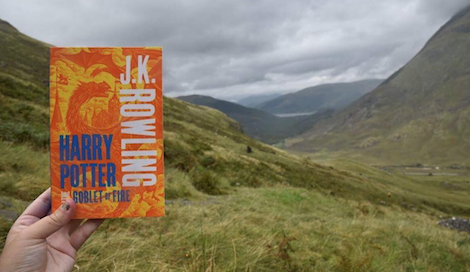 I travel alone a lot. Some of my friends aren't good savers, some of them aren't full of wanderlust, and some of them don't have the energy I have while traveling. I tend to want to be doing things morning 'til dusk, non-stop, and some people actually want to relax on vacation (I usually get back from vacation exhausted). So when I wanted to go to the UK last year, I didn't want to wait for someone who could go with. I wanted to do it my way, when I was ready. So I went.
A lot of people ask me how I travel alone. Don't I feel lonely? Anxious? Those are fair questions. I have generalized anxiety disorder, and I can often feel insecure, especially when far away from the people I love.
And yet I didn't feel alone in the UK. In fact, I loved my time there, for the entire two weeks, and I'm currently looking forward to an adventure across Spain in 2019.
This is largely because I brought the seven Harry Potter books with me on my travels. I've never been afraid to do things alone, because books were always there to keep me company. Eating dinner alone, having late-night drinks at the bar of the inn, on the train traveling through gorgeous Scottish hills, I always had my books to fill the space and keep me company. As a bookish person, it's hard to feel truly alone as I travel.
But even with the books, sometimes it did, indeed, hit me that I was alone on my travels. On one day in particular, with two hours of sleep due to nightmares that had kept me up until 5 a.m., I had to drive for the first time on the left, on the mountainous isle of Skye, and it poured the entire time. I had a mild breakdown up the mountain from the Fairy Pools.
That night I was at the inn where my parents had told me they'd made local friends in the '90s. But here I was, 10 p.m., exhausted, with my whiskey, and I hadn't met anyone. I decided it was time to give in. I took my book off the counter and went to slide it into my bag.
"Harry Potter girl—come on over!"
A group of people my age at the end of the bar urged me over. They all introduced themselves. We talked Harry Potter, and we talked my travels, and then we talked about other things, and they bought me a drink and refused to let me return the favor, and just like that, I had made friends. I saw them over the next three nights, and I still get updates from them on my social media feeds.
Books connect me to the world around me. They fill in the gaps, but they also connect me to others. Throughout my travels, people would often connect with me over the Harry Potter books. They would tell me about Scotland's literary history, or give me tips about local places where scenes were filmed. In the end, my books reminded me of a quote from Dumbledore from the sixth Harry Potter book: "I'm not worried, Harry…I'm with you."