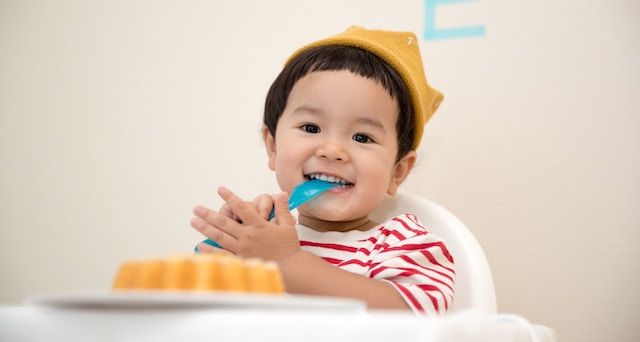 Children's
Traveling With A Toddler? Bring These Books With You
This content contains affiliate links. When you buy through these links, we may earn an affiliate commission.
Are you going somewhere with your little one? A holiday, perhaps. Or an unavoidable trip to visit relatives. Either way, you are going somewhere far from home, away from your child's normal environment and routine. What books should you bring for such an occasion? I have a few suggestions.
I recently went on a three week trip with my 22-month-old. We went to Australia to visit my family, and to get there and back was about a 30-hour door-to-door journey (including 14 hours on a plane each way). The trip was a little bit of a disaster for various reasons, and my daughter was unhappy for a lot of the trip. It was books that saved us (well, it was good friends that saved us, but the books really helped). Before we left, I thought long and hard about which books to bring. I knew I would most likely be buying books while we were there, and I didn't want to have to lug a lot of books across the Pacific, twice. I limited myself to five books. In the end brought seven, and don't regret any of them in the slightest. If you are planning such a trip, here are the books I suggest you bring.
The Long Favourite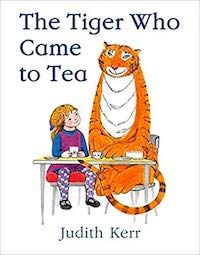 This is the longest book that your child likes to read or listen to. The limit of their attention span, and one that they know and like enough to point at the pictures and say words and remember the story. For us, this book was The Tiger Who Came to Tea by Judith Kerr, which tells the story of a little girl named Sophie and her mother who invite a tiger to tea. Another good one fitting this category would be The Gruffalo by Julia Donaldson.
The Short Favourite
This is another favourite book, but considerably shorter. Again, this is one that your child knows and interacts with and enjoys. For us, this was Black Bird Yellow Sun by Steve Light. This is a great book about colours, and the colours are celebrated by the black bird going about its day. The day begins with the yellow sun, ends with the blue moon, and in between we see green grass, grey rocks, and pink flowers, among other things. My daughter likes pointing at the worm on every page and shouting 'worm!'. Another good one for this category would be Baby Loves Coding by Ruth Spiro.
The Interactive Book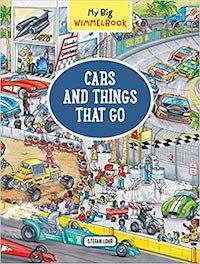 This is a book that isn't so much read aloud (or even read quietly), but more used as a quiet way to entertain your child. Search-and-find books are perfect for this. We brought our two favourite My Big Wimmelbooks: Cars and Things That Go and Animals Around the World. These search-and-find books are fantastic, with glorious panoramas on each spread and recurring characters for you to search for. We have a lot of fun with these books, and they were an excellent source of entertainment and distraction. Another good interactive book that would be good for this category if your child is under three is Seek and Count by Yusuke Yonezu.
The First Bedtime Book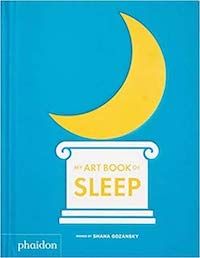 This is a book that is part of the bedtime ritual, one of the stories that is always read before sleep. There are countless bedtime books out there that talk about sleeping, bedtime, and the night-time ritual. I suggest a book like that to get them in the mindset for sleep. For us, this book was My Art Book of Sleep by Shana Gozansky. This is a lovely, lyrical book that uses works of fine art to illustrate the importance and rituals of sleep. Another good one for this category would be Will Sheep Sleep? by Hilary Leung.
The Second Bedtime Book
A book that's very similar to the first bedtime book. If your child does not like sleep or bedtime and is prone to stalling, stretching out bedtime, and asking for one more story, I suggest pre-empting the stall by decisively saying how many books will be read (and planning for it to be more than one). For us, this book was The House in the Night by Susan Marie Swanson. This is another gorgeously poetic book about the order of bedtime and the order of the universe. Another good book for this category would be A Book of Sleep by Il Sung Na.
The Third Bedtime Book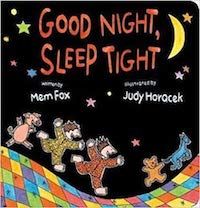 This is the third, or last, bedtime book. This is the book that is always read last in the bedtime routine. If you can't take six books with you on your travels, you can leave out the second bedtime book, but don't leave behind whichever book it is you use to signal that bedtime stories are over and it is time for sleep. This is possibly the most important book. For us, we always read Good Night Sleep Tight by Mem Fox last, because of the final lines: 'It's long past your bedtime. It's time for sleep now, okay? So good night, sleep tight!' — the perfect signal for lights out. This is a great book full of nursery rhymes, so there is an element of singing/lullabies to it too. (I don't have an alternative suggestion for this category because I think Good Night Sleep Tight is perfect — though I do think an acceptable alternative would be its sequel, Bonnie and Ben Rhyme Again.)
Of course, if your child is a big reader and loves books, you may not end up taking any of the titles we did, because you would have your own favourites and bedtime books. And that's the whole point — in this list, it isn't really the titles I've named that are important, but the categories. When you're going somewhere unknown, where rituals and routines are likely to be disrupted, take the books that are the ones you have read a million times and have memorised; the favourites and the familiar. And good luck.