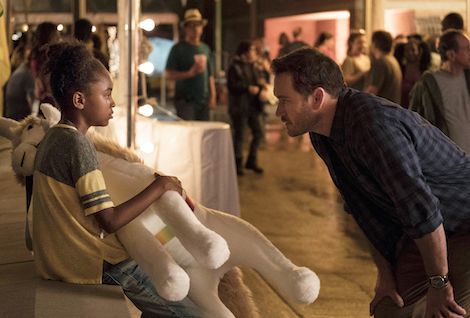 News
Watch the First Trailer For Justin Cronin's THE PASSAGE
This content contains affiliate links. When you buy through these links, we may earn an affiliate commission.
Justin Cronin's The Passage is coming to FOX and we now have a look at the very intense trailer! Starring Zack Morris Mark-Paul Gosselaar as FBI Agent Bradford "Brad" Wolgast, and Saniyya Sidney (American Horror Story: Roanoke, Roots (2016), Fences, and Hidden Figures) as potential savior to humanity Amy Harper Bellafonte. Give it a watch below and then we'll talk about it.
It's unclear if the trailer is being intentionally ambiguous with some of the novel's plot elements, or if liberties have been taken in adapting it to television. Someone unfamiliar with the novel isn't going to be aware from watching the trailer that the story spans centuries, nor that the infected are vampires, not zombies, although Cronin did sort of make his own monster out of the two genres. I'm just pro-vampire, so… bias. A viewer unfamiliar with Cronin's trilogy (The Passage, The Twelve, and The City of Mirrors) would be excused for thinking that the entire plot is about Wolgast and Amy's attempted evasion of the Big Bad Government. It will be exciting to see how this plays out as a television series. Will the time jumps remain? Will the ending be rewritten? Will it only focus on The Passage or the entire trilogy.
Cronin seems to answer some of these questions in repsonse to fans on his Twitter:
Not scrapped–just not in the pilot, which focuses on the early part of the book. https://t.co/xQIIxuLIZW

— justin cronin (@jccronin) April 27, 2018
Some fans have already started expressing surprise and, of course, discontent at the casting of Sidney as Amy. Amy is depicted as a white girl in the books and Sidney is clearly African American. To anybody complaining I have one thing to say: Get over yourself.
What do you think about the trailer? Are you excited to see this come to the small screen instead of the big screen? Are you terrified it will be amazing and FOX will do that thing they do where they cancel the best series?