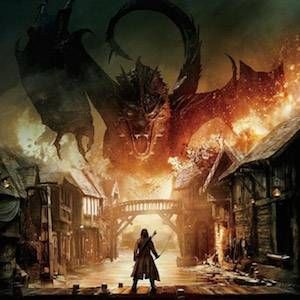 Pop Culture
Trailer Rundown for The Hobbit: The Battle of the Five Armies
This content contains affiliate links. When you buy through these links, we may earn an affiliate commission.
As a former diehard LOTR junkie who went to see The Return of the King in theaters twice (wearing a replica Ring of Power around my neck, of course), I have been unable to contain my excitement about The Hobbit movies these past couple of years. Yes, I know, this whole thing could and probably should have been condensed into one movie, but you know what? I'm glad they're milking it for all it's worth. And I'm pretty excited about The Battle of the Five Armies, even if it's not exactly The Return of the King.
Here's a play-by-play of the new teaser trailer from someone who hasn't read The Hobbit in twelve years and can't remember a thing about how it ends.
[youtube]https://www.youtube.com/watch?v=ZojSHfCVJI0#t=87[/youtube]
0:07 – Ever since The Lord of the Rings I have not been able to watch a New Line Cinema movie without having to remind myself that it's not Lord of the Rings,and now, finally, it kind of is. I mean, not actually, but in the same vein…
0:11 – Bilbo looking forlorn.
0:14 – Bilbo looking adorable.
0:15 – I love Tolkien and I know Tauriel isn't in the book, but is anyone else glad they added a major female role for the movie? I'm just saying, this thing is male-centric enough as it is.
0:17 – FLASHBACK: Gandalf looking badass on horseback.
0:20 – I AM FIRE; I AM DEATH. And this is why 99% of people are going to see the movie.
0:25 – Oh, sadness.
0:29 – Oh my gosh it's Pippin's song from The Return of the King! Wait, are they seriously recycling old Lord of the Rings songs? YOU COULDN'T JUST WRITE A NEW SONG???
0:33 – Why are the dwarves always running? Don't they ever just walk or stroll or traipse?
0:45 – What is happening to Gandalf?! Does he die and come back in this one too? *scratches head while trying in vain to remember the book*
0:48 – Oooh, shiny.
0:50 – Not Aragorn. Not even close.
0:52 – I always feel like Kili is trying really hard to keep a straight face.
0:56 – Legolas is so done here.
0:57 – Oooh, more shiny.
1:04 – From here it looks like a gritty version of Santa's sled. I'm not sure what to make of this. And are those reindeer or really big mountain goats?
1:06 – Evil wolves? Snow wargs? I really feel like I should reread the book before watching this movie.
1:11 – The Bard is a bit emotional, guys. Give him some space.
1:15 – Definitely not Aragorn. Aragorn would never wear such a ridiculous piece of headgear.
1:20 – I do, however, think that Azog is a cooler orc villain than Gothmog. Gothmog mostly just looked like curdled cheese.
1:21 – Bilbo having a panic attack.
1:24 – I'm also glad that they waited to do The Hobbit movies until after The Lord of the Rings so they could foreshadow that whole thing with Sauron more.
1:26 – See? The dwarves are running again. I'm telling you, those guys just don't know how to relax.
1:35 – Legolas is 100% done here. Thank goodness he loosened up a little when Gimli came along.
1:37 – Bilbo looking adorable again.
So all in all, not bad. It's not The Lord of the Rings, but if you're a Tolkien-aholic like me, you'll take anything you can get. And if you're not, well then you're probably just watching it for DragonBatch anyways.