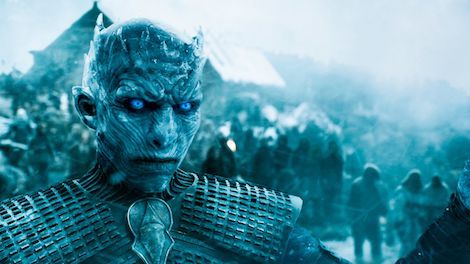 News
The First Official Teaser for GAME OF THRONES Season 8 Has Dropped
This content contains affiliate links. When you buy through these links, we may earn an affiliate commission.
The countdown to the final season of Game of Thrones has officially begun.
The first official teaser for the eighth and final season of the hit show based on George R.R. Martin's A Song of Ice and Fire series dropped yesterday.
First off, we get to see that hella awesome 3D map of Westeros from Dragonstone's map room up close in all its glory. Winter is here at last, with Westeros freezing over from the north end, along with carvings of a direwolf and a dragon, the sigils for House Stark and House Targaryen, respectively. From the south, the map is engulfed in flames, including the lion of House Lannister. Ice and fire move toward each other and clash in the middle to create a jagged wall of obsidian.
Y'all. The song of ice and fire is here. And if this teaser is any indication, it will be beautiful and devastating all at once.
Season 8 of Game of Thrones will premiere on HBO in April 2019.