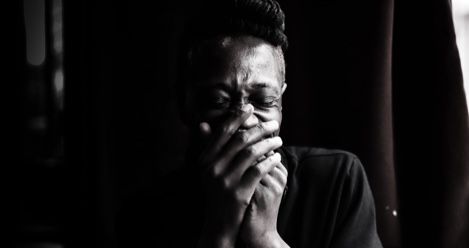 Nonfiction
8 Tragicomic Memoirs to Make You Laugh and Cry
This list of tragicomic memoirs is sponsored by Tragedy Plus Time by Adam Cayton-Holland.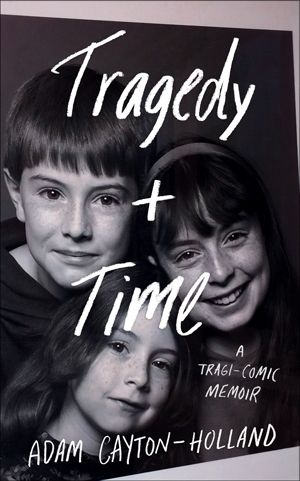 Unsentimental, unexpectedly funny, and incredibly honest, Tragedy Plus Time is a love letter to every family that has ever felt messy, complicated, or (even momentarily) magnificent. The Cayton-Holland siblings were a trio of brilliant, acerbic teenagers from Denver who were taught the injustice of the world from an early age. Adam chose to meet life's cruel realities with comedy, his older sister chose law, while their youngest sister struggled with depression and ultimately took her own life. An unforgettable tribute to a lost sibling, this extraordinary memoir will have you reaching for the phone to call your brother or sister.
---
Laughter is a great way of tricking people into caring about personal tragedy. I'll admit it: I seldom want to enter a conversation that I know will bum me out, but if you make me laugh? Well, then I'm all ears. And if you can make me laugh AND care about something terrible that happened in your life? You win. Here's my list of the top nine tragicomic memoirs that tricked me into caring by making me laugh.
(I'm just kidding about that "tricked me into caring" bit—I like to think I'm a pretty compassionate person. But even if I wasn't, these books would have gotten my attention through their sense of humor.)
We are Never Meeting in Real Life by Samantha Irby
Whew. There are few authorial voices that I identify with more than Samantha Irby. Not only is she now the author of two hilarious books of essays that talk about Craigslist dudes, Crohn's disease, and my personal favorite of her works (which I teach on a regular basis in a course about modern love), "My Bachelorette Application." That last one is somehow both a satire of the show itself and a love letter to it in utter envy, and therein lies our tragicomic balance. If you are somehow on the fence about whether you should read Sam Irby's writing, try out her blog for free, called BitchesGottaEat.
Fun Home: A Family Tragicomic by Alison Bechdel
You may know Alison Bechdel's name from the "Bechdel test," the quick check you can run on a movie to see if it represents women inaccurately: do the women characters ever talk to one another about something other than a man? But if you don't know her name yet, Fun Home is a good place to start. This book is exactly as its subtitle says: it's a funnily written tragedy about a family who runs a funeral home. The patriarch does die, but he also gets run over by a bread truck, which is not funny…and it also is funny. Because what better way to tell a heartbreaking story than by making everyone laugh?
A Heartbreaking Work of Staggering Genius by Dave Eggers
In my memory, Dave Eggers's work is all over the early 00s. You likely know McSweeney's, his literary magazine, or one of the various films he's cowritten (Away We Go and Where the Wild Things Are), if you don't already know his nonfiction. This tragicomic memoir tells the story of Dave as a young adult whose parents suddenly die, and he is left to care for his much-younger brother while grieving. It's both a story of fraternal bonding and frustration with each other, as sibling relationships (I'm told) often have.
Oranges Are Not the Only Fruit by Jeanette Winterson
You likely already know Jeanette Winterson as a powerhouse of literary nonfiction, but this coming-out memoir is the work of hers that stands out most to me. Yes, it is an important book written about the oppressive religious household in which she grew up, but her sexual orientation also manifests itself as a dancing, orange, cartoon demon. Which is funny.
Fresh Off the Boat: A Memoir by Eddie Huang
You may be familiar with the television series that was adapted from this tragicomic memoir. If you haven't heard of it yet, it boils down to a very serious issue told in a hilarious and novel way: Eddie's family are Chinese immigrants who try to assimilate into 1990s Florida. We hear the very real experience of a child through the tone and voice of a reflective, aware adult. I, for one, identify a lot with this book, not only because of its culture nationalism issues, but because the easiest way to talk about that complex of a problem to someone who may not have experienced it is through humor.
My Booky Wook by Russell Brand
I totally anticipated Russell Brand's memoir to read like his standup sounds: I thought it would be funny and smart, but mostly funny and talk about how sexy he was or how ridiculous his hairstyle is. And then I got to the chapter on addiction. It's still written in his dry, British tone, but the subject matter becomes so important in its tragedy that it can't be ignored or written off as celebrity memoir alone.
Running with Scissors by Augusten Burroughs
If you haven't already seen the film version of this tragicomic memoir, I recommend reading this text first. Our protagonist grows up in a dysfunctional home of a crazy psychologist. Because we are outside of the situation, the quirks of the patriarch are funny: he preserves his own shit to divine from it the future; he labels a room of his house his Masturbatorium; and he uses an electroshock therapy machine. As with most hilarious families, it's funny unless you're in it, and then, it's mostly survival.
The Misadventures of Awkward Black Girl by Issa Rae
Before she wrote and starred in her own HBO series, Insecure, Issa Rae became famous for her web series Awkward Black Girl. This book talks about her experience of "what it's like to be unabashedly awkward in a world that regards introverts as hapless misfits and black as cool." If you love the show, then you'll love this book.
So, what are some of the funniest bummers you've ever read about? Let me know in the comments!