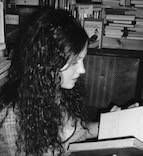 Each month, we highlight some of the trades (issues collected into paperback or hardcover) that have released into comics shops to make your trade-waiting less stressful. If you're taking this list into your library or bookstore, rather than a comics shop, keep in mind that the release dates may be a few weeks later because of distribution. This list is not meant to be comprehensive.
Panels Favorites
Spider-Woman: Shifting Gears, Vol. 1: Baby Talk – Dennis Hopeless and Javier Rodriguez (Marvel)
Princeless: Raven, The Pirate Princess: Book 2 – Jeremy Whitley, Ted Brandt, and Rosy Higgins (Action Lab)
Sex Criminals, Vol. 3: Three the Hard Way – Matt Fraction and Chip Zdarsky (Image Comics)
Saga, Vol. 6 – Brian K. Vaughan and Fiona Staples (Image Comics)
Ms. Marvel, Vol. 5: Super Famous – G. Willow Wilson, Takeshi Miyazawa, Nico Leon, and Adrian Alphona (Marvel)
Vision, Vol. 1: Little Worse than a Man – Tom King and Gabriel Walta (Marvel)
Jughead, Vol. 1 – Chip Zdarsky and Erica Henderson (Archie Comics)
Princess Jellyfish, Vol. 2 – Akiko Higashimura (Kodansha Comics)
Try a New Series!
Black Clover, Vol. 1 – Yuki Tabata (VIZ Media)
Patsy Walker, AKA Hellcat, Vol. 1: Hooked on a Feline – Kate Leth and Brittany Williams (Marvel)
Clean Room, Vol. 1: Immaculate Conception – Gail Simone and Jon Davis-Hunt (Vertigo)
Sisters, Vol. 1: Just Like Family – Christopher Cazenove and William Maury (Papercutz)
James Bond, Vol. 1: VARGR – Warren Ellis, Dom Reardon, and Jason Masters (Dynamite)
Fruits Basket, Vol. 1 – Natsuki Takaya (Yen Press)
Moon Girl and Devil Dinosaur, Vol. 1: BFF – Amy Reeder, Brandon Montclare, and Natacha Bustos (Marvel)
DC Super Hero Girls Vol. 1: Finals Crisis – Shea Fontana and Yancey Labat (DC Comics)
Dream Jumper, Vol. 1: Nightmare Escape – Greg Grunberg and Lucas Turnbloom (Graphix)
Complex Age, Vol. 1 – Yui Sakuma (Kodansha Comics)
Art Ops, Vol. 1 – Shaun Simon, Michael Allred, and Eduardo Risso (Vertigo)
Full Series in One Volume
Fight Club 2 – Chuck Palahniuk, Cameron Stewart, Dave Stewart, David Mack, and Nate Piekos (Dark Horse)
Semiautomagic – Alex de Campi, Jerry Ordway, and Marissa Louise (Dark Horse)
Power Up – Kate Leth and Matt Cummings (BOOM! Studios)
Angela: Queen of Hel: Journey to the Funderworld – Marguerite Bennett, Kim Jacinto, and Stephanie Hans (Marvel)
DC: The New Frontier – Darwyn Cooke (DC Comics)
Limbo – Dan Watters, Casper Wijngaard, and Jim Campbell (Image Comics)