Book Fetish
Plus Size Literary Threads You Need at Torrid
As a fat girl, finding even a T-shirt that can accommodate my body can be an exercise in endless frustration. I'm lucky, too—I'm able to fit in many straight sizes, teetering on that line between straight and plus, but a large chest and comparatively small waist mean things are either busting out or I look like I'm going to drown in fabric. One store, though, that's always been a solid bet for me is Torrid. They have sizes between 10 and 30, and their clothing is fashion-forward and doesn't feel as cheap as clothes from stores like Old Navy can. And perhaps most important here is this: Torrid is a boon for fat folks looking to score bookish clothing. Let's take a walk through the magical literary threads you can score at Torrid.
I've broken up the awesome bookish goods by fandoms, followed by a look at some more general themed book apparel.
Star Wars Clothes at Torrid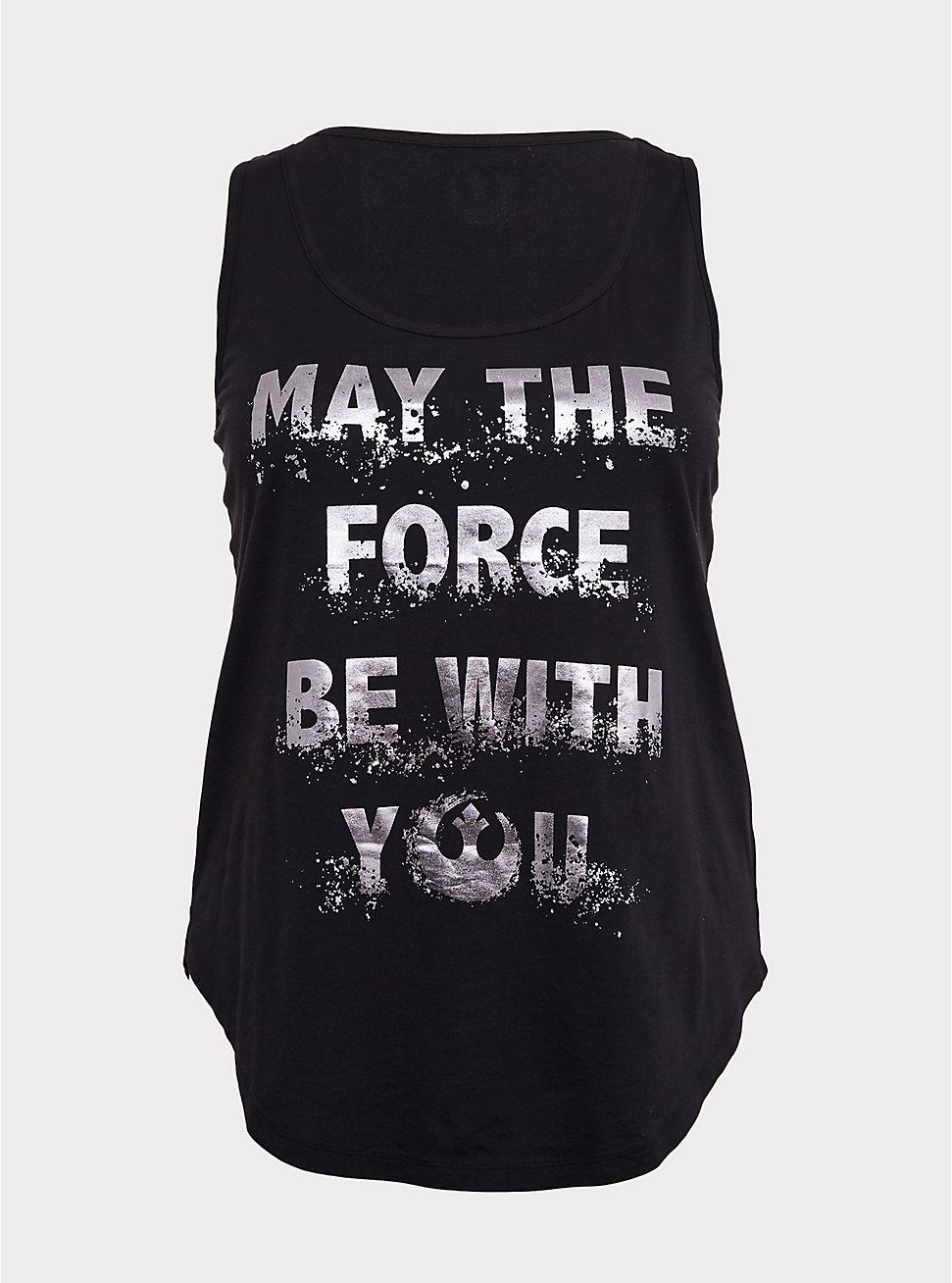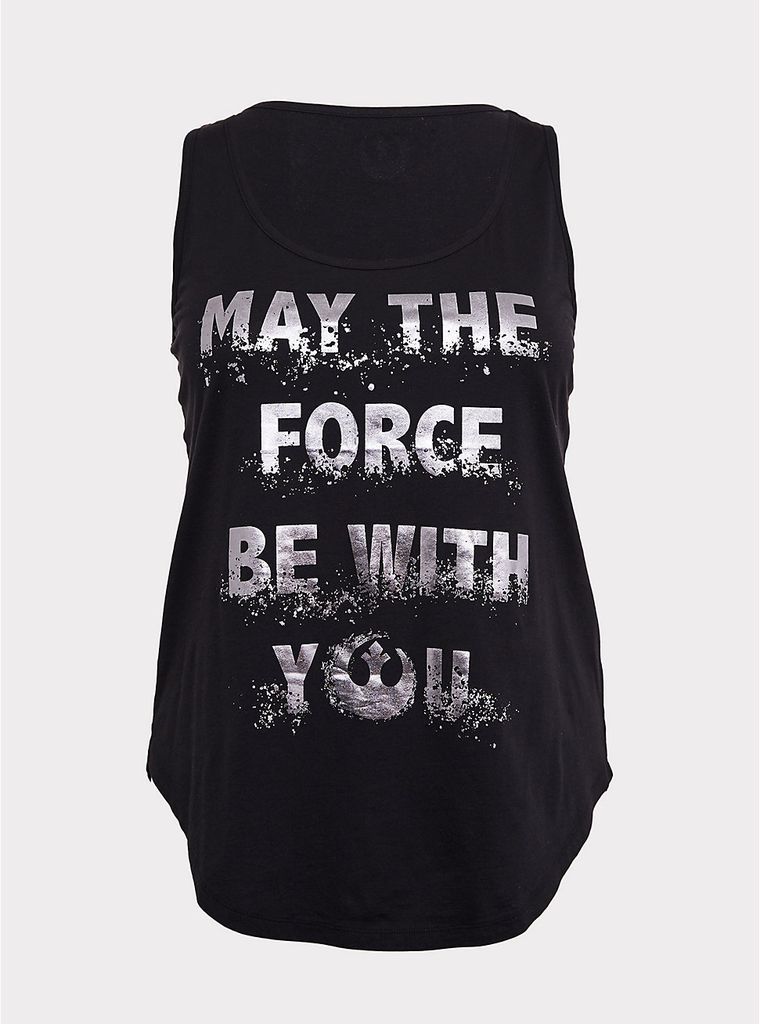 May the force be with you tank top. $39.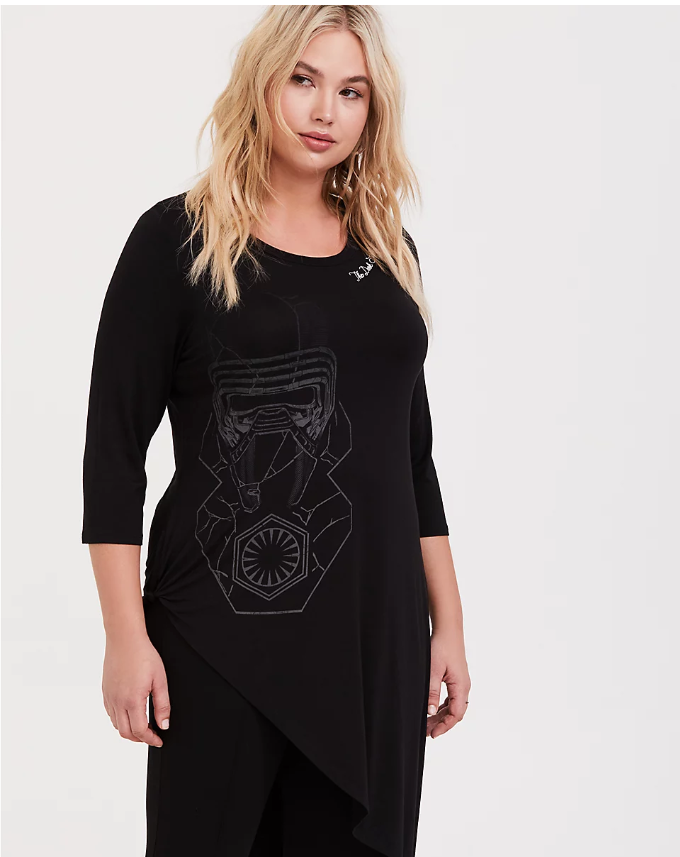 Don a Kylo Ren tunic. $45.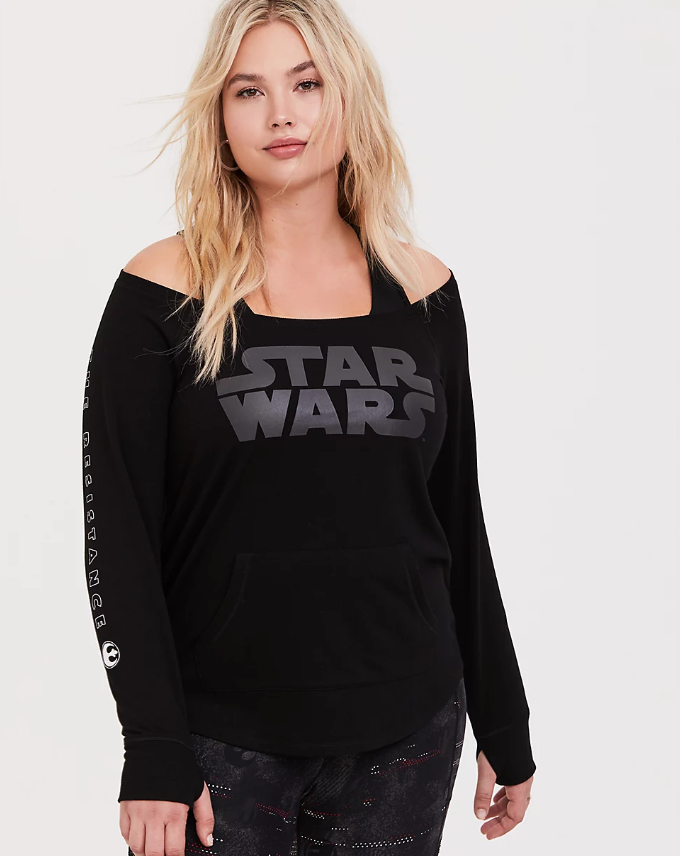 This off-shoulder Star Wars sweatshirt screams cozy. $59.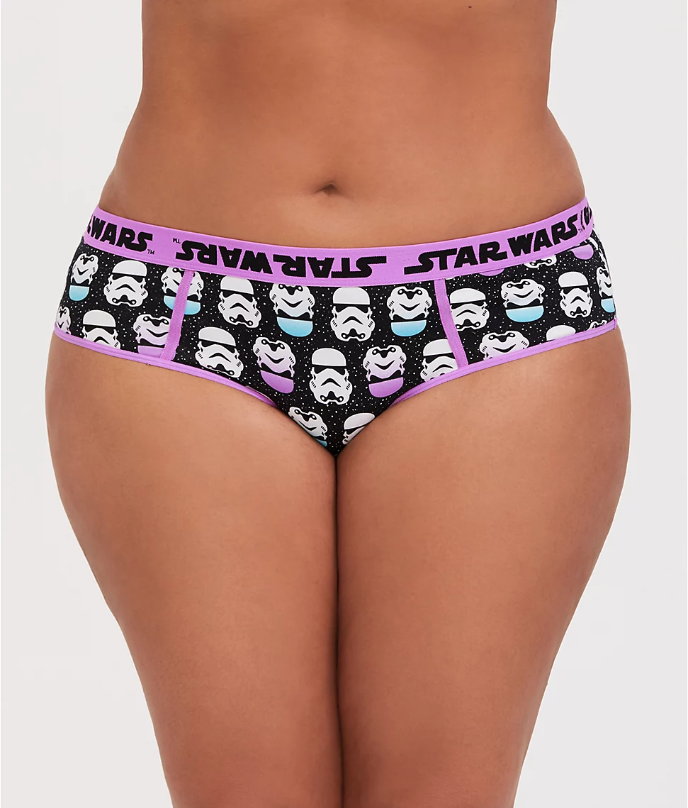 Storm Trooper underwear. $17.
Episode 9 camo cropped leggings are perfect for your workout, whether that's on the couch with a remote or at the gym. $61.
This Rey shirt features a cool lattice shoulder effect. $43.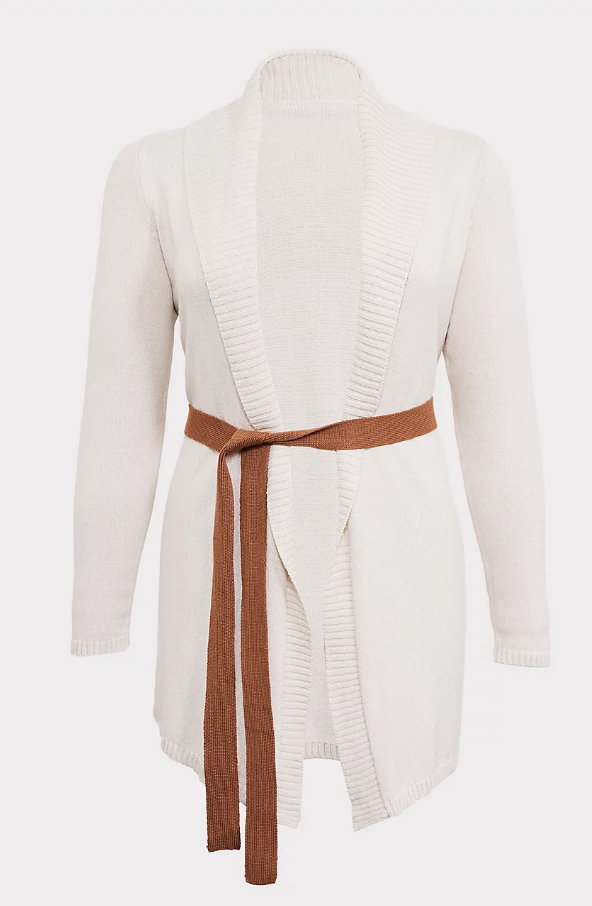 All the heart eyes for this Rey tie cardigan. $69.
Take it old school with this raglan style Star Wars comics shirt. $39.
Chewy! $39 for this awesome shirt.
Harry Potter Clothes at Torrid
Are you still waiting for your letter from Hogwarts? $35.
This shirt features the iconic cover of the first book. $39.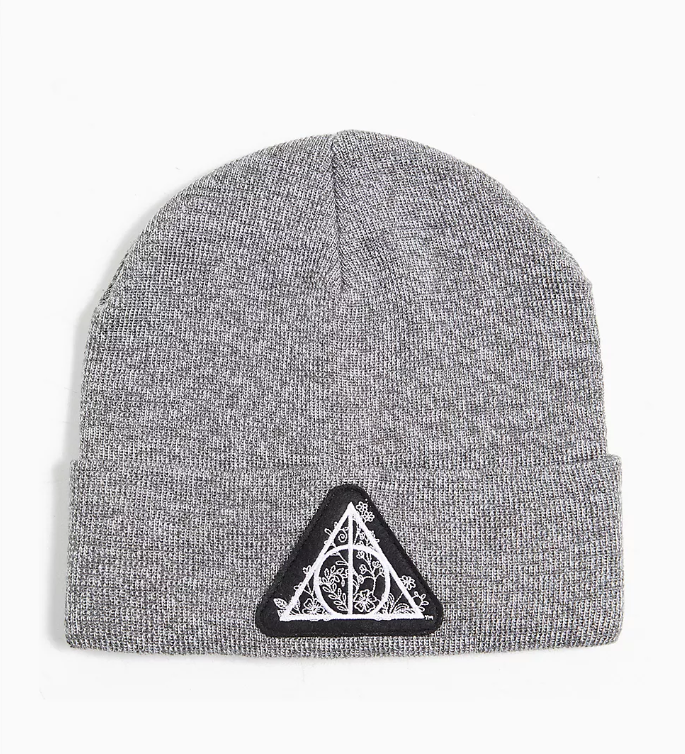 The Deathly Hollows on a beanie. $23.
Whatever your Hogwarts House, there's a sweatshirt for it. Hufflepuff, Gryffindor, Ravenclaw, and Slytherin are each $49.
There's ample opportunity for a Longbottom joke here, I'm sure, but make that one yourself. Hogwarts underwear! $17.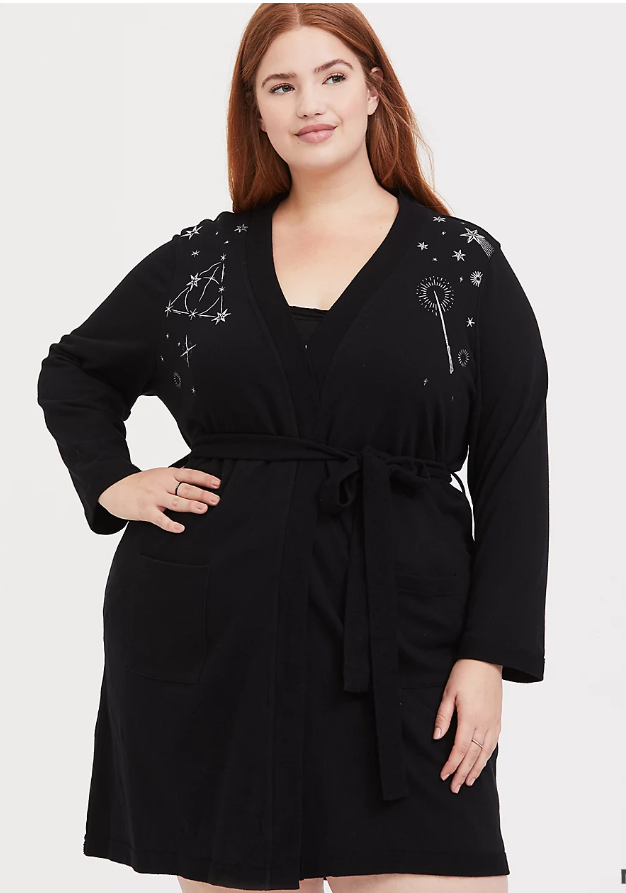 This Harry Potter sleep robe is pretty damn magical! $65.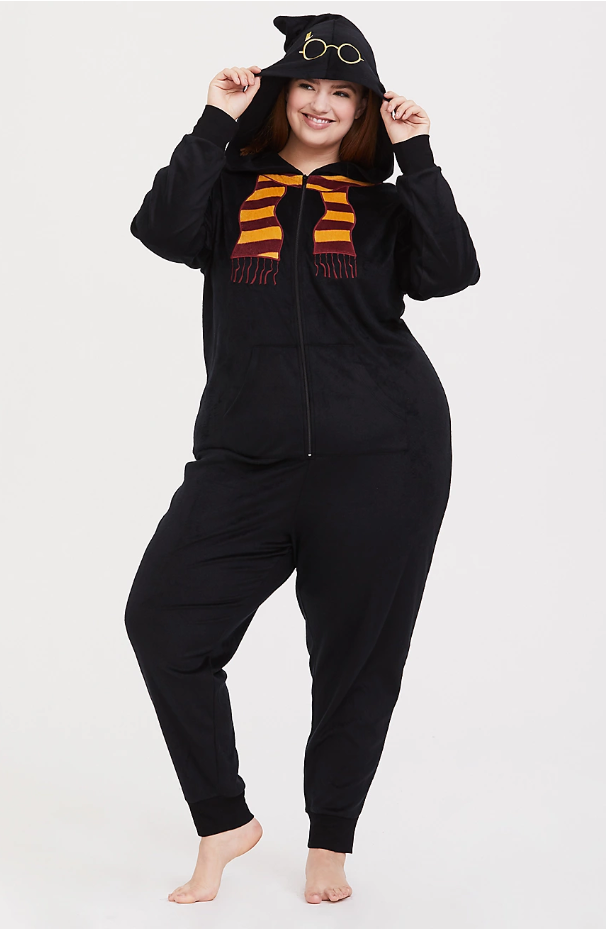 Sleep one-piece zip-ups aren't just for kids. You can live your best life in this Harry Potter fleece onesie. $69.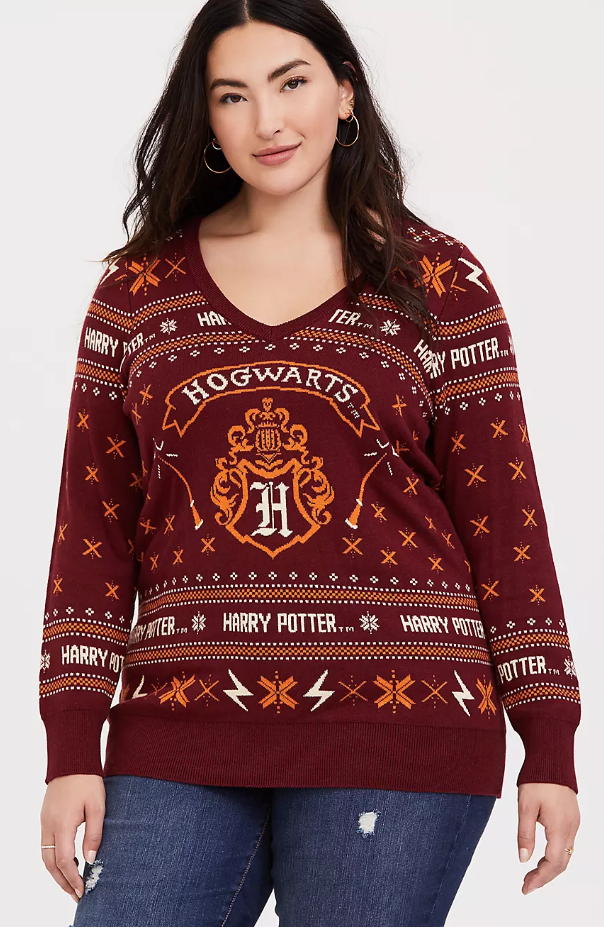 A fun Hogwarts crest sweater can be yours for $59.
Ombre + Deathly Hallows = Win. $55.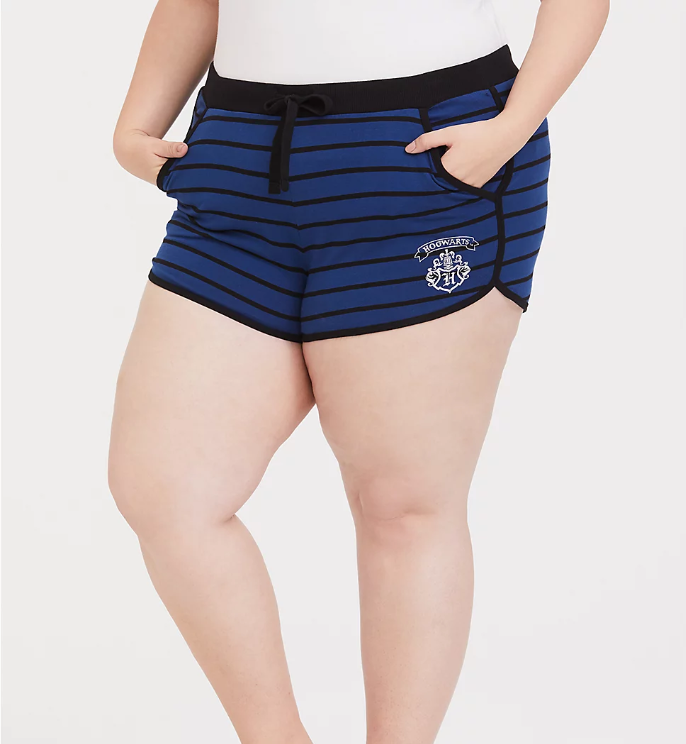 Get cozy in these Triwizard tournament sleep shorts. $33.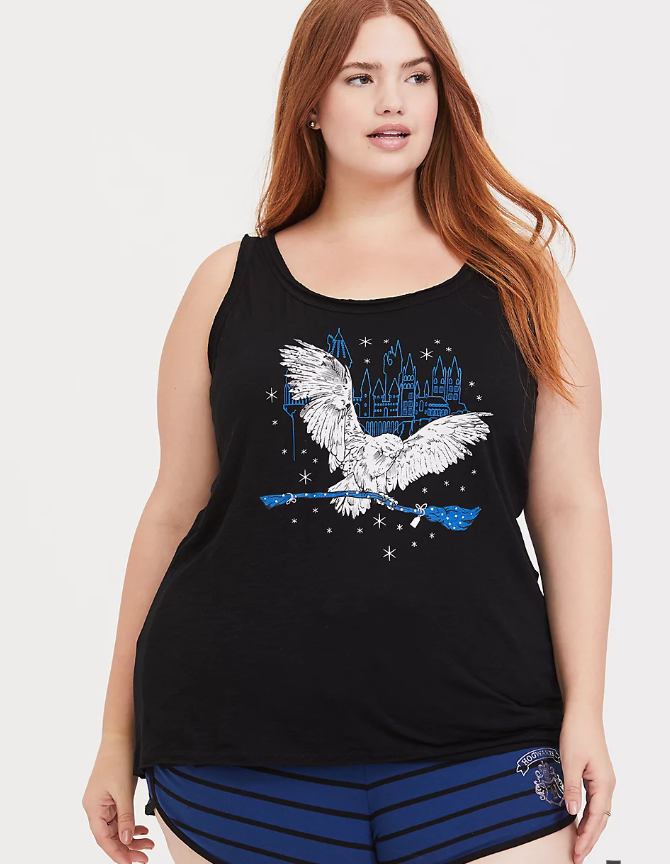 Pair those sleep shorts with this Hedwig tank top. $33.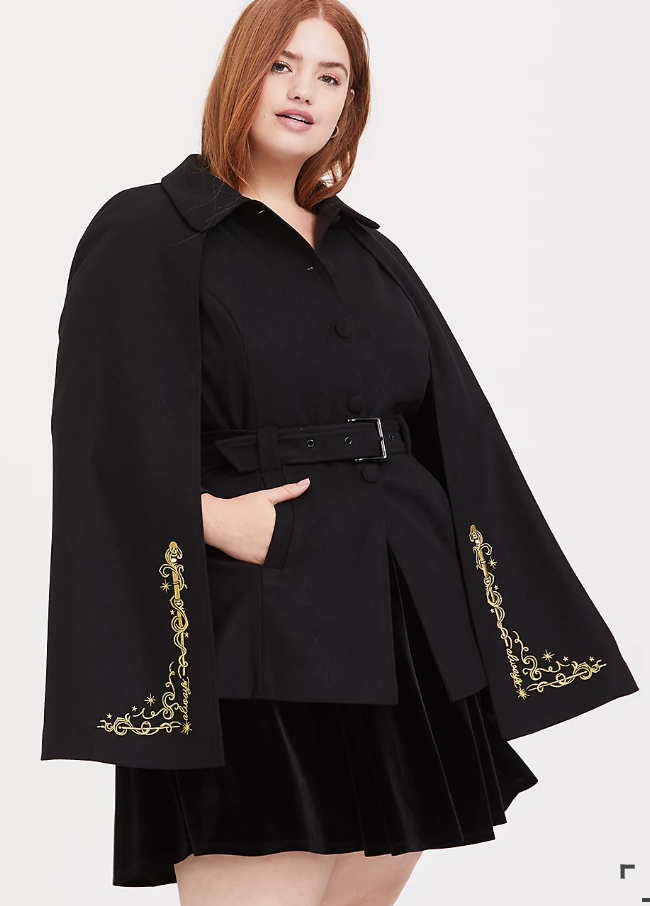 I'm 50000% obsessed with this woolen Harry Potter cape jacket. $129.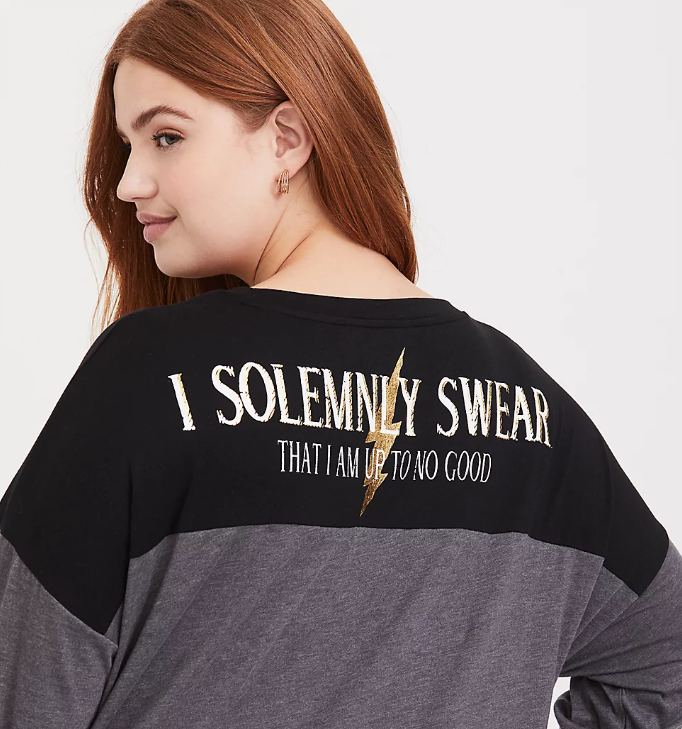 "I solemnly swear that I am up to no good" long sleeve shirt. $45.
Be briefed with Harry Potter newspaper boy short underwear. $17.
You need nice office-appropriate clothing, but who says you can't have that AND your favorite book on them? Enter this Harry Potter feathers and spells blouse. $49.
Game of Thrones Clothes at Torrid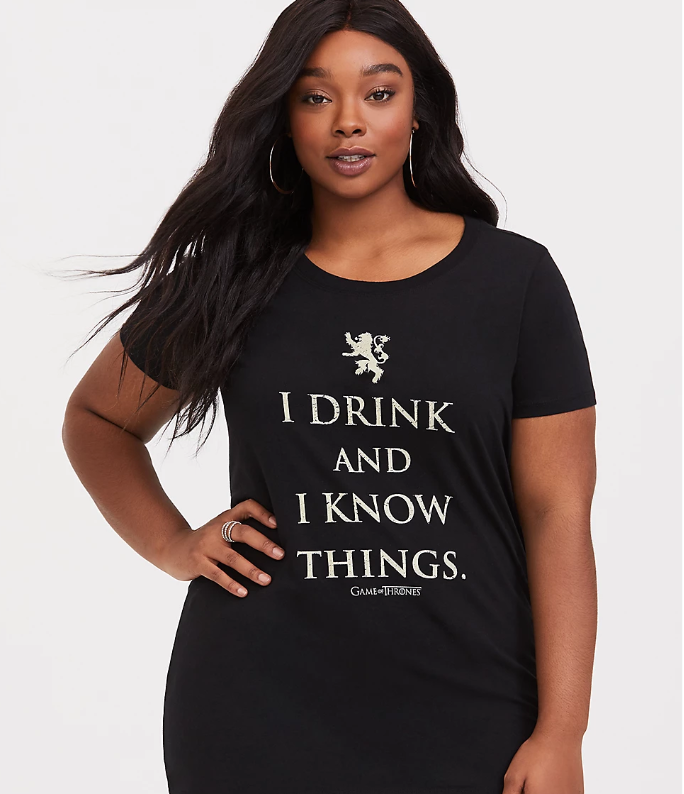 I drink and I know things T-shirt. $35.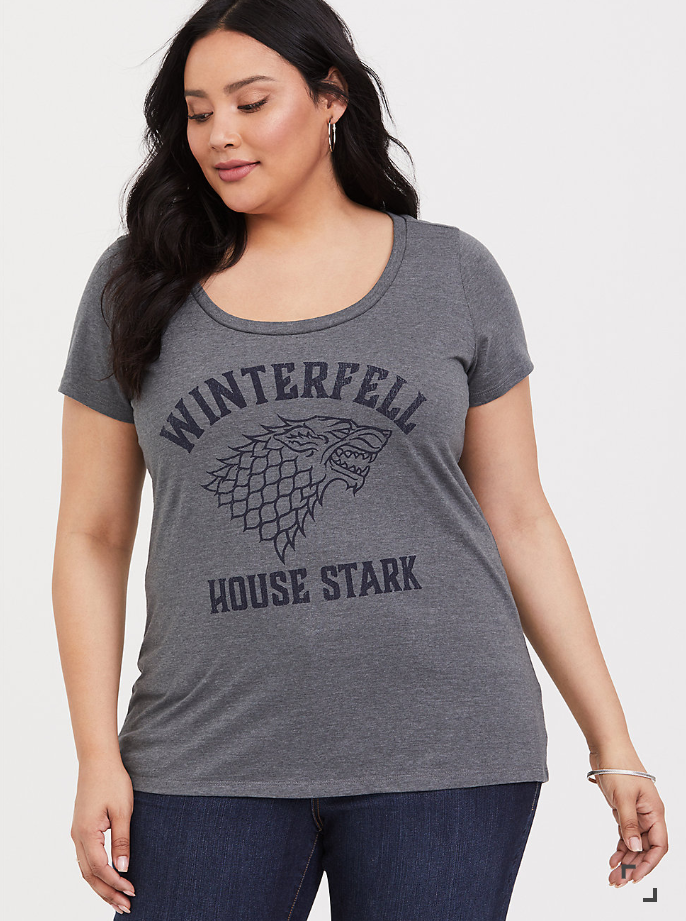 Winterfell fitted T-shirt. $35.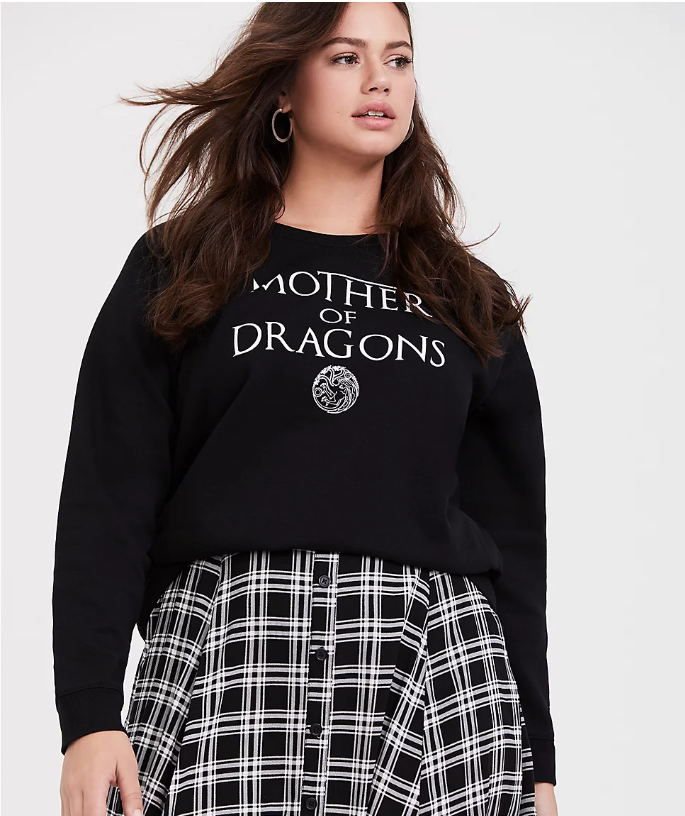 Proclaim yourself with this Mother of Dragons sweatshirt. $49.
Don't limit your wearing of this Khaleesi-inspired dress to Halloween. Any time is the right time. $79.
Outlander Clothes at Torrid
Whether or not you're an Outlander fan, the coats in this collection are pretty irresistible. I want them all, and I'm not a coat person.
This tartan woolen coat is everything. $119.
Faux fur trimmed green cardigan, yes please! $85.
Take tartan on Kimono style. $59.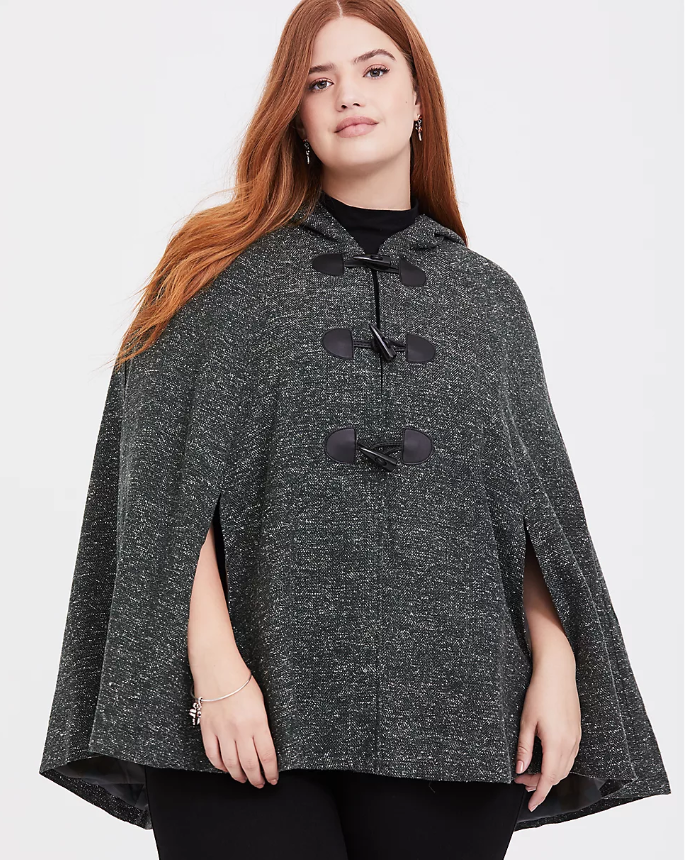 Drool over this hooded cape. $109.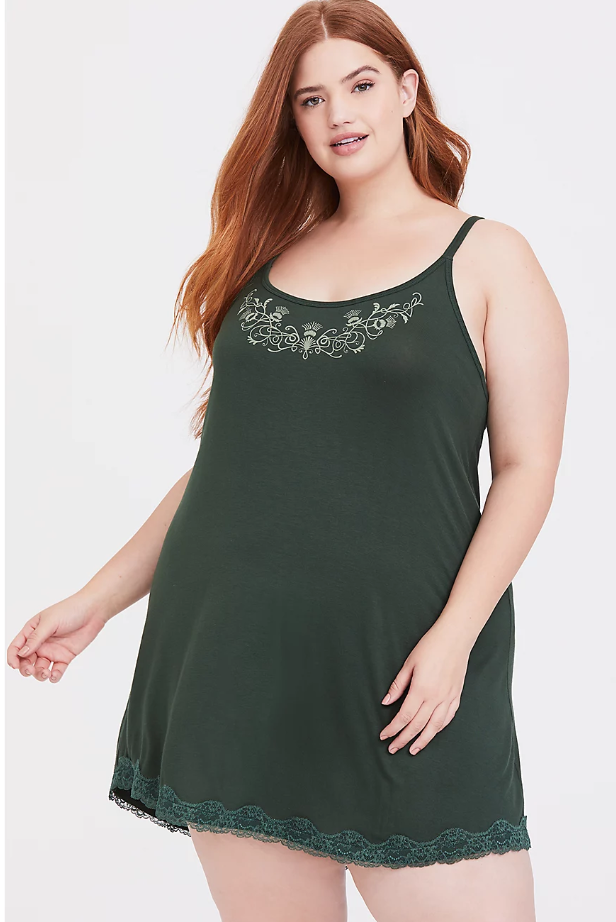 The perfect chemise for a night in with your book or for marathoning the series based on your favorite books. $43.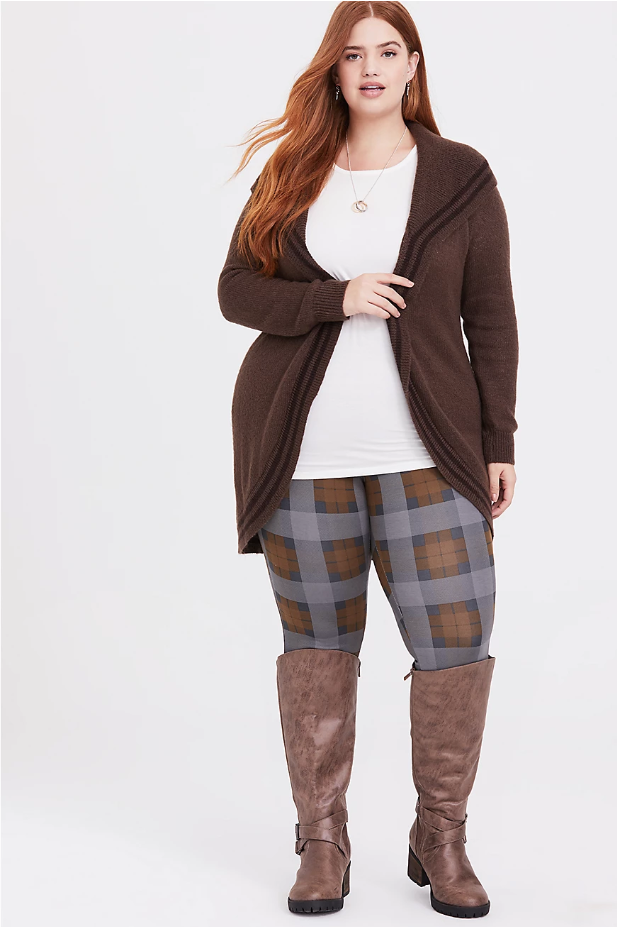 These tartan pants are sheer perfection. $59.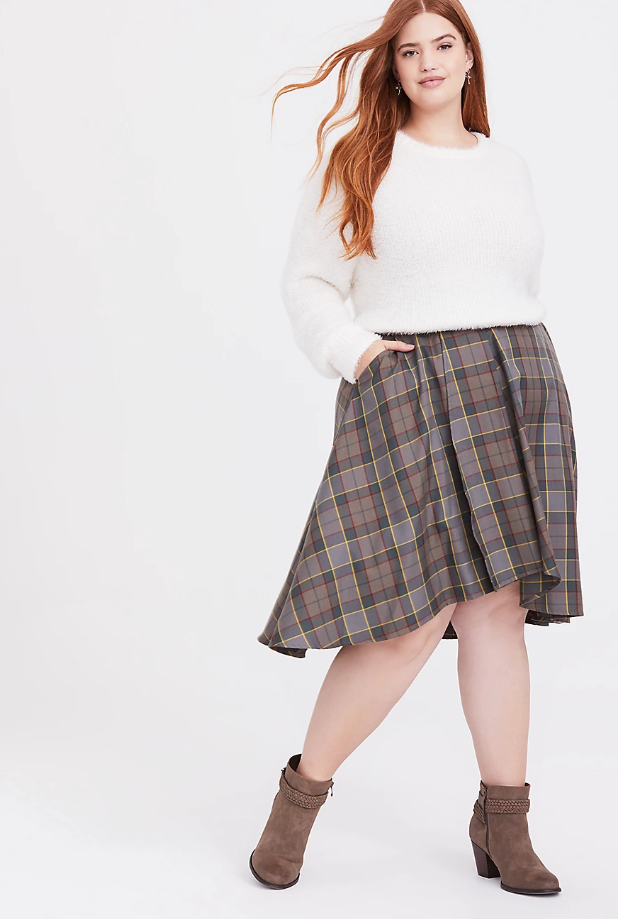 So is this tartan midi skirt. $59.
Don a two-tone ring necklace inspired by the show. $20.
Comics Clothes at Torrid
There are so many options for plus-size comics clothes!
Batman boy short underwear. $17.
Purrhaps you prefur (heh) Catwoman underwear. $17.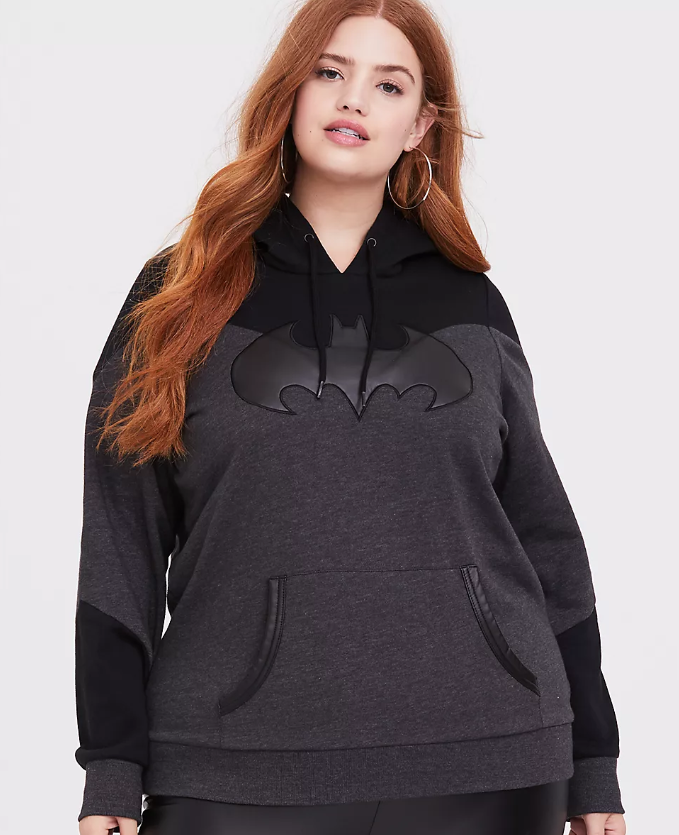 Batman hoodie, featuring faux leather details. $59.
This Wonder Woman dress is reversible, and it is EVERYTHING. $69.
This Wonder Woman swimsuit is badass. $99.
If you're a Marvel person, you'll want this half-zip Marvel hoodie. $55.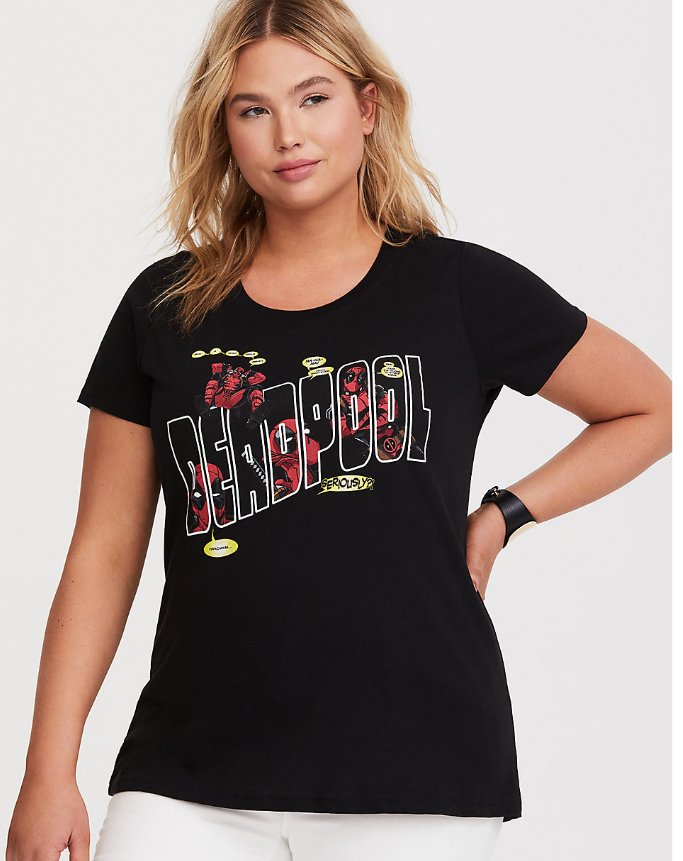 Wear some Deadpool with this T-shirt. $35.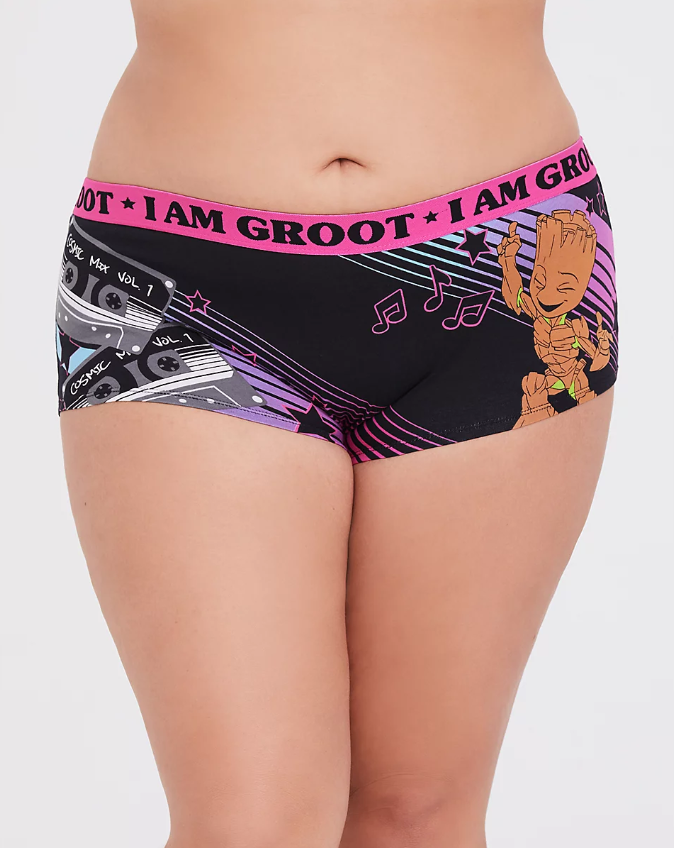 Groot underwear! $17.
A classic Joker T-shirt. $35.
This is one sweet Spider-man zip up hoodie. $59.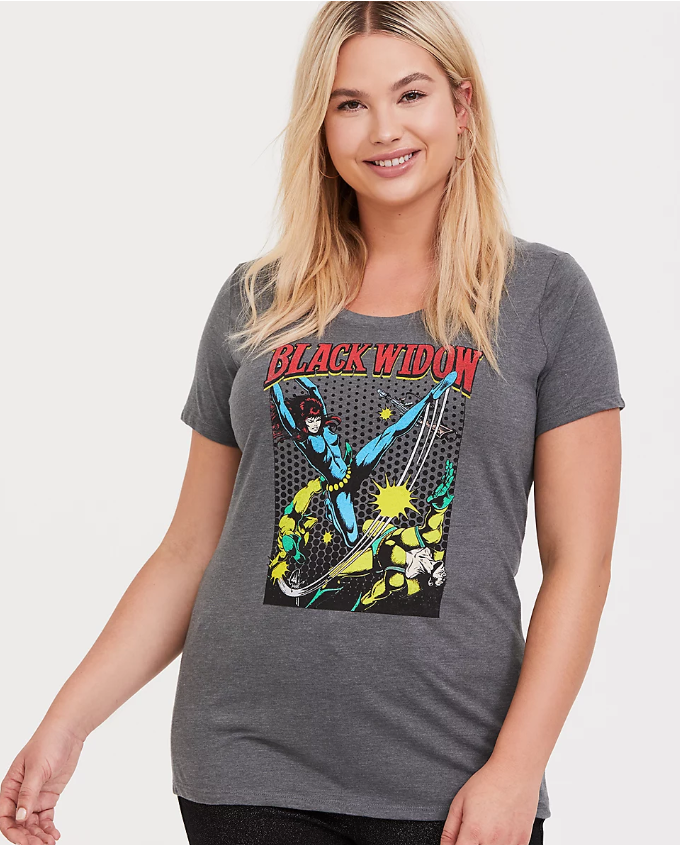 A comic book style Black Widow fitted T-shirt. $35.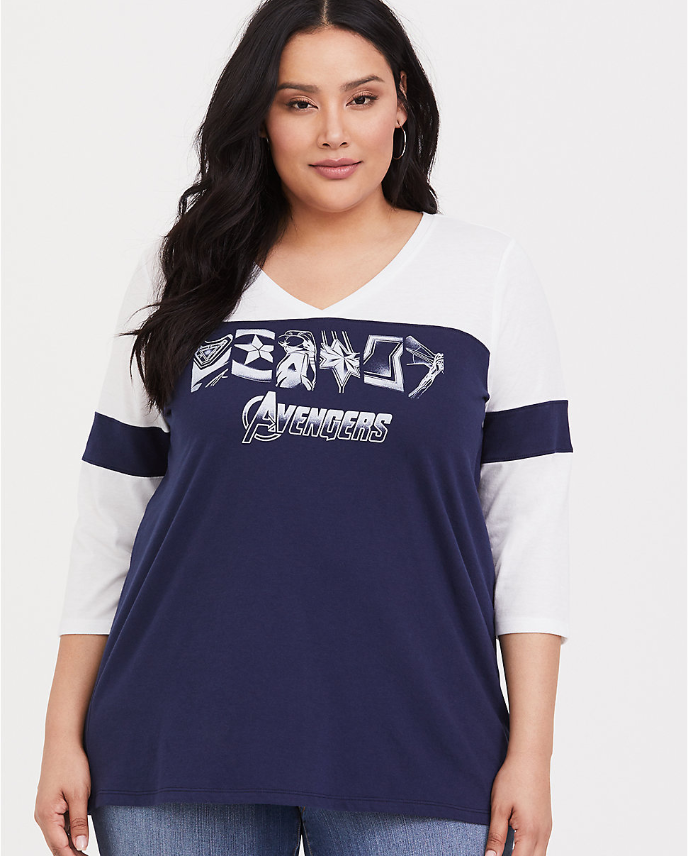 Avengers unite on this long sleeved top. $39.
This Captain America hoodie is straight aces. $59.
A collection of Marvel comics panels on display on this fitted T-shirt. $35.
Assorted Book Clothes at Torrid
Meow! A sweet Sailor Moon shirt. $35.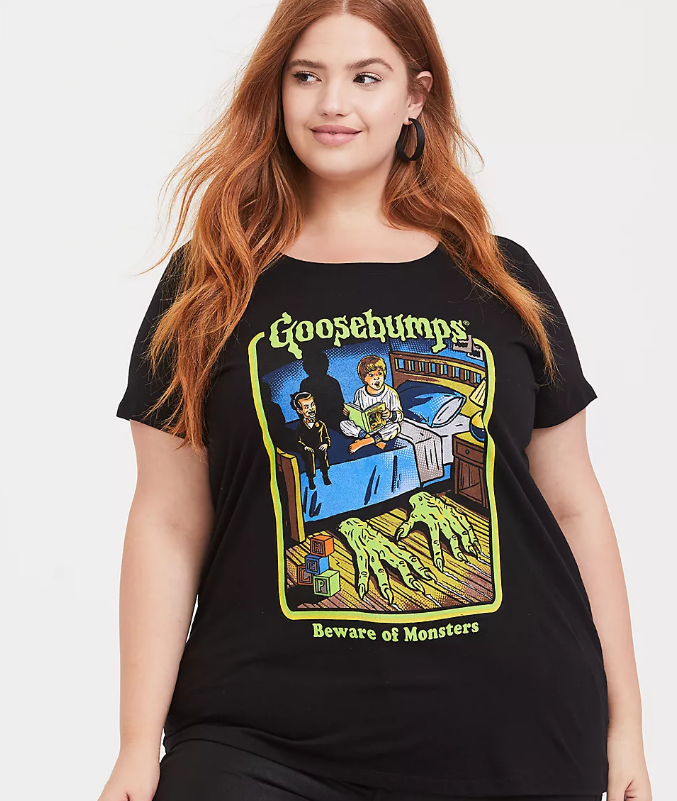 All the nostalgia for this Goosebumps T-shirt. $35.
Dracula, Dracula, Dracula! $43.
---
Want more great fandom wares? You won't want to miss this guide to all things Harry Potter at Target.