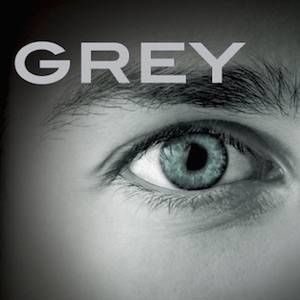 Newsletter 1
Top Responses to the New Fifty Shades of Grey Book
This content contains affiliate links. When you buy through these links, we may earn an affiliate commission.
Grey, E.L. James's retelling of her own Fifty Shades of Grey from Christian's point of view, will be published later this month. The surprise announcement generated a wide range of reactions, just like the original trilogy did. Here's a sample.
Some readers want to puke from excitement…
I'm literally SO EXCITED for the new 50 shades book I could puke! 😍😍😍 Christian Grey's point of view? Omg! #Grey thank you E.L.James

— September Roy (@sep_dawn) June 1, 2015
Others, not so much…
omg a new 50 Shades book, trying to resist the urge to puke all over my desk

— Lauren (@bookmarklit) June 1, 2015
Safe to say this reader is facing disappointment:
https://twitter.com/portraitofnatty/status/605394839731961856
Which leads to serious political objections:
As survivors of #domesticabuse the last thing we want to read is #grey a book written from a #domesticabuse perpetrators warped perspective

— 50 shades of abuse (@50shadesisabuse) June 1, 2015
And concern for Stephenie Meyer's welfare:
If I'm reading this 50 Shades news correctly… damn, EL James. It's like Single Write Female.

— Cleolinda Jones (@cleolinda) June 1, 2015
Do you think Stephenie Meyer is ever like "When is she going to cut to the chase and try to wear me like a sweater?" https://t.co/3w5qti0ccY

— Ariana Romero (@_ArianaRomero) June 1, 2015
One reader is dreading a literary mashup from hell…
What if the new 50 Shades of Grey book is just chapters taken from Ayn Rand, monologues from Tosh 2.0, and 42 pages of Quagmire's laugh?

— Anne T. Donahue (@annetdonahue) June 1, 2015
While this reader's expectations are a bit on the low side…
EL James will release an edition of "50 Shades of Grey" from the male character's perspective. Here's an sneak peek! pic.twitter.com/emKJ0uOCjo

— Benjamin Siemon (@BenjaminJS) June 1, 2015
Is it The End of Literature?
Ugh. Another 50 Shades of Grey book. Will the degeneration of literature never end?!

— Dantooine (@Danburden1138) June 1, 2015
Or just the status quo…
https://twitter.com/urbanepub/status/605402443921391616
Even the cover has readers divided:
https://twitter.com/seashell_50/status/605363646433259520
The Cover should have Jamie's Eyes! #StillExcitedAboutit #GREY

— Julianne ER (@Sassenach_Jules) June 1, 2015
Can we talk about why this Christian POV cover looks like an intern made it in MS Paint this morning?

— Bree (half of @kitrocha) (@mostlybree) June 1, 2015
Over at Jezebel, Jia Tolentino wonders if Grey inaugurates a new and entirely unnecessary subgenre:
It's just absolutely wonderful news for literature lovers all around, setting a precedent that I hope will bring us Lean In from the perspective of a middle-class woman, The Fault in Our Stars from the POV of "our stars," and Unbroken in the voice of Seabiscuit.
But Alex Beggs at Vanity Fair situates it squarely within recent literary tradition:
Remember what a literary sensation it was back in 1966 when Jean Rhys wrote Wide Sargasso Sea, the groundbreaking, feminist prequel to Jane Eyre that imagined the background of the woman who ends up locked away in Mr. Rochester's flammable attic? Rhys's perspective made English lit professors rethink their entire curriculum, which still hinges on that babysitting classic. Then in the 90s, there was Wicked, which gave us the sympathetic background to the misunderstood Wicked Witch of the West, inspiring a beloved musical that taught us not to judge those with green-tinted skin and huge nose warts.
The Atlantic says Grey is no mere book. It's a "capitalistic inevitability" that can somehow … teach us empathy?
So what Grey represents, besides capitalism at work, is also something slightly more optimistic: It is capitalism that is capitalizing on empathy itself. Capitalism that has decided to care what someone like Christian Grey thinks about the world, and that assumes that readers will care, too. Why does Grey do what he does? Why does he take pleasure in others' pain? We are, apparently, about to find out. "As anyone who has ever been in a relationship knows," James put it, "there are two sides to every story."
Of course, not everyone feels that Christian Grey's voice is the most important:
I want a 50 Shades of Grey book written from the perspective of all the bacteria growing on stuff in the red room of pain.

— 🦄Sara THE MURDERIEST UNICORN Amundson💀 (@saraterror) June 1, 2015
The inevitable pun …
Intriguing move to rewrite '50 Shades of Grey' from a Christian perspective. The bondage of faith. Bold mo… oh wait https://t.co/Ru1Am4WOGR

— Dan Stewart (@thatdanstewart) June 1, 2015
Whatever else it means socially, politically, economically, or aesthetically, for the fans it means a new book in a series they love:
https://twitter.com/zinebkaroum/status/605475165070311424
https://twitter.com/anasteixa/status/605462268554432513
____________________
Book Riot Live is coming! Join us for a two-day event full of books, authors, and an all around good time. It's the convention for book lovers that we've always wanted to attend. So we are doing it ourselves.