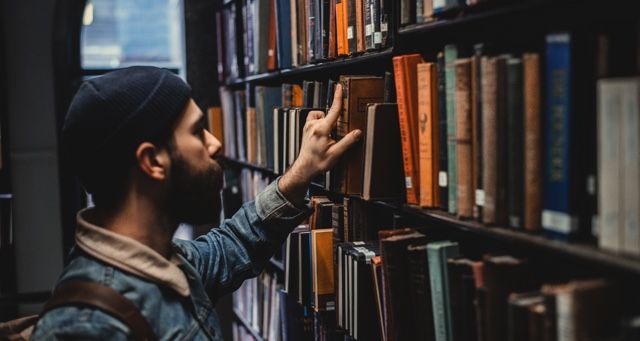 Lists
30 of the Top Nonfiction Books on Goodreads
This content contains affiliate links. When you buy through these links, we may earn an affiliate commission.
It's impossible to say what the top nonfiction books are. What method could possibly tell us which books, of the millions available, are the best? This post is an attempt to use Goodreads to come to some sort of answer.
How I Put Together a List of the Top Nonfiction Books
I've already created my own list of the top nonfiction books, but that list is very subjective and based only on my own opinion. Here, I'm letting Goodreads users have a say. To be clear, this list is also subjective. What Goodreads can tell us is how many of their users have rated a book and what the overall average rating is. But that only gets us so far.
The information is based on Goodreads users only, which limits the set of readers by a lot. Even accepting that limitation, another problem arises: sometimes the the number of ratings and the average rating don't match up. Some books have many ratings but a low average and others have a very high average but not many ratings. Which metric matters more? An older book may have more ratings than a newer one and therefore have an advantage. How to account for that?
In the end, a person (me) has to decide how to balance ratings and averages to determine which books to include. My method was to look for books with at least 100,000 ratings and an average rating of 3.90 or higher. I also tried to include a variety of genres to cover a range of the top nonfiction books.
Take a look at the list and see what you think!
The Top Nonfiction Book According to Goodreads
Average rating: 4.13; 2,454,072 ratings
No surprise, this is the nonfiction book with the most ratings and the highest average of all the books I found. It's the hugely important, widely read diary of a young girl in Nazi-occupied Holland.
Autobiography/Memoir/Diaries
Average rating: 4.26; 806,101 ratings
The Glass Castle is one of the most memorable entries in the crowded field of memoirs about unhappy families. Walls's parents were idealistic and unconventional to an extreme, eventually sinking deeper and deeper into dysfunction.
Average rating 3.97; 796,899 ratings
This is the story of Chris McCandless, who walked into the Alaska wilderness and four months later was found dead. Krakauer explores what drove McCandless to set out on this journey.
I Am Malala by Malala Yousafzai and Christine Lamb
Average rating 4.11; 347,156 ratings
When she was 15, Malala Yousafzai was shot by the Taliban on her way to school. She went on to speak before the United Nations, become a symbol of peaceful protest, and win the Nobel Peace Prize.
Average rating 4.22; 365,266 ratings
This is the first and most famous installment of Maya Angelou's autobiography. It's a powerful, inspiring tale of struggle and determination in the face of abandonment, violence, and racism.
Educated by Tara Westover
Average rating 4.48; 406,224 ratings
Tara Westover was born in Idaho, the daughter of survivalists who kept her away from doctors and out of schools. This memoir tells the story of how she educated herself, making it all the way to Harvard and then Cambridge.
Average rating 3.99; 540,718 ratings
At the age of 22, reeling from her mother's death, Cheryl Strayed decided to go on an epic journey. She set out to hike the Pacific Crest Trail and made it over a thousand miles from California to Washington, finding adventures everywhere along the way.
Average rating: 4.40; 164,415 ratings
Written as a letter to his son, this book looks at what it means to be black in America. It covers America's racial history, Coates's own experiences, and his analysis of our current situation. It's a short but rich and illuminating.
Average rating 4.35; 328,601 ratings
At the age of 36, Kalanithi got a diagnosis of stage IV lung cancer. This book is his attempt to grapple with mortality and to face his own death, which occurred in 2015.
Becoming by Michelle Obama
Average rating 4.60; 285,747 ratings
Published not even a year ago, this book was a huge bestseller and already has almost 300,000 Goodreads ratings. In it, you can learn about Michelle Obama's life and journey to the White House.
Average rating 4.25; 142,678 ratings
Persepolis is a graphic memoir about Satrapi's life growing up in Iran during the Islamic Revolution. She describes living in Tehran during a time of great political upheaval and violence.
Average rating 3.90; 152,954 ratings
This is Kaling's follow-up to Is Everyone Hanging Out Without Me? It contains funny personal essays on finding contentment in adulthood, including thoughts on love, work, friendship, and more.
Average rating: 3.98; 578,388 ratings
David Sedaris is one of the best to turn to if you want to laugh, and Me Talk Pretty One Day is probably his most-loved essay collection. The title essay covers what it's like to move to Paris and try to learn French.
Self-Help
Average rating 4.19; 469,265 ratings
This classic of self-help promises to help you get the job you want and make any situation you find yourself in work for you. It teaches how to make people like you, influence their way of thinking, and get them to change.
Average rating 4.09; 432,895 ratings
Here is another self-help classic that promises to help in your work and personal life. Covey has seven suggestions for examining your assumptions and learning to think in a new way to solve problems and work well with others.
Average rating: 4.08; 266,146 ratings
Duhigg dives into the nature of habits to help readers figure out how to develop the habits they want. The key to creating change, he argues, is to understand how the brain forms a habit and use that knowledge to one's advantage.
Average rating: 3.91; 119,616 ratings
In this book, the author of Eat, Pray, Love offers her theories of creativity and demonstrates how to foster creativity in our lives. She shows how to face our fear and harness inspiration to do the work we want to do.
History
Average rating: 4.38; 675,005 ratings
Unbroken tells the story of Louis Zamperini, a lieutenant in World War II who crashed into the Pacific Ocean. He pulled himself onto a life raft and began an adventure that took him out on the open sea and into enemy territory.
Average rating: 3.99; 455,948 ratings
The book is set at the Chicago World's Fair of 1893. Erik Larson intertwines the stories of the architect who designed the fair and a murderer who built a "torture palace" near the fairgrounds.
Average rating: 4.07; 476,175 ratings
In Cold Blood is one of the most influential works of true crime ever written. Truman Capote tells the story of four murders that occurred in Kansas in 1959, describing the murders, the investigation, and the killers themselves in vivid detail.
Average rating: 4.45; 291,495 ratings
Harari has written a history of the entire span of human existence, in less than 500 pages. He tackles big questions such as how our species emerged and how we developed religion, nations, money, books, and so much more.
Social Sciences/Culture
Average rating: 3.96; 618,728 ratings
The argument of The Tipping Point is that one small but well-timed event can lead to tremendous change. Gladwell explores how these cultural changes happen and what types of people are most likely to be the driving forces behind them.
Average rating 4.06; 273,490 ratings
Here is the introverts' manifesto. Susan Cain defines what it means to be introverted, how extroverts have come to dominate our culture, and the many contributions introverted people have brought us.
Average rating: 3.96; 635,553 ratings
Looking at the stuff of everyday life, Levitt and Dubner use the study of economic incentives to overturn conventional wisdom. Covering everything from drugs to parents to sumo wrestlers, this book will make you think in a new way.
Average rating: 4.45; 128,258 ratings
This book is an essay, adapted from a TEDx talk, about why feminism is important for everyone and why we need it in our world today. It's a great overview of feminism for every type of reader.
Science/Nature
Average rating 4.06; 517,967 ratings
Henrietta Lacks was a poor southern farmer whose cells became important in modern medicine, although Lacks herself never found this out. Skloot writes about Lacks's life and how her cells came to play such a vital role.
Average rating 4.06; 318,383 ratings
A Walk in the Woods is a humorous account of Bryson's attempt to hike the entire Appalachian Trail, which is over 2,000 miles and stretches from Georgia to Maine. He also describes the history and ecology of the trail and argues for its importance.
Average rating 4.06; 155,920 ratings
Mary Roach can make any topic entertaining to read about, even dead bodies. Stiff is a description of what happens to bodies after death and how people have treated cadavers through the centuries.
Average rating 4.45; 107,003 ratings
Gawande is a practicing surgeon, and here he takes up the topic of aging and death. He looks at what medicine can and can't offer those approaching death and those keeping them company along the way.
Average rating: 4.16; 251,527 ratings
Published in 1988, this has already become a classic of science writing. Hawking covers many topics in physics, including black holes, quarks, antimatter, the big bang, the nature of time, and more.
---
Looking for more of the best nonfiction? In addition to my list of the 50 top nonfiction books, you might also like this list of free essays available online, and these 50 short nonfiction books.