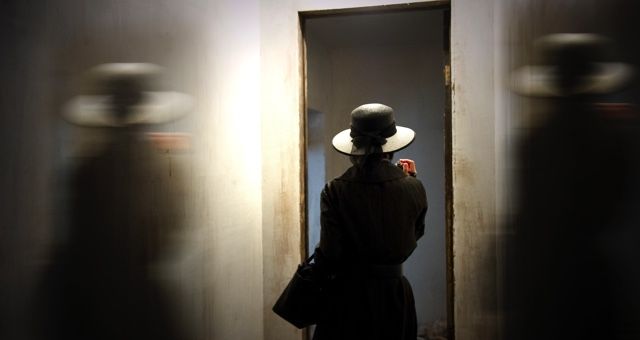 Lists
20 of the Top Mystery Books According to Goodreads Users
This content contains affiliate links. When you buy through these links, we may earn an affiliate commission.
I've always been fascinated by the "whodunit" style story. From Encyclopedia Brown to Nancy Drew to Agatha Christie, over the years I've read quite a few. I've even attended a murder mystery party or two in my day and enthusiastically played CLUE until I was the last one standing. If you, like me, love an engaging story—I've rounded up the top mystery books across several sub-genres by scouring Goodreads. My method isn't scientific; I searched by sub-genre and set out to compile the top mystery books by looking at the average rating and the number of ratings. Some might have more ratings than others, but I searched for a minimum of 3.5 across the board. Take a look at the top mystery books below and let us know what you think!
Top Mystery Books: The Cozy Mystery Book
(Avg Rating 4.05)
Is there a cozier mystery writer than Agatha Christie? She's a prolific mystery writer whose work spanned decades and has stood the test of time. The first in a series of mysteries starring beloved female detective, Miss Jane Marple, takes place in a small town where the town's hated magistrate is shot through the head. The mystery unfolds from there. It's a classic whodunit where everyone is a suspect and everyone has a motive.
(Avg Rating 3.99)
There's a reason that I've dubbed Agatha Christie the Queen of the Cozy Mystery book (I'm sure someone else has made the claim before), and this is her second entry to the Goodreads Top Cozy Mystery List. This time, male protagonist Hercule Poirot, is investigating a murder in a small town…okay, yes, the basic plot sounds familiar enough, but Christie is a master at this sort of detective novel. From the plotting to the pacing and the red herrings. I wonder if Hercule and Miss Marple ever teamed up in their quest to solve small-town mysteries?
dead until dark by Charlaine Harris (Sookie Stackhouse/True Blood, Book 1)
(Avg Rating 3.96)
If you watched True Blood then you're probably already familiar with the protagonist of this series. Sookie Stackhouse is just a small-time cocktail waitress who stumbles into a world bigger than herself (vampires, werewolves, and mysteries, oh my!). I confess that I picked up this novel when I needed a break from the heavier fair, and it served me well.
(Avg Rating 3.81)
This time set in 1950, our heroine is an aspiring chemist with an inquisitive mind who is intrigued by a series of seemingly unconnected events (a dead bird, a postage stamp, and a dead man in a cucumber patch). While I would probably back away from the bizarre turn of events, young Flavia de Luce is appalled and delighted. If you're looking for a bit of history mixed with a plucky female protagonist then this series may be right up your alley.
(Avg Rating 3.88)
Okay, so at this point, you can probably guess what the plot summary is here. A picturesque village, an unexpected crime, the suspicious detective is on the case! There's a reason this formula works so well and why cozy mysteries are so popular. If you've made your way through the aforementioned novel then this story featuring Chief Inspector Armand Gamache is the perfect one to add to your queue.
This paranormal cozy mystery checks all the boxes. Haunted house? Check. Picturesque Irish Countryside? Check. What makes this novel stand out amongst others in its genre is protagonist Gethsemane Brown, an African American classical musician who finds herself in over her head when she's stranded with no job, no luggage, and no money. She takes a job teaching music at an all-boys school and is surprised to learn that her cliffside cottage is home to its original very dead owner. You'll have to give it a read to see how this paranormal mystery plays out.
(Avg Rating 3.73)
I've talked about this series in another roundup, but I just can't help myself. Dayna Anderson is our female lead (former actress turned amateur sleuth), and she finds herself in over her head just trying to get some $$$, isn't that how it goes? It's also just refreshing to see a woman of color as a female detective.
Top Mystery Books: The Thriller Mystery
(Avg Rating 4.13)
This story was so successful that it inspired two movie franchises. Set in Sweden, the first of the series introduces us to Lisbeth Salander, a tattooed punk prodigy with an intriguing past who is tapped to help a journalist look into a family disappearance that occurred 40 years ago. From there, the tale spirals and unfolds into a familial drama and murder mystery. If you haven't delved into this story yet then find a cozy spot outdoors and knock it out. But remember to apply sunscreen as you get lost in this thriller.
(Avg Rating 3.84)
This story is a complex one, exploring the ramifications of the Srebenica massacre of 1995 that took place during the Bosnian War. The author is a Doctor with a PhD in International Human Rights Law, who spent years studying the Bosnian War and this particular event. Her expertise is clear as she tells this politically driven story while introducing us to two determined Detectives who specialize in minority cases.
(Avg Rating 4.06)
Gone Girl was a huge hit when it came out in 2012. It spawned a movie and propelled Gillian Flynn into one of the most sought out and popular mystery/thriller writers in recent memory. All her books have been adapted to either film or television, a sure sign of her popularity. Amy and Nick Dunne are at the center of this novel, and neither is to be trusted. Amy disappears and you're left trying to understand whether or not Nick had anything to do with her disappearance, or whether she left on her own. Flynn takes what could have been a simplistic tale and goes bonkers. By the end of the novel, you've left marveling at the choices that the narrators have made to get them where they are.
Rebecca by Daphne Du Maurier
(Avg Rating 4.22)
I could have added another Agatha Christie to this list, and it 100 % would have been warranted, but this high rated gothic piece was a nice contrast. Rebecca uses all of the elements of a gothic novel—a house, a hidden history, a haunting of some kind. Our naive heroine is swept off her feet by a dashing widower who promises her the world, but of course has a dastardly secret. The honeymoon period quickly wears off as her new husband's late wife and unexposed secrets threaten their marriage and her sanity.
Top Mystery Books: The Historical Mystery
(Avg Rating 3.6)
This story set in the early 1900s introduces readers to budding journalist Kitty Weeks. Desperate to prove her merit as a writer, she jumps at the chance to leave her fashion and gossip column behind when a man is murdered at a high society party she's covering. What unfolds is a mystery that's bigger than she could have imagined.
(Avg Rating 4.06)
The Alienist is considered a modern classic of historical suspense fiction. A reporter and a psychologist or "alienist" band together to solve a horrific crime in 19th century New York. It's gritty, it's suspenseful, and it's an undeniable page-turner.
(Avg Rating 3.96)
Described as a "love letter to reading," this tale unfolds as famed fictional author Vida Winter is near the end of her life and she decides to commission a young biographer to finally tell the truth of her incredible and haunting life. Part gothic novel and part mystery, The Thirteenth Tale spans decades as it unfolds the story of Vida Winter's past.
The Shadow of the Wind by Carlos Ruiz Zafón, Lucia Graves (Translator)
(Avg Rating 4.26)
Translated from its original Spanish publication, The Shadow of the Wind mixes intrigue, historical tragedy, and mystery masterfully. Set in Barcelona, a boy discovers a cursed book that changes his life and sets him down a path, weaving his life with the very book's author.
(Avg Rating 3.9)
I've always been fascinated by the time period where the British ruled India, known as the "British Raj." In this crime thriller by Abir Mukherjee, he introduces readers to former Scotland Yard detective Sam Wyndham, who migrates to Calcutta. He's been recruited to join the police force and quickly finds that the situation between the British and Indians is fraught with tension and unease. Of course, there's a murder and mysterious note and corruption, what makes this thriller stand out is his masterful job at tackling the political situation of the time.
Top Mystery Books: The True Crime Mystery
(Avg Rating 4.03)
The Manson murders have fascinated generations, the recent success of Once Upon A Time in Hollywood is a testament to that fact. This book prods at the questions on everyone's mind, what motivated Manson and his selection of victims? How did he influence four young women to commit heinous crimes in his name? This first-hand account by prosecutor Vincent Bugliosi explores those questions.
(Avg Rating 3.99)
This was the first true crime story that I read as an 8th grader, and it stuck with me. It was horrifying, morbid, and fascinating. Murderer H.H. Holmes took advantage of the World's Fair to build his murder castle near fairgrounds, where he lured fairgoers to their deaths. Larson interweaves this story with the story of the fair's architect, paralleling both plot lines to show how each "visionary" accomplished his goal.
(Avg Rating 4.07)
In Cold Blood is a classic work of true crime. Writer Truman Capote reconstructs the murder and the investigation that hit a small town in Kansas when a family of four were savagely murdered with no apparent motive for the crime. A true chilling look into unspeakable violence that struck America.
(Avg Rating 3.91)
Berendt's book reads like a novel, yet it's the true story of a murder in 1981 that shook Savannah, Georgia. Southern gothic in tone, the central narrative explores the killing of a local maker prostitute by a respected antique dealer. The book follows the four murder trials that follow, and explores the question of the killer guilt, murder or self-defense? One of the most notable things about this book is how Berendt brings Savannah to life, through his vivid portrayal of the city and the supporting characters.
---
And that's all folks for the top mystery books! Now it's your turn to share some of your favorites. Find us on Facebook and Twitter and share your thoughts. Craving more? Check out our posts around other top Goodreads finds below.