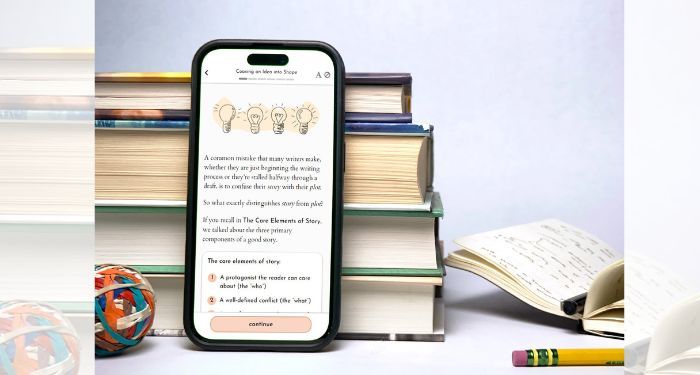 Educational
Is tome. Your Secret to Finally Finishing Your Novel?
With NaNoWriMo starting at the beginning of November, now could be the perfect time to invest in a new app that promises to help you finally finish your novel. tome. was established in 2022 and promises to make writing more accessible to everyone. The program teaches you how to plan and write your novel and gives you the tools to motivate yourself to get it done.

But if you're interested in trying out tome., you kinda have to go all-in. The app, unlike a lot of other apps in the market, does not offer a free trial. If you buy the app, you get access to it for life, but you do have to throw down around $100 right off the bat. So before you take that leap, you might want to know: Is tome. the kind of app that's going to suit my needs? Will I really be able to finish writing my novel if I get this product? Will it help me come up with ideas? Spark my creativity?
Let's take a closer look at the app and what it can and can't do. Then you can decide if it'll work out for you and your writing goals!
What is tome.?
tome. is an app you can use on your phone and/or on your computer. It was created by a small team of writers, writing instructors, and former writing professionals in the hopes of giving aspiring writers the tools to create and move forward with their novel projects.
Whether you already have a draft or you're just starting out with your writing project, tome. promises to create a custom program designed to help you take your writing to the next level. After you purchase tome., the app guides you through a series of questions to get an idea of where you're at in your project and what you need the most help doing. Do you need more ideas? Creative prompts? More motivation to just sit down and write? tome. has got you covered.
After you answer all of the questions, tome. will send you to your customized writing path. Because I can only see what my path looks like, I can't say how customized each path will look or how different your path will look from mine. But mine includes seven steps towards a finished novel: getting started (getting acquainted with the toolkit and breaking down the basics of writing a novel); growing an idea (focusing on the fundamentals of story); turning an idea into a story; finding your story's arc; from story to plot (crafting a story from the first to the last page); writing a (good) draft; and taking your novel to the next level (revision).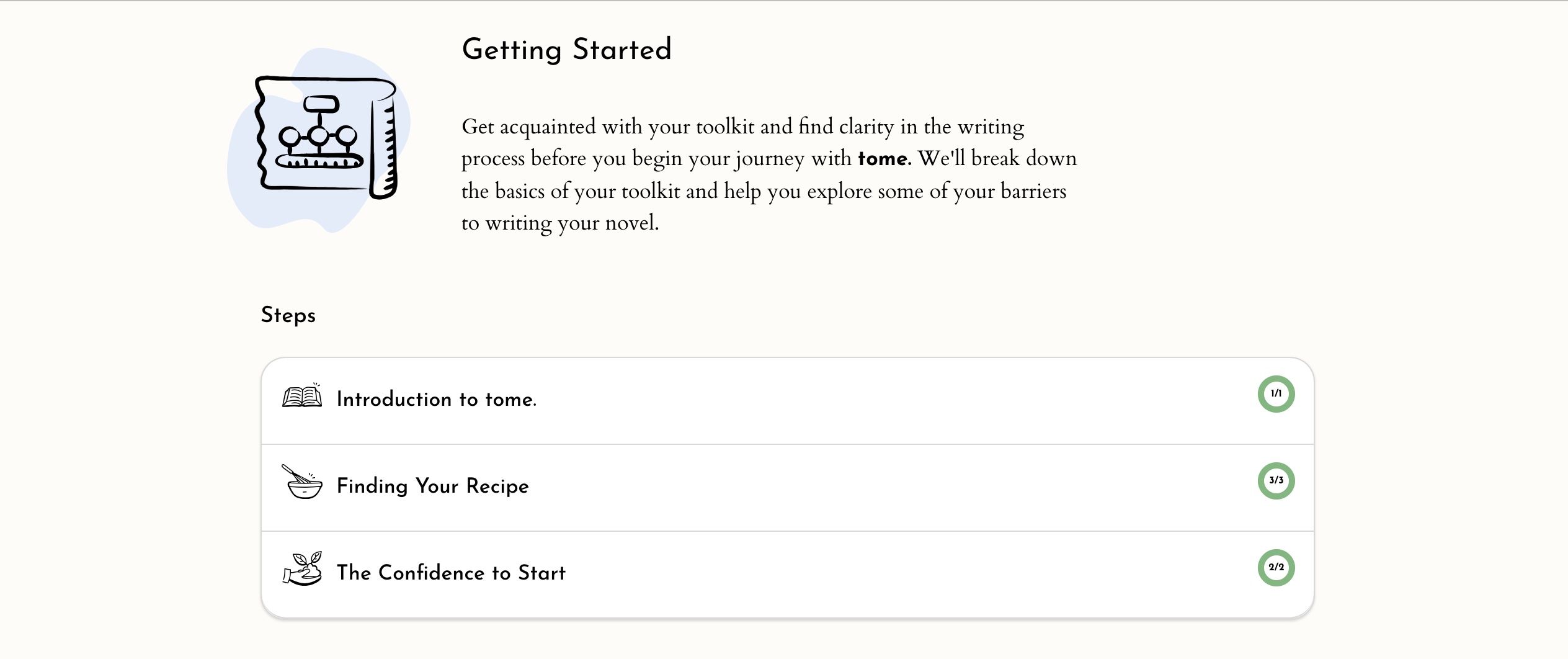 As you work through the program, you earn quills that let you move on to the next level of the program. You can skip around in some areas of the program. In others, the level is locked until you earn a certain amount of quills.
The app also includes a toolkit that you can visit with different writing prompts and tools to get you writing and motivated. If you purchase the extra packs that can come along with the main app, you'll also get the Character Booster Pack (to help you work on developing characters, of course), The Plot Booster Pack, and the Publishing Booster Pack (which will help you navigate the world of publishing after you finish your book).
What tome. Can Do for You
I came into tome. with an idea for a novel but a serious case of writer's block. I was hoping tome. would help break down the writing process into smaller bites to make it all feel less daunting. I was also hoping it would help keep me motivated and excited about the writing process. tome. does have the tools to help with both of these things.
What's interesting about tome. is that it's both a writing course and an app to get you writing. So, as you're working on your project, you're also learning about what makes a good novel and how to get your project there. Sometimes, you'll be given writing assignments that are directly related to your book project. Sometimes, you'll be doing brainstorming activities just to get your brain thinking about writing and how writing works.
For instance, toward the beginning of my writing course, tome. had me list some of my favorite novels and then asked me to think about the characters' primary goal, the main conflict/obstacle of the story, and what's at stake if the protagonist doesn't get what he or she wants. This isn't directly working towards writing my own novel, but it's supposed to get me thinking about how novels work and how to craft a story that will pull readers through.
What Tome. Can't Do For You
Sorry, but tome. can't force you to sit down and write if you continue to let life get in the way. My main struggle with writing my novel has been shutting out the outside world and just sitting down to write already. tome. does send me daily emails to remind me to log into the app, but I'm pretty good at ignoring emails. If tome. could start sending someone to my house to force me to sit down in a chair, that might be the literal push I need. But since I don't see that happening any time soon, I think tome. could offer a few pushes/reminders that are a bit more in-your-face to get people writing. I'm thinking about Duolingo and how the little widget on my phone just looks more and more annoyed the longer I go without practicing Japanese. A text reminder would also be harder to ignore than an email.
If you're looking for a writing course that's more audio/visual and less text-based, tome. is not that. All of the lessons revolve around reading and writing. There's not really anything you have to watch or listen to. Depending on how you learn, this can be good or bad. For me, I prefer to read and write, so I enjoyed this style, of course.
tome. is an app that syncs across multiple devices, but depending on what kind of devices you're using, it might not be compatible with all of yours. I currently have the tome. app on my iPhone, and I can also run the web app on my computer. However, the downloadable desktop app is not compatible with my MacBook, unfortunately. It's nice to have the iPhone option for reading lessons, but doing some of the longer writing prompts would be annoying (to me) on a phone, so I'm glad I at least have access to the web app.
Should You Try tome.?
Should you try tome.? It kind of depends. Do you find writing prompts helpful? Or are you the kind of person who likes to fly solo? If you've written a few novels before, you might find the first few steps a little basic. Then again, your customized version of the app might look different than mine. If you've been wanting to try a writing app, then I say go for tome.! The interface is aesthetically pleasing and easy to use, and the app empowers you to get work on your novel done every day, whether it's writing many pages or just doing a few brainstorming exercises.
Just remember: no app is going to write your novel for you. You still have to make the time to do it yourself.
Looking for more app reviews and recommendations? We've got so many for you to check out!