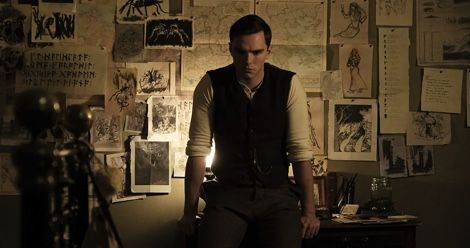 News
Watch the New Tolkien Biopic Trailer
This content contains affiliate links. When you buy through these links, we may earn an affiliate commission.
The first trailer for the new J.R.R. Tolkien biopic is out and ready for your elf eyes to see. Hitting theatres on May 10th, 2019, Tolkien stars Nicholas Hoult as the professor, philologist, and author of The Hobbit and The Lord of the Rings himself, alongside a cast including Lily Collins, Colm Meaney, Genevieve O'Reilly, and Derek Jacobi.
The life of J.R.R. Tolkien looks to make an epic story. Born in what is now South Africa, he was orphaned and raised by a Roman Catholic priest, forming a close fellowship of friends at school, all but one of whom would die fighting alongside Tolkien in the First World War, and married his lifelong love Edith (who became the inspiration for Lúthien). This movie explores how these experiences would shape Tolkien's fiction as he goes on to become a professor of Anglo-Saxon and English at Oxford University and author of some of the most well-loved stories of our time.
The blending of scenes from Tolkien's real life and imagination in the trailer is seamless and it will be fascinating to see how the biopic chooses to tell his story.
Watch the trailer here. A transcript of the voiceover is below.
"Tell me a story—"
"It's a story about journeys, the journeys we take to prove ourselves. It's about adventures. It's about potent magic, magic beyond anything anyone has ever felt before. About what it means to love, to be loved. About courage. It's about fellowship."