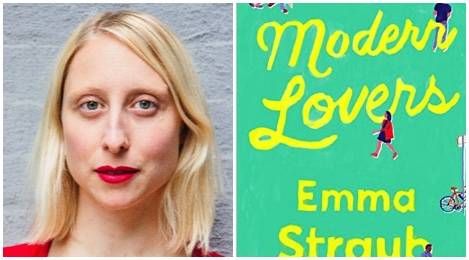 Literary Fiction
"There is Always Time to Make Your Dreams Come True": An Interview with Emma Straub
This content contains affiliate links. When you buy through these links, we may earn an affiliate commission.
I have been a fan of author Emma Straub and her books (and her Twitter account) for many years now, and it has been wonderful to watch as her audience, and her body of work, grows. Her most recent novel, Modern Lovers, is a funny, smart story of what it means to actually become an adult, long after society has labeled you as one. It has received starred reviews from Kirkus, Publisher's Weekly, Booklist and Library Journal. That's a lot of stars! I had the pleasure of emailing with Emma shortly before the novel's release.
Hi, Emma. How's life?

Exhausting but good! Was this not a part of the interview? I could go on! Hi, Lib!
Congratulations on all the great reviews Modern Lovers is receiving – SO MANY STARS! It's your fourth book – is releasing your fourth book as exciting as your first?
In some ways, it's like having a baby–with your first, you're like, OH MY GOD, THE HUMAN BODY CAN DO THIS? And with the second, you're like, oh, I got this, I know how this works. So to answer your question, it's not as painful, seems to go a lot faster, and is also maybe more likely to stand up on its own.
Has how you approach writing a book changed over the years?

I used to be young, Liberty! I used have all the time in the world! I'm kidding but also not kidding at all. My approach is be utterly mercenary when possible, about my time and about my need to get work done.
Where did the idea for Modern Lovers originate?
I used to have a neighbor who was in a band. For a long time, I wanted to write a short story about a teenager with parents in a rock and roll band, but it just wasn't coming–when I figured out that the story wasn't really about the band, things got much easier.
To give a brief synopsis, Modern Lovers is about college friends in Brooklyn now facing problems in middle age. Do you think being middle-aged means the same thing it did fifty years ago?

No way jose! Nowadays, for example, at 36 I fully reject the notion that I am remotely middle-aged! My parents, who are in their 70s, think that THEY are middle-aged. 60 is the new 25, or something.
You have done an amazing job bringing these characters to life. Did you have a favorite from the book?
Give me a badass teenage girl any day of the week–I love them all, but Ruby is my favorite.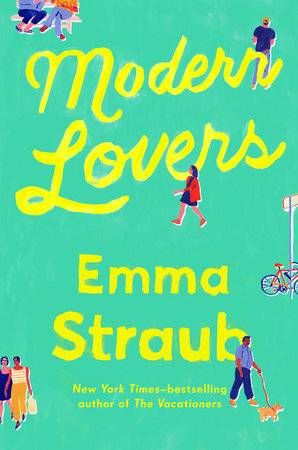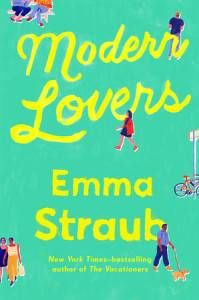 What is the main message (or a message) you are hoping to convey with this novel?
Oh man! I hope I don't have to know the answer to this one. I suppose what I would like people to walk away thinking is that there is always time to change, that there is always time to make your dreams come true, both big dreams and little dreams. I know that sounds super cheesy, but there you have it.
Are you a fan of the band The Modern Lovers, or is the title a coincidence?
I don't think I'd like to meet someone who was not a fan of Jonathan Richman. What a beautiful weirdo. I went to see him in Cleveland when I was in college. I also like that the title of the book brings to mind the David Bowie song, which in turn now makes me think of the best scene in 'Frances Ha,' when Greta Gerwig dances down the street.
I know for a fact that you're a fan of The Magnetic Fields – what song(s) would you pair with Modern Lovers?
Oh man. Certainly not 'The Luckiest Guy on the Lower East Side.' Maybe 'Grand Canyon?' "If I was the grand canyon, I'd echo you far, far away, but I'm just me, I'm only me, and you used to love me that way."
What upcoming books are you excited about? What's the best book you've read recently?
I have a four month old baby, so let's just talk about things I'm looking forward to. Stuart Nadler's book The Inseparables, Siobhan Vivian's The Last Boy and Girl in the World, the new Ann Patchett. Hubba hubba, a new Ann Patchett, know what I mean?
Do you ever feel like there's a story in you that you'd like to tell that you're not ready to write yet?
Of course! Sometimes I think about how fun it would be to go back and rewrite all my books as an older, more experienced person. Just having babies has changed my brain so much, I wonder what Laura Lamont would have look like if I wrote it now.
What career do you think you would like to have if you weren't a writer?
I'm a good saleswoman. Bookseller 4 Life.
What's one thing you'd like readers to know about authors?
We wear sweatpants almost all of the time.
What's one thing you think people would be surprised to learn about you?
Honestly, I share so much of my life on the internet, I can't imagine! Ha!
Anything else you'd like to tell us?
You look lovely today.