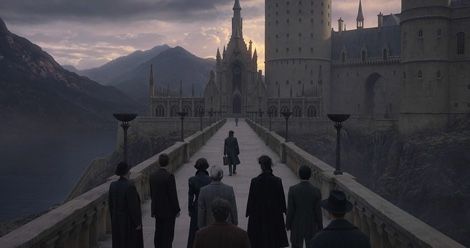 To Fantastic Beast…or Not
This content contains affiliate links. When you buy through these links, we may earn an affiliate commission.
Fellow Harry Potter fans, as the Harry Potter canon grows, I find myself in a conundrum and I need some help: how do I get more Newt without supporting people I'm really not fine with who are all around this movie?
The Good
I LOVE Newt. I have a young son and I am constantly on the lookout for depictions of caring, gentle men for him to see. This Book Riot post about Newt Scamander mirrors my feelings exactly. Seeing the lead hero of a Hollywood blockbuster consistently treat those smaller than him and in his care with respect and love was not only lovely, it was also unusual. He collects animals by engaging with them on their own terms (that Erumpet dance). He looks after animals, rather than trophy hunting them, and he uses his emotional skills to defuse the final battle. Heroic indeed.
The Bad
But…I do not love Johnny Depp any more. When I was a teenager 15+ years ago, he was the indie it-thing, and generally considered swoon-worthy. Whatever, it was 2001. But I just do not have any interest or inclination in supporting him whatsoever.
The Ugly
Further, I am falling out of love with Rowling as she consistently mishandles topics like Native American and East Asian cultures, retro-fit LGBT, and domestic violence.
After its initial launch, I avoided Pottermore, I skipped The Cursed Child and I regret nothing. The Crimes of Grindlewald is the first piece of Potterania that I am torn about. I dearly love Newt and all that he stands for. I want Hollywood to see my money and then make more blockbuster stories about gentle men (as opposed to gentlemen). But I don't want to line the figurative Gringots vault of a real world violent man and a powerful woman who harms the vulnerable, even as she takes on the vile with her Twitter.
The Struggle
Newt Scamander, a fictional character, offers representation of the kind of caring man I hope my son will emulate, the kind of person I hope to be like and see more. But Johnny Depp is a real world man who exemplifies the opposite of how I require my children to behave, "Use your words, not your body." This doesn't even touch on the whole Nagini as an Asian woman conversation covered excellently here and here by Rioters.
Potterverse fans, what will you do? Boycott the movie entirely? Watch it for Newt and hot-stuff queer (except not-queer) Dumbledore? I may just go to the library for the DVD when it is available, if the reviews are decent. The movie will do fine with or without my ticket price. But I still really love Newt and I wish I could comfortably put my money where my heart is for his kind of gentle character.