Pop Culture
TO ALL THE BOYS I'VE LOVED BEFORE is the Bookish Holiday Movie We Need
This content contains affiliate links. When you buy through these links, we may earn an affiliate commission.
"What's your favorite Christmas movie?"
People love to be cute when they answer that question. I literally cannot count the number of dudes who have patted themselves on the back while informing me that Die Hard is a Christmas movie. Yes! It is! So is literally every movie Shane Black has ever written! WHAT IS YOUR POINT, MY DUDES?
Well, I am here to tell you that To All The Boys I've Loved Before is a Christmas movie. AND it's based on a book!
On the off chance that you have been living off the grid or are a modern day Rip Van Winkle and have no idea what I am talking about, here is the trailer for the greatest movie of 2018:
In To All The Boys I've Loved Before, Lara Jean is the middle of the three Song Covey sisters. Her older sister Margot is going to college in another country. Her little sister Kitty is the sarcastic little sister we all wish we had. Lara Jean is…timid and a dreamer. She dreams of romance, and she copes with her romantic feelings by writing letters she never sends to the boys she likes. And then someone sends the letters and she pretends to be dating one of the recipients in order to make another recipient—Margot's ex-boyfriend—think she doesn't like him. It's more believable than it sounds.
Lara Jean's older sister Margot comes home for Christmas near the end of the movie, therefore it is a Christmas movie. Boom.
In addition to being based on a book (the first in a series, where are the rest of my movies Netflix???), Lara Jean is shown to be a devout reader of romance novels and has a shelf in her bedroom that appears to be full of Nancy Drew (and Hardy Boys) books.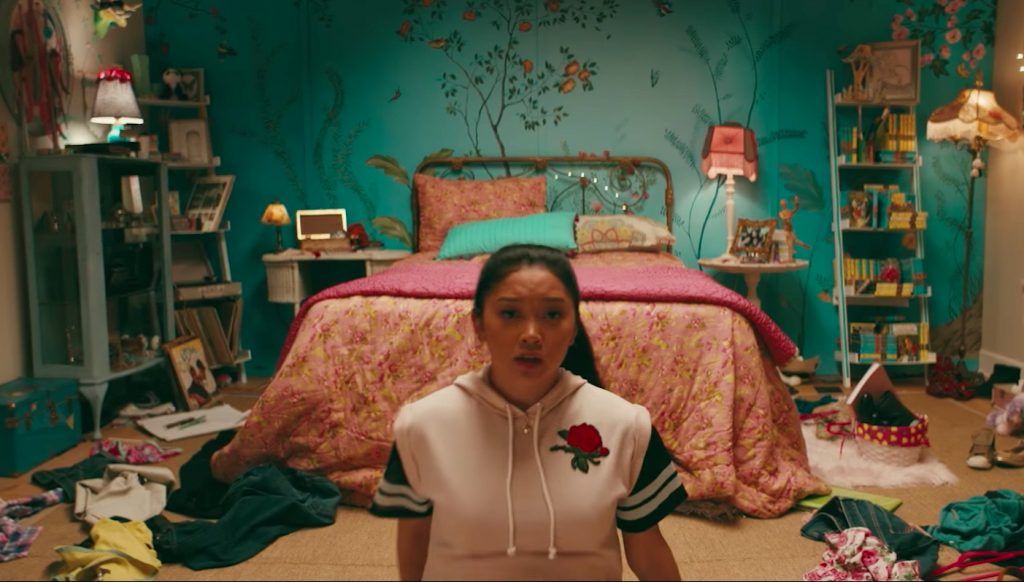 I have been told that there is a copy of Jenny Han's novel The Summer I Turned Pretty somewhere in the movie—possibly in Lara Jean's room—but I have not spotted its pretty blue cover yet.
This movie is basically perfection. It's a romcom with a strong female friendship, a diverse cast, a loving family, and amazing set decoration (see above), among other things. There is a minimum of toxic masculinity and a maximum of feminism; the movie absolutely embraces Lara Jean's femininity. And it has a very sweet HEA.
And? It is the best Christmas movie.
ICYMI
Don't believe me? See what other Rioters have said about TATBILB:
10 Books to Read After To All The Boys I've Loved Before
The Best Cookies for your To All The Boys I've Loved Before Viewing Party
6 Other Books That Deserve the To All The Boys I've Loved Before Treatment
Which Song-Covey Sister are You?
Which YA Love Story Should You Read After To All The Boys I've Loved Before?
The Best Bookish Halloween Costumes of 2018 (so many Lara Jeans!)
This Week in Romcom-Starved Bookish Twitter (mostly TATBILB tbh)
3 YA Books to Read if You Love the Song Covey Sisters