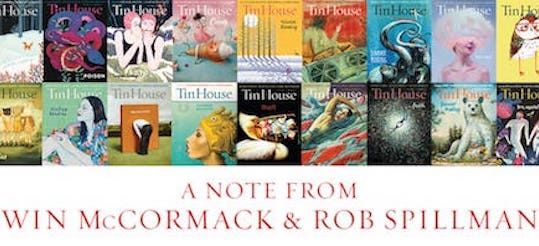 This content contains affiliate links. When you buy through these links, we may earn an affiliate commission.
As a young creative writing student, Tin House was the first literary magazine a professor ever gave me, and it was the first lit mag I ever purchased for myself. The magazine itself has a particular feel like no other. It's sturdy but soft. The cover, always beautifully illustrated, is printed on velvety, matte paper, and the pages themselves are sturdy, detailed, and always, always readable. For the connoisseur of books and paper, each issue of Tin House is a work of art.
But Tin House's legacy of producing one of America's best literary magazines is coming to an end. This week, publisher and editor-in-chief Win McCormack announced that the 20th Anniversary issue of Tin House, which will be published in June 2019, will be the magazine's last.
McCormack writes:
"Given the current costs of producing a print literary magazine, I have decided to shift resources to Tin House's other two divisions: Tin House Books and the Tin House Workshop. This will allow the workshop to create more scholarship opportunities for its participants and expand the scope of what types of classes it offers, while our book division will look to publish more titles in the coming years. We will continue to publish original fiction, nonfiction, and poetry online at tinhouse.com, with a focus on publishing new voices, a cause the magazine championed throughout its 20-year history."
It's true that Tin House publishes some truly gorgeous books. They have put out some of my favorite poetry collections in recent years, like Erica Dawson's When Rap Spoke Straight to God and Morgan Parker's There Are More Beautiful Things Than Beyonce.
But it's also true that their magazine has launched careers and shared new writers with the world. For many writers, myself included, Tin House was a holy grail.
What We Lose Without Tin house
During its 20-year run, Tin House has published literary heavyweights. Just in the past few years, they have featured work from Carmen Maria Machado, Camille Bordas, Tracy K. Smith, Aimee Bender, Sarah Manguso, Leslie Jamison, and Kaveh Akbar. Every issue is nothing short of a literary smorgasbord, a pure delight.
Publishing in Tin House meant you made it. The fact that I managed to squeeze an essay into their Fall 2018 issue is now bittersweet. Only a few more writers will get to know that feeling, and the readers who will no longer see Tin House on the newsstand won't know how much they're missing out.
Tin House isn't the only print magazine to shutter recently. In a sad trend, it is the latest of several greats, including Glimmer Train, to shut its doors.
What does this mean for literary magazine publishing? Have readers stopped reading or are our habits changing? I'm not sure. What I do know is that if you want to keep seeing literary magazines in print and at the bookstore, you need to buy them. Take action to prevent the creeping death of literary magazines. Don't just lament their demise after it's too late.
RIP Tin House: Writers & Editors React
My heart just cracked in half. I love @Tin_House and, in many ways, the magazine was a crucial part of my upbringing as a writer. https://t.co/fWzBMcdG84

— Saeed Jones (@theferocity) December 13, 2018
Thank you for quite literally shifting my life and opening it, Tin House. I will miss this magazine so much https://t.co/NJiSw1FIdm

— T Kira Madden (@tkiramadden) December 13, 2018
https://twitter.com/ingredient_x/status/1073285079923859456
It is absolutely heartbreaking to lose this outlet. @Tin_House is one of my favorite magazines.

— Carmen Maria Machado (@carmenmmachado) December 13, 2018
Wow, I'm really sad about @Tin_House. More so than any other publication shuttering so far, I think (and there have been so many!). But I'm so glad that the press and the workshop will still exist, and I hope they flourish for a long, long time.

— Lilly Dancyger (@lillydancyger) December 13, 2018
It was always a dream of mine to publish there. But I also wanted to be on Charlie Rose so I guess I will live.

— Terese Mailhot (@TereseMarieM) December 13, 2018
Wow, I'm really sad to hear this.

But also @Tin_House has had one one of the greatest runs ever. So much stellar fiction and careers have come out of this magazine. One of those lit mags that helped define the last 20 years of American lit. Thank you!https://t.co/xY7QVXsMTR

— Lincoln Michel (@TheLincoln) December 13, 2018
Did you love Tin House, too? Tell us about your favorite stories and poems from one of America's greatest literary magazines.