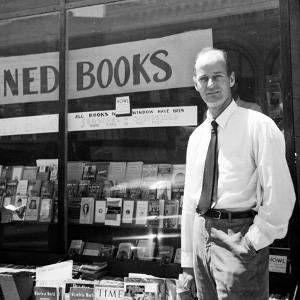 This content contains affiliate links. When you buy through these links, we may earn an affiliate commission.
The year was 2006. The city: San Francisco.
I had been lucky enough to get a conference paper abstract accepted by the American Literature Association, the subject being Theodore Dreiser's collection of stories, A Gallery of Women (1929). It's a remarkable group of portraits, written with Dreiser's characteristic sympathy and curiosity.
And I'm not sure if I mentioned this but the conference was in SAN. FRAN. CIS. CO.(!!!!!!!!) A vibrant, energetic, diverse city, filled with bookstores and cafes and trolley cars. I was chomping at the bit to check it out.
When I mentioned this trip to my mom over the phone, she got all wistful and dreamy about seeing California. It had been years since we had taken a trip together, so I invited her along. She wanted to see the city in all its glory, and wander around, but I had just two goals: present my paper without embarrassing myself, and visit City Lights Bookstore, founded in 1953 by the poet Lawrence Ferlinghetti.
My love for Ferlinghetti's poetry stemmed from a recent purchase of The Portable Beat Reader, which included excerpts from the major writers of the Beat Generation (Ferlinghetti, Kerouac, Ginsberg, DiPrima, Burroughs, etc.). I was trying to write my own poems (and failing horribly) and something about Ferlinghetti's free-wheeling, buoyant creations inspired and uplifted me. "Constantly Risking Absurdity (#15)," for instance, is one of my favorites. And A Coney Island of the Mind is one of my treasured collections.
So once the paper was delivered, embarrassment averted, and mother taken to the heavenly palace of chocolate known as Ghirardelli Square (where we kept going back for free samples), we set out for City Lights.
I was not prepared for the bookish feast that greeted me when we stepped through the door. City Lights is multiple levels, organized but crammed with bookcases featuring works that you would never see on a chain store's shelves. I found Thomas Mann books I hadn't even known existed, writers whom I had never heard of, beautiful editions that took my breath away. Poetry, philosophy, political science, history, biography, essays, fiction, art history: it was all there. We wandered amongst the books, taking in the cozy intellectual atmosphere of the place, me drooling all the way.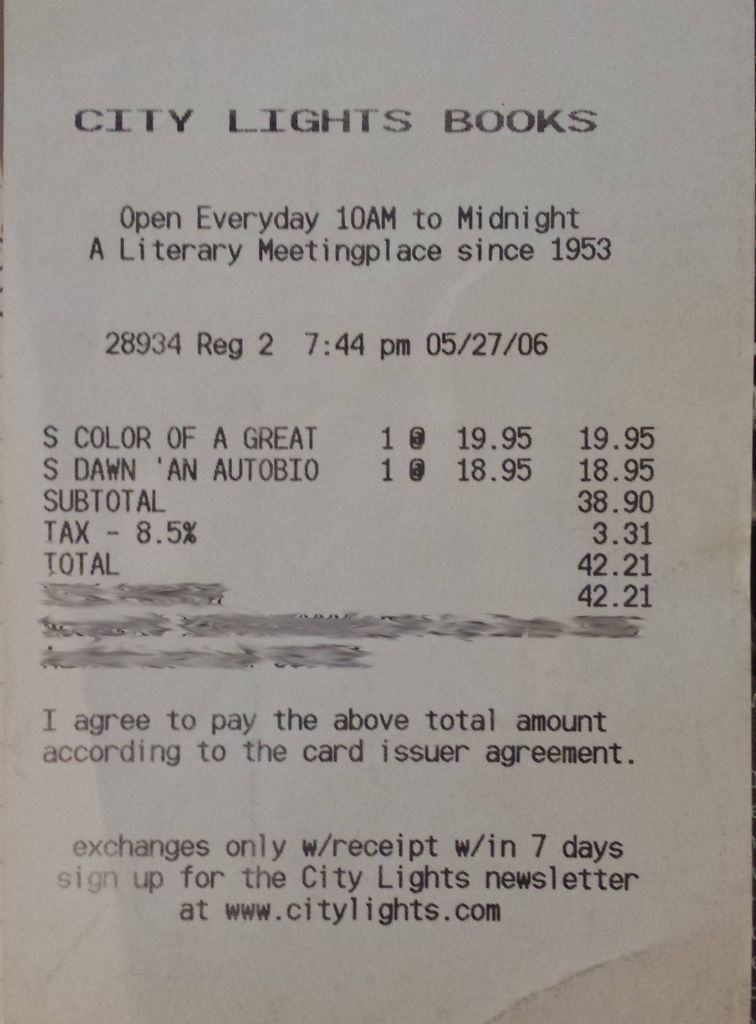 I finally chose a couple of books to buy and then set out for the cash register, where I would demand to see my man Ferlinghetti. All I had going for me was my ardent devotion, literary studies creds, and a slightly-crazed look in my eyes.
I paid for the books, and then looking the poor employee directly in the eye, asked if I could meet Mr. Ferlinghetti (whom I knew spent time at the store, despite his advancing years). Eyeing me warily, she told me that Ferlinghetti wouldn't be in that day. My mom and I were leaving early the next morning, so my hopes were shot. I said, "Oh, ok. Well, tell him that he has a wonderful bookstore and that Rachel loves him."
My mom gave me an "Are you feeling well?" look, and we left the store. I may not have met Ferlinghetti, but I saw his palace of books and breathed in its wondrous atmosphere.
If I ever get the chance to visit San Fran again, I'll head directly to City Lights, and maybe spend a few hours (instead of just one) browsing and reading and sighing with joy. And who knows- maybe I'll even get to meet Ferlinghetti.
Save