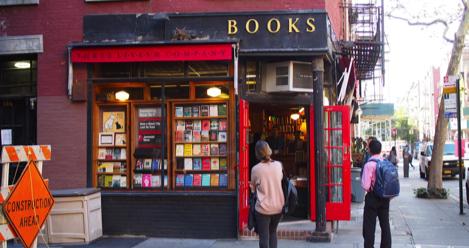 We're giving away $500 to spend at the bookstore of your choice! Click here, or on the image below to enter:
---
At some point in the '90s, I discovered—most likely via my father's recommendation—a tiny bookstore in the west village called Three Lives & Company. Located at West 10th Street and Waverly Place (a few blocks from the unlikely intersection of West 10th and West 4th), it can be difficult to find; in fact, I believe with my whole heart that it is only there sometimes.
I never had trouble finding it back then, though. When I was a teenager, I could find it with seemingly no effort whatsoever. I would browse their carefully curated selection of books for hours, feeling smarter just stepping in the door. I'd walk away with some volume or another, or perhaps with just a card or bookmark. I bought my very favorite ever greeting card there, a Christmas card showing Santa, caught placing gifts under the tree, saying to the little boy on the stairs: "I'm sorry you saw me, Timmy. Now I'll have to kill you."
I haven't lived in New York for a long time, and I visit infrequently.
I tried to find Three Lives again in the spring of 2014, walking west from 6th Avenue but failing to locate the bookstore. I stood on the corner of West 10th and Waverly Place and it was simply not there. Amusingly, I did discover a whole nother unrelated bookstore, not far from where Three Lives should have been, but it was closed that day.
In June of 2016, it looked as though Three Lives might have to close, or at least to leave their location of 33 years (at that time—now nearly 35).
In October of 2016, the building sold, and the future looked bleaker than ever.
But the following month, there was good news!
(It does not escape my notice that these three links tell a story that is a sort of three lives for Three Lives.)
This month, I was in New York again, walking with a friend into the Village from Chelsea, and I discovered that we were on West 10th (it can sneak up on you). I suggested that we try to find the bookstore, and Rachel agreed. We walked a couple of blocks and there it was!
Perhaps it is silly to believe in magic, but I truly believe Three Lives is only there sometimes.