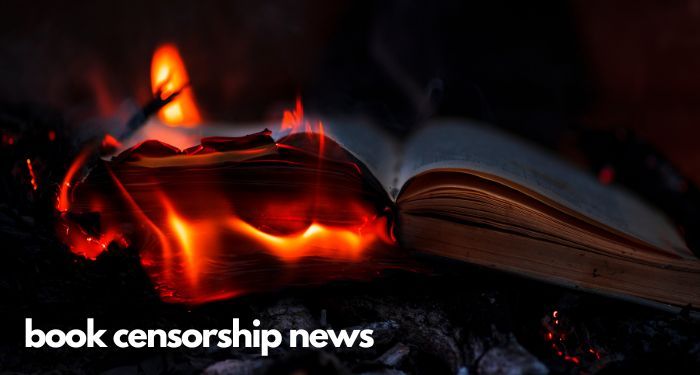 Censorship
Three Future Targets for Book Censors: Book Censorship News, January 13, 2023
It's a new year, meaning that the groups and individuals creating hell for public educators will be developing their new plans for continued "work." What began as an attack on "Critical Race Theory" in 2021 — spearheaded by the right-wing darling Christopher Rufo — has morphed into disdain for other categories of teaching and books, including "Social Emotional Learning" and "Comprehensive Sexuality Education" (yes, "sexuality"). These terms used by right-wing groups simply mean they don't want their children "exposed" to any books by or about queer people or people of color, let alone those who might fall at the intersection of both. None of this should be news to anyone who has been paying attention over the last 18+ months.
Of course, those battles wage on. We'll continue to see races for school and library board seats over this year, with those whose agendas include censorship to be itching for those roles. We'll still see books being pulled left and right, with titles not even on shelves in some of these institutions included. More "bad books" lists will continue to emerge, and we'll keep seeing groups like Moms For Liberty claim they don't curate BookLook/BookLooks but then have their members claim to be authorities on how to best run a library because they've volunteered to build this nonsense, unprofessional database.
Parents and "parents" will continue to show up to meetings or create events that allow them to get their 15 minutes of fame in right-wing social media circles. They'll cry about being persecuted for their beliefs and that they're just doing what's best for the children. That they, who've never once worked with kids or teens or with literacy or education, know what's right.
We'll still see teachers targeted. We'll see certain Twitter pages send harassment to overworked, underpaid teachers and librarians, which will continue to decimate both fields of incredibly talented and passionate people. We'll see more and more bills clamping down on everything related to art and creativity if it doesn't fall within the moral boundaries of white, cishet Christian conservative values. It won't "just" be Drag shows but include any and everything these groups can lump under the umbrella of "indoctrination" and "pornography" and "grooming."
Many will continue to be surprised, but there's no reason to be at this point in the game. Nothing should be surprising. The agenda is and has always been to defund institutions and direct that money to homeschooling and private schooling so that the actual indoctrination of those right-wing "values" can continue.
But what might this year bring with it that could be new or novel? Or maybe those aren't the right words. Maybe the right words are…what vulnerabilities could be poked at next in the system for these groups and individuals? Here are three places you might see being targeted in the coming year.
Book Awards Committees and Lists
One of the easy targets for book censors are the books on "best of" and "awards lists." In many libraries, those are automatic purchases for the collection, given they have been deemed of important literary merit or they fulfill a need that can be hard to find. The committees making those decisions, though, have to be professionals, right? In most cases, yes. But in some cases…the right amount of money can get you a place on the committee.
There's a reason these committees have been seeded by experts: they require work, time, knowledge, and commitment. But that doesn't mean there aren't people out there willing to do just that in order to have their viewpoints seen as "legitimate."
Will this happen in a big way? Probably not, but it's still an area that might see some action on the behalf of groups like Moms For Liberty. They have the money to help support people who want to do this, and given how much time they spend building a database of naughty books, it'd be irresponsible to think they wouldn't give it real consideration. This might be an issue that happens in more localized groups than on a national scale.
Public Colleges and Universities
This week, Florida Governor Ron DeSantis appointed Christopher Rufo to the board of New College, a public liberal arts school in the state. This appointment means, without question, the oversight of the school's education, down to the books allowed for use in classes paid for by students seeking an education, will be under the eye of someone who literally created the "Critical Race Theory" panic and who has been behind the movement to out educators in public schools as "groomers."
It is not really shocking to hear this appointment happened on the second anniversary of the Insurrection.
Until now, colleges and universities have been fairly unscathed in the movement for censorship. But don't expect that to last. What private institutions do is up to those institutions; what's at stake is what will be taught in public schools. This includes community colleges.
What will curriculum look like under these sorts of appointments remains to be seen. Given what we've seen happening already, though, chances are these will be "Classically minded" — in other words, cishet, white, male, and Christian nationalist educations.
Who is actually doing the indoctrination here?
Interlibrary Loans and Library Consortia
Finally, another area to keep an eye on is how these censors might take aim at interlibrary loan, as well as library consortia. For those who aren't versed in library land, many public libraries work with others within a geographic area to help provide access to materials. My library might not have a book, but they would be able to get it for me from another public library or a university library within the consortia. These consortia also offer professional education and development to members, alongside several other benefits.
It doesn't take much to imagine a world where these become limited in their use. A library or school library that is part of an interlibrary loan consortia may not be able to request certain titles for their patrons because it's been banned in their district. Certain trainings within these groups may be off limits to professionals because their community will protest or revoke funding for them (for example, Madison County officials may decide they won't pay fees to be part of the consortium that allows queer books to be shared or the right-wing residents of Jamestown, Michigan, may vote to do something similar). Suddenly, a community is left adrift and unable to access any materials outside of what a small, vocal group deems acceptable to have in their own local library.
Of course, these three things are but the tip of the iceberg. Knowing and thinking about them, though, is crucial for understanding that this is not in any way about the books. Continuing to suggest this is about fear of exposure to new ideas or books is to take a naive approach to this. The goal is erasure and eradication of anyone — people, actual humans — who do not fit the white nationalist mold.
They'll do it by whatever means necessary.
Book Censorship News: January 13, 2023