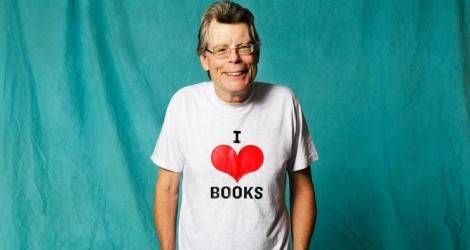 Thousands of Rare Stephen King First Editions Destroyed: Critical Linking, January 19
Sponsored by Love, Hate & Other Filters by Samira Ahmed
---
According to Bangor Daily News, the water that flooded Winters' basement was the result of an exploded water main directly in front of the store where the collection was stored. Soon after the main broke, Winters' basement was filled with water high enough to reach his chest and the boxes containing the documents were ruined. Winters estimates that nearly 90% of the collection—which also included signed works from J.R.R. Tolkien and George R.R. Martin—was destroyed.
Now THAT is a significant bummer.
---
Elena Ferrante, the bestselling Italian novelist of the highly acclaimed Neapolitan series, is to write her first ever regular newspaper column, in the Guardian.
The pseudonymous author's return to writing, a year after an investigative journalist controversially claimed to have revealed her real identity, will be welcomed by fans anxious to see her next move. Ferrante has always said that her anonymity was important to her work, freeing her from the "anxiety of notoriety".
For some reason I always consider Ferrante publicity-shy, but she really isn't.
---
Michael Wolff's controversial Fire and Fury: Inside the Trump White House is coming to television.
Endeavor Content — the financing and sales arm formed in October between sister companies William Morris Endeavor and IMG — has purchased film and television rights to the No. 1 best-selling book. The massive deal is said to be in the seven-figure range. Endeavor Content plans to adapt the book as a TV series. A network is not yet attached, as Endeavor will now begin shopping the project.
If I wanted to watch the President implode, I'd get back on Twitter.