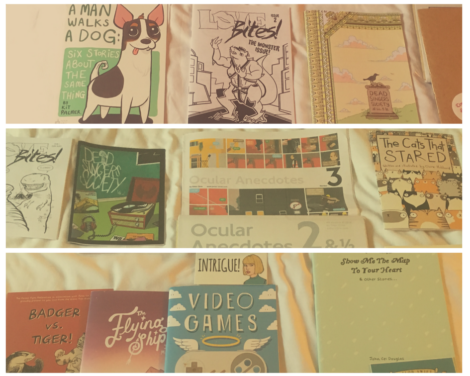 I'm sitting in my hotel room after another jam-packed weekend at Thought Bubble, a week-long celebration of comics that is held each year in Leeds in the United Kingdom.
I am knackered, my feet hurt, my bags are so heavy, and I went to bed far too late last night, but my heart is full. Every time I come here I am reminded of what an inclusive, diverse and safe space the amazing team at Thought Bubble have created.
The week before was packed full of talks and signings in various venues across the city, there is even a two day academic conference (disclosure: I am part of the team that organises the academic event). Then on Saturday morning the two-day convention starts. This year this part had moved from its out-of-town location to being spread across 3 marquees and a number of buildings in the city centre. The marquees and the town hall were packed with creators and fans and there was also a packed schedule of panels, talks and signings. I really liked the new location, it was lovely to be able to wander in and out of the tents and halls and take little breaks in the coffee shops, museums and galleries of the city. It also meant I could more easily return my purchases to the hotel when my bags got too heavy!
The event is staffed by a friendly army of red t-shirted comics fans. They are always happy to guide you, challenge bad behavior and recommend events coming up later in the weekend. Their enthusiasm and helpfulness, even after three days of grueling work, is really to be applauded.
Whilst there is a presence of Marvel and DC at the event (creators that work with them are tabling, signing, and speaking on panels) this is an event that is accessible to creators working at all levels. I bought amazing comics that were made from a single piece of paper folded into eight and gorgeous longer comics that were produced on a far larger scale. There are creators selling beautiful posters and prints as well as accessories and clothing. I have an amazing laser cut wooden necklace that I bought at a previous Thought Bubble and a really cool The Wicked and the Divine pin that I bought this year. Whilst I don't take part in it, the cosplay is amazing and I saw so many really cool costumes over the weekend! The 34 year old I was with audibly gasped with joy when he saw a particularly awesome Hagrid on the first day.
Some of the amazing activities organised outwith the weekend's convention included the Rainbow Age LGBTQIA+ Comic Book Club, with all comics in the club's collection donated by Travelling Man to Leeds Libraries after the event to help create an amazing resource of LGBTQIA+ comics in the city. Not to mention a number of workshops for Refugee and Asylum seekers provided by Community Comics Power, helping people tell their stories and experiences in comics form.
I could go on and on about how wonderful Thought Bubble is, but you'll be pleased to hear I won't. However, if you ever have the opportunity to attend, then I can whole heartedly recommend the event. You will be able to talk about comics with fellow fans, discover new small press titles and creators and possibly even dance the night away in a shopping mall party with DJs such as Kieron Gillen and Jamie McKelvie.