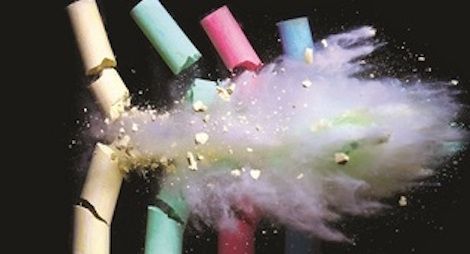 Young Adult Literature
Beyond The Bestsellers: YA Books To Read If You Love THIS IS WHERE IT ENDS by Marieke Nijkamp
This content contains affiliate links. When you buy through these links, we may earn an affiliate commission.
This Is Where It Ends by Marieke Nijkamp has been a staple on the New York Times Bestseller list since its publication in early 2016. But what are some other YA books to read if you love This Is Where It Ends?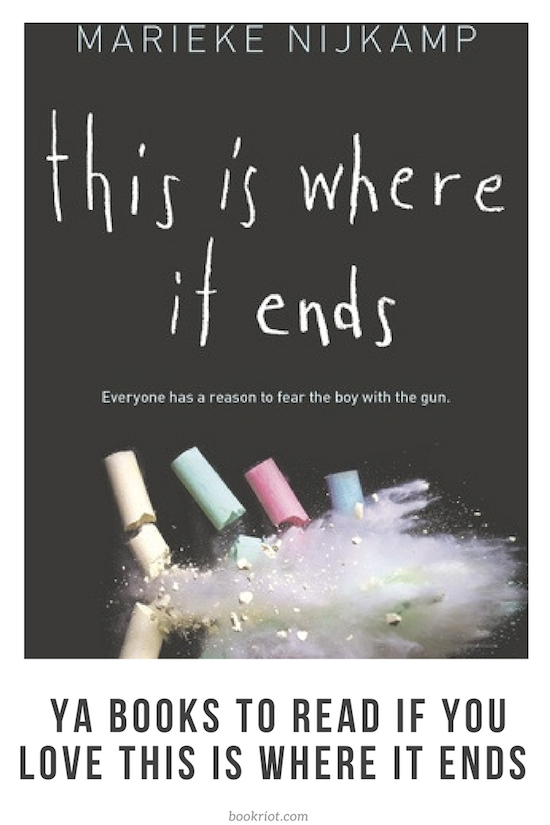 "Beyond the Bestsellers" is a feature that highlights a YA book that has been on the New York Times list for a number of weeks, digging into what makes the book appealing. Then, more book recommendations are offered for readers to find new-to-them reads which have similar thematic and style qualities.
This week's edition explores books to read if you love This Is Where It Ends by Marieke Nijkamp.
Why You Like This Is Where It Ends by Marieke Nijkamp
This Is Where It Ends is told through multiple points of view, giving the story multiple layers and lenses of experience. In this particular book, those multiple points of view come from a wealth of diverse voices, meaning that readers can likely identify with one or more of those experiences in a meaningful way.
Intensity is the key "feeling" throughout the book. This is a fast-paced read, aided in its intensity by those multiple viewpoints. Readers love being thrown into the story and tossed around within it, knowing that danger is literally around every corner. And more…
This book takes on the contemporary issue of school violence. That danger is ever-present in today's American culture, and Nijkamp uses her intensity of storytelling not to exploit the topic, but rather to give power to those victims who often feel powerless—both when in the situation of a school shooting and because of their own marginalizations.
The feeling of intensity in this book is further aided by its time frame. This story takes place over the course of forty-five minutes. This time frame, along with the multiple perspectives, offer a unique storytelling methodology that challenges and gratifies readers.
Try One Of These Books Next
Based on the appeal factors of This Is Where It Ends by Marieke Nijkamp, readers would do well trying one of these books next. This is a mix of backlist, under-the-radar titles, as well as some books that many readers may find familiar but haven't yet tried.
Although it would be easy to limit this list to books about school shootings, as there are many well-done titles in YA, readers who love Nijkamp's book aren't necessarily only interested because of that. This list offers up a mix of topics.
Brown's book, which came out in 2009, was one of the first YA books to take on the issue of school violence directly. The story follows the aftermath of a school shooting, wherein the main character Valerie feels both a sense of responsibility and guilt for the incident that her boyfriend coordinated. Valerie had helped Nick create a "hate list" of people from school, and that list was what he used in choosing his targets.
Hate List will appeal to readers who valued the exploration of a school shooting in Nijkamp's story. The intensity and the ways in which complex emotions are handled make for an immersive experience.
Although Reynolds is far from an unknown author, many readers who loved Nijkamp's book are likely to find an excellent entry point into Reynolds's work through Long Way Down. Long Way Down is about gun violence, but more than that similarity, what readers will enjoy about this book is the time frame over which it's told. This short little book in verse follows Will as he steps onto the elevator on the seventh floor—where he lives—and travels down to street level, where he plans to get revenge on those who killed his brother.
Reynolds builds intensity through this structure in a similar fashion to Nijkamp, each stop along the elevator ride ratcheting up the emotional power of the story.
Reed's book digs into rape culture via a movement spearheaded by a group of teen girls. A former classmate was raped, and by avenging her rape, the girls hope to change the misogynistic culture within their school. Told through multiple points of view and taking on a contemporary teen issue, readers who love Nijkamp's book will find this book to be an excellent next read. The three girls in Reed's book come from diverse backgrounds culturally and with their sexual identities, and they're interested and passionate about everything from nerd culture to playing music. It's their shared interest in being change makers which brings them—and eventually a larger group—together.
The Nowhere Girls is the perfect book to hand to teen readers who are passionate about change, about rape culture, and about creating a movement within their own community.
Shooter by Walter Dean Myers
Speaking of early YA books about school shootings, Myers's book came out in 2005. But being a book that's pushing 15 years old, it doesn't lose its power or punch. Told through multiple perspectives, Myers's book offers up the same kind of intensity as Nijkamp's, and, in addition, Myers includes police reports, newspaper stories, and a personal journal to aid in the story's narrative. Emotions run high, and it's the nuanced look at a variety of emotional responses to a shooting which make this even more appealing.
Myers's work was—and continues to be—a cornerstone to YA as a whole. Readers who have't discovered his writing will enter into it well with Shooter.
Piddy Sanchez doesn't know who Yaqui Delgado is, since Piddy is a new girl at her school, but she learns quickly that Yaqui hates her and plans to beat her up. The story follows as Piddy becomes the target of harassment, even though she's never instigated anything with anyone in her new school. She wants instead to just live her life.
The intensity and escalation of Medina's book makes for strong read alike to This Is Where It Ends. More, the exploration of a contemporary teen issue—bullying—will resonate as well. Medina's thoughtful writing about race and culture should also work well for Nijkamp's fans.
Want more titles to read? Give Violent Ends edited by Shaun David Hutchinson a try, as well as How It Went Down by Kekla Magoon. This fall, readers will also want to have That's Not What Happened by Kody Keplinger on their radar, as well as Sadie by Courtney Summers.
And if these books aren't enough, dig into some of the previous "Beyond the Bestsellers" for a wealth of YA recommendations.