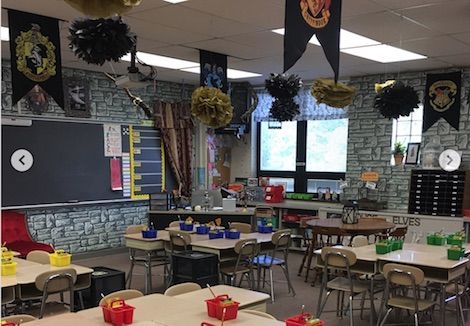 This Harry Potter Classroom Is Amazing: Critical Linking, August 31, 2018
Sponsored by Under My Skin by Lisa Unger, new from Park Row Books.
---
https://www.instagram.com/p/Bm6JmYtHIby/
You'll never actually attend Hogwarts, so this might be the next best option.
Third grade teacher Tressa Bargella has fully transformed her classroom into an homage to the Harry Potter series.
____________________
Not everyone has a closet full of business-appropriate or semi-formal clothing, and the cost of spiffing up your look for a job interview, a graduation, or another important event on your calendar can be pretty high. So in New York City, the public library is opening its closet to anyone who needs to borrow fancier accessories—like ties.
In response to Byron's ghost-story game, Mary turned her nightmare into a yarn about a scientist who creates a monstrous creature. Later, back in Britain, she expanded this initial tale into a novel. "At first I thought but of a few pages, of a short tale," she wrote later, "but Shelley [by then her husband] urged me to develop the idea at greater length." Published anonymously at first in 1818, she titled the work Frankenstein; or, the Modern Prometheus. Her name appeared on the second edition in 1823. In 1831 she republished the work, changing some of its more radical passages, adding a preface containing a tribute to Shelley's late husband, who drowned in 1822. It is the version that is best known today.
This downplays the work that Shelley put into the final version of the story, but a fascinating look at the story of Frankenstein from National Geographic.